Enter this drab 1970s brick house on a quiet Richardson street, and you'll find that what greets you is a surprising visual treat. Sweeping shades of both warm and cool colors flow through the interior, mirroring a botanical garden in spring bloom. Furniture pieces curve and twist into one another to create a seamless and soft landscape. Even on this overcast day, there are no signs of gray streaming in here. Behind this magic is Carissa Henderson, an interior designer and North Texas native who promotes bold choices.
Home style trends have contrasted dramatically over the decades, but we're finally seeing a return to veins of vintage and strong color palettes. "Style is on a swing," Henderson says as she gestures to the eclectic pieces around her dining room.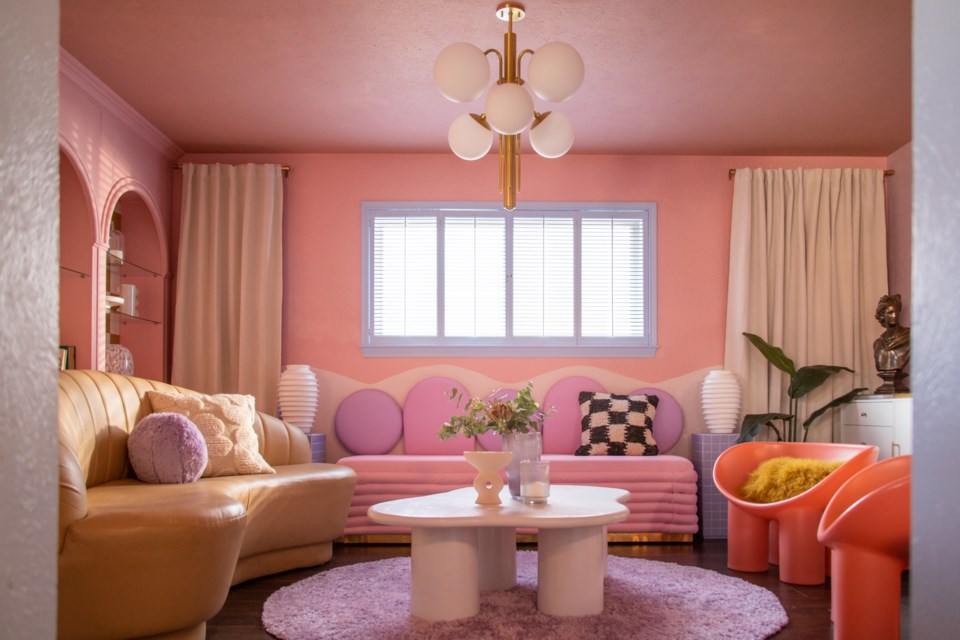 She sits in front of her gallery wall, painted pastel pink and emerald green with framed prints of varying sizes, and notes how design is cyclical: all-white interiors outperformed other aesthetics starting around 2015. Popular HGTV shows of the time ignited the inspiration, but even their designers are now leaning in a new direction. The additional push toward grayscale tones was also fueled by the pace of mass production, with brands acknowledging that neutrals can be sold to anyone. (Plus, achromatic colors are cheaper to produce.) But color reflects personality, something that seems to be lacking in 2023. Just look at a parking lot today versus the 1970s or '80s, when blue and red cars dominated. Now it's complete grayscale: white sits at the top spot, followed by silver and black. One of the leading suppliers in the architectural coatings industry, BASF, compiled data that showed that white, silver, black and gray currently make up 80% of vehicle colors on the planet.
But things are starting to change, and color is making a comeback. Henderson first noticed the transition toward bold color styles and patterns in interior design during the height of the pandemic. "I think that people were wanting to express themselves in their homes," she says. Which makes sense, considering that most of society was stuck inside for months and needed a way to personally define their spaces. As home offices became a necessity, the need for mental clarity and introspection through design surfaced. Suddenly, design had a much more serious impact on our well-being. Around that time, Henderson points out, home design accounts on social media that went viral showcased murals on every wall paired with loud accessories. Home decor became project-based, and people created their own side tables that resembled puffy mushrooms or crafted headboards made from pool noodles and velvet. However, the mass scale of mixing and matching might've hit its peak because Henderson says that people have settled into more of a midpoint now. Somewhere that sits between simple, neutral design and amplified aesthetics.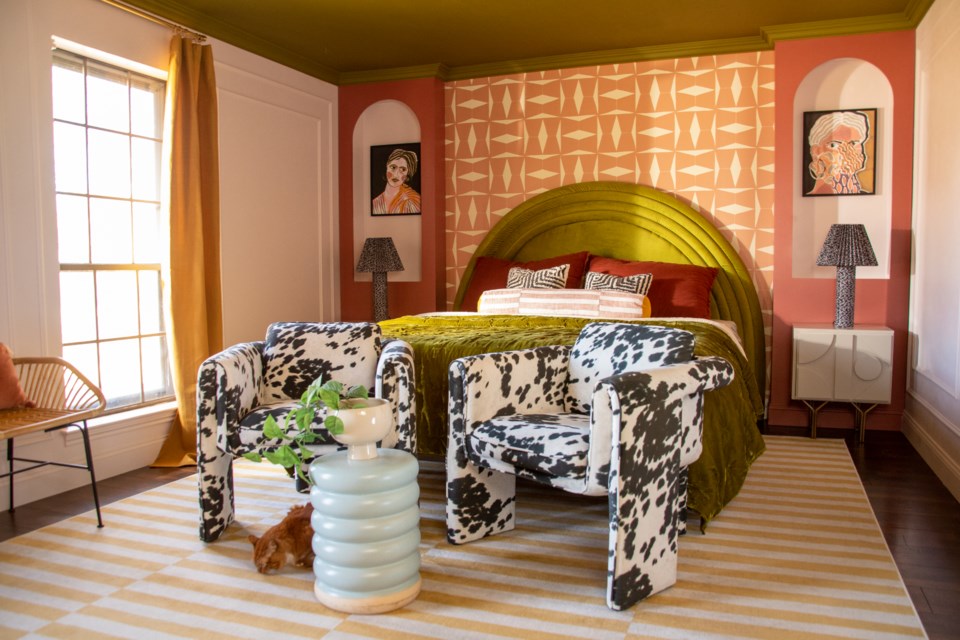 As a self-described "minimalist maximalist," Henderson has made her home an enchanting space where every room feels like an I Spy book surprise. She has a rhythm for mixing shades of opposing colors and turning them into complementary matches. Her furniture is a broad mix of vintage and modern, with pieces such as lamps that reflect light like a disco ball, cowhide armchairs, seating that resembles the legs of Dr. Seuss characters, a Renaissance-era painting mounted atop an asymmetrical mural and a blue fireplace at the center of it all.
Although her style recalibrates as time goes on, she always remains true to the balance of bringing personality into a room. Her definition of being a minimalist maximalist? Taking bold statement pieces, such as a curvy sofa, large artwork and an unusually shaped accent pillow, and pairing them with neutral hues. Instead of endless accessories framing and cluttering the home, these statement pieces fill the imagination without blocking it.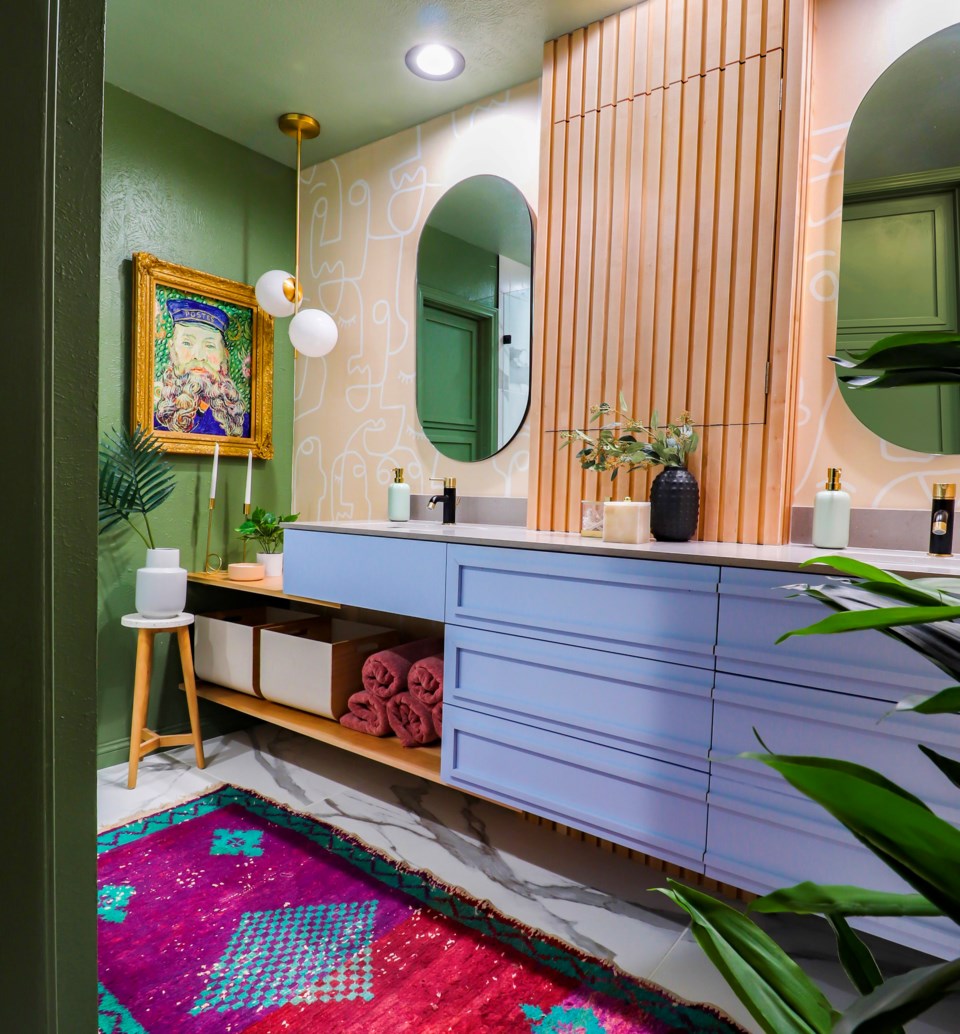 Working with clients goes beyond just inventing a new space with them — it becomes a therapeutic emotional milestone. Henderson's clients are mostly people who buy a fixer-upper with plain characteristics, and they want something that will stand out while hosting. The majority of her clients are single women who are first-time homeowners, ready to celebrate their achievements. She's used to the initial hesitation, but instead of starting small, Henderson always dials up the intensity with the first draft rendering and scales down from there. Once they get past the initial shock, clients become excited and comfortable with mixing patterns and colors.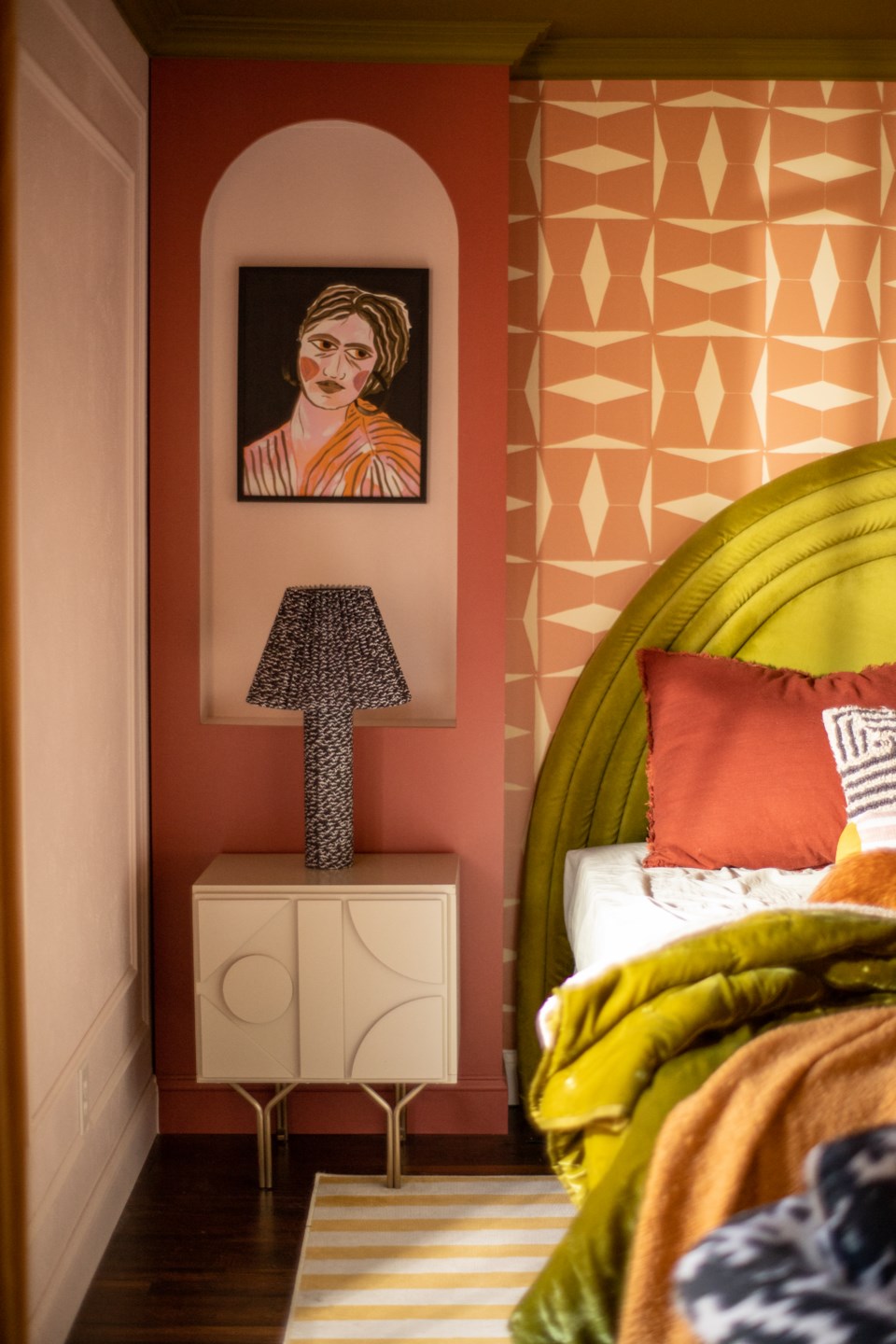 "[My clients] see homes on TV and in magazines that invigorate them, and now their home can be that for them every day," says Henderson. Her techniques truly set her work apart from the typical home design experience. Instead of keeping smaller areas of the home simplified, she finds that bold touches can enhance and bring a sense of grandness to a compact space. Adding murals to closets or vibrant paint to low ceilings brings attention to creativity rather than size. "It's all about not being afraid to attack those spaces."
One of Henderson's most meaningful client interactions was with a woman who immigrated to the U.S. and had just fulfilled her dream of owning a home. Upon seeing the first draft that Henderson created, her client cried tears of joy. The design was the result of all that she had overcome to own a place that reflected her inner self. Within the time that Henderson spends with each individual, her clients gain the confidence to handle more of their spaces alone and lose the fear of failure. "Once you conquer that first DIY and realize how much of a change it can be, it creates a snowball effect," says Henderson.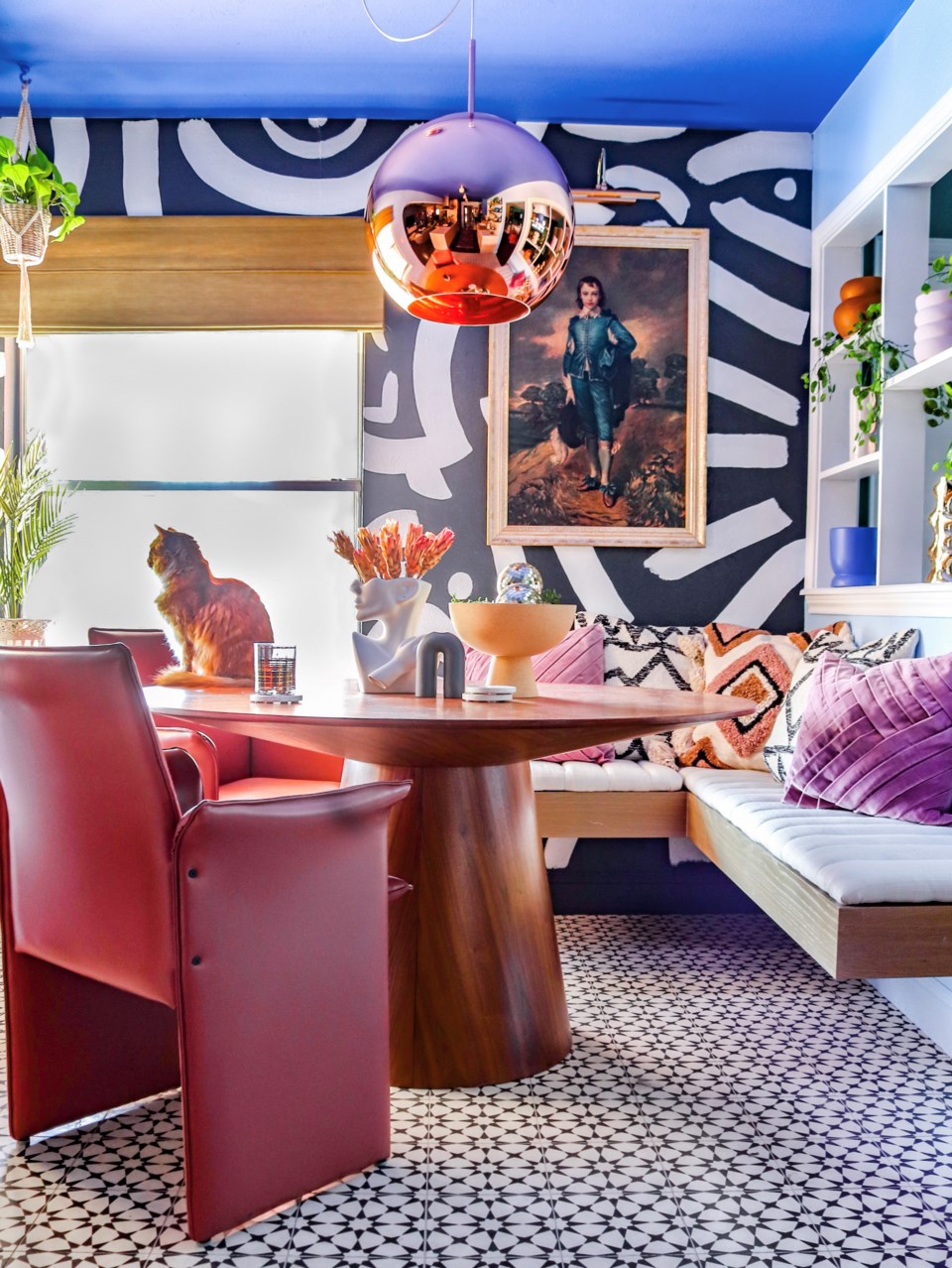 Apart from one-on-one work, Henderson, who is self-taught and didn't go to design school, also teaches courses on design, including a five-segment one called "Bold on a Budget." She has always had a strong sense of style and studied fashion merchandising during her college years, which explains her intuition for art. Henderson began with trial and error in her own home in 2016 and realized her passion. Then, in 2020, she opened up her Instagram account, cleverly named @aboldnewhue, to develop a portfolio and enter the design community. "I feel like I'm finally fulfilling my purpose," she says. "Whenever it's hard, the circumstances push me forward."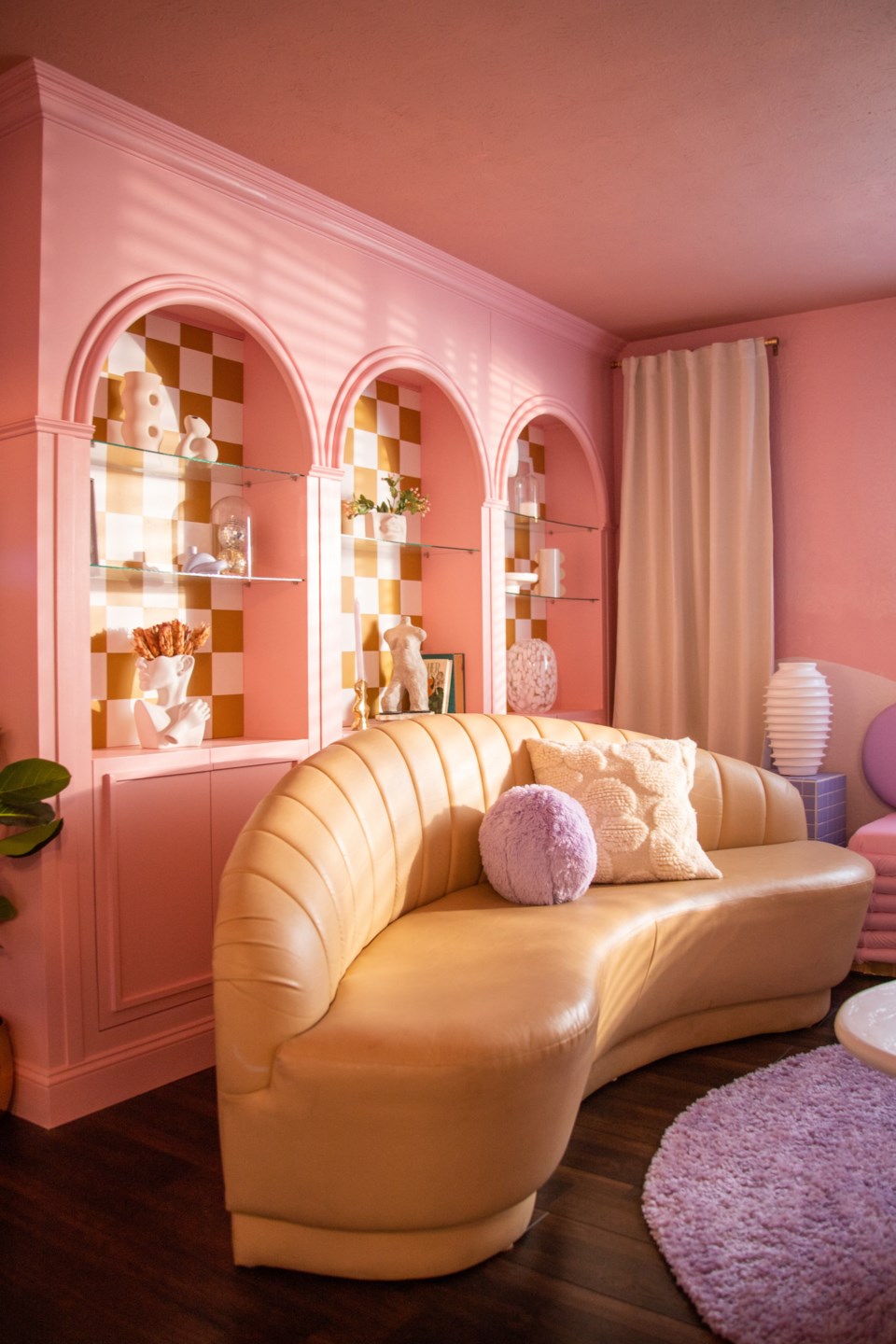 Henderson's courses help clients narrow down the different types of inspiration they discover and prevent them from becoming overwhelming. She urges clients to "find the consistencies of the inspirations [they] love." Together they create color palettes, analyze the space and map out a plan. Her advice for someone who loves several "clashing" styles? Utilize them in different rooms. She doesn't believe in blunting creativity by making your home stick to one theme. Her advice is to imagine your home as a gallery wall: each piece fits together but also stands strong on its own — it has its own story. There's nothing wrong with mixing a 1700s painting with a modern Etsy print. These decisions don't come easily though, even for Henderson. She tells clients to "be okay with gradually creating your home" because the current trends, along with our personal styles, are ever-evolving. After all, our homes mirror our brains.
Henderson often gains inspiration from the secondhand market and finds it interesting to see how trends dictate prices for the average Facebook Marketplace seller. One week, people are practically giving away their grandmother's rattan dresser, and the next, it's up for $600. When asked about her favorite places to shop for home decor and furniture, she lists H&M Home, Homary, Valyou Furniture, TOV Home and Zara Home. If you're in the market for true high-quality vintage and OfferUp isn't bringing the heat, Chairish is a site that offers everything from $15,000 19th-century French sofas to a European-made stone lamp sculpted to depict a lioness.
To Henderson, a home should be a muse. "I think being able to have your home be a source of inspiration for you is the same as staring at artwork. Your home can be art. Art is something that can trigger an emotional reaction or make you open up your mind," she says. And what better place to do that than at home?
Find Carissa Henderson on Instagram @aboldnewhue
www.aboldnewhue.com