Whether it's brisket, schnitzel, paint, photography or business, whatever The Art Pack put their minds to, the result is a finely crafted masterpiece. The Art Pack is Jeff Bergus, otherwise known as Mr. Smoke, the man behind downtown's Lockhart Smokehouse; Jörg Fercher, Mr Schnitzel, the friendly Austrian, owner and namesake of Jörg's Cafe Vienna; and Mr. Kodak, Ken Wesley, a photographer with a studio in Downtown Plano, who just also happens to be a banker. Oh, and they're all artists. Together, they are The Art Pack, and together they are part of an art renaissance in Downtown Plano.
An artistic awakening
It all started over coffee. Meeting every Thursday morning for Italian Espresso at Jörg's (sadly, not an option open to the public), these three local downtown business owners, dads and artists, brewed up the idea of Ten 20 Gallery. The trio's first joint venture, which opened recently in the heart of Downtown Plano, has been an instant success.
Ironically, it doesn't seem to be skill, knowledge or even honest hard work that's the secret to their success. "I really don't know what I'm doing," joked Jeff at the grand opening. So what is the secret? Passion to do something great, to help others, to make a difference, and to have fun. Inspired and intrigued, I couldn't wait to find out more.
The art cave
We meet at Ten 20 Gallery. An eclectic collection of art by more than 20 artists hangs on the rustic brick walls. It's a Friday afternoon, the vibe is chill, and we get started by taking some photos—or, rather, Jörg and Jeff joke around taking pictures of each other as we wait for Ken to finish some mysteriously important banking deal. When we do get started, the three boys are so enthusiastic that they talk over one another.
Ken: We all needed something fun to do. We didn't want this to be a job.
Jeff: The premise was to have an art cave, for us to start it and bring friends and other people like us into the mix and give them an opportunity.
Ken: To see someone sell something for the first time [during the opening] was incredible. It was a confirmation, affirmation, validation. I mean, they were over the moon. If they didn't sell anything else, all they needed was that one moment to prove why they do what they do.
Jörg: It was the same in Austria. My father thought art was for weekends, but then someone buys your work and all of a sudden it looks a bit different—maybe it's not a hobby.
So where did all these artists come from?
Jeff: We want to credit Ken here—he brought in this community of artists out of nowhere.
Ken: I found a couple through fashion shows and art shows I attend and told them about the concept: We didn't want to have an art cave with just our stuff; that would get boring real quick. The concept is to showcase all types of art.
You could say Ken's got an eye for spotting talent. One of the artists he "discovered" works at Dude, Sweet Chocolate. Ken spotted him making sketches and encouraged him to bring his work in. The series of pop star portraits by Mark White now hangs on the walls at Ten 20—and graces the cover of our April edition of Plano Profile magazine.
Jeff: He started a fire and it went poof. I'll give you another example: There's one artist in here that's from Plano, but who normally only shows in Dallas because before, there was really nowhere in Plano. But, we also have HIPsters from My Possibilities [a unique continuing education program for disabled Texans who have "aged out" of secondary education.] We don't really say no to anyone. If we don't see something [we like], we give them feedback and guidance and tell them to try going in a certain direction.
Art for everyone
Jeff: We're not white walls, by appointment only, and Lamborghinis parked outside. This is art for everyone. For the most part, it's affordable because you're starting someone's career. I'm jealous of Mr. Kodak—he gets to make the phone calls and say, "Hey guess what? We just sold your piece." He called one artist and they started crying. That's what this is all about.
Ken: That's the best part. And from the artist's perspective, they don't want to be part of a stuffy gallery. They like the fact that we're doing something to make art more accessible and they want to be part of that, too. Once they found out it was all-inclusive and that we just wanted to see good art and it didn't really matter your age or experience, they wanted to be a part of it. Now, we're running out of space so we have to figure out how to rotate and keep it fresh.
An art community
This is not just about Ken, Jeff and Jörg. This story is about the revival of an art community.
Ken: Artists are hanging out and talking about stuff here. When these artists collaborate I can't even write the ideas down fast enough. Their ideas are bigger than what we have going on and that's why we need them here. They want to cause an awakening—a renaissance—they want to create a new era.
Jeff: These are local artists we're talking about. They get together and talk and dream, and this is the hub for that. It's got me fired up. In fact, the three of us need to collaborate on some art together, put it up with three signatures. Why not? There are no rules.
Jeff: People are calling and talking about pop up galleries in vacant spots. It has inspired a lot of different ideas. But credit where credits due—Brix has art on the walls, so does Vickery Park and Pipe and Pallet. There is art already here. We're just gonna magnify it.
Jörg: It's very important for these artists to be in restaurants and galleries. We're giving them all a space to be seen. That's what it's all about.
Jeff: And we sell. Friday night we sold to a lot of different people, a lot of different art, not just abstracts—we sold across the board. It's cool to have nice stuff on the walls, but we're actually selling.
Ken: We want you to be able to come in here and be inspired.
Jeff: Let's talk about this community. For the opening, we had people from other businesses come over and start hanging stuff for us. Michael from La Foofaraw brought flowers. Dude, Sweet Chocolate came in with a whole tray of chocolates to pass out. The Amazeballs people brought cakes…. People kept coming in and offering help. It's not about us and this place. They know we're doing it for the neighborhood.
Jörg: We're one big family.
What's next?
Well, first of all, there's the sculpture garden, because why not transform a forgotten piece of downtown into an attraction? Essentially abandoned, the piece of land in question is located directly behind Shinola on 15th Place and with the blessing of the City, The Art Pack intend to use it as an outdoor extension of their gallery.
Other ideas brewing include regular events and themed exhibits. One exciting idea came from Jeff's youngest son—a kids' art exhibit to raise money for children. "We were at a gallery in Dallas and my son asked the owner, 'Do you ever do any kids' art?' The answer was no, and he was a little upset about it. So when he found out I had a gallery, it was the first thing he asked. Picasso said, 'It took me four years to paint like Raphael, but a lifetime to paint like a child.' That's just one of the many ideas we have in mind to do."
Mr. Smoke. A Fashion Designer.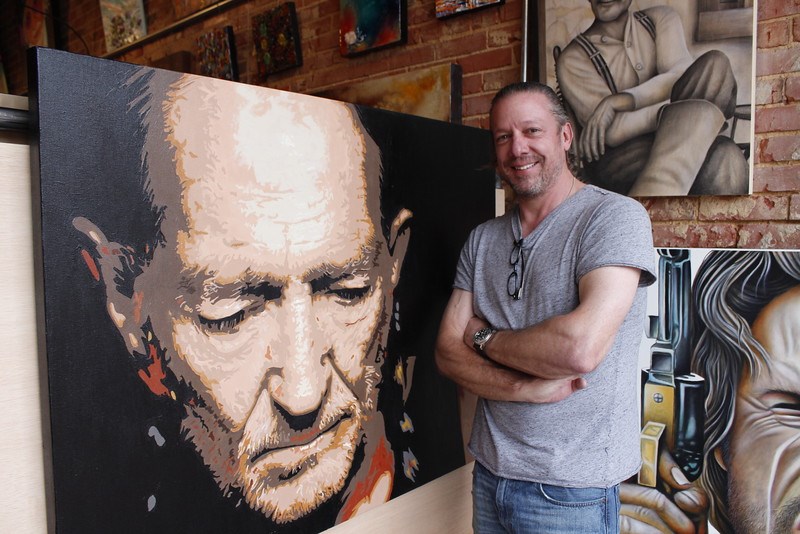 Finding out the man behind some of the tastiest brisket in the Lone Star State is also a talented artist is one thing. But when he reveals he's also a fashion designer—an internationally successful one—mind blown.
Jeff, casually dressed in ripped jeans and a T-shirt starts the conversation off with "You can clearly tell I'm a fashion designer right?"
Ken jokes, "This is what fashion designers look like."
And then it's back to business and we soon realize that Jeff was not just a local designer. "I learned that from Armani, he always wore a T-shirt on the runway when everyone else dressed up." You see in a roundabout way Giorgio Armani played a hand in Jeff's big break.
"When I was 5 years old, I won my first watch in an art contest and my mom put me in art lessons from age 6 to 17, every Saturday for four hours. And then I stopped, because what are you gonna do with art in a small town in Texas? Draw caricatures at Six Flags? So I went to college and did a semester abroad—in Austria."
While there, and on frequent visits to Italy, Jeff found himself sketching. "Milan and Florence were like walking fashion shows." These sketches, through way of a girlfriend who tried to pass them off as her own, kick-started his fashion career. The teacher demanded to know whose work it was and insisted he introduce him to his business partner—Giorgio Armani.
"I took that as my sign. I was going to law school, but instead submitted application sketches to FIT in New York." [The Fashion Institute of Technology ranks among the top five fashion schools in the world.] Out of 3,500 applicants, Jeff made the cut. "I ended up going to school with Hugo Boss's nephew, a Japanese girl from the Yamamoto family, and there I was…'Hey, I'm Jeff from Texas, how y'all doin?'"
Fresh out of college, Jeff started working with Andrew Fezza. "I dressed Billy Joel for his USSR tour; I dressed Daryl Hall…I had fun doing that." His success snowballed as he worked as VP of Design for Geoffrey Beene, VP of Design for Gant, and VP of Design for IZOD, before returning back to Dallas where he took over the Arizona Jean Company for JC Penney and founded his own company, JMB Studios. "We were the guys behind the scenes. We did stuff for Abercrombie, Gap, Ralph Lauren, Kohls, Penny's, Nautica…."
During that time, Jeff got his "15 minutes of fame"—in 1998, working with Gant, he developed the brand's spring show for New York Fashion Week. The show was an undeniable success that nearly ended in disaster before it started. When Cindy Crawford fell through as the female model in the show, Claudia Schiffer stepped in, and when she was double-booked, a phone call from supermodel Christie Brinkley saved the day. "She called out of the blue and said she was on her way. I had 24 hours to make her dresses, but I did it."
Jeff's next great challenge was fatherhood…and brisket. "Spending six months a year out of the country, I didn't get to see much of my family. So I got into barbecue." His wife's family is credited as one of the families that started Texas barbecue, and since opening in Downtown Plano two years ago, Lockhart Smokehouse has been selling out on a nightly basis.
Fatherhood also led him back into painting. When his son asked him to paint Spiderman, he obliged and ended up creating an entire superhero series. Spiderman, Superman, Batman, the Joker and Wonder Woman are all for sale at Ten 20, as are his portraits of The Beatles, Willie Nelson, Muhammad Ali and David Bowie.
Mr. Schnitzel. An Austrian-Texan Artist.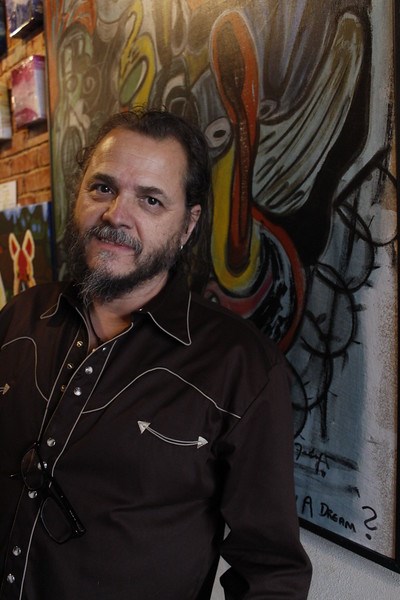 If there is one thing Jörg Fercher is, it's Austrian, not Australian. There's an important difference: Namely, there are "no 'roos in Austria." It's a catchphrase Jörg is known for, and if you frequent 15th Street, it's something you've probably seen even if you've never had the pleasure of meeting him—it's on his car, on the windows of his restaurant and probably tattooed onto his heart. Why? Having opened Jörg's Cafe Vienna in Downtown Plano in 2001, over the years he's heard it all. From the insistence that kangaroos and indeed koala bears are from Austria, to requests for "shrimp on the barbie" (barbecue)—a well-known "Austrian speciality." Or do I mean Australian?
So how does an Austrian end up in Texas?
An artist in Austria, Jörg wanted nothing more than to study art in school. "But my father said that art is something to do over the weekends. You need to get a job." Having a great respect for his father, he followed his advice and joined the army. After that, "I took my freedom of life and everything I had learned and dedicated myself to it." Jörg moved to Deep Ellum.
In 1987, Deep Ellum was the place to be. Jörg opened his first gallery. "I met a lot of people who were already famous artists, hung out with them and then started doing art. I got into improv design and into a little photography. All this 30 years ago." Influenced by the macabre poems of American writer Edgar Allan Poe, Jörg's work is somewhat dark.
Jeff has an interesting insight. "He has a European take on things. Dark is not literal. It's deep, and once you know Jörg, then you look at his art and it's him. He expresses emotion in a different kind of way." Jörg responds, "Some are from when my mom passed away. I was really close to her, so it was very hard for me. If I hadn't had art to express myself, I wouldn't be the person I am today. Expressing myself on canvas or paper saved me. And that is why I love art."
A number of his pieces, a mixture of photography and paintings from 25 years ago were resurrected for the opening of Ten 20.
Next came Schnitzel
Married with two small children, it was time to get serious. "When my mom passed away I took her cookbook as something to hold onto and decided to open Jörg's here in downtown." The first restaurant to open on 15th Street, Jörg considers himself "the Highlander," although we think perhaps he means "Godfather."
Mr. Kodak. A Banker and Photographer.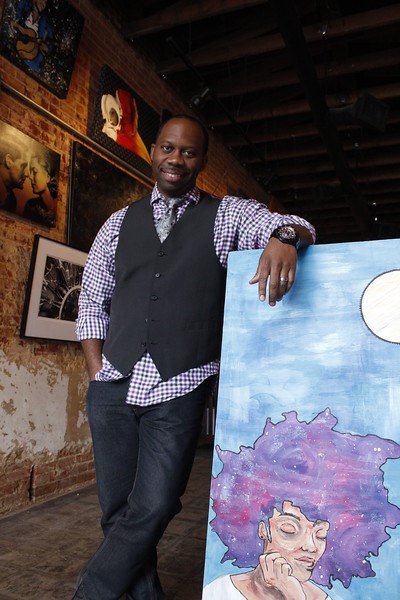 Unlike the other two, Ken never let go of his artistic side. "I needed to balance the brain, left and right, so over the course of the last 20 years, I've figured out how to do both. I don't need to chase every job, and the good thing about photography is you can pick and choose something that has meaning."
Ken is the owner of Supreme Dream Photography, located in Downtown Plano, and has captured clients' memories for 14 years. The majority of his clients come as referrals. "I start out shooting a headshot for someone, build a rapport, and so when they get married, I shoot their wedding, and then a baby comes along, and I do the family thing."
His passion however, or at least his new passion, is art. The Pied Piper of Downtown Plano, Ken has cultivated a following of up-and-coming artists desperate for their big break, and in return Ken, with the help of Jörg and Jeff of course, is giving them an opportunity to shine.