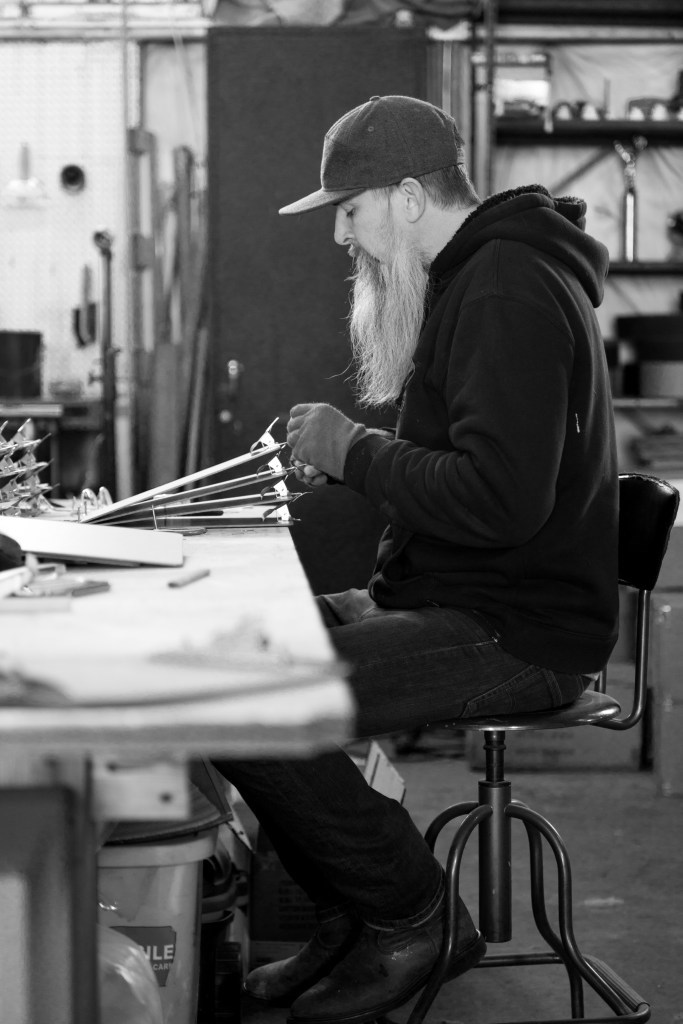 From a young age, artist, producer, and photographer Joshua King knew that the 9-to-5 office life wasn't for him. Having worn multiple hats in the realm of the arts, King now makes a living by doing what he loves most.
On a cold, January afternoon, I arrive at his Oak Cliff studio. It's a large, warehouse-like building; the walls are scattered with parts of old projects and works of art that don't yet have a home. King greets me with a smile. His striking blue eyes peer out from underneath a gray baseball cap. He's casually dressed in a black Vans hooded sweatshirt, jeans, and red, fingerless gloves. His long, gray beard is reminiscent of the rock stars from the '70s. A black labrador retriever, Belmont, lays at his side. He lights a wooden stove since the studio doesn't have central heating, and Belmont sprawls out in front of it. King sits down at his workstation where he is creating his latest project: an installation of clipboards, arranged and bound in a pattern.
"It's a mixed media sculpture that I'm working on for a client," King says. "I'd prefer not to say who it's for, but they're a private client and a collector."
King is perhaps best known for AURORA, an outdoor pop-up exhibit that "transforms downtown Dallas into an open-air urban playground of new media art, with installations of light, video, and sound," according to its website. Since its launch in 2010, the annual exhibit has attracted over 130,000 attendees. Joshua is already gearing up for AURORA 2018 which will take place on November 3.
"Digital art and new media have taken off here in Dallas and all over the world," King says. "We are looking into expanding programming, how to have events on multiple nights, and how to bring in science, technology, engineering, and math into the picture as well."
King describes his artistic style as "personal and fearless," and credits AURORA as his most personal project to date. He notes that while working on the project, he learned a lot about himself and how much work he's willing to put into bringing a project to life.
"It's no longer just an artist's project; it's a civic project," King says. "I'm working with the people in city hall, local government, sponsorships, corporate foundations and nonprofit entities. I'm not trained in these things, but I learn as I go. It's something I believe will make a difference in our city."
Since the launch of AURORA, King has been a driving force in DFW's art community. In the future, King hopes AURORA will become one of Dallas's signature events, drawing people from all over the world.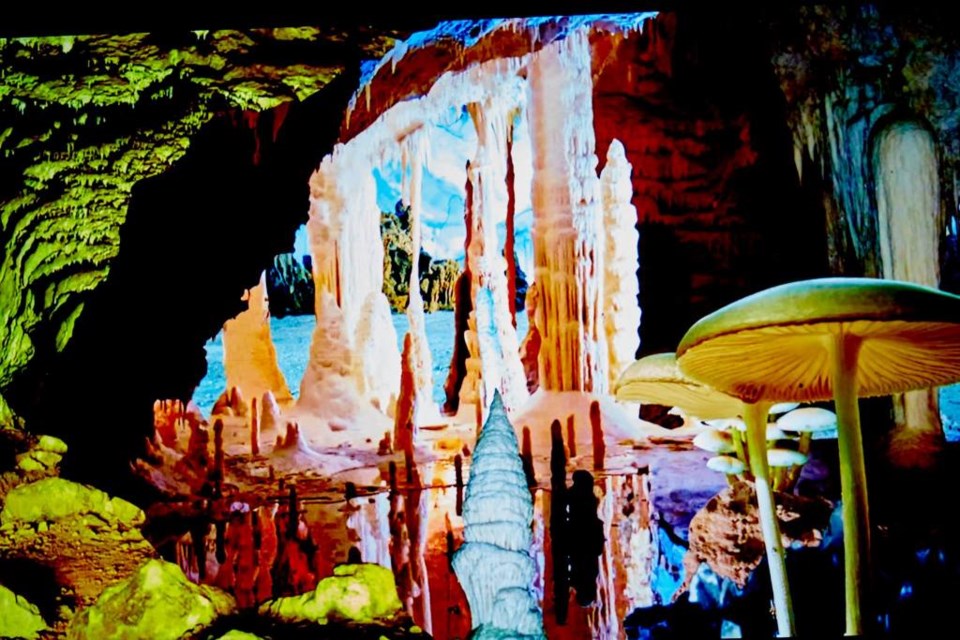 One of his other notable works is an exhibit called "Harpoon: Insular and Universal," an ode to the NYC corner store. Another is "Goods and Services," in which King showcased touched-up versions of everyday objects. While his individual shows have seen success across the country, his heart is here, in the metroplex with its ever-evolving cultural opportunities.
"What's great about the Dallas art scene is that there aren't many rules," King says. "It's still emerging, fresh, young. There's no established [status quo] on how to go about doing things. You get to make up your own process and forge your own path."
King began forging his path at 15 when he enrolled in a photography class in high school. This, along with receiving his first camera as a gift from his mother, launched his passion for the arts.
"I was always gathering my friends to do photoshoots and organizing art shows," King says. "I've known from a very young age what I wanted to be when I grew up, and since then, it's been a battle of never letting it go."
Throughout most of last year, King served as a project manager on the Downtown Plano Mural Project advisory board.
Read more: Arts in Bloom in Historic Downtown McKinney
"I kind of worked as a 'hired consultant' to keep the project on track," King says. "I helped the Plano Art Association run an open call for muralists and kept everything moving forward."
The Downtown Plano Mural Project is a series of three murals established on different buildings in downtown Plano. While the murals have been well received, King believes there is room for Plano to develop as a hub for culture and arts.
"It's still just a seed that's been planted," King says of the project. "There's a long way to go for every city to start supporting the arts. But one thing I did notice is that Plano does believe arts and culture is good for the city, and they put a substantial amount of funding behind the project."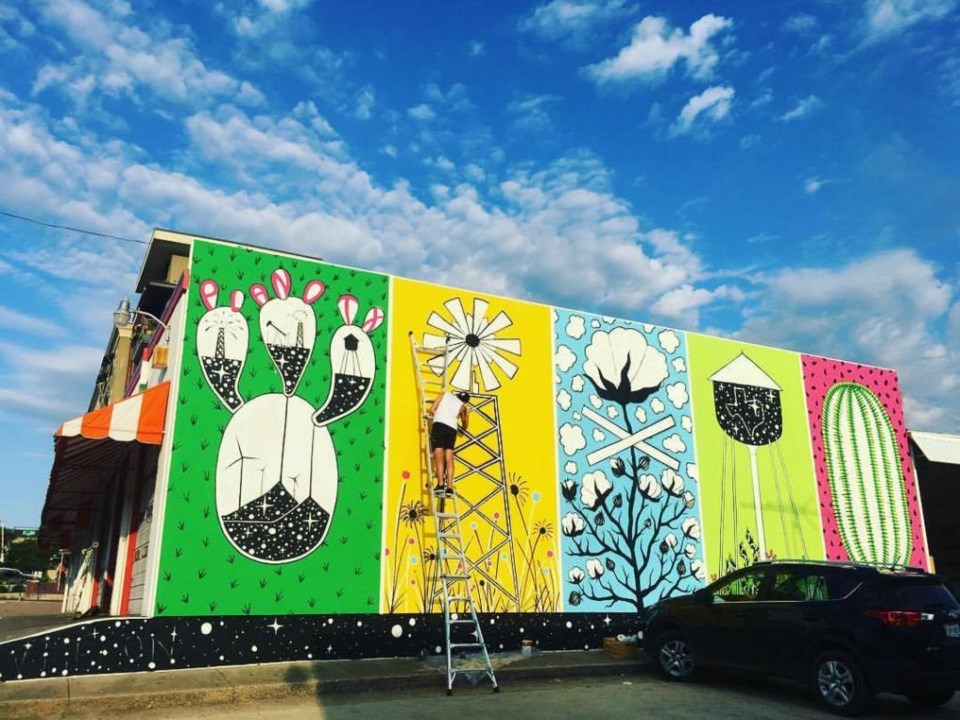 Although the Historic Downtown Plano Association gave the mural project significant funding, they specifically wanted King and crew to stray away from traditional artistic methods.
"They wanted something contemporary, experimental, and they wanted something that tied in technology, not just paint on walls," King says. "After that initial conversation [with the Historic Downtown Plano Association,] I felt that those were things I could bring to the table."
The first mural was completed and unveiled last July. It consists of five colored columns each containing different historical elements such as a windmill, cacti, and a water tower. By Will Heron, it is located on the outside of Georgia's Farmers' Market.
The second was painted by Wes Hardin and is located on the side wall of Vickery Park, visible from the DART station. An ode to old methods of transportation, it depicts citizens strolling about downtown Plano in a colorful, past-day setting. The Texas Electric Railway is visible in the background.
The third and final mural, known as "Echowave," was created by Built by Bender, a creative design and custom fabrication company ran by three brothers: Ariel, Milan, and Aaron Bender. The 3D installation combines visual and audio components.
"The audio portion contains four segments that tie back to Plano's history," King says.
Mayor Harry LaRosiliere, Fire Chief Sam Greif, Executive Director of the Plano Chamber of Commerce Jamee Jolly, and Robert Haynes, curator of the Interurban Railway Museum all contributed to the audio.
While the three murals have been popular Instagram stops, King tends to stay away from social media following a project's unveiling.
"In the very beginning, I would search keywords pertaining to my projects," King says, "but now, I've found out that you've really just got to keep moving. I try to keep away from press and PR after a project's been released because that's a [black] hole."
King hopes that the project will help further evolve downtown Plano as an arts district, like Deep Ellum and Bishop Arts.
"It's going to be important for the city to start cultivating its artists," King says. "In order for downtown Plano to grow as an arts district, it's important for the city to find developers and funding for local artists, to have studios that are cost-efficient, and to continue putting on events for eccentric artists."
After spending an hour with me at the studio, King gets ready to head out to another top-secret meeting. His notifications are pinging off the hook, reminding him of meetings and deadlines. I am left in awe of his hard work, dedication, and ability to balance a variety of tasks. With AURORA, the downtown Plano murals, and his upcoming projects, King is destined to be a household name in the Dallas art community for years to come.
Read more: Chet Tucker's Flowtography blends poetry and photography