At 13 years old Amanda Dunbar first put brush to canvas and painted a masterpiece. Mother's Touch, (1996) Amanda's evocative nascent painting conjured up whispers of Cassatt and Renoir and kick-started two careers. Today, Amanda and Judith, mother and daughter, are successful artists, each in their own right and in their own opposite markets.
Guided by Angels, a book of Amanda's paintings published in 2000, features Amanda's early pieces and includes a picture of 16-year-old Amanda at work in her studio. Looking at today's full-grown version, it's easy to see that now, in 2017, she has settled into her career and herself. She can find those bits of character in the world, give them a twist and transform them. She is the youngest person ever to be inducted into the Texas Women's Hall of Fame and she has used her career to partner with state and national organizations such as the National Center for Missing and Exploited Children. She knows the incredible value of her work and that people will pay well for it. As L'Oreal preaches, she's worth it.
"There's no recipe for this," Judith Dunbar says. The three of us are surrounded by Amanda's solo exhibition "Home for the Holidays" which ran at Blue House Too in Watters Creek December 2016. "Our situation happened so organically that I don't think you could repeat it if you tried."
With two highly proficient artists in the room, I got whiplash trying to keep up.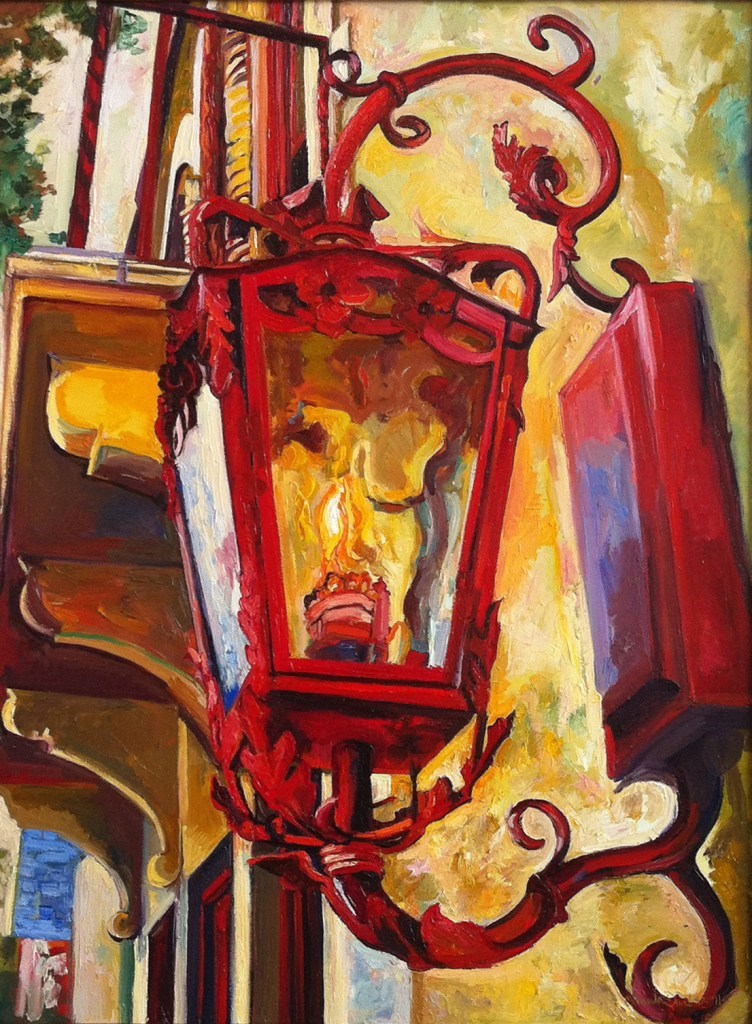 So who started painting first?
Judith: I haven't been doing it all that long. I was following her … When Amanda's career took off, I became more exposed to what she was doing and I found my own little niche and that was that. Our galleries are different, our markets are different, so we don't cross paths too much.
Amanda: I took an afternoon art class in middle school just because I thought it would be cool … I discovered after the first canvas I did that it was just a passion of mine and I've been doing it every since.
J: There's always been creativity in our home. We're all creative in one way or another. My husband is an engineer; I'm a nurse. We've always had these other sides to us and our daughters grew up with creativity around. It wasn't a foreign thing for Amanda to pick up painting … she's inspired me to stick it on a canvas.
Read more: Angular Expressionism: The Art of Steve Uriegas
A: There's always a project going on.
J: This week it's over the top cookies in the kitchen.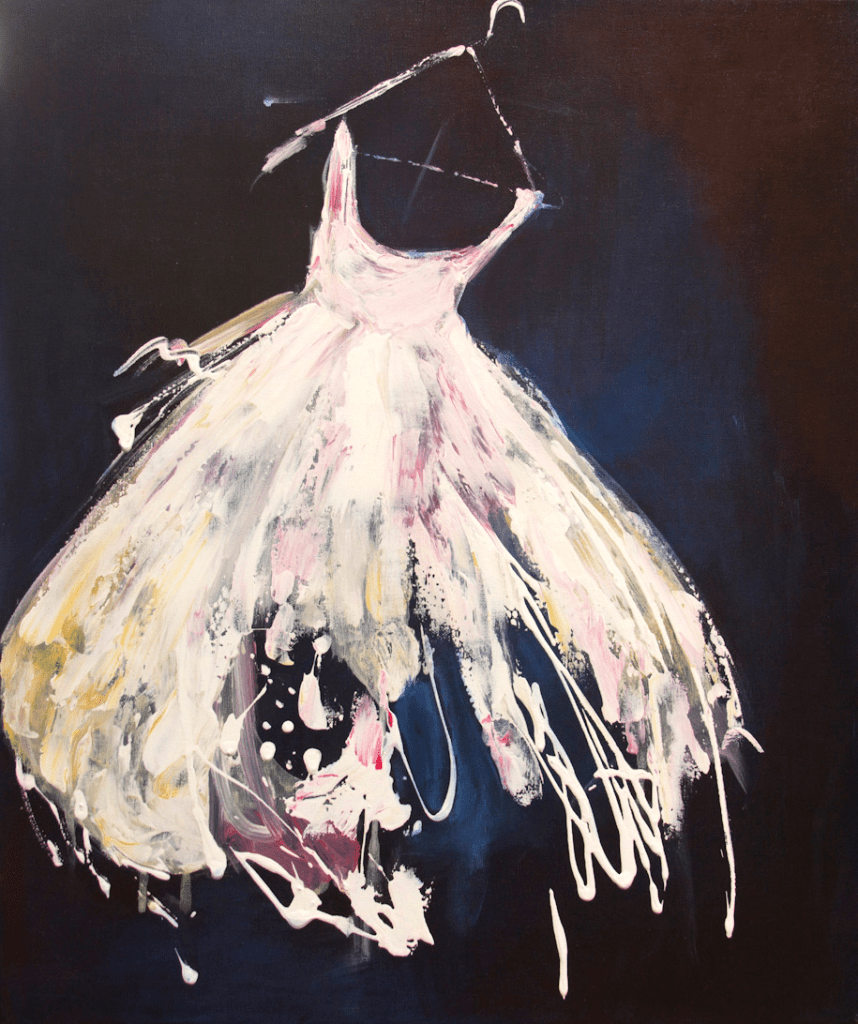 How would you describe your style?
A: Eclectic but very strongly based in traditional representational aesthetic … A lot of them are a compilation of things I've seen and sketched or imagined. Combining ideas in one picture.
J: Mine are more specific. For example, I've got like 18 paintings that are down at the Omni hotel in the hospitality suites. For them, I was given a specific guideline of what to work with, types and color schemes. Mine goes into more contemporary galleries. Hers are in more representational, more traditional galleries.
What about your methods? Are they at all similar?
A: Not even remotely.
J: Sometimes the colors are similar.
A: I don't even know what you're talking about.
J: I steal off your palette sometimes.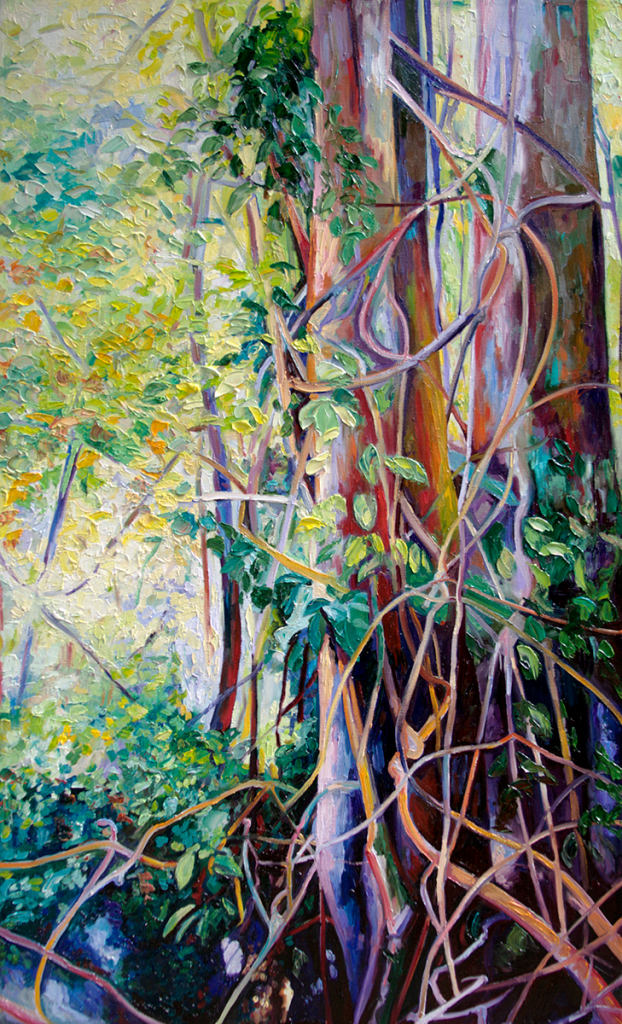 What was it like showing in galleries at 16?
A: I don't think at 16 I had any sort of major grasp on what a big deal it was to be offered solo exhibits in multiple galleries. I just knew I was loving it. It's not until I reflect upon it that I go wow, that was insane. It was amazing. It allowed me to pursue my dream and pursue my craft and it was a great venue for me to be able to learn a lot very quickly.
J: When her career took off, I took 12 years off of nursing to travel with her because I wasn't going to put my 16-year-old on a plane to go to L.A. or wherever alone. I did the background stuff with the galleries and shipping and stuff so she could still go to school. … I don't have the career aspirations that Amanda does. I'm happy where I am. She'll end up in a history book.
Read more: The extraordinary photography of Gabrielle Castaneda Pruitt
What do you think draws people in about your paintings?
J: Initially? Oprah.
A: I was going to say that they come from a level of good intention and I think people are drawn to good energy.
J: You go on Oprah and then suddenly all the galleries want to see your work and you have people that are coming in who maybe haven't even bought art before but they're curious about it. It's a domino effect. We thought after that initial rush died down, that might be the end of it but it wasn't. So there's obviously something more to it that people connect to and it's never really stopped. … We always say that that's how it goes with these paintings. They find their homes.
A: But Oprah didn't hurt.
Amanda has appeared on Oprah twice and during her second appearance, she presented Winfrey with a painting of herself in the movie Beloved as well as a $100,000 check for Oprah's Angel Network, which supports charitable projects around the globe.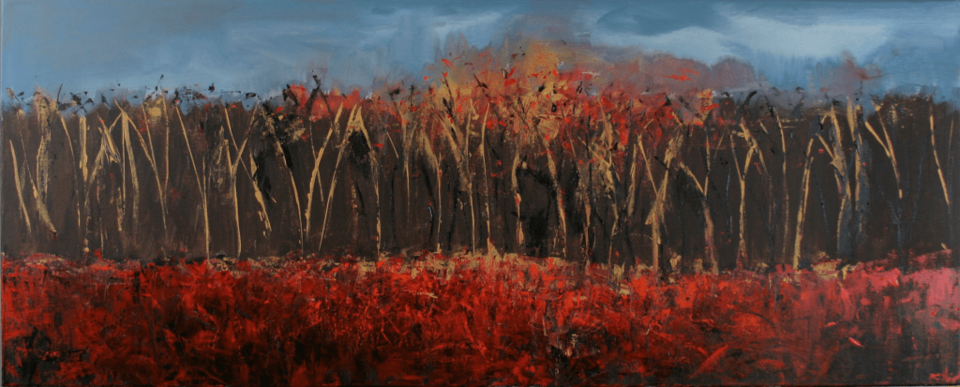 Have you seen the art scene in Collin County grow since you started?
J: In the community in Allen in particular, there are lots of people that are really interested in it and a lot of wonderful artists. It's a small community so we're still working at it. One of the reasons they've asked Amanda to come this year is to bring people in. But they know Amanda and they've followed her career and Amanda is really good at talking to teenagers and kids her age, so it builds excitement and a local knowledge base. There was nothing when she started but now there is. There's a nice little community pulling for her.
A: Humanities, as a general rule, are absolutely integral to our becoming good citizens and recognizing not only our history and our art and culture, but respecting them. Whether it's painting or not, having the arts around you is a positive thing. It's always around us, always surrounding us.
When they are not painting, Judith is a registered nurse in a neonatal intensive care unit and Amanda is pursuing a master's and Ph.D. in Art History. Their works show in galleries nationwide. See more of their work at their websites, amandadunbar.com and judithdunbar.com.
Originally published in Plano Profile's February 2017 issue.