Marfa, Texas should be unremarkable. It should be one of a thousand little towns, summoning up visions of tumbleweeds in tired deserts, old cars growing weeds and abandoned houses with rusted "For Sale" signs. It's barely more than a square mile, probably less than a New York block. Even the sound of the name is muffled with cotton. Marfa.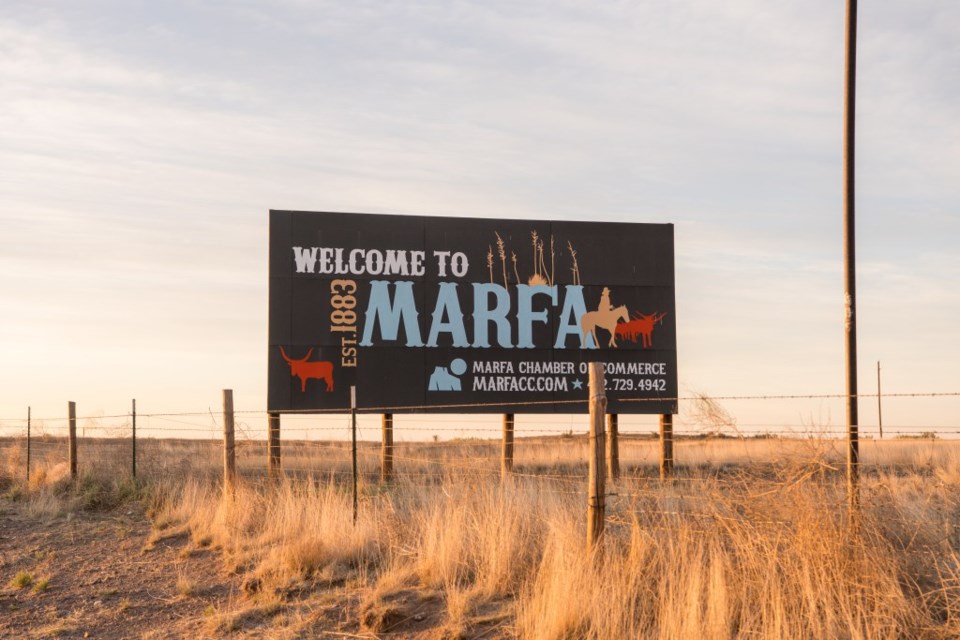 Instead, it's an artistic paradise on the Texas edge of the Rio Grande, a mystical center of culture where thousands come each year to marvel at art and collect pins, bongs, bumper stickers and shirts which proclaim: WWDJD? (What would Donald Judd do?)
The Marfa we know today sprouted back in the '70s when Donald Judd, a renowned minimalist, got sick of Austin and bought up pieces of a stark desert town. It was already quirkily famous for the Marfa Mystery Lights: floating, glowing orbs that have been spotted on clear nights between Marfa and Paisano Pass since the 1880s. After Judd, however, Marfa has seen an unprecedented rebirth, bringing new throngs of the weird and the wonderful. From all over the world, they pilgrimage across Texas to breathe in masterpieces, curiosities in the desert. We woke up before dawn and braved the eight hour drive to see it for ourselves.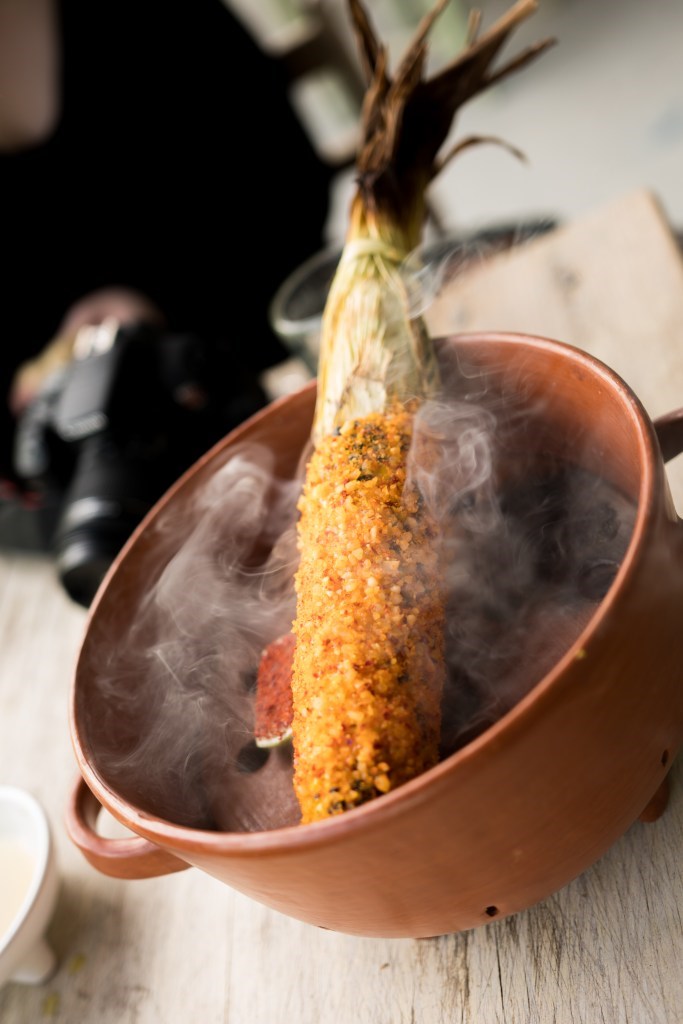 Marfa - Day One
Nothing is far away in Marfa. Within a split second of entering town, we've trucked past the famous watering hole, Lost Horse Saloon, as well as two notable art galleries, Ballroom Marfa and Marfa Contemporary. There's a second-long glimpse of the Presidio County Courthouse down the street, freshly painted a cool shade of salmon.
We have a room booked at the Thunderbird Hotel. Rugged and minimalist, it appears caught in time somewhere around the 1950s. It's now one of the most oft-recommended places to stay: stylish, convenient and cheaper than the prestigious Hotel Paisano (where Elizabeth Taylor, Rock Hudson and James Dean put up while filming Blockbuster flick Giant). It's equipped with Wi Fi and pool access, but no TV. "Read a book," they advise. Contemporary and quiet, the hotel's sky blue walls and abundant cacti are welcome sights after the drive.
Across the street is The Capri, a trendy restaurant and event space. The New York Times called The Capri's idea man, Rocky Barnette, a "mad scientist chef," which is a good sign. Native plants abound everywhere, both in the kitchen and in the hammock-hung garden where visitors can dine and drink mezcal. We order hibiscus margaritas and take the opportunity to talk to some locals, who are unsurprised to be accosted by curious tourists still planning their itineraries. A long-haired dude with a laptop seems to get these questions a lot.
"Places sort of come and go," he explains when it turns out that Marpho, a pho place I'd been craving, isn't currently open. But some things never change. For example, Matthew McConaughey's favorite, Marfa Burrito, might be there until the end of time. Food Shark, a Mediterranean food truck, has been graced by Beyoncé so it's probably not going anywhere either.
Read more: A heavenly wilderness awaits at Big Cedar Lodge, Missouri
Our hibiscus margaritas soon demand an afternoon snack of Elote, Mexican street corn. Grilled in the husk which has been pulled down to become a makeshift handle, the corn on the cob is covered in bright flecks of seasoning, salt, chili powder, butter and crema. They're a little messy to eat, but they're worth it; each bite shocks with flavor and just enough smoky heat.
The hammocks in The Capri's garden are a good place to plan out a rapid-fire weekend before an early bedtime.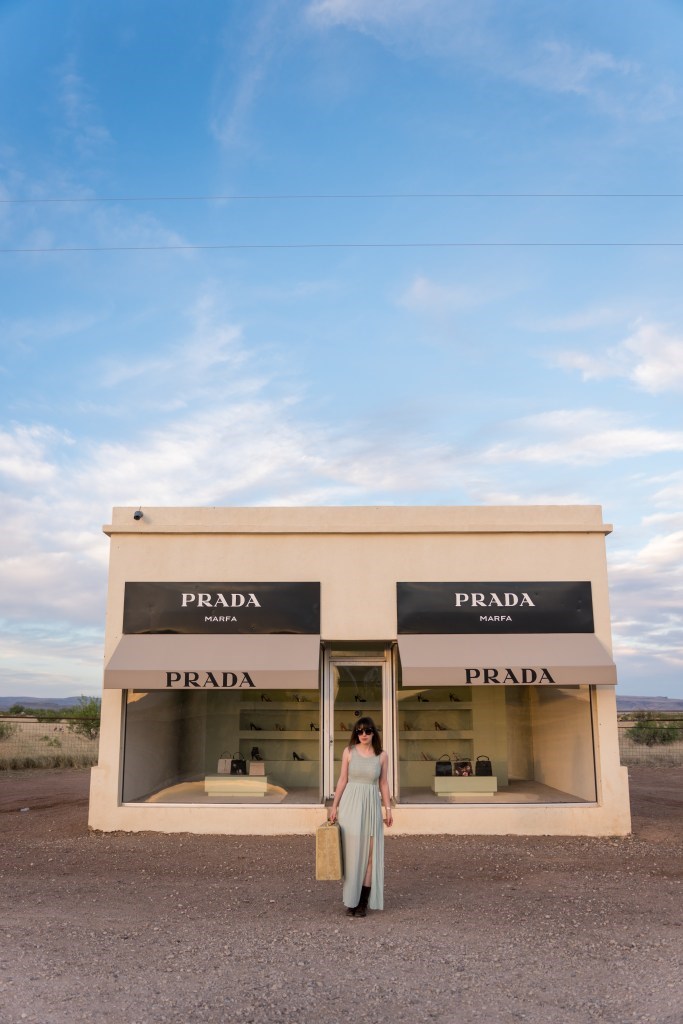 Marfa - Day Two
To get to one of Marfa's most chic destinations, you've got to drive about 40 minutes out through quiet fields under a sunrise that looks like a Turner painting, Cathedral Mountain looming in the foggy blue distance.
Maybe it's just that I haven't had my first cup of coffee, but there's something otherworldly about the landscape. The flat fields are speckled with cows so far off they appear to be the size of toy poodles. We pass a lit landing pad, where a marshmallow-white zeppelin is tethered.
And without warning, a cream, square building appears on the side of the road. Prada Marfa has all the authentic trappings of a designer boutique, from the name on the awnings to the merchandise just inside a faux door. Several handbags rest on podiums. Lonely right shoes are perched in rows on shelves at the back. They are beautiful, timeless pieces, waiting to be admired. The designer store is as pristine as if it had bounced accidentally off the back of the truck on the way to a more illustrious, star-studded home.
Of course, this isn't a real store. And it's not an accident. Prada Marfa is a site-specific, permanently installed sculpture by artists Michael Elmgreen and Ingar Dragset, about 25 miles outside of town. Debuted in 2005, this $80,000 installation was originally meant to stand undefended, never retouched or repaired as nature gradually swallowed and reclaimed it. Despite some human interference and other mischief, nature has been allowed to do some work over the past 12 years. Strange desert bugs, almost like gray crickets, crouch around the doorstep and have found their way inside the bulletproof walls. Spiders have threaded a web or two inside.
Actual Prada shoes and handbags are on display, with permission from the designer. Minimalist and doomed, it exists in a state of constant conversation, contention and reflection with the land around it—and with the photographers and tourists who flock to the middle of nowhere to see it. They pay homage in thousands of pictures and in business cards, old cans, ribbons and other tokens tied to the fence behind the faux storefront.
An elaborate statement on consumer culture, this is one of the most glamorous places on earth. At least, until the desert reclaims it.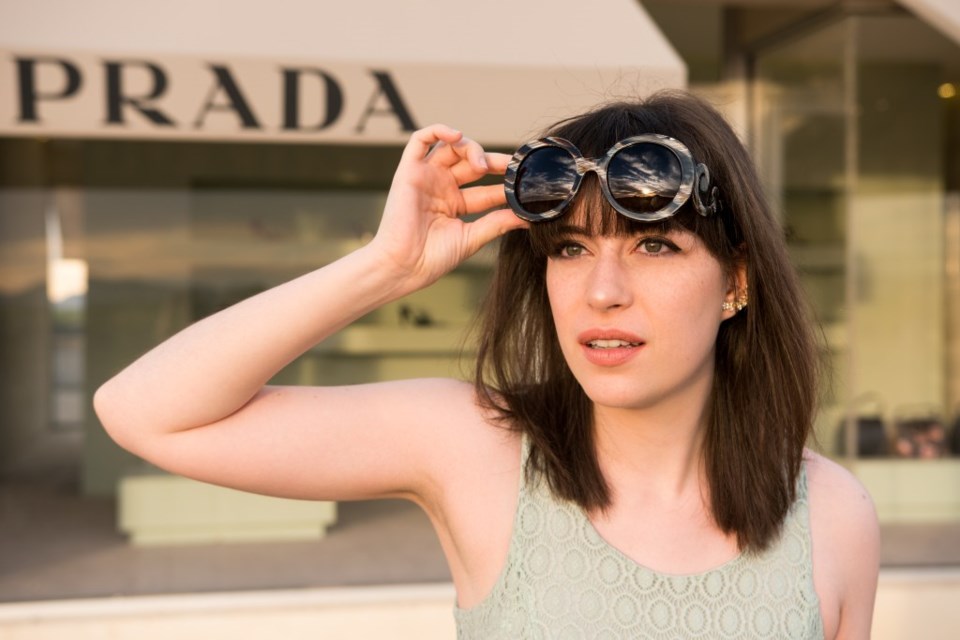 Marfa Burrito resides inside a little adobe house with only a hand-drawn pencil-and-ink sign on the fence to suggest it's anything but a normal home. But a cheerful patio waits inside the open gate, vivid chairs under grass umbrellas. Chorizo, queso, huevos, here we come. A Dutch door stands open, revealing a kitchen where a couple of women greet you kindly in Spanish. Ordering is simple: pick your combination of eggs and chorizo or queso, maybe some potatoes or frijoles. There's a complimentary water cooler and a thermos of coffee, along with a bucket of explosive salsa verde. Bring a good Spanish dictionary or a Spanish-speaking friend because everyone orders in Español.
While we wait, a steady stream of customers trickles through, locals on the way to work and other tourists hoping to catch a whiff of McConaughey's ghost. We gather napkins, water and three fat burritos, and take them outside to eat in the orange morning sunlight. Warm chorizo, perfectly mixed with scrambled eggs and just enough cheese has all been tucked into a pillowy tortilla, so fluffy it has to be homemade. Simple, huge and filling: it's everything a burrito needs to be, especially slathered in salsa verde.
Read more: On the Banks of Bluff City: Inside the Memphis Pyramid
Marfa Burrito is right next to an old petrol station that once appears to have been functional. These days, the gas signs at Sandy's 7 to 11 read ART. ART. ART. A poem on the wall begins "We used to have a culture here." Like much of the local art, it is strikingly spare, only there to trick you for a moment, a tangible mirage.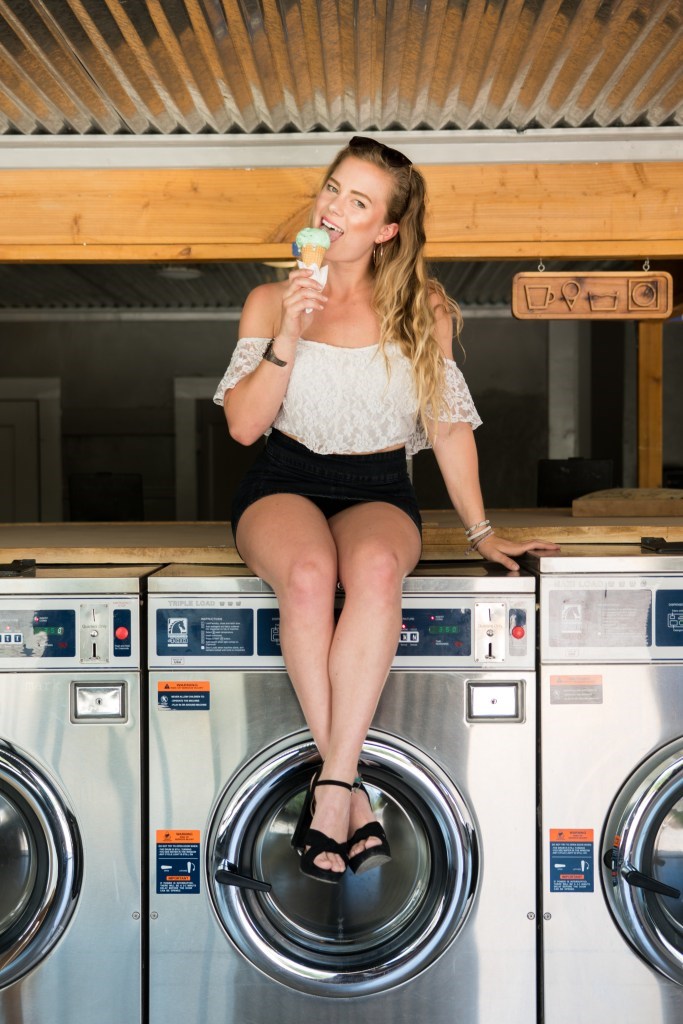 While ambling East on San Antonio street, you may see a rusting metal ice cream cone next to a rusting metal cup of coffee and a rusting metal arrow pointing to your left. Follow it. Trust us.
Tumbleweed Laundry and Frema, a laundromat and coffee shop who operate as one, aren't exactly marked. They're alluded to, two parts of one project that stands for good coffee, ice cream and apparently, clean clothes. Tiles spell out Frema's menu board on the wall: lattes, cappuccinos and cortados. Even better, though, this tiny ice cream parlor/coffeeshop/laundromat serves Plano's own Henry's Homemade Ice Cream. That's right: you can drive eight hours and still find the world's best ice cream. Grab your favorite flavor from home and dump an espresso shot over it. I tried it with the Lavender Bean, vanilla with just a hint of a floral infusion and a violet hue. It was awesome. Wandering next door, we find that Tumbleweed Laundry subscribes to the New Yorker. Magazines cover the lines of retro laundry machines, some in use, and each named something like Susan, David and, my personal favorite, Alex.
Hotel Paisano is just around the corner. Built by Henry Trost in 1929, it retains its sense of history and the stately fountain that greets guests in the open courtyard. An exploration of the first floor reveals an expansive ballroom, a lounge and a frankly gorgeous, seasonally-heated pool nestled in a hidden courtyard. In the expansive gift shop, we pick up a couple of pins and postcards and the first of several Marfa-centric shirts.
Nearby, Marfa Book Company, located in the lobby of the stunning Hotel St. George, is the best place to browse the work of some of the most prestigious artists to have passed through this most-chic of small towns. You won't find Harry Potter here, but instead, art books, photography books, a collection of Eames' prints, more shirts and locally-made housewares and apothecary products. It's a landmark where readings, performances and exhibitions are held within breathing room of the craft cocktails served up in St. George's Bar.
Shopped-out, you may find yourself craving a little more art. In that case, head over to Marfa Contemporary to catch the current exhibit. During our visit, the gallery was taken up by Naomi Safran-Hon's Fragments of Place: photographs of abandoned homes and buildings transformed into three-dimensional paintings, dashes of lace and cement tossed in at will. These haunting paintings resemble tapestries, photographs translated using texture. It's exactly the sort of exhibition that falls harmoniously into step in a place like Marfa.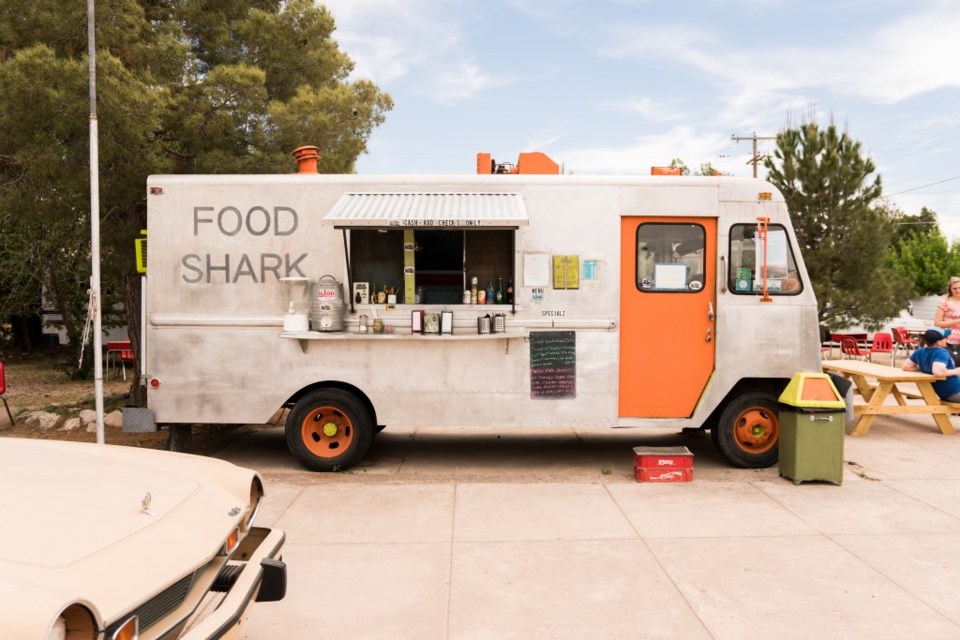 One of Marfa's most famous eateries is just two guys grilling up Mediterranean food and shouting orders from a tin van, colloquially known as Food Shark. It sits comfortably at the top of everyone's list. The truck parks in an open lot with a shaded patio and a bus that has been converted into a dining area. Oldsmobiles with furry seats and out-of-date registrations rest their wheels all around it. Two vintage televisions sit idly on the patio, relics like the ones showcased in the Museum of Electronic Wonders & Late Night Grilled Cheese Parlor. The brainchild of the same geniuses behind Food Shark, the museum is an asylum-white room full of old television sets where guests can order late night grilled cheese. The Food Shark team serves their famous grilled cheeses in addition to dinner on Friday nights.
But I digress. Lamb kebabs are on the specials board along with the classic Marfalafel Plate and it's all beautiful. Both dishes come with authentic hummus and salad trimmings, drizzled in harissa and tzatziki sauce and served hot in baskets. The lamb kebabs are tender enough that they're easy to eat even with plastic silverware and it's been a long time since I've tasted falafel quite this fresh. Most likely you won't run into someone famous, but ask the guys in the truck about it because I'd guess that they have some awesome stories saved up. And don't forget to buy a Food Shark magnet.
Go out when you can and try to see the Marfa Lights. Sometimes you see them. Sometimes you don't. But regardless of what shows up for you, alien or otherwise, the sky is worth your evening. The stars are never as bright in Dallas as they are in Marfa.
Marfa - Day Three
Fresh flowers and the promise of waffles lure sleepy travellers out to Buns & Roses, a repurposed tin barn which is a breakfast cafe and flower shop, because Marfa residents are nothing if not multi-taskers. People crowd in need of coffee—a waifish girl in a dark yellow wrap skirt sitting with a skinny New York photographer, a tourist wearing a furry hat to combat the brisk 50 degree chill.
Huevos Rancheros, hot in every meaning of the word, will wake you up, but whatever you do, order bacon. Their bacon rocks. As far as I can tell, Buns & Roses is heavier on the breakfast side of things than the flower side, but there are plenty to look at, as well as some cute shirts to browse while you wait for your food to arrive piping hot.
On the way out, if you haven't yet, you've got to see El Cosmico, the most Marfa-place in Marfa. Eclectic and vaguely migratory, El Cosmico is nothing more than a campground stocked with trailers, tents, teepees and yurts. Perfect strangers meet, brushing their teeth at the outdoor sinks, or hunting for one of the empty hammocks tied up around the property. It's the ultimate glamping ground. Founder and creator Liz Lambert, drew her inspiration from desert light and the endlessly wide landscape, as well as the incoming stream of art that Donald Judd launched. The property is in a constant state of evolution, nomadic and so Bohemian it's not even funny. Anywhere else in the world, a living art project like this could never be quite as engaging.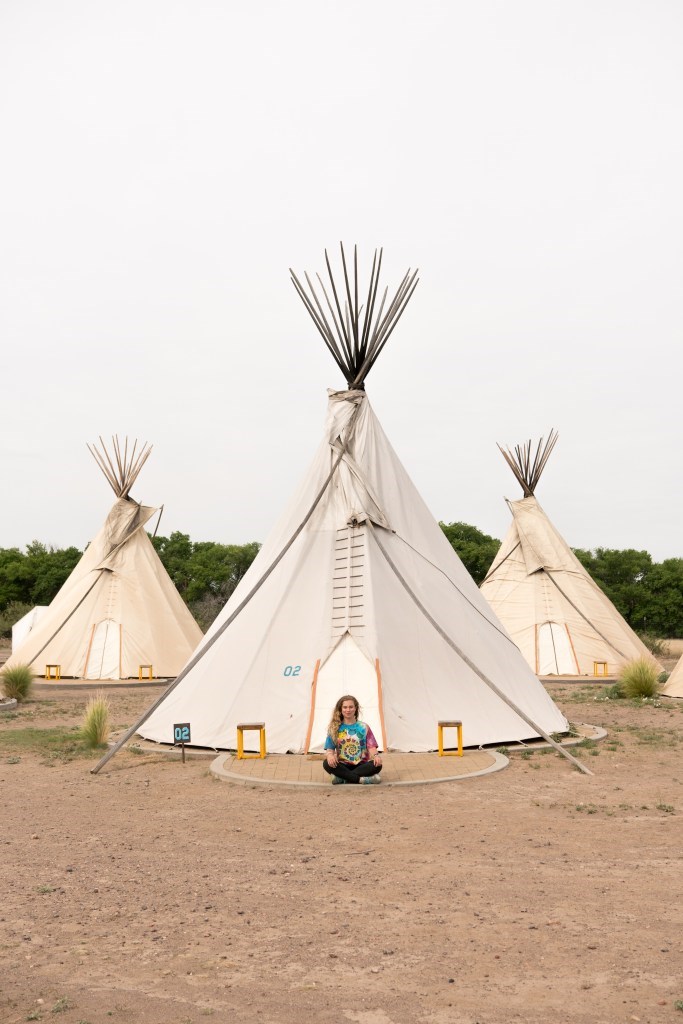 Marfa is an otherworldly combination of cattle ranch and minimalist art, accepting all ideas, thoughts and expressions, no matter how bizarre. It has evolved beyond itself without losing the air of a tiny oasis in the middle of a desert. Buy a few more souvenirs and snap some final pictures. But before you go, stop at the observatory for a last chance at the famous Marfa lights, a final breath of dry desert air and glimpse of adobe cottages under the painted desert sky. Those are the little things that can't be captured and brought back home. They remain where they are, until—like Prada Marfa's slow retreat back into nature—they aren't and something else is instead.