Do you ever, while daydreaming about your own demise, think about what loving words will be written on your tombstone? What solemn sentiments will be shared in your funeral? Now imagine, as you are well alive and kicking, coming across a heartfelt poem published in the paper, celebrating all your greatest failures while lamenting your early passing. These are called calaveras literarias (literary skulls), or calaveritas if they are really short, one of Mexico's Día de los Muertos funniest traditions.
The Day of the Dead is usually regarded as a Mexican tradition of mocking death by means of partying, but there seems to be some division regarding the origins of the celebration. This is in part due to the many, many traditions that are involved in the festivities: ofrendas, face painting, visiting cemeteries to pay respects to the departed, giving death-reminding gifts to the living such as sugar skulls and pan de muerto (bread of the dead) and, of course, writing mock epitaphs of your living loved ones lest they forget their own mortality.
It is argued that these death-themed and cheerful activities are the syncretic result of the clash of cultures brought about by the Spanish colonization of Mexico's indigenous people. According to some scholars like historian Elsa Malvido, there is a misconception that pre-Hispanic traditions survived cultural obliteration by disguising within the Catholic All Saints Day and All Souls Day celebrations, providing their own national flare, including the characteristic defiance of Lady Death.
However, several Mexican academics like Maldivo and the Guatemalan archaeologist Carlos Alberto Navarrete Cáceres, discard the native-American origin theory in favor of a more political and perhaps even more rebellious story.
According to Navarrete, in the first half of the twentieth century, as post-revolutionary Mexico was finding and recreating its own national identity, the value of popular arts and indigenous roots was reclaimed by politicians, intellectuals and artists. One of the most iconic figures that resurfaced at this time was that of José Guadalupe Posadas and in particular, his engraving La Calavera Catrina (The dapper lady skull).
With her big hat decorated in French fashion with feathers and flowers, La Calavera Catrina was a criticism of Mexico's elites, becoming the icon of satirical political comment against the repressive, opulent and European-obsessed reign of dictator Porfirio Díaz.
La Catrina was also involved in some of the first publications of political literary skulls. Appearing for the first time in 1913 as a broadside with the legend "The Ending of the Cheerful and Sandunga-dancing Calaveras", "those that today are powdered chick pea-vendors will end as deformed Calaveras," La Catrina poked fun at working-class women who tried to distance themselves from their native Mexican roots.
Nowadays, the tradition of mixing death with satire has extended well beyond political commentary, becoming part of Mexico's national identity and the whole theme of Día de los Muertos. In addition to poking fun at political figures like Biden and Trump, people publish literary skulls for friends and family in newspapers and kids are encouraged to write their own calaveras for teachers and public personalities. No one is safe from rhyming mockery!
Día de los Muertos is traditionally celebrated on November 1 and 2, although festivities may extend depending on the region. If you are looking to join the party, here are a few Day of the Dead events in North Texas that are to die for.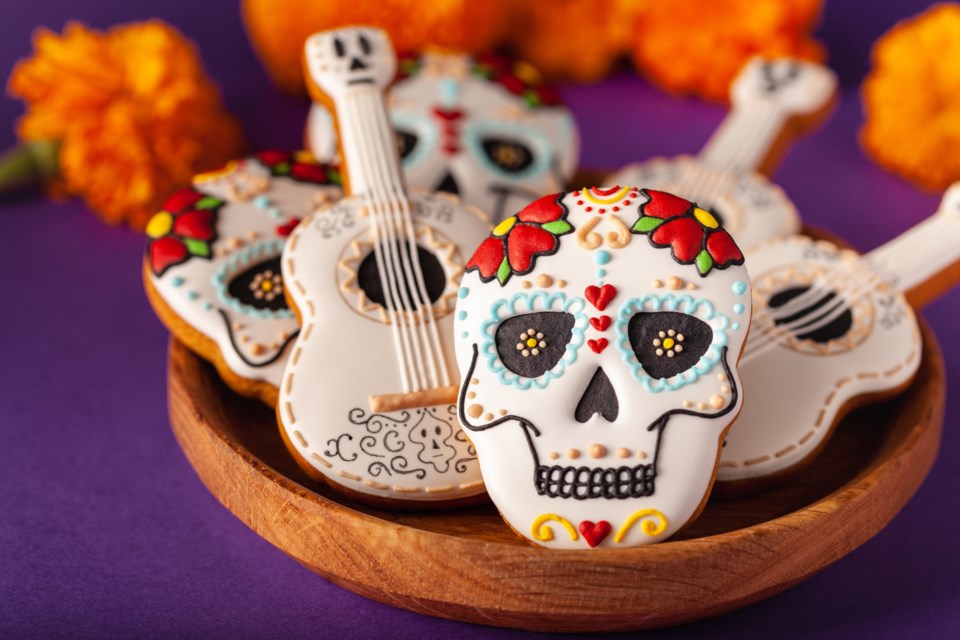 Dia De Los Muertos Celebration
When: Oct. 28, 2023 | 4:00 p.m.
Where: The Shops at Willow Bend | 6121 West Park Boulevard, Plano
Día de los Muertos Parade
When: Oct. 28, 2023 | 7:00 p.m.
Where: Dallas City Hall | 1500 Marilla St, Dallas
Dallas Symphony Orchestra's Day of the Dead Concert
When: Oct. 31, 2023 | 7:30 p.m.
Where: Morton H. Meyerson Symphony Center | 2301 Flora Street, Dallas
Día de los Muertos Festival
When: Oct. 28, 2023 | 1:00 to 6:00 p.m.
Where: Latino Cultural Center | 2606 Live Oak Street, Dallas
Día de los Muertos Garland
When: Nov. 1, 2023 | 5:30 to 9:00 p.m.
Where: Granville Artes Center | 300 N. Fifth Street, Garland
Día de los Muertos Celebración
When: Oct. 27 - Nov. 5, 2023
Where: Crown Hill Memorial Park and Mausoleum | 9718 Webb Chapel Road, Dallas