Plano, Texas is known for a lot of things, but we're not famous for our beach views. So, who would've thought one could hop on a surfboard in the middle of The Shops at Legacy?
City Surf Fitness recently opened in Plano, offering a signature workout on a surfboard, which is balanced on top of three BOSU balls and secured with bungee cords. There are seven distinct City Surf classes, such as the Beach Body Bootcamp, a cardio-based class, or Buddha Board, their unique spin on yoga. I signed up for the Big Kahuna class, which is strength-focused, featuring resistance bands and sandbells. This class is great for toning and muscle development and is specifically recommended for beginners.
Since this was my first time, the instructor and local head trainer, London Fish, had her eye on me and was happy to come over and lend a hand. After she led us through some off-board cardio to get our blood pumping, it was time to surf. We started in a simple plank, before standing up. Once you're up, just like out on the waves, the only thing in your way is fear.
The board feels less steady than it is–in fact, according to City Surf, it takes at least three classes to get your sea legs. But, just like riding a bicycle, once you get the hang of it, you'll discover a holistic and challenging workout made better with the additional challenge of balance.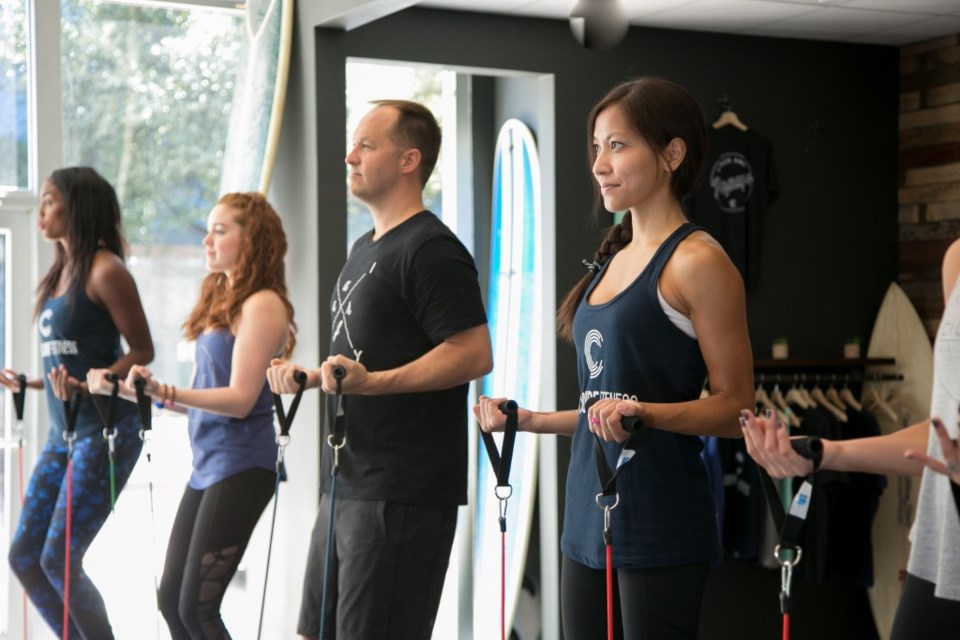 Balance is often overlooked even in the most well-rounded workouts, and during my first time on the board, I realized that I'd been missing it. When you're lunging, crouching or even just standing on a wobbling board, the slightest shift feels seismic at first, as if it could capsize you. When I tried shifting my weight too drastically, I went from standing on a surfboard to standing on what felt like a giant vibrating cell phone. We did some light core work, which gave me a chance to truly get to know the surfboard, before grabbing some resistance bands to really hone in on muscle toning and strengthening.
As we began shifting positions more frequently, the board went from a puzzling obstacle to a fun challenge. In just an hour, I had subtly acclimated and my balance was noticeably better. The steadier I was, the more I was able to challenge myself. As the class came to a close, I was ready for the waves.
City Surf offers a uniquely engaging and tough workout. Moving around on the board, while keeping your equilibrium, strengthens your core almost without trying, and the seven very different classes mean that City Surf is sure to have a workout format that suits your needs.
"Fitness is an intimate thing," London explained. "So we want everyone to be focused on bettering themselves and making sure they feel stronger when they leave."
City Surf Fitness |7200 Bishop Rd., Ste. D3 Plano, TX, 75024 | 972.322.9732 | citysurffitness.com
Originally published in our November 2016 issue.