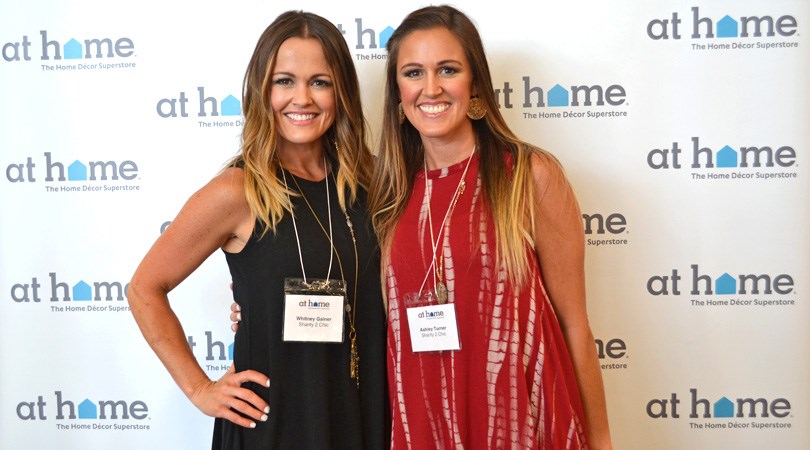 HGTV's Open Concept stars Whitney and Ashley Turner welcomed eager shoppers to the grand opening of At Home's new Plano location on Thursday, June 23. The event kicked off with a ribbon cutting led by At Home CEO Lee Bird and representatives from the City of Plano and Plano Chamber of Commerce.
Whitney and Ashley hail from DFW and transform local family homes into chic masterpieces. With eight kids between them (Whitney, a mom of 5 and Ashley, a mom of 3), they know just what it takes to get the job done in time and under budget. They also understand the importance of smart, functional spaces. The sisters build one-of-a-kind handcrafted furniture pieces and use At Home products to style homes fit for the family. Before sharing tips on how to make your patio ready for the Fourth of July, Whitney and Ashley spoke to Plano Profile about how they made it to HGTV.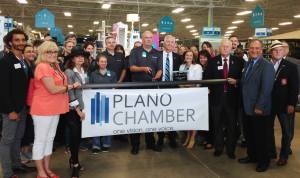 How did all this begin for you?
W – "Our blog, Shanty2Chic. From there, our business took off."
Is carpentry something that came natural to you? Or did you take courses?
W – "No, we're self-taught."
A – "Neither of us went to college. We graduated high school and started working full time, got married and had kids."
W – "It was just a hobby. We thought it was fun and it turned into all of this."
Do you credit social media?
A – "I think so. Social media is a huge part of our business. It's the biggest word of mouth you can use."
Did HGTV hear about you or did you pitch yourselves to them?
W – "Our production company is in Canada. [Our producer] wanted to find a dining table and her friend said to checkout our website where we teach you how to build your own dining table. She found our site, emailed us and said, 'Have you ever thought about being on TV?'"
A – "We've been asked [to be on TV] before but there was something about her story, how she found us, that felt very real. And we moved forward with it. It's been a two-year process and a lot of fun."
So what does your partnership with At Home entail?
W – "Ashley and I grew up going to Garden Ridge with our grandmother and absolutely loved the store, so when they changed to At Home, we were excited. For the most part, [the partnership] started with social media. We shared their products that we bought ourselves for the show."
A – "We use their products when we style our furniture. People say, where did you get that pillow…where did you get this? We started tagging them on our blog and At Home said, 'We'd love to work with you.'"
Do you have any of the furniture that you build on sale or in showrooms?
A – "No, we actually don't. We just share the plans; we build furniture for our own houses and share the pictures and the how-tos on our website."
W – "A lot of people build the furniture that we teach them how to build and then they sell it."
***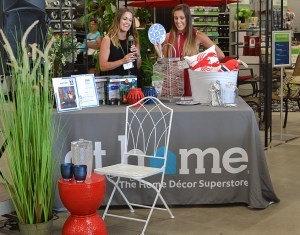 Whitney and Ashley's quick tips for a patriotic patio:
Greenery – It offers privacy.
Melamine plates – Great for the kids and the outdoors, these are one of the top sellers at At Home.
Multi-purpose buckets – Store cute pillows in them or put ice in them.
Lighting – battery-powered/LED or solar power options are available.
Ashley concluded, "The best part of this is you can find it all in one store. As working moms, that's important for us."
About At Home
Formerly Garden Ridge, the home and garden chain store underwent a $20 million makeover in 2014 with a new name and cleaner, neater, more organized stores. The company offers 50,000 items in each store—400 new items a week—for every style type from traditional to contemporary. The new Plano location is located on the northeast side of Highway 75 and Park Boulevard at 2704 Central Expwy. Plano, TX 75074. Visit athome.com.