Thirty years ago, Carlos Sarabia came to the United States with a dream. He lived to see it come to fruition and has retired a millionaire.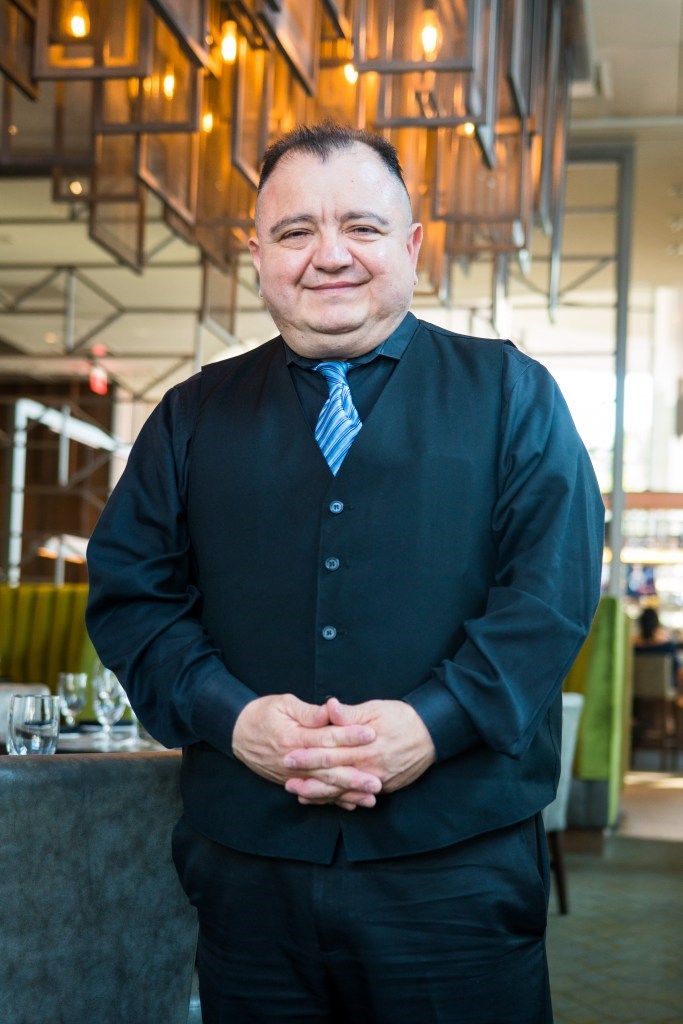 Like many immigrants, Carlos moved here looking for better opportunity. His uncle, who was already living and working in the restaurant industry, told him that Del Frisco's was the best place to work. So Carlos went to the restaurant one day to ask for a job.
"[Del Frisco's] didn't need anyone. They didn't have any openings, but the manager told me the owner, [Dale Wamstad], was there and asked if I wanted to speak with him. I waited until he finished eating, and I told him I was looking for a job. I said, 'I'm very good, I'm very fast, and I have too much energy for working," Carlos recalls.
Impressed with his personality and gumption, Dale gave Carlos a tryout to see if he could live up to his sales pitch. "He liked how I talked to him," Carlos says.
After working for a few days, Carlos earned a full time position. A month later, he was supervisor of the bus boys. Three months later, he was in charge of training staff in the front and back of the restaurant.
"When you work with professional people, and they see you're good, they take care of you. [Dale] told me, if I make money, you make money," he says.
Carlos took to heart that if the restaurant was successful, he would be successful. The first thing he tells new staff is that discipline is the most important component of this job.
"Always be positive and smiling. Be professional, and make good friends every night. And be happy—always! People come back because they enjoy their time here. They come to celebrate birthdays, they come back for the food and service and they want to see their friend Carlos or Maria. It's an experience. It's very important for people to come back and feel like they're at home. The customers are the most important thing. If we don't have any customers we don't have any business."
Carlos continued to work his way up and eventually became part of the team that travelled the country opening up new Del Frisco's locations in cities like Vegas, Manhattan, Denver, Charlotte, Houston, Fort Worth, Dallas and more.
"I worked for 10 years traveling and opening places," he says. "I had the best experience in my life. My mentors, [Dale, Dee Lincoln, Jamie Coulter and Mark Mednansky] are really professional. They have two corporate jets, and every week I would fly to Manhattan and then on the weekends they would fly me home because I worked too hard with those guys. Like 18 hours day—you have be the best," he laughs.
But for Carlos, working hard is what he loves to do. It's easy to see by the infectious smile he wears on his face from the minute he walks into the restaurant.
"I enjoy working with our very professional guests. People here have too much energy, and they're very happy because it's always a celebration here! If you make money and you're happy—everybody's happy. Every day is a new experience."
Over the years, Carlos learned a lot from the people around him and heeded their advice. Because he had connections with people in the restaurant industry, he opened his own corporate cleaning business on the side in order to "do something extra for [his] future." With the help of his four mentors, Carlos earned over $1 million in 10 years. With that money, he started investing in Frisco and Plano real estate.
"They told me to put my money in this area because in 10 years you would make double the money. So, I put my money in Frisco and East Plano, and boom—double the price and then some. These people are very professional, everything they say to you is like—boom!
"I'm very happy I met these guys because they changed my life a lot. It's the best company to work for in the restaurant business. These four people, [Dale, Dee Lincoln, Jamie Coulter and Mark Mednansky], they are incredible and strong people. If you listen to these guys, they'll make good things happen in your life. When you have a good boss and they make money, everyone makes money and everyone is happy."
I asked Carlos, where does his perpetual positivity come from?
"Working here, it's like a football game. Everyone is important here. From the dishwashers to the general manager, we're a team and we're going to win the Super Bowl every day. And you have to think like that: every day you win, and every day you make money. But if you have a bad attitude, then you're in the wrong business. Here, you have everything: good benefits, good insurance, good friends. That's all you need, you know?
"Everything is possible in America. Discipline, always on time, professional—that's it. If you sell peanuts or whatever, still sell it the best way!"

This past October, Carlos officially retired from Del Frisco's a self-made millionaire and has plans to move to Mexico where he owns some property.

"I retire, but you never retire. I'm just doing something different and not working as much. If you retire and stop working, you pass away! And we don't need that," Carlos says with a chuckle.