A new $2 billion retail and residential development in Frisco will be moving ahead at Brinkmann Ranch. The financing was recently completed for the development to proceed.
Landon Homes and the building company Toll Brothers, were contracted to build on 15 acres of space on Brinkmann Ranch at the southwest corner of Coit Road and Eldorado Parkway. Trammell Crow Residential is set to construct the first apartments for the development. According to the financing team Northmarq, the retail project is part of a larger 600-acre master-planned, mixed-use development.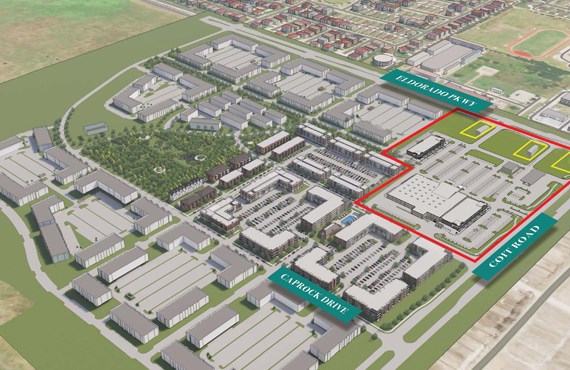 Landon Homes purchased 637 acres of the Brinkmann Ranch land east of Preston Road for the construction of the residential and commercial community in 2020, according to The Dallas Morning News.
Surrounding the property will be 2,500 single-family residences, 2,200 multifamily units, schools, parks and an amenity center for residential use.
The retail development will feature a Tom Thumb grocery store as well as 30,000 sq. ft. of in-line retail, restaurant space and three outparcels. According to the statement, a number of "nationally-recognized tenants" drafted letters of intent to occupy the development upon completion.
Bobby Weinberg, managing director, and Mason Brower, vice president of Northmarq's Dallas debt and equity team arranged the financing of the development.
"Our team was able to secure a lender who offered the best combination of leverage and pricing on a non-recourse basis," Weinberg said in the statement. "We are very happy to have facilitated this first interaction between our borrower and this lending partner."
The $25,441,000 loan carries a term of 5 years with 3 years of interest, followed by a 30-year amortization schedule. Northmarq secured the loan for the borrower and developer, Centergy Retail, through its relationship with a local bank.
Construction is scheduled to begin in Nov. 2023 and be completed by Nov. 2024.