The average prom night can cost over $600 in the South. There's the "promposal," the hair and makeup, the tuxedo, and then, of course, there's the dress. The dress alone can cost multiple hundreds of dollars, but for most people it's not even about the dress itself. It's the thrill of the hunt, and then the anticipation of feeling like a million bucks on a magical night where you dance the night away with your friends and classmates.
Adults with cognitive disabilities are not often given the opportunity to attend a formal dance. My Possibilities (MP) is a nonprofit in Plano that serves these adults who age from 18 to 72 years old, and they use their annual gala as a chance to not only raise funds for their programs, but also hold a formal dance for their clients, lovingly referred to as HIPsters—Hugely Important People. The ladies get dolled up with hairdos and makeup, and the gentlemen look suave in their tuxedos. This gala, called the Community Ball and presented by Alliance Data, is a chance for MP to celebrate the HIPsters and show the community first-hand the joy they create. Berry Family Services and the Behavior Exchange have also partnered with MP for the Community Ball. The concept of this night was founded on the principle that there is no better way to show the community who you are advocating for than to have them in the room with you as you are doing so.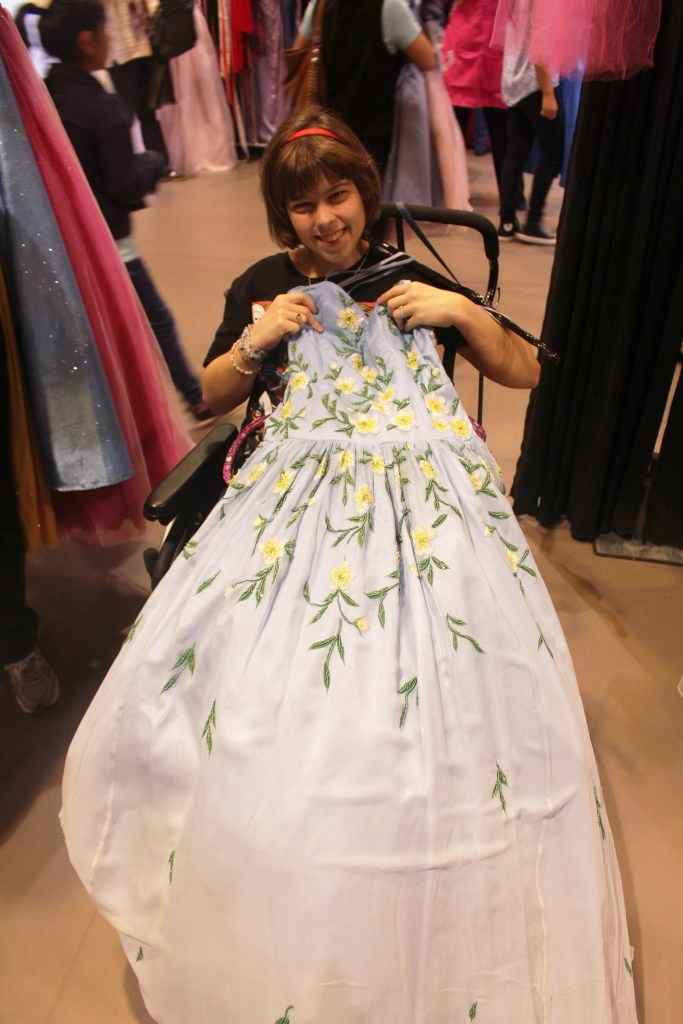 While the Community Ball creates the opportunity to celebrate the HIPsters, it doesn't in itself fix the issue of the cost to attend. Many of the ladies will still wonder, "What am I going to wear?" The worry of the cost of a dress continues to linger, but thanks to the Prom Closet at St. Andrew United Methodist Church, the HIPsters are able to shop from over 3,000 dresses, shoes, and accessories to find their perfect dress, and all at no cost. As the HIPsters shopped the aisles of dresses in all colors, shapes, and sizes, their faces lit up as they found their perfect dress.
Not only do ladies get glammed up for free, but the gentlemen have the choice to get a tuxedo at no cost to them, thanks to a continued partnership with Men's Wearhouse.
This year's Community Ball is being held on April 30 at the Embassy Suites Hotel in Frisco from 6–10 p.m. The HIPsters will spend the hours before at the hotel with volunteers and staff members from MP getting their hair and makeup done and making finishing touches on their tuxedos. If there's one phrase you will hear frequently around the halls of My Possibilities, it is "It's all about the HIPsters," and this night will be no different.
If you would like to find out more about the Community Ball, visit MyPossibilities.org/CommunityBall or e-mail [email protected].