Sunshine finally interrupted our rain-soaked spring. It was a welcomed sight for tennis players at Stonebridge Ranch Country Club in McKinney.
Director of Tennis and Athletics Philip Farmer was glad to see players filling the nine courts again, as we sat down for a conversation about the book Mental Toughness 101, The Tennis Player's Guide to Being Mentally Tough. Farmer is one of seven tennis coaches that author Greg LeVine interviewed for the book.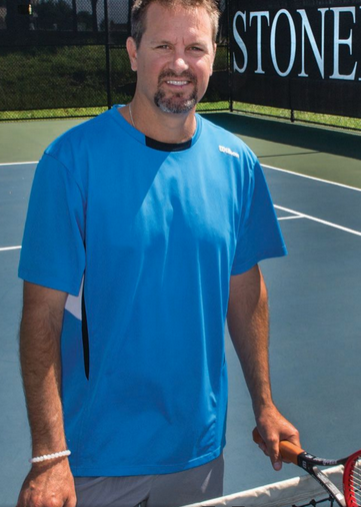 Considered one of the best professional coaches in the U.S., Farmer has coached top 20 world touring professional players and the #1 doubles team in the world, Bob and Mike Bryan.
Farmer also happens to be a Plano native. He played tennis for Plano East Senior High 1990-1992, where he and his doubles partner went all the way to the finals of state competition his senior year. He then played for the University of Oklahoma for four years.
It was while pursuing a professional career that he noticed he had a talent for coaching. He had encouraged his friend and younger player Tara Snyder to train with his coach in Houston, and ended up working with her himself and eventually traveling on tour with her. In that year, she went from being number 297 in the world to being in the top 100.
Since then, he has coached some of the best players in the game including the Bryan brothers when they won their first slam at the French Open, and in 2012 he coached Sam Query for a year when he was returning from an injury and getting back to his highly competitive form.
From his coaching experiences, whether with juniors, adults or pros, Farmer has learned what it takes to be successful on and off the court.
Tennis serves up life lessons
Positive thinking. Farmer is a big believer in positive thinking. In the book he discusses writing scripts with positive reflections to review before games. Notes like, "I have a great serve," "I'm going to play aggressively," or "I'm going to play to win." He suggests other notes to help a player relax such as, "I'm going to stay calm and stay balanced."
Farmer says, "We all have plans, obviously, relating to our game and our style of play, but a lot of the time we don't go out there with our game plan in mind. You want to go out there and be relaxed, be very positive, and be really committed to your own system of how you want to play and what you want to do during the match."
Confidence. When it comes to confidence, Farmer said it's like the chicken or the egg quandary. He explains, "To get confidence, you have to win. But to win, you have to have confidence.
"So I think players who are special, like the Bryan brothers, have an inner ability to believe it. Even though it hasn't happened yet, or if it's not happening at that moment, they still feel confident that it is going to happen. I always say their outer shell is made of metal instead of thin paper, so the negativity or bad moments don't crater that shell. Inside they stay pretty confident."
He continues, "Confidence comes from winning, it comes from playing well, it comes from feeling good. And a lot of times you develop that by having a game plan, by being prepared, and having scripts that are saying, 'Hey, I do deserve this. I am playing well.'
"Also look back and see the good things you've done toward your goals: 'I accomplished these goals already this year, I feel good.' Or, 'My serve has gotten better, I've worked hard on it, so therefore I feel confident because I know I've put in that work.' "It's a combination of working hard, setting goals, and visiting those goals to see what you've accomplished throughout the process."
Self-reliance. When you play tennis, you are responsible for your effort, your improvement, your attitude. As Farmer explains, "It's one on one, or in doubles two on two, but you don't really have a team to fall back on. You can't get coaching during the match—you can't call a time out and get coaching like you can in high school football or basketball. There's really no coaching in the middle of a competition, so you have to figure it out yourself. You have to problem solve, and so you really learn a lot of valuable life lessons in terms of discipline and problem solving. I think you mature a little bit quicker."
How to handle disappointment. Loss and disappointment are inevitable in life. That's especially true in tennis. Farmer reasons, "You learn to deal with those ups and downs in life because in tennis, there's just one winner in every tournament. So if 128 people enter the draw, 127 will go home losing. Of those 128, only one really goes through that tournament as a winner. So you learn to deal with tough times, bad matches, and you definitely learn to deal with losses because unless your Federer or Nadal, you're pretty much losing almost every week. Right? So you learn to deal with it, you learn to handle the situation, and get back on track and realize there's another tournament down the road."
Flush it. Almost a trademark phrase, Farmer tells his players to "flush it" after playing a bad point in a game. He is quoted in the book: "It's not a sport that makes it easy to be perfect. It's a very difficult sport, so you're going to make mistakes. The first thing is to tell yourself to flush it and move forward."
Advantage, love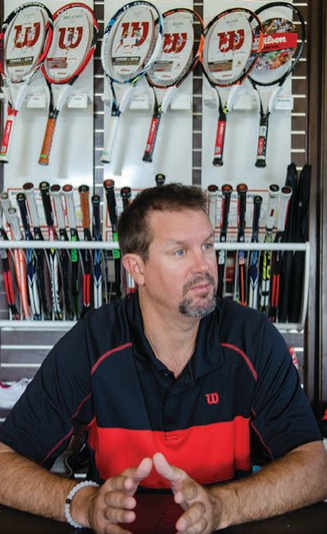 It is a great advantage in your career to love what you are doing. Fortunately for Farmer, he is teaching and coaching the sport he has loved since he was 7 years old. Not only does he enjoy teaching the mechanics, he is also gratified by the opportunity to help individuals sharpen their mental game as well.
"I love to coach, and I love the communication aspect of it," he shares. "Since I am a coach and a teacher, not only do I teach my students on-the-court strategies, the X's and O's, but also what's going to help them win: the right attitude, being confident, being balanced."
Farmer understands the value of playing tennis had on him during his formative years in Plano. "It kept me on the right path, so to speak. It kept me very focused and gave me an identity. I was known around the Dallas area, especially in Plano, as one of the top players, so it was a sense of accomplishment, pride, an identity. It kept me working hard, disciplined, and on the right path."
After a lifetime of playing and coaching tennis, we asked which is more gratifying—winning or seeing his students winning. "That's an interesting question," he says, mulling it over in his mind. "I would have to say coaching because it's multi-level. With coaching, you feel a sense of accomplishment and you also help someone else accomplish their goal, too. It's unselfish, it's deeply rewarding."
The book Mental Toughness 101, The Tennis Player's Guide to Being Mentally Tough can be purchased on Amazon and is also available at the Stonebridge Ranch Country Club tennis club pro shop.
PHOTOGRAPHY: Mike Newman