Tom Harrison is trending locally on Twitter again. Ever since he, a Plano City Council member, shared a bigoted post on his Facebook that read "Share if you think Trump so ban Islam in schools," he has been in very, very hot water.
Here's the basic timeline we're working with:
On February 13, Harrison shared the following post: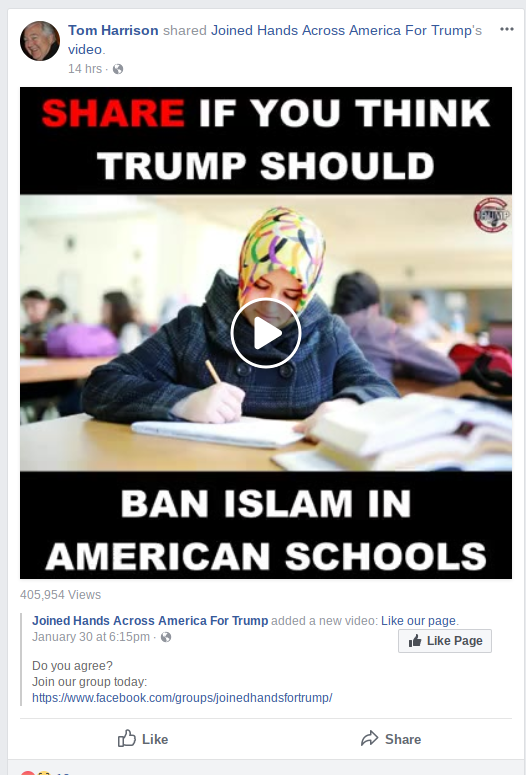 The next day, Plano Mayor Harry LaRosiliere called an impromptu press conference to address the post and called for Harrison's immediate resignation.
On February 14, Harrison also issued an apology, saying, "My intent on inputting this on my personal Facebook page was to emphasize that Christianity is not the only religion being targeted for exclusion in our public school. It was not meant as a personal attack against the Islamic faith."
Then, on February 19 in another special session, it all got a lot worse. Other posts were found in Harrison's Facebook, viewed by Community Impact, who described them like this: "Some of Harrison's Facebook posts were unknown to several council members until earlier that day, including links Harrison shared in 2016 to articles that made politicized statements about black fatherhood and falsely asserted that all present-day slaveowners are Muslim."
Every other councilmember asked Harrison to resign and he was officially censured.
Harrison said only that he was not xenophobic, bigoted or racist and he would not resign. At that point, the only way to force Harrison out would be a recall petition. At the time, we published that a council member can be recalled based on grounds of incompetency, misconduct or malfeasance in office. There would have to be a petition, signed by qualified voters of the city equal in number to at least 30 percent of the number of votes cast at the regular municipal election of the city.
A total of 9,301 votes were cast in the 2015 election, according to the city of Plano. A recall petition for Harrison would require 2,791 signatures.
On April 4, a new group called Our Plano One Plano submitted over 4,400 signatures demanding we recall Harrison.
The city has now voted to schedule a recall election for Harrison. We will get the chance to vote on the issue on November 6, 2018.
While originally Harrison said that his post was misunderstood, now, according to NBC, his defense is that it was an accident and he didn't mean to press the 'share' button at all.
Make of that what you will.
As a community, we have been surprised by our own anger. A lot of people, Islamic and otherwise, felt personally attacked by the post and personally threatened in the aftermath. People on both sides of the fence immediately jumped up, either to justify Harrison's post as a "mistake" or call on him to resign and apologize.
Overnight Tom Harrison became Plano's straw man, standing in for national, political injustices, angers and overall, a sense of helplessness. People who disagree with each other on Facebook have even started using "anti-Harrison" or "Harrison-supporter" as insults.
Tom Harrison has a GoFundMe page for legal assistance, which reads: "Tom Harrison is the most dedicated and committed public servant in Plano city government. He is the victim of malicious distortions, character assassination and outright lies. Democrats, special interests and fanatics have conspired to break the law in an attempt to force him off the City Council to make way for Harry LaRosiliere's political and social agenda. … Please donate to his legal trust and ensure his continued efforts to protect Plano from developers, social leftists and political radicals."
Twice, the page calls the recall "illegal." He may not like the recall, but calling it an illegal conspiracy seems extreme. This is a suburban city council. This is not Game of Thrones. Donations have reached $4,443.
Harrison was elected in 2015 to serve a four-year term. At this point, he isn't fighting for a full term. He's already served more than half of it; it expires May 2019. He will spend half of the year he has left battling to serve it. This isn't just about a place on the council; Harrison is fighting for his reputation. But even if he wins the recall election, can he really get what he wants? Can you get your reputation back once it's shot?
One last thought: Everyone has freedom of speech. But when you put yourself in a position where you're serving a community larger than yourself–as Harrison did–you have to face the consequences of losing that community's trust. If the things you say make that community feel you do not represent them, don't they have the right to pick someone else?