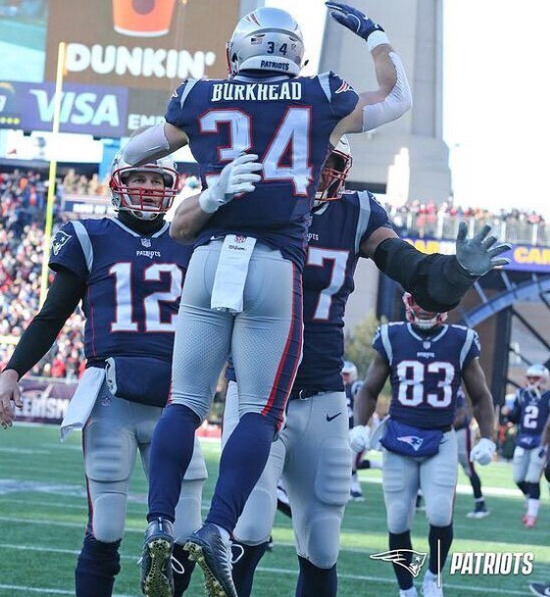 ATLANTA – It's a total of 791 miles from Plano, Texas to Atlanta, Georgia, site of Super Bowl LIII, but for Plano native and former Plano Senior High school star Rex Burkhead, it the culmination of a long held dream birthed on the athletic fields of Plano and redeemed in the worldwide media crush of reporters and fans.
"This was my dream, this is every players dream to play professional football, to play in the Super Bowl, to score the winning touchdown," Burkhead said while surrounded by hundreds of reporters in an Atlanta hotel room, several blocks from where his New England Patriots will face off against the Los Angeles Rams Sunday afternoon for pro football's ultimate glory.
Joseph Noteboom, a 2014 Plano Senior High graduate, who went to TCU, is a rarely used offensive tackle for the Los Angeles Rams, giving Wildcat alumni players on both sides.
Read more: Two Plano Senior alumni to face-off at the Super Bowl
While Burkhead played a bit role in last year's Patriots Super Bowl loss to Philadelphia, he enters this year's game in a role many of his Maroon and White Wildcats fans at Plano came accustomed to seeing at his Collin County home, as a star and key contributor.
In the AFC Championship game in hostile territory in Kansas City, Burkhead not only scored the tying touchdown, but the winning touchdown in overtime to advance the Patriots to the Super Bowl for the third year in a row.
"Sure, I know I scored. I knew where I was, I knew what it meant and I knew we got to play one more game," Rex Burkhead said about his overtime NFL score, but was likely using the same quotes he said during his Plano HS days in one of the many Wildcat wins.
Burkhead is in his 22nd year of team football, but while he earned the same starring role at Plano, then in college at Nebraska and a NFL journey which includes four years in Cincinnati and now two in New England, he still stays close to hometown roots.
His father, Rick, a former college football player, and his family still live in Plano and that is where Rex and his wife Danielle, plus their new baby, make their off-season home.
His good friend and starting quarterback when he played at Plano, Carson Meger, is now on the coaching staff for the Wildcats, and Burkhead is as comfortable rattling off Wildcat football stats as he is his own in the NFL.
"I stay really close to the team and keep up to how they are doing through Carson or some of the coaches who are still there, coach (Collin) Brence or coach (Jaydon) McCullough."
After resting his body from the rigors of another NFL season, Burkhead always makes it a practice to return to the Plano Senior High School practice facilities to work out with buddies from when he played and help encourage the new generation of Wildcat athletes.
"Anything I can share with them or pass off to the next generation, that's what I want to do in Plano," he said. "I still remember being a kid there and listening to the older players come back. Dreaming of the day I could play professional football. Now I'm in the Super Bowl."
Read more: Interview with Dallas Cowboy Drew Pearson
Burkhead is only the second Plano Senior High School player to have played in the Super Bowl, joining Los Angeles Rams defensive back Pat Thomas, who started for the Wildcats in the 1970s and played in the 1980 Super Bowl. Billy Ray Brown, another Plano Senior High star from the '70s, just missed by a single year while playing for the San Diego Chargers in the final game.
Since scoring New England's final two touchdowns to ensure them another Super Bowl appearance, Burkhead said he has been overwhelmed by the number of former teachers, players and fans who have reached out to him, thanking him for carrying the Plano football banner on a worldwide stage.
"I heard from my first grade teacher (in Plano) who I haven't talked to in years who said she watches almost every game and always cheers for me."
For the player known locally as Superman in his high school days, it's probably not too much to expect for him to emerge in football's biggest game this weekend. But the humble star said he will never overlook his local roots.
"It was always the coaches, the players and my family who encouraged me and helped me along the way. I could have never done it without them. That is something I will never forget."
Read more: How high school football integrated Plano schools