Kick off the holiday festivities with Seasonal Favorites at Legacy West!
Legacy West is pleased to announce Seasonal Favorites, a special holiday event series featuring dazzling light displays, festive music, choreographed fountain shows, specialty drinks and bites, exclusive shopping deals, social media contests, and more. Seasonal Favorites kicks off on Friday, November 23, 2018 at 7:00 p.m. when Plano Mayor Harry LaRosiliere and his family will join Kellie Rasberry of the Kidd Kraddick Morning Show in a ceremonial illumination of the center. Seasonal Favorites also launches a new partnership with North Texas Food Bank. Designated drop-off locations will be set up throughout the center during the holiday season for guests to drop off canned food items.
"Legacy West is filled with shopping and dining excitement year-round, but the shopping and dining experience here stops nothing short of magical during the holidays," said Victoria Snee, Director of Marketing for Legacy West. "This season, we are especially thrilled to welcome visitors as they enjoy our festively lit buildings and glowing tree-lined streets, step inside one of our life-size gift boxes that make for the perfect social media moment, and see our colorful fountains dance to caroling Christmas sounds."
Read more: Head to Legacy Hall for "Mean Girls Day"
North Texas Food Bank President Trisha Cunningham said, "Our new partnership with Legacy West is the perfect way to ring in the season of giving, and North Texas Food Bank is grateful for its assisting our important mission of helping families in need."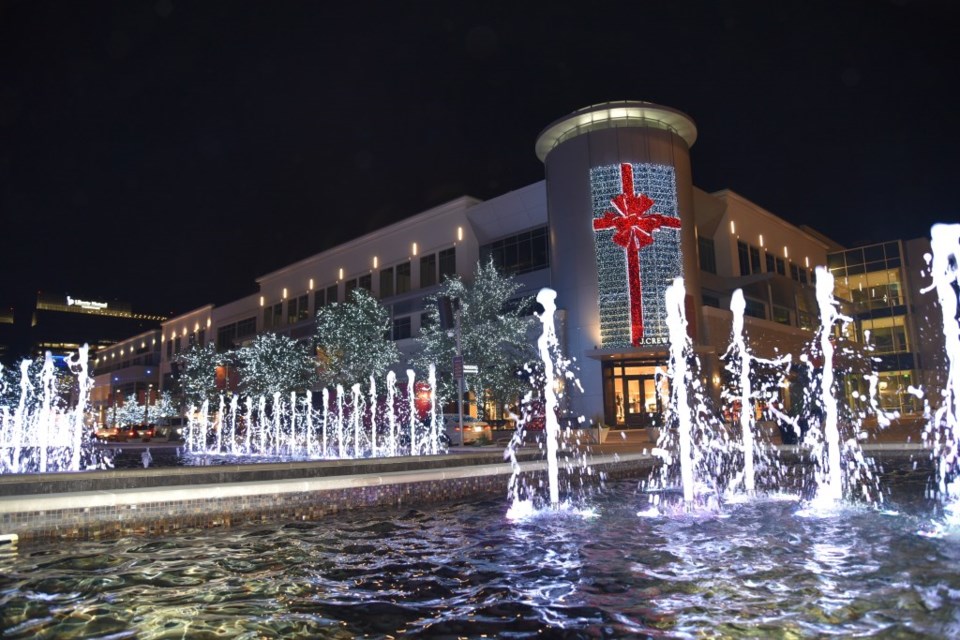 Visitors can enjoy festive holiday beats every Saturday in December until Christmas from 5:00 p.m. until 9:00 p.m. Activities are free and open to the public. Extended store hours, special promotions and sales, and other important information will become available online at www.legacywest.com. A special episode of the Legacy West Podcast, hosted by Victoria Snee, will air on Wednesday, November 21, 2018 with more details about the kick-off celebration.