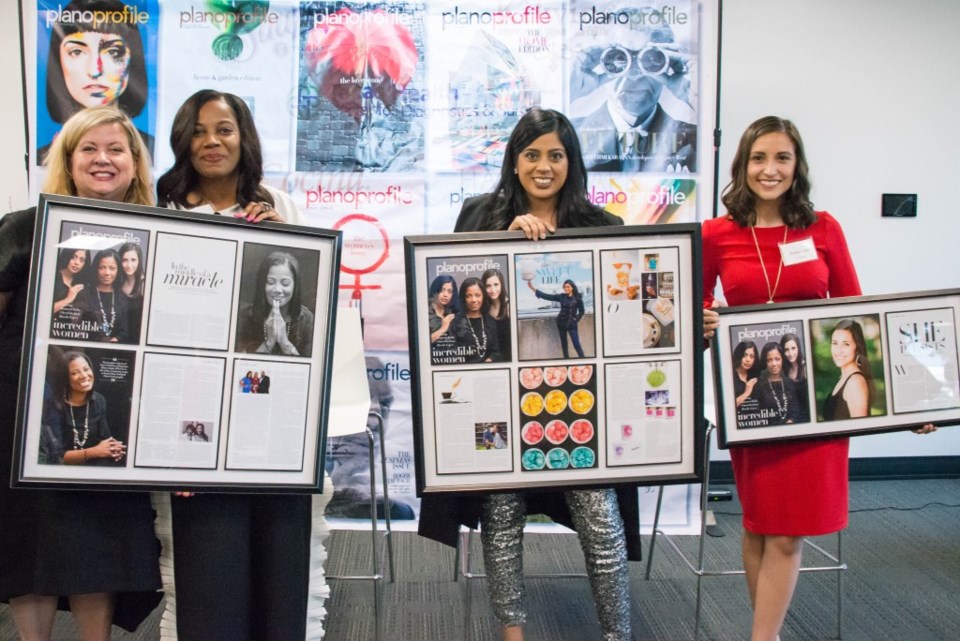 At Plano Profile's Wonder Women event, a kickoff to our annual Women in Business Summit, women of all backgrounds met at Hall Park to share their support with one another. Guests were greeted at the door with cotton candy mocktails from Make Your Life Sweeter, and while mingling, they enjoyed treats from Mi Cocina, Make Your Life Sweeter, Kilwins, and Beam Suntory.
While the food was amazing, it was ultimately a night for rejoicing in the successes of women. Guests sat in on a Wonder Women panel featuring Cheryl "Action" Jackson, founder of Minnie's Food Pantry; Yasmeen Tadia, CEO and founder of the Make Your Life Sweeter® brands; Brooke Lopez, founder of the Lonestar Parity Project; and Dr. Meredith Lightfoot MD, urologist at the Urology Clinics of North Texas. The panel was led by TV star and interior designer Monica Wilcox.
As these incredible women shared their wisdom with the crowd, the air was almost tangible with the goodwill everyone held for one another. Though we were discussing the toxicity of competition between women, you wouldn't have found an example of toxicity in the room.
Brooke Lopez articulated it perfectly when she said, "Shirley Chisholm said that she wanted to have a seat at the table, and if no one was going to make a seat for her, she would bring a folding chair. What I've recognized is that for some reason, as a culture and a community, women and femmes seem to think that there's only a certain number of seats at the table designated [for them]. What Shirley Chisholm taught me is that I shouldn't need to be in competition with another woman just because we're the sole women that can serve in that spot. What I should be doing is helping her pull up another chair so that we can continue to fill up that table."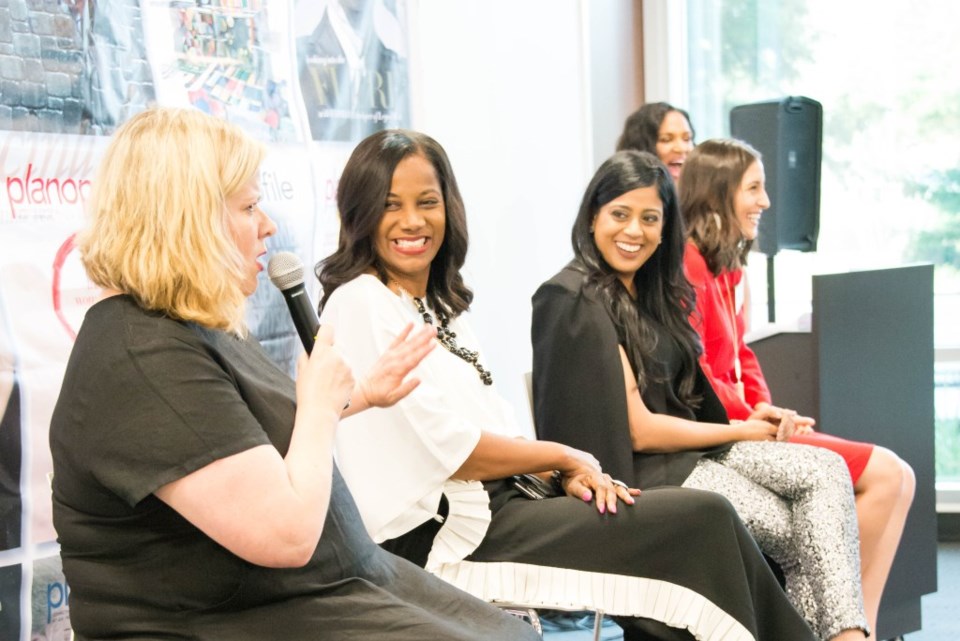 Cheryl Jackson had a story to share about her experiences with competition in the workplace. "When I started Minnie's, I was literally in a meeting with 23 other food pantries, and a lady stood up and said 'I hate you'. I looked at her and said 'What did I do?', to which she said, 'You're taking my clients'. All I wanted to do was start an organization that treated people with dignity and respect."
The woman invited Cheryl to her facility, and said, "See? Your place is nothing like mine." Now, Minnie's Food Pantry has expanded into a 16,000 square foot facility, served over 7,300,000 meals, and is sponsored by over 30 organizations, including the Oprah Winfrey Show. Cheryl could easily tell the woman, "See? Now your place is nothing like mine." Instead, when they met recently, Cheryl laughed, hugged the other woman, and said, "Thank you for motivating me."
Read more: 1.3 million things we learned from Oprah Winfrey at the Feed Just One Gala
To be a woman in business, it's important to help each other up, and when faced with adversity, use that adversity to fuel your path. Our panelists each discussed how you can learn from anyone. Yasmeen Tadia always makes sure that she has three mentors on hand: a white male over the age of 50, to help her company reach raw facts and figures; a woman older than her, to provide support and sympathy; and someone younger than her, to keep her on her toes.
Cheryl looks for learning opportunities in every woman she meets. "When I see a strong woman, it doesn't matter what ethnicity they are, I want to be around them because I want them to help me with what I can't do myself. So if I'm sitting next to you, and you've started five businesses," here she gestured towards Yasmeen, "I'm trying to learn. I am an open book, and if we could all be open books and say 'Don't go down this road. I've already gone down it, and you're going to fall off a cliff', we could get so much faster to where we're going."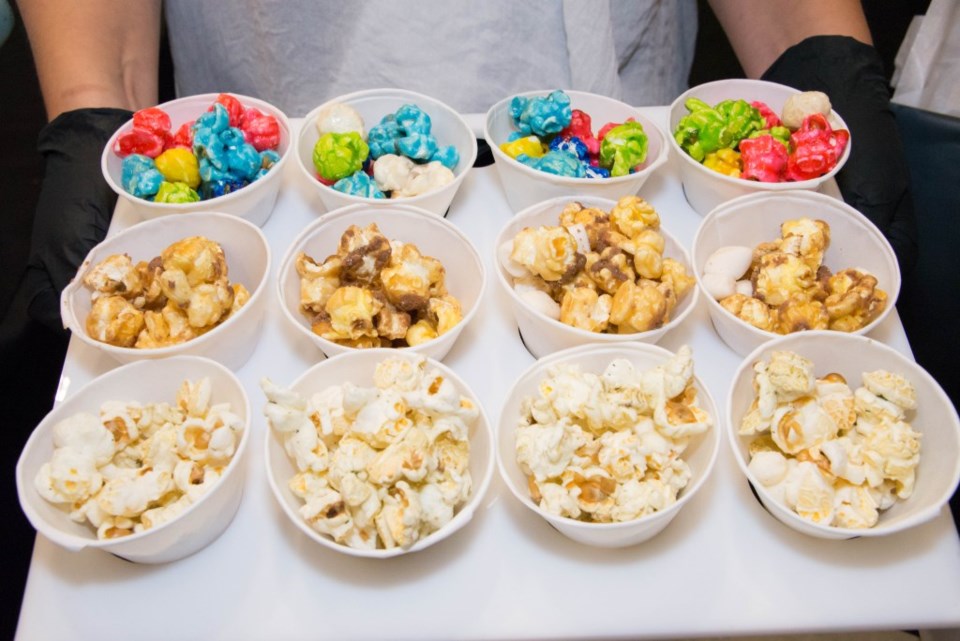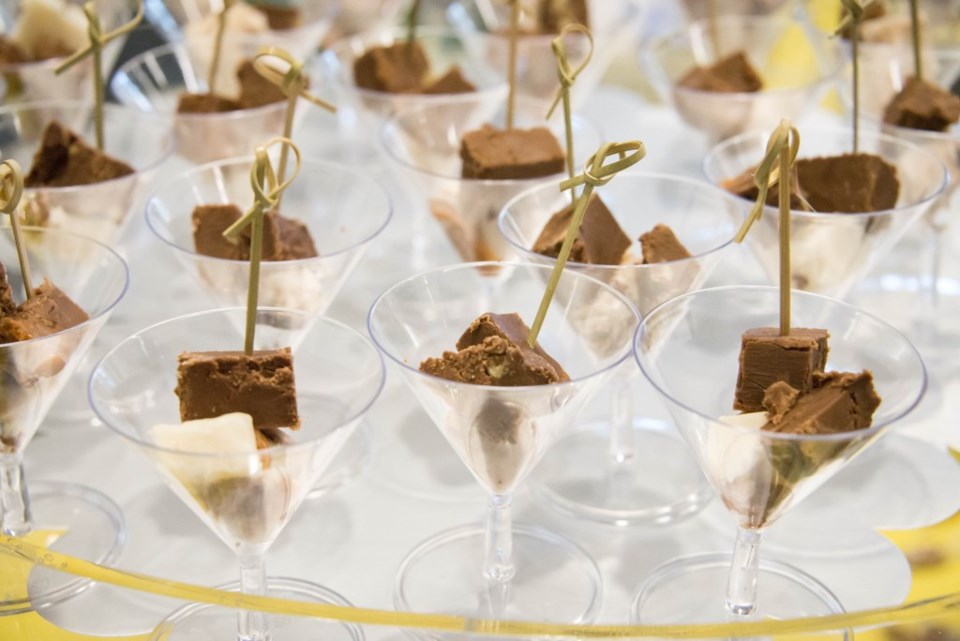 It's all about compassion. For other people, and for ourselves. "For me, as a doctor, my 20s were kind of a blur because I was in medical school," Meredith said. "I think that was a time in my life when I had my head down, and I didn't look up. I think I would say for the very driven 20-year-olds, maybe raise your head a little bit. [Say] 'Is everything okay? Am I lonely or feeling stressed out? Do I have friends?' I think because we're females, we [feel like] we have to [work hard] for all of us in the room. And that's great. But do that intermittently. Let's not do that 365. Let's make sure we're having fun."
Read more: Celebrating incredible women at Mi Cocina at The Shops at Legacy
After a fantastic panel, guests mingled some more. As one woman, who's a Python developer and IT company founder, told me, "it's never too early to start meeting amazing women". Everyone left with gift bags provided by Plano Profile, and of course, the wisdom and well wishes of women across Collin County.
If you couldn't attend Plano Profile's Wonder Women event, we missed you! Luckily for you though, this was just a taste of what's to come at the Plano Profile all-day Women in Business Summit, to be held in September. Stay tuned for more information, and we hope to see you there.
Buy your tickets for our 17th Annual Women in Business Summit now.
Wonder Women 2018