Plano's Heritage Farmstead Museum will be transformed into an old-fashioned, twinkly-lighted winter wonderland for its annual holiday celebration, Lantern Light. Step back in time to 1891 to experience a traditional Christmas on the farm. Stroll the four-acre site and enjoy a variety of family activities, such as candle dipping, a magic lantern show, games, crafts, and more.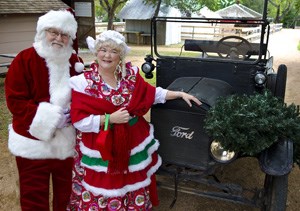 Tour the Farrell-Wilson House and have a peek at the family as they prepare for Christmas. Visit the one-room schoolhouse and the pole barn. Take a horse-drawn wagon ride, listen to storytellers, watch artisans in period costume work their trades by hand, and hear songs of the season from school, church and community choirs. Imbibe in some tasty holiday treats. And don't forget to have a photograph taken with Father Christmas.
The Dallas Costumers Guild will also feature presentations of Dressing for the Holidays: Historic Fashion Trends. The evening will be a blast from the past that you won't want to miss!
Lantern Light at the Heritage Farmstead Museum
Where: The Heritage Farmstead Museum, 1900 West 15th St., Plano, Texas 75075
When: Saturday, December 5, 3–8 p.m.