Maker's Mark smoked before your eyes, cotton candy spun into a martini glass and cocktails flash-frozen with liquid nitrogen: Pepper Smash Cocktail Kitchen artfully puts college keg stands and $2 margaritas to shame.
Pepper Smash is low-lit with cozy booths, dominated by a long bar glowing with an array of back-lit bottles. There's a laid back atmosphere, a whiff of whiskey in the air and a weekly watch party for The Walking Dead. It's a cool place to end up at happy hour, or really, any hour.
"I've been at Pepper Smash for a little over a year now," says José Cardoso, senior mixologist who's particularly fond of a good Old Fashioned. "Mixology is one of those parts of bartending that you've got to have a passion for. You don't want to just sling Jack and Cokes every day." A graduate of culinary school, José considers mixology his career. Creatives like him find their place behind the bar at Pepper Smash where there's poetry in every drink.
Arguably the most famous concoction, the Cotton Candy Martini combines citrus vodka, lemon juice, vanilla syrup and champagne, poured into a martini glass full of freshly made candy floss.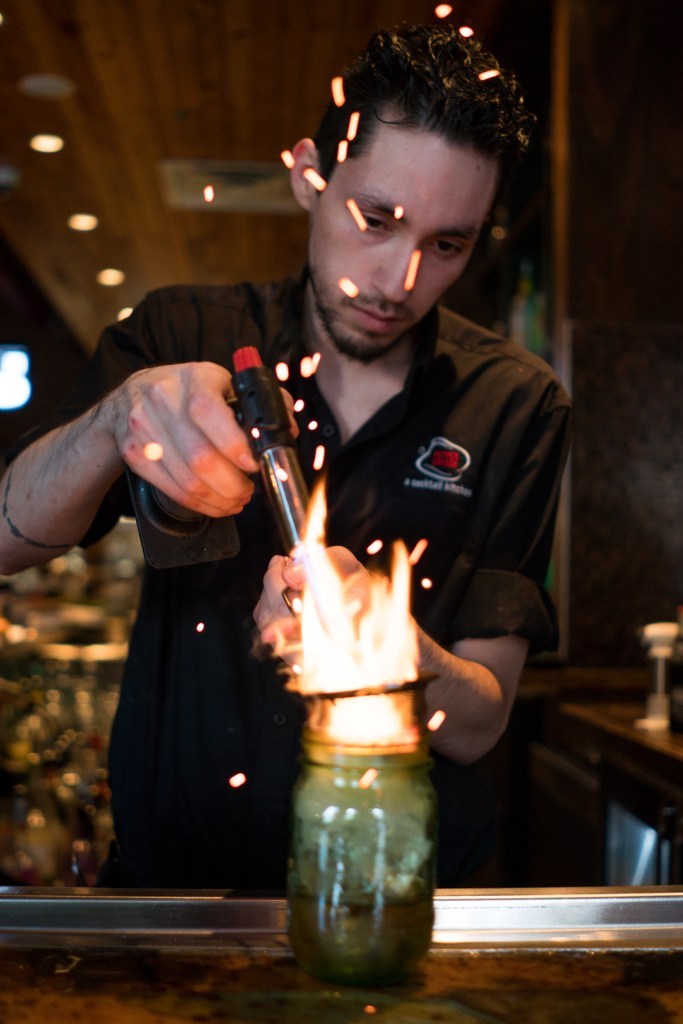 The Fire Smoked Dr. Pepper is a twist on a whiskey and coke. A strainer full of bourbon-soaked wood oak chips is torched above the mason jar of Maker's Mark, smoke flooding into the liquor before it is capped in—and served. Accompanied by a bottle of Imperial Sugar Dr. Pepper, the bartender will instruct you to remove the lid and enjoy when the whiskey has reached your preferred smokiness.
Triple M's Explosion takes pineapple and strawberry infused vodka and freezes it with liquid nitrogen. The nitrogen rolls in waves, covering the bar in a layer of faux-fog, but it's not just for show. The liquid nitrogen freezes the drink and eliminates the need to dilute it with ice.
"Everybody notices the difference [in quality]," José says. "We use agave, we use fresh lime juice. For us, we don't have to have high end alcohol to make a great cocktail. What it takes is how much work you put into it, how much time."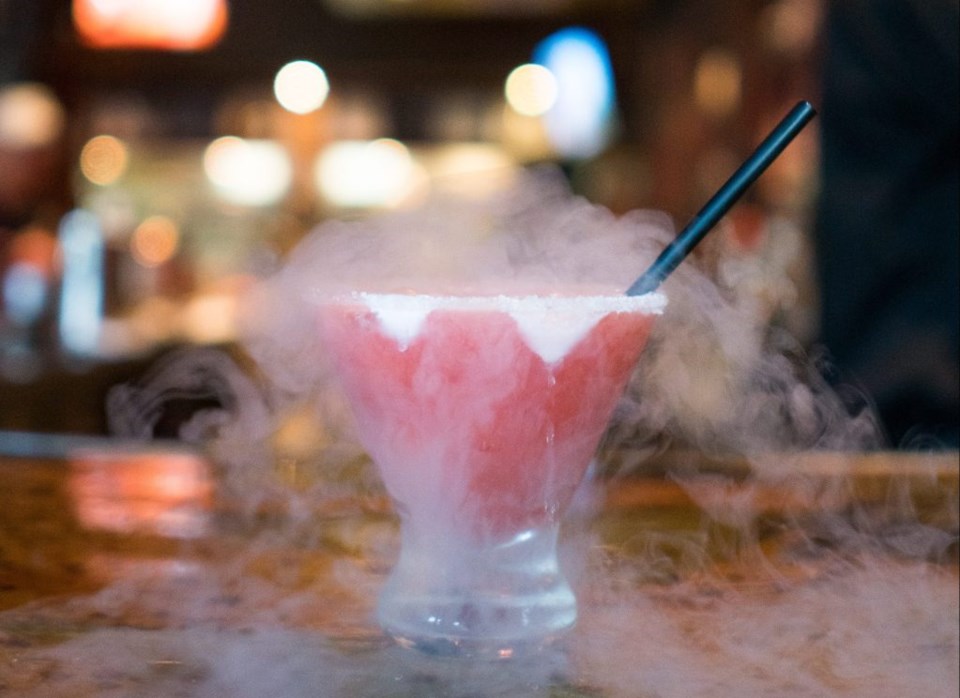 The most frequent question that José asks customers: What do you normally drink? Guests relax, enjoy the show and the trial and error of finding a new favorite drink.
"We like to put out a craft cocktail vibe without the craft cocktail attitude. You go to most places and they're very snooty. You've got bartenders that you talk to and feel a little belittled. I've gone into bars like that." Even as we talk, José darts over to mix brightly colored drinks with incredible speed and an eye on the floor at all times. "Here, people come in that door and bartenders greet them. The bartender is the first person to greet them. Automatically, they feel welcome."
To José, the job is more than serving quality cocktails; much of the work is reading the customers' moods and tastes, often crafting new drinks to match their palettes. The menu is expansive and creative; Pepper Smash is also one of the only bars in the area where liquid nitrogen is a regular feature. It's full of innovative twists on beloved classics and yet to the staff behind the bar, it's more of a guideline.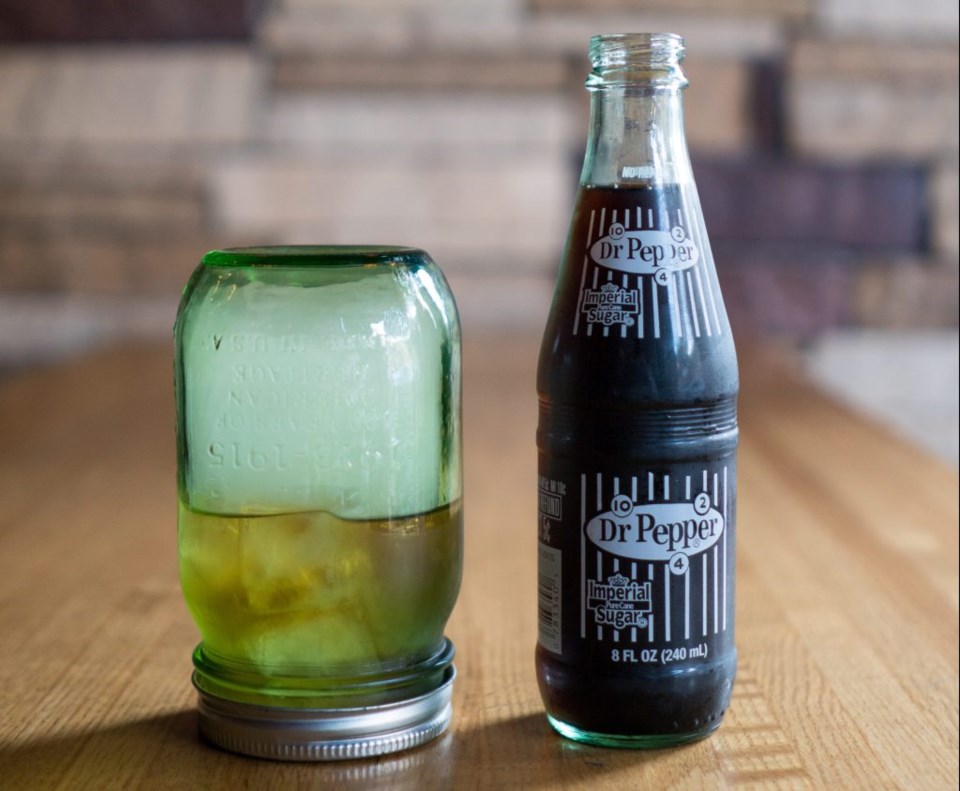 José offers an example: "I've had people come up and be like 'I like Caramel Macchiatos. What can you make me that tastes like that?' So I break down the drink itself. The only thing I don't have is something that tastes like caramel. So I use our wok, which is over there, and just toss in brown sugar and a little cream and make fresh caramel on the spot. We like to have a challenge. I like to have complete artistic freedom."
That sense of freedom and artistry keeps creativity alive. There's always something new to try, always more to look at, more to discover. Pepper Smash has taken drinking, a deeply personal and subjective experience, and made it art, which has granted the cocktail kitchen a loyal following in the four years since they set up shop.
"I've met so many people bartending. I've met Terry Jones, a couple of the Mavericks players," José recalls. "We're also a popular first date spot. Most of the guys know that we'll put on a show, but at the same time are making great cocktails. If there's a couple in here waiting to be served and they're giving me the eye while I'm mixing cocktails, it's more than likely a first date." Obviously, there's no better icebreaker than cocktails catching fire.
"I want customers to have fun, I want them to come back … they want to be amazed by their drinks. We're unique," José says. "Most people are like, 'what are you going to do when you grow up?' But if you have a passion for what you do, it's your career. For me, this is it."
Originally published in Plano Profile's January 2017 issue.