They were "kindergarten moms" together and volunteers at Hedgcoxe Elementary School when the idea for a supper club was hatched.
"Three of us from the neighborhood were working in the library at the school. That's how we initially met," Claudia Robbins-Endsley explains about her first encounters with Sharon Stapleton and Edi Theriot. "We hit it off right away, so we hung out together. I don't know whose idea it was to form a dinner group, but someone suggested it and we thought we would just meet occasionally. But we had so much fun and everyone got along so well, including our husbands, we started meeting every month."
Originally there were five couples involved, Claudia says, but over the years couples have joined in or quit for various reasons, like moving away, "but we still invite the ones who are living in the area as guests sometimes." Claudia and her husband Mike Endsley, Sharon and her husband David, and Edi and her husband Larry still get together on a regular basis. And about a year ago, friends Carol and Saverio Gualtieri joined as regulars as well.
The premise is simple: the couples rotate for their sit-down dinner parties, with the host couple preparing the entrée and side dishes, along with providing beverages. The other couples are each assigned a dish to bring to complete the meal.
Themes for their menus in the early years were typically different ethnic cuisines. But in 25 years, they have done just about everything. So now they have fun coming up with different themes. "Since some of us are traveling a lot these days, we might do a menu from our travels, like from a visit to Napa Valley," Claudia says. "Or when the Stapletons came back from Turkey, they did a menu of Turkish food."
She continues, "Edi and Larry are big Kentucky basketball fans so when it was March Madness, they did favorite recipes from when they lived in Kentucky. Another time, David had gone fishing so we did a fish fry with the fish he caught from Lake Erie. And one year for Father's Day, we all prepared our husband's favorite dishes and brought the recipes to share."
Even so, they also have some traditions they have formed over the years. "On the Wednesday night before Thanksgiving, we always do a turkey fry," she says. "Everyone brings a small turkey and we fry them outside so they can take them home for their Thanksgiving dinner. It's not a sit-down dinner that night, but Sharon will make different kinds of chili, people bring salads and appetizers, so the evening is spent frying turkeys and visiting."
She adds, "Christmas is always a big deal, that's our fanciest gathering. After a formal dinner, we do a little gift exchange, like a white elephant, which is fun. And we try to take a picture of all of us at that one.
"But I have to admit that now that we've reached our mature ages," she laughs, "we change it up sometimes and go out to dinner instead."
Because they have become such good friends, gatherings for this group extend beyond the supper club evenings together. The Theriots host an open house every Christmas Eve. "If you have family or friends in town, you are invited to bring them, too," Claudia says. "The women get together for each other's birthday and go out to dinner, even inviting friends who were in dinner club before so we can celebrate their birthdays, too. And our group all came to my daughter's wedding in San Antonio and we all went to Edi's son's wedding in Weatherford. Over the years, we have gone through a lot together. I don't think there is anything one of us wouldn't do for the other!"
So what about some favorite recipes? It was almost overwhelming, Claudia says, to select just one menu to share with our readers because there have been so many good ones. So instead she polled the group and they chose some of their favorite recipes. Texas Caesar Salad is a delicious combination of a traditional Caesar with the addition of chopped red peppers, sweet corn, and sundried tomatoes. It's one of Larry's favorites. Carol recently served a tortellini salad with shrimp, carrots, tomatoes, peas, and red onion, with a Dijon mustard vinaigrette that was a hit.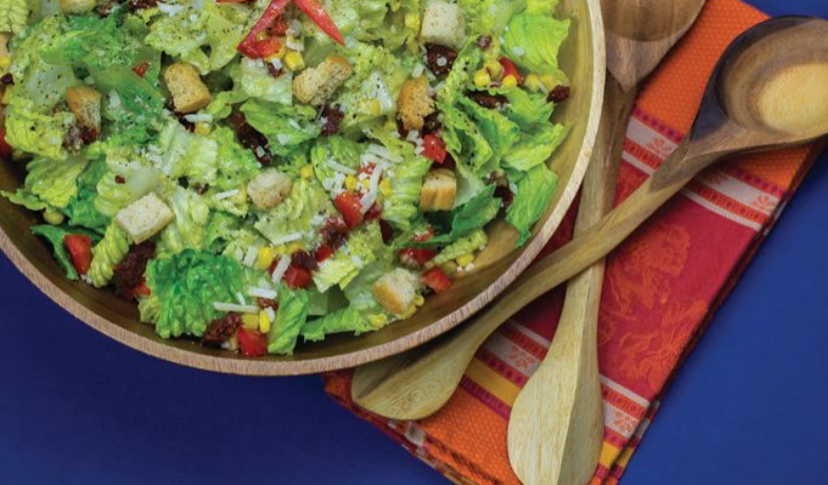 Pimiento Cheese Stuffed Eggs and Champignon Escargots (which are sautéed mushrooms with an escargot flavor profile) are great starters. For a wonderful summer entrée, she suggests you try pork tenderloin with a summer peach compote and balsamic roasted asparagus. A sorbet is always served at their dinner parties to clear the palate, and they love to experiment with different flavor combinations, like lemonbasil. For dessert, Claudia recommends a six-layer strawberry cake which she says is well worth the effort. Or Edi's easy chocolate chip and banana ice cream sandwiches. Both are cool desserts for a hot day! (Some of these recipes can be found at planoprofile.com.)
When Claudia, Sharon, and Edi first became friends, their children were the same age or close in age. That's been satisfying, too, to see them forge friendships with each other and watch them grow into adulthood, marry, and have their own children. Twenty-five years of delicious memories. It doesn't get any better than that!