The mermaids in The Keeper's entrance gaze out onto the strip at The Shops at Legacy, but inside the sea-foam green doors of The Keeper, Front Burner's newest concept, lies another world.
Brass pipes zip across the high ceilings, converging in the chandelier that drops down at the entrance. The joke is that these pipes, carrying electricity along the way, are The Keeper's "current," linking the exposed lightbulbs and round glass spheres that don't shine but rather glow with gentle illumination, suspended over each table. The bar stands proudly in the center of the room, crowned under a messy bedhead of wild succulents. A line of paintings celebrate famous seafarers and fishermen: scallop divers, king crab fishermen, Pacific Northwest fisherwomen and Thai net fishermen. Some are pure fun. Captain Hook and Star Trek's Captain Kirk (not a fisherman but definitely a captain) are represented too. The glass back wall shows off Chef Colleen O'Hare's kitchen, including the icy box where a fish cutter bundled into a blue parka slices fillets fresh off the bone.
The Keeper is a rarity for Collin County, offering a variety of fish that are typically pretty hard to find in a landlocked city. The menu goes far beyond the salmon, tilapia and white fish offered in the frozen aisle of your local grocery store. A dinner at Chef Colleen's table is a lesson in fine and highly prized seafood and I, for one, am ready to be schooled.
The Keeper serves nothing but products flown in daily from top-tier fishmongers. Precious red king crab is pinched up from misty Alaskan waterways and steamed with drawn butter. Wild-caught sablefish from the cold, contemplative North Pacific floats with summer vegetables in a tomato broth. Hawaii yields opah, a brilliantly colored species also called moonfish, and monchong, a meaty species of pomfret that resides in deep waters and can weigh over 25 pounds. The menu is liable to change with the day's haul.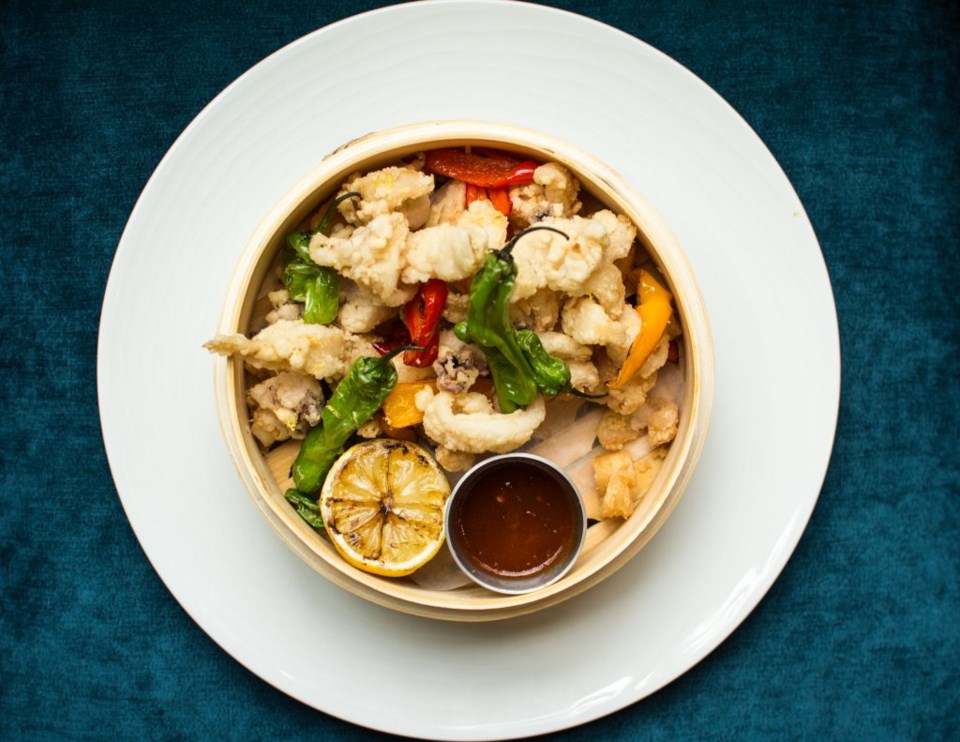 The appetizer menu will easily reel you in with Point Judith Calamari, one of the most popular dishes. A surprising mix of thick hoops and tiny curlicues, each piece is breaded in tapioca and mixed up with blistered shishito peppers and a tangy garlic chili sauce. Ridiculously superior to cocktail sauce, the garlic chili leaves a warm tingle on your lips.
For effortless sharing among friends, Knuckle Sandwiches are served in triplicate. A steamed bao bun folds around a pudgy hunk of king crab knuckle meat. Microgreen shoots and paper-thin cucumber slices pad the sides. The finishing touches are a subtle—nearly undetectable—spread of brown butter vinaigrette and a slash of violently orange togarashi. Togarashi, a savory blend of seven Japanese spices, delivers the real joy in this appetizer, showing off the watery sweetness of really good crab.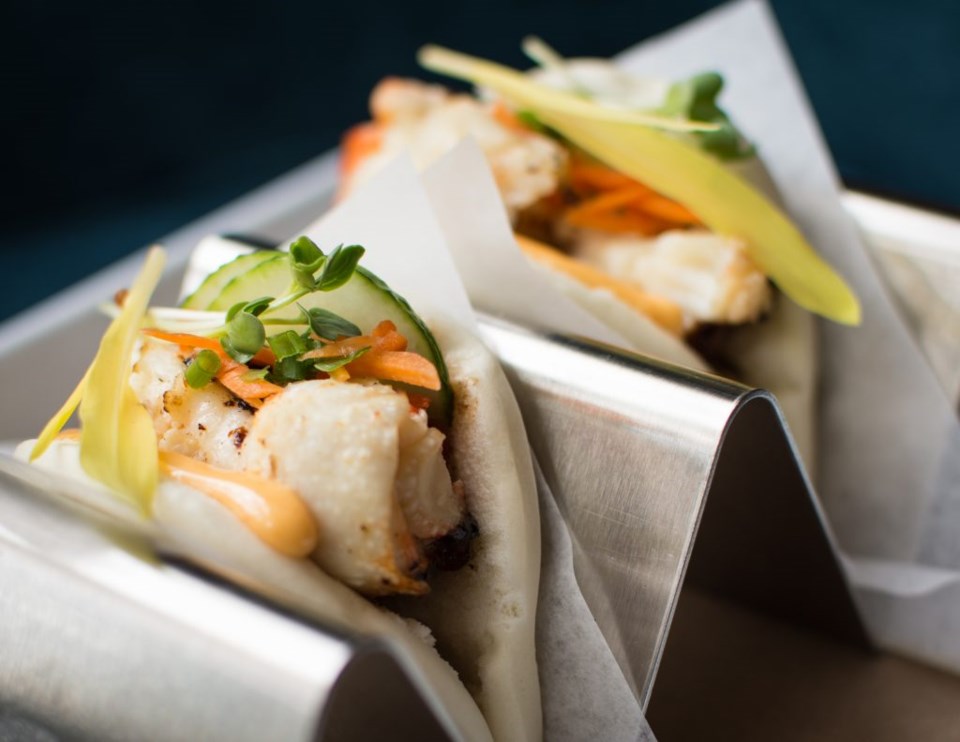 We interrupt this dinner to bring you: cocktails. What Sixty Vines did for wine, The Keeper has now done for rummy, punchy cocktails topped with slices of pineapple and tropical flowers. The bar is so central to the spirit of The Keeper that the six most popular cocktails are actually served on tap alongside the beer.
The cocktail menu has enough color to make a clownfish jealous. Everything includes the house's dark or light rum—or both. The house light blend contains eight different rums; the house dark blend has 15. Their Mai Tai combines both blends with blood orange juice for a balanced and surprisingly subtle tiki drink. It tastes the way Destin's blue tide feels.
The dainty Singapore Sling is a deep autumn color with a head of white froth. Combining Waterloo Gin, Koenig Huckleberry Vodka, pineapple juice and a touch of elderflower with two Luxardo Maraschino cherries, it's hands down one of the more interesting drinks on the menu—mysterious and a little sultry. And strong.
Kona Kampachi is the wildcard of the raw menu. A sashimi-grade fish farmed sustainably in the Pacific, kona kampachi is a miracle fish of a pastel, peachy hue. It's richer in omega-3 than most ocean-dwellers and naturally free of mercury. Chef Colleen lays out six finely sliced strips in a shallow pool of yuzu sauce. Asian pear and avocado, diced so minutely they are almost unrecognizable, is finished with toasted garlic and shavings of red chilies that will make your eyes sting. Toasted garlic is as difficult to keep in check as a riptide, but it stays tame under the influence of sweet, bright yuzu. Despite the clean presentation the resulting flavor is wickedly complex and intriguing: the light sugar of the pear, the avocado creaminess, the slicing heat of chilies. And, of course, the fish itself melts on the tongue like a dream.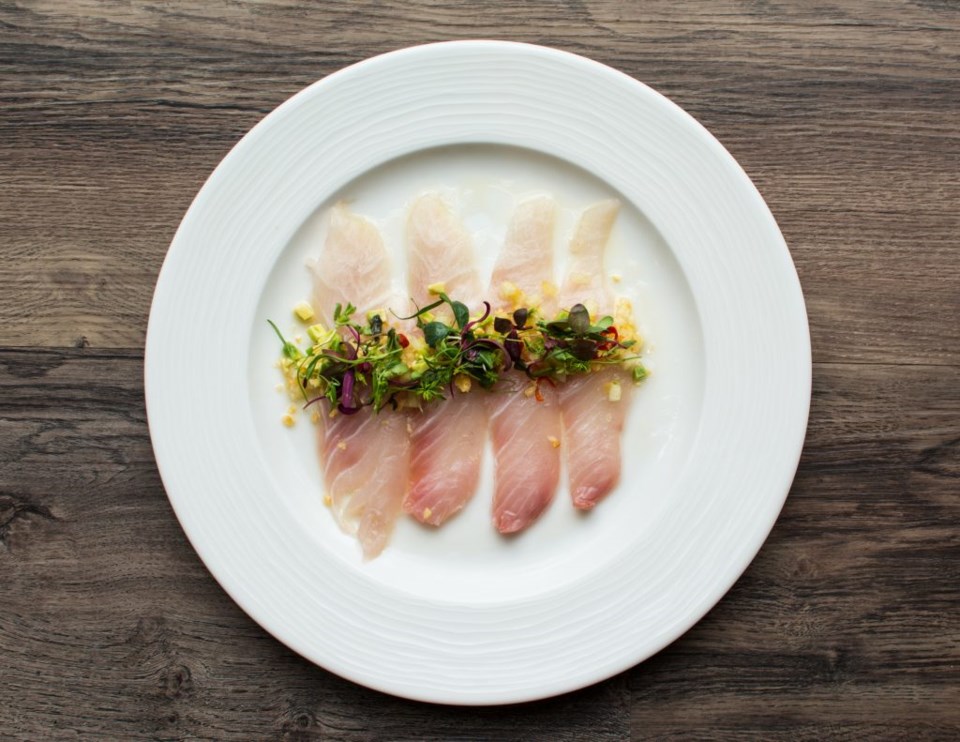 Halibut is prepared classically, if basically, with sliced asparagus, pan-roasted fingerling potatoes and a collection of fat pear cherry tomatoes, all swimming in a decadent lemon beurre blanc sauce that hints at garlic. A hearty piece of fish with a perfect sear, this entree is utterly approachable, forgoing adventure in favor of familiarity.
Prince Edward Island (PEI) mussels naturally thrive in the nutrient-rich waters that surround their namesake, some of the best and most prized mussels in the world. A mild mollusc, they take on a distinctly tropical taste when soaked in The Keeper's unique coconut lime broth, slices of grilled naan on the side. Bitter with the sea and buttery, each mussel peels tenderly away from the shell. A French baguette is better for soaking up broth, but the grilled edge of the naan adds a firm edge to a light meal, a beautiful note to end on.
All at once The Keeper embodies a Gatsby-era hotel bar, a watercolor beachfront house and a nostalgic mom-and-pop fishmonger. Something almost mythical is lurking in the deep here, under the gaze of the proud mermaid smoldering on the wall. You'll just have to come and taste for yourself.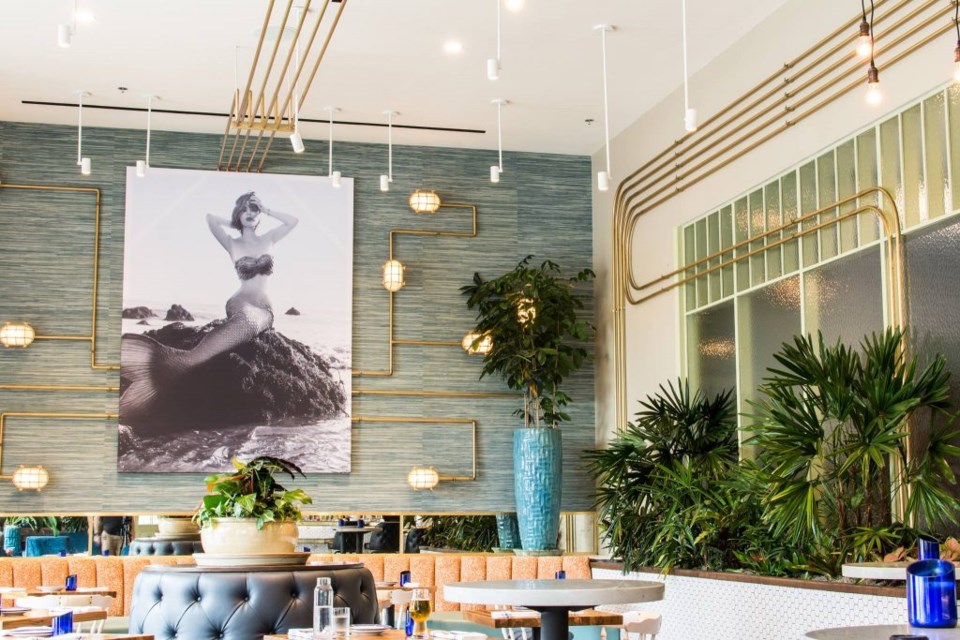 The Keeper
Hours:
Mon-Wed | 4 p.m.-10 p.m.
Thurs | 4 p.m.-11 p.m.
Fri-Sat | 4 p.m.-12 a.m.
Sun | Closed
Where: 5840 Legacy Cir. Ste. D100, Plano
More: thekeeperplano.com