Within walking distance of each other in historic Downtown Plano are some popular eateries that put a unique spin on a classic dish, drink or dessert. I wish I had room to mention every restaurant that transforms conventional into OMG-licious, but these are my four favs.
Kahlua French Toast at The Fillmore Pub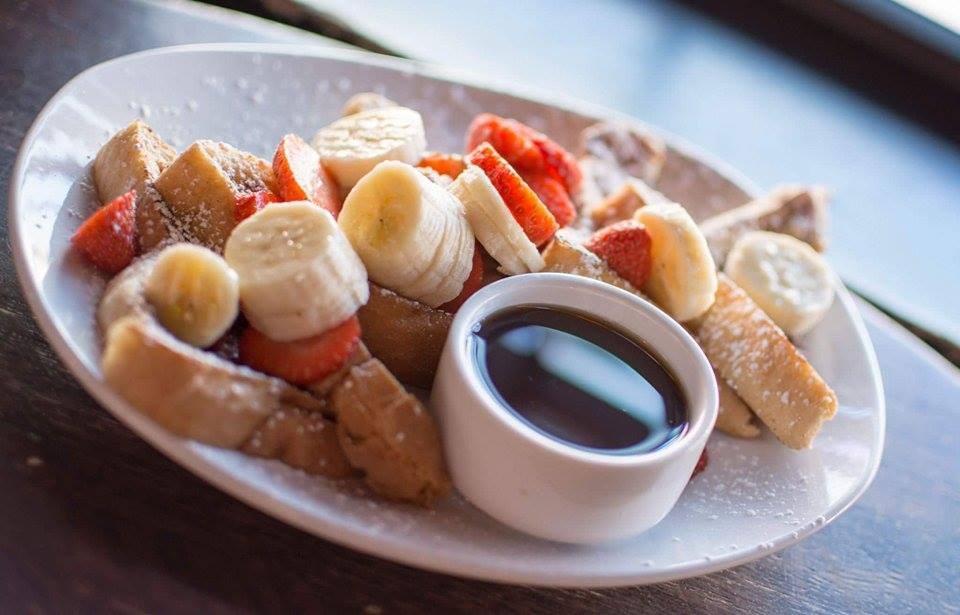 An open floor plan, cozy lighting, and an impressive bar are the first features of The Fillmore Pub that greet customers as they enter through the aged wooden double doors. After settling down at a table in the middle of the room, it appears I have arrived with a sizable crowd of lunchtime patrons. Nevertheless, I am warmly greeted by my waitress who quickly takes my order: Kahlua French Toast. What a pleasant surprise to find out The Fillmore Pub has an extensive brunch menu on Saturday and Sunday between 10:30 a.m.–3 p.m.
The French toast arrives, arranged artfully with strawberries and bananas. Upon first taste, the flavor does not immediately suggest a heavy-handed helping of the world's favorite coffee liqueur, but by the time I reached the middle of the dish, the subtleties of the Kahlua were what gave each bite exciting distinction. What I liked about this dish the most, however, was its balance between buttery and sweet. Not too rich, the Kahlua French Toast is the perfect light brunch for someone looking to try something new one weekend.
Pho Shizzle at ZaLat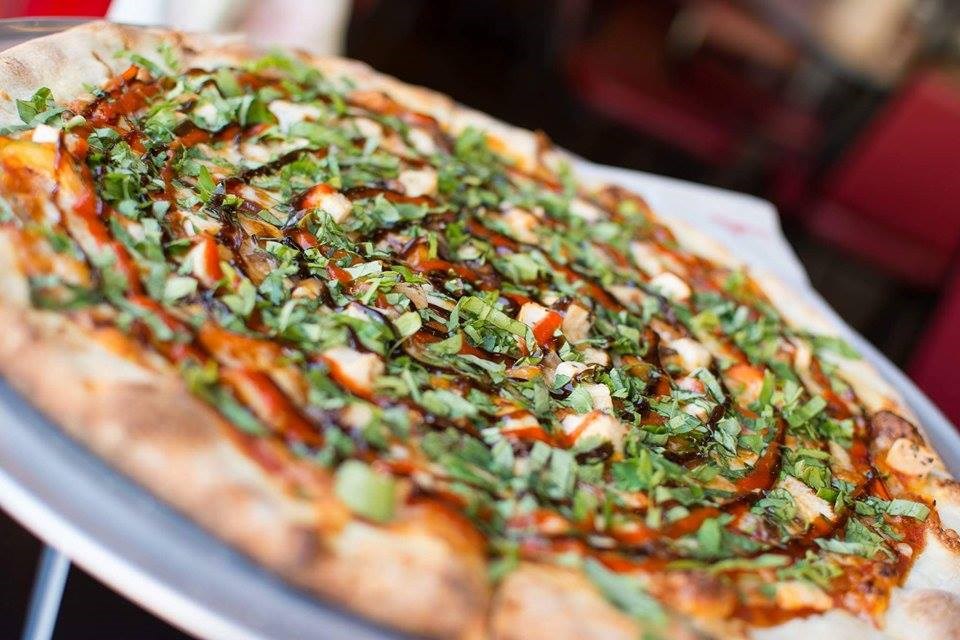 Khanh Nguyen has several restaurants scattered around the DFW area, and recently, he's decided to take his Vietnamese soup business and steer it in a new direction…a very Italian direction, actually. ZaLat, a pizza parlor for the eccentric, offers an impressive range of exotic flavors for customers looking to try something new and exciting. With combinations like Loaded Notato with Housemade bacon, cheddar, jalapeños, chives, blue cheese and ranch and Elotes with corn, lemon pepper reduction, parmesan, cilantro garnish, and Valentina swirl, it was a tough choice to figure out which variety to try. But Pho Shizzle with chicken, red bell peppers, caramelized onions, Hoisin and Sriracha swirl won out in the end.
Advertised as tasting like a hot bowl of Pho, I cannot deny, that's exactly what I was reminded of in my very first bite. With generous helpings of basil, and a side of ZaLat's homemade sriracha/ranch dipping sauce, or "Sri-ranch-a," the pizza was intensely flavorful, and did I mention it was yummy? This is not a pizza you're going to find anywhere else, but it's one I wager you'll want to enjoy again and again.
Green Chili Chicken Lasagna at Brix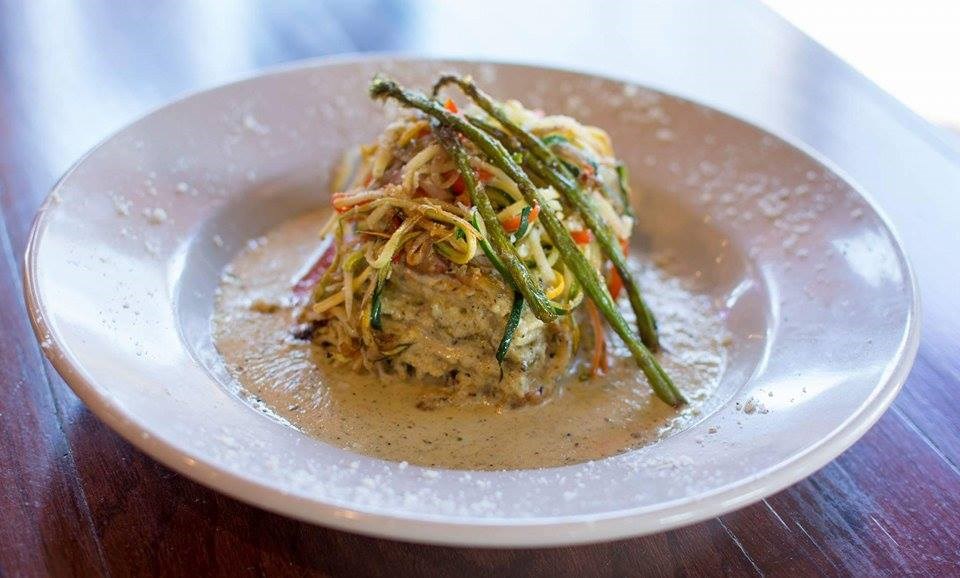 One of the things I love best about Brix is their customer service. When I walk into the main dining room, I'm immediately greeted and shown to a table, and nearly every member of the wait staff that is introduced feels like an old family friend. This downtown Plano bar & grill is best known for its burgers, but I've decided to try something a little different: Green Chili Chicken Lasagna. As someone who is very fond of green chilies—perhaps due to my frequent trips to New Mexico—I am very excited to try this dish.
I'm first struck by the presentation of the lasagna, so colorful and generously sprinkled with parmesan cheese. Upon first bite, however, I've decided I've found true happiness in toasted asparagus. With a delicious nutty flavor, and serving also as a delicate garnish, the asparagus has set the bar very high for the rest of the dish. Needless to say, it does not disappoint. The shredded garlic pesto chicken balances so well with the spicy chili sauce, and the flavors remind me of home-cooked meals—comfort food. The Green Chili Chicken Lasagna is far-removed from the mundane and offers a delicious and inventive twist on a family tradition.
Purple Haze latte at Fourteen Eighteen Coffeehouse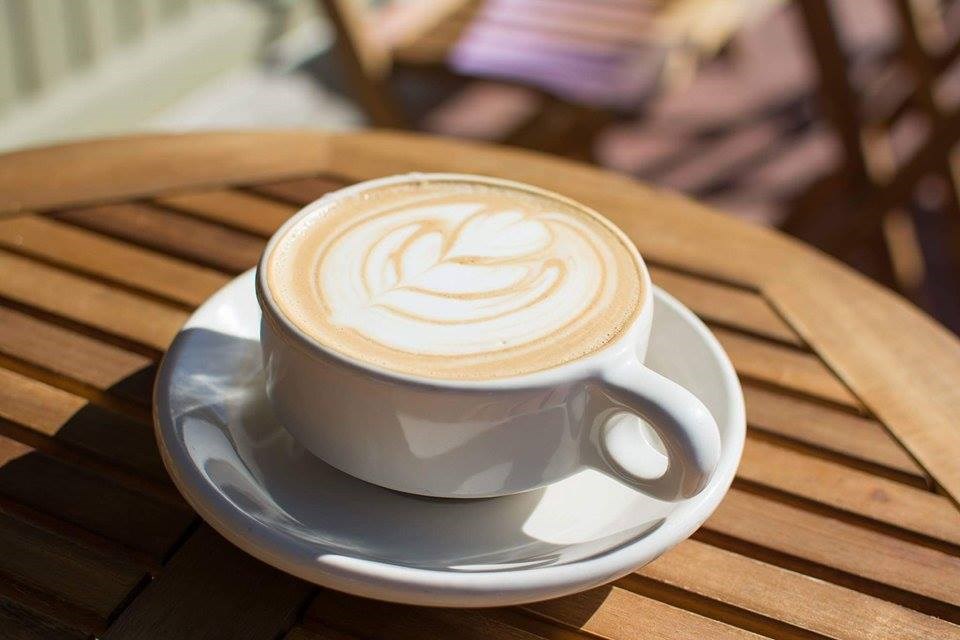 Whenever I get the chance, I like to bring my friends to Fourteen Eighteen for a coffee date. With soft lighting, innumerable cozy chairs and corners, whimsical wall decorations, and baristas that know you by name, it's a coffeehouse that invites people to celebrate life (their motto). Melissa & Gerry Owen married five years ago in a similar coffee shop and started their coffeehouse business after deciding to take a different direction in their lives. With Melissa's background of over two decades in nursing, and Gerry's new-found calling to serve as Assistant Pastor at a Garland church, the two decided to open Fourteen Eighteen to facilitate something they felt very passionate about: bringing people together.
Today, I'm indulging in the Purple Haze latte, a lavender-flavored latte with a splash of vanilla that I am assured tastes like a cup of pure joy. As a black coffee drinker, I'm not sure what to expect, but I'm very curious about how the flavors will co-exist. I'm a sucker for coffee art because I rarely get coffee with milk in it, and this mug is beautiful! How do they make the perfect leaf pattern? Oh, and the taste? Smooth, velvety lavender with a finish that tastes faintly of toasted marshmallow. I'd absolutely recommend this coffee to adventurous types, and even to sweet coffee drinkers who are looking for something off the beaten path. Thinking about it now, it does possess a kind of wonderland quality I can't quite put my finger on…likely why they called it Purple Haze.
As my eating tour through historic Downtown Plano comes to an end, I'm reminded of how grateful I am for this community of small businesses with big dreams and dedicated patrons. What a privilege it is to help support these restaurants that serve delicious, original dishes with such warm and authentic service. These establishments, both new and old, have so much to offer for all types of occasions: brunch, afternoon tea, late-night dinner dates, and family gatherings. And, for anyone looking to break away from routine, these twisted classics are real winners.
Photography by Brandon Hurd.