Legacy Hall is the first of its kind in Plano, the 55,000 square-foot anchor of Legacy West. Altogether it will hold around 2,500 people when it's finally completed. It will have a wide variety of local food stalls, a beer garden and Plano's first brewery, Unlawful Assembly Brewing Co. It also has Plano's first beer slide.
We donned hard hats to tour the bare bones of it and see what is to come. Here's what we know.
The 22 food stalls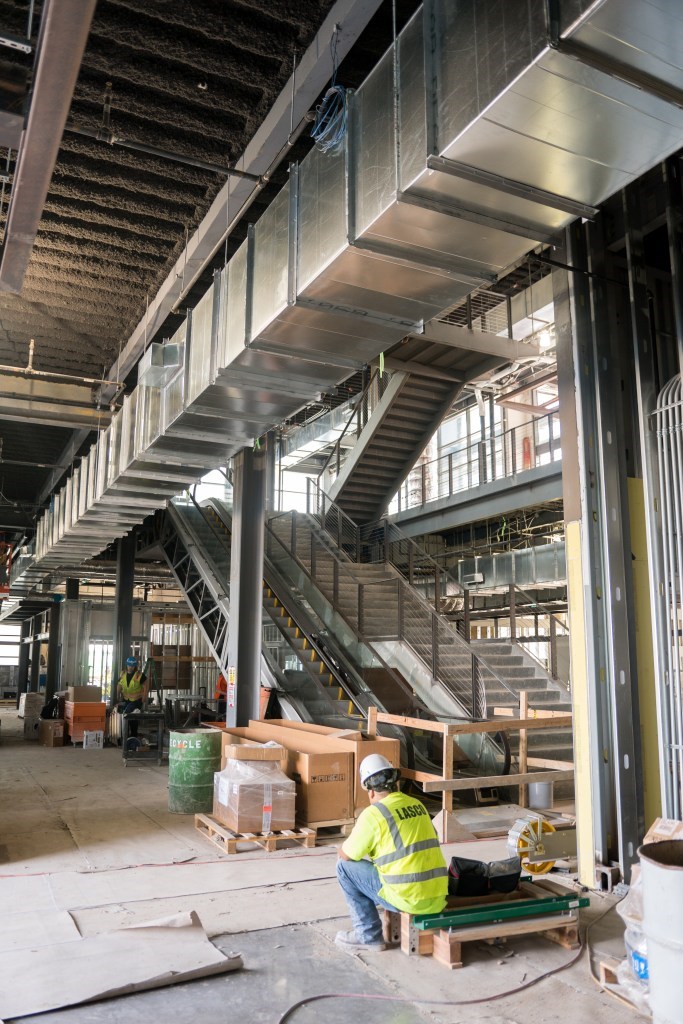 Once you walk in through the main entrance, you'll see the breakfast stalls first—Berry Naked, Glazed Donut Works and Whisk & Eggs, for example. Then there are the lunch stalls—Blist'r Naan Wraps, Roots Chicken Shak and Taco Patron, followed by dinner at the far end. You can feel free to mix it up. In fact, you're encouraged to mix it up, bring a group and sample as many stalls as possible. All the concepts are fast-casual so they won't break the bank, hovering around and under $10 for a meal.
A projector by the stairs will show upcoming events and play Legacy Hall TV, including get-to-know-you videos with the different local vendors. In the interest of serving "food and drink for all," each of the 22 food stall offers something unique. There is only one taco place. One burger place. One pizza place. Front Burner Restaurants was careful not to repeat concepts, so each of the stalls was picked because it represents the best DFW has to offer and offers everything DFW represents.
One food stall has a place on the second floor: Sea Breeze Lobsta' and Chowda' House. By the same minds behind Sea Breeze Fish Market & Grill, Sea Breeze Lobsta' and Chowda' House is a little more expensive than the other food halls, but that's no surprise–they've got lobster. All of the food stalls are supposed to be fun experiences, what Front Burner reps refer to as "Food Theater" and Sea Breeze Lobsta' and Chowda' House is by far the best example. There promises to be a live lobster tank and an atmosphere like Seattle's famous Pike's Place Fish Market. There's a good chance that means we'll see fishmongers slinging fish around. Most of the seating is also on the second floor.
Food Hall Stalls:
Berry Naked

Blist'r Naan Wraps

Carlton Provisions

Degenhardt's Brat Haus

DéTour

Enter the Bao

Everett and Elaine

FaQ's

Forno Nero

FreshFin Poké Co.

Glazed Donut Works

Haute Sweets Patisserie

Knife Burger

Local Press + Brew

Press Waffle Co.

Red Stix Yakitori & Banh Mi

Roots Chicken Shak

Salt & Season Rotisserie

Sea Breeze Lobsta' and Chowda' House

Shawarma Bar

Tacos Patron

Whisk & Eggs
The Beer Garden
There will also be six bars scattered across the premise. The Main Bar is on the bottom floor while the Good View Bar, which can be rented out for private events, is on the second floor, overlooking the beer garden.
One side of the bottom floor spills out onto the huge beer garden which will hold 1500 people standing. An LED screen will hang for entertainment, visible from all three stories. Front Burner Restaurants worked specifically with the Legacy West team to close up the part of the parking lot that hems in the beer garden to ensure there isn't highway noise disrupting the fun.
The hall is made for everyone, from night owls to parents with kids: everyone has something to do, see and eat here. Events go beyond live music. There will also be concerts, movie nights, game-viewing parties and other family-friendly activities too.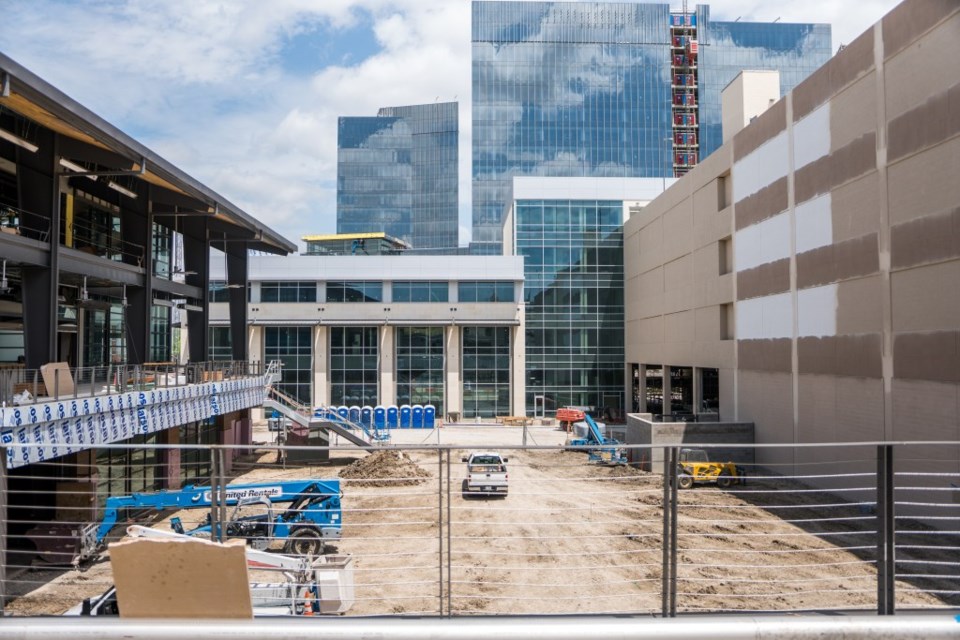 The Six Bars
Beer and Margarita Bar

Tap Room

Idol Time Tiki Bar

The Good View Bar

The Main Bar

The Stillhouse Bar
The reverse ATMs
The hall will be completely cashless. There will be reverse ATMs on site where you put money in and get what they call a Hall Pass. This little number gives you access to everything. You can load as much or as little money as you want onto the pass and eat with ease. Credits on the pass never expire.
There will also be a food hall app so busy executives can order lunch ahead of time at any of the stalls, ready to be picked up.
Unlawful Assembly Brewing Co.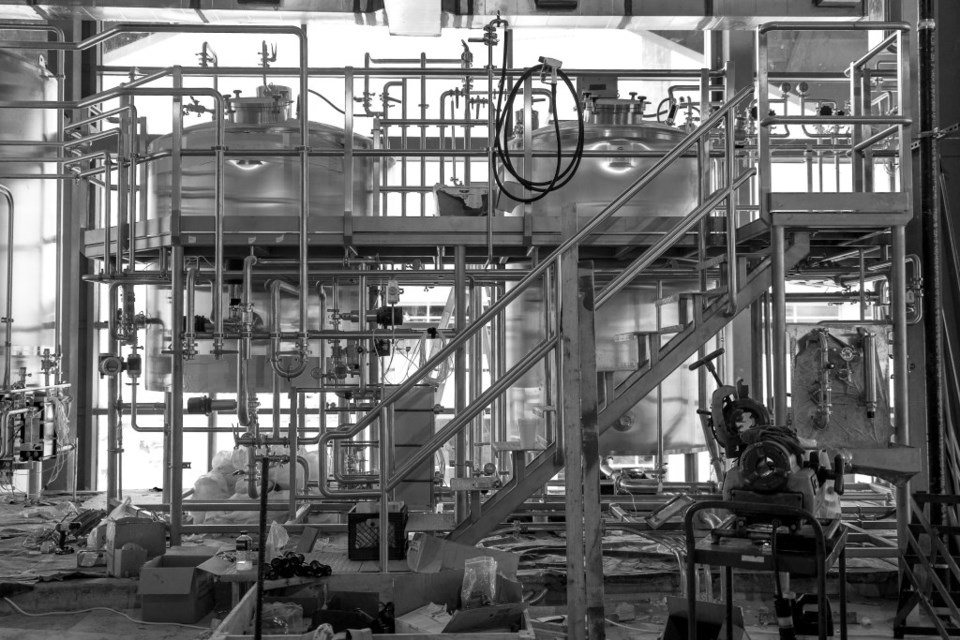 On the third floor of the food hall is the first and only brewery in Plano. Unlawful will do all of their canning in-house and though the hall doesn't open or start serving beer until October, brewing starts mid-September to prepare. Once it's open, guests can tour it to learn about the process and try flights of beer.
Unlawful Assembly is aiming to be "an agent of change for food, beverage and entertainment in the Plano/Frisco area." Their taproom, located inside the brewery, is going to be a perfect place for observing the working brewery, hanging out with friends and of course, sampling awesome new beers.
The Beer Slide
Yeah. There's a beer slide. Meant for adults, the beer slide will run from the third floor brewery down to the second floor. And there's even a tiny elevator that will take your drink down to meet you at the bottom.
Haywire
The first thing to know about Haywire is that while there are under the same ownership and part of Front Burner restaurants, they are, strictly speaking, not part of Legacy Food Hall. Haywire is attached to Legacy Food Hall but is a completely separate concept which will open at a separate time at some point after Legacy Food Hall opens.
When it does open, Haywire will have two notable features: the whiskey lounge and the floating fireplace that will hang in the entrance. It also has its own rooftop lounge where diners can look out over the beer garden below.
Legacy Food Hall opens at Legacy West in October. Stay tuned!