Restaurants do more than cook and serve food. They are spaces in which we gather, talk and, perhaps best of all, eat with friends and family. Chefs and restaurant owners make this possible.
Local Profile invited a handful of tastemakers to talk about food and the restaurant business: what they do, what they've learned and what they like.
Jill Grobowsky Bergus
A decade ago, Jill Bergus, a CNN producer, and her husband Jeff, a fashion designer for JCPenney, launched Lockhart Smokehouse in Bishop Arts with the goal of introducing the central Texas flavor to North Texas. Jill is barbecue royalty, starting with her grandfather's acquisition of Kreuz Market in Lockhart, Texas, in 1948. Her family members, including her father and subsequent generations, have upheld the tradition of barbecue-making ever since.
How did this all begin? You grew up around barbecue, but it's different for your family?
When we would go see Grandma, that's what we would do. I grew up in Temple, Texas, so it was a little bit further north of Lockhart. That's what we did — do barbeque. There was a place in New York, and we went and visited, and I was like, "Oh, my gosh, this is my family on the walls." If this can work in New York, we could do something in Dallas.
How did you make sure you knew what you were doing?
We taste a lot of it. And now we're very fortunate that we have a really good team of people. It's a really labor-intensive meat. I mean, not to dish on burgers or anything. But really, a brisket takes 12 to 16 hours on a smoker, and our smokers are run by wood. And they're kind of outdoors, so there's weather inclemency, it's something — it's not something that's easily mass produced.
But when we first opened, a food critic gave us one star and said it was all terrible. I think I was in the fetal position going, "Well, okay, I didn't need a savings account anymore." But just like in the new space, you learn something new every day. So we're always figuring things out. We're always trying to improve.
Andy Pham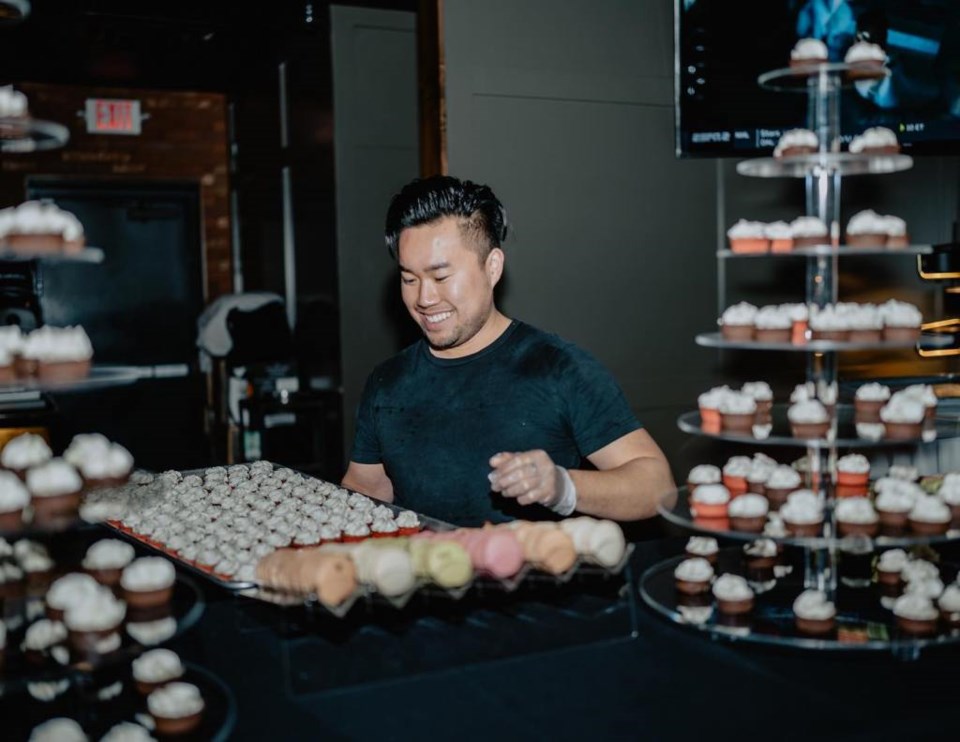 "I'm just a boy who likes to bake," 23-year-old Andy Pham tells Local Profile. And does he ever. Pham is making some of the most delicious — and beautiful — sweets in North Texas at his creation, Le Rêve Gelato & Patisserie, located off Preston Road in Dallas. Not bad, considering Pham, who is originally from Collin County, is entirely self-taught. Drawing from French, Vietnamese and Texan influences, his desserts are not only good-looking but complex, with deep, nuanced flavors.
How did you learn how to make desserts?
Trial and error. I would watch stuff on YouTube and be like, "Okay, let's try that." And then I would think that something didn't make sense and try something else.
Do you like working with any particular ingredient?
Fresh fruit gets me excited, and I grew up eating a lot of it, but I don't like fruit in my desserts. For me, dessert is chocolate and coffee-type flavors. So, I don't like strawberries, but our strawberry dessert is probably our most popular item. When I use something like strawberries, I am objective and know that it works well. It's being able to deconstruct a dessert and objectively why something is good — even if I don't personally like it. Actually, I'm not really a sweets guy. I like making sweets. But I think not being a sweets guy keeps me objective because sugar can change your palate, and you can start thinking something is good because it's sweet. In America, many desserts are very sweet, but in Europe, the flavors are more focused and nuanced.
Tiffany Derry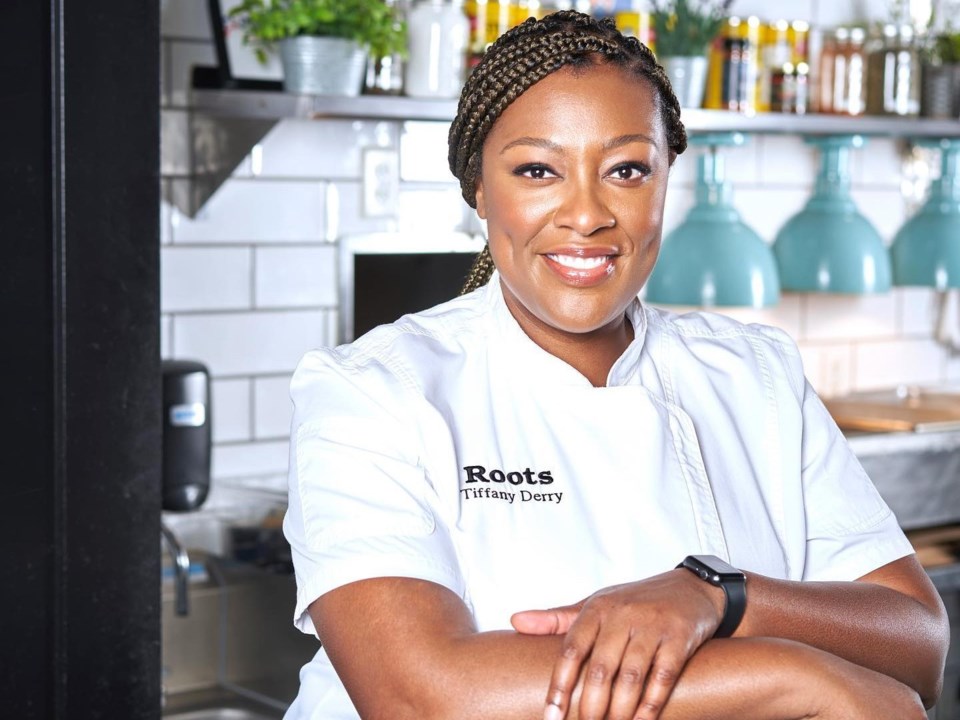 Growing up on her family's farm in the South, farm-to-table dining wasn't just a fad, it was a lifestyle for Tiffany Derry. With freshly baked pies on the countertop and a strict policy against waste, Chef Derry's grandmother instilled in her a love of cook- ing and the understanding that it was more than simply combining ingredients — it was a way of life. Getting her start at IHOP, she went on to appear on Top Chef and open the lauded Roots Southern Table as well as Roots Chicken Shak in Legacy West. Chef Derry puts her passion for people into every meal.
Do you have any distinct memories of food as a kid?
I got a chance to get in the kitchen and cook with my grandmother and one of my uncles, who was a very good cook. That's like the magic happens, like smelling the way that the oxtail smell in the oven when they're braising, and the greens when it's going, like, it's not just about the flavor, it's also about the memory of it, and the smell evokes the memories, right? That's the one thing I love about food, in general, is even in the restaurant, people come in and they're like, "Oh my gosh, those greens are like I used to have from my great grandma or from somebody special" and for me, that's why I specifically, I love doing Southern cuisine and the memories and just all that evokes, it just kind of transcends you to that area.
Some people might have the idea that to be a great chef, they need to go to the culinary institute of America and work at a Michelin-starred restaurant. Is that necessarily true?
It's not true, you can truly develop anywhere. I worked at IHOP, and I learned skills there, and in other restaurants that I worked at along the way, that were crucial to the foundation of my culinary: hard work, meager ingredients and, importantly, how to make sure that everyone's doing what they need to do and how to give employees what they need.
So much of management I learned in places that were not fine dining and most of my management experience came from just working in a restaurant, learning to find the flow, learn to encourage people but also be stern. We can always be hard and we can demand the kitchen, but you also have to come back around and make sure that you are interested in growing their experiences and making sure that they have certain skill sets that are — that translate outside of the restaurant space. I think that's so important. I know within our restaurant, we do a lot of things that aren't just for us. We do a lot of, like, health and wellness classes. We talk about, you know how to read a P&L or the importance of opening a savings account. We have done multiple trainings with our employees one-on-one with regards to their finances, providing financial education. It's not all about food.
Mia Singthin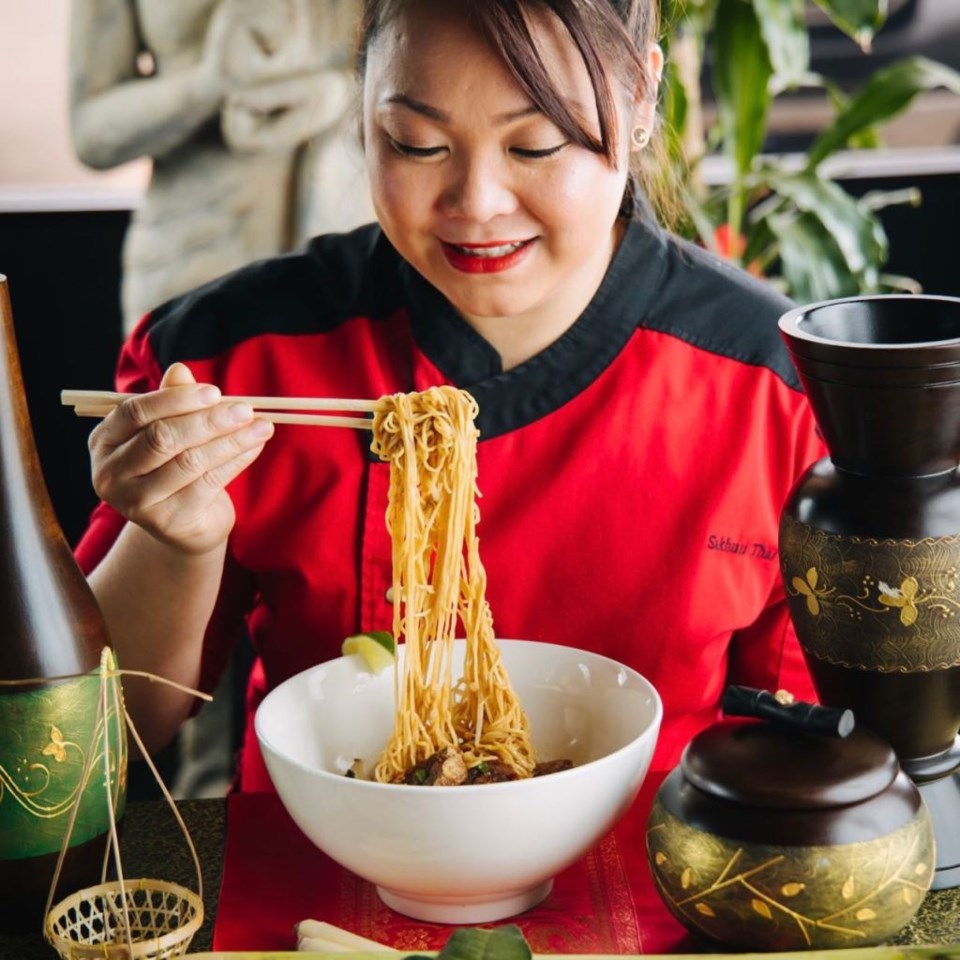 At the age of 18, Chef Mia Singthin moved from her native Thailand to Washington, D.C. She was always interested in food and cooking and got a job at a restaurant, washing dishes and cleaning tables. She worked her way up, and, by the time she moved to Dallas in 2017, she was an established chef and opened Sakhuu Thai, with locations in Dallas, Richardson and Plano's The Shops at Legacy.
Why did you decide that you wanted to be a chef?
When I was younger, my mom and my dad sold fresh food. My dad was really a good cook. And when I would go into a restaurant, I'd always watch the cooks work, noticing what they put into the dishes.
What makes you happiest?
I love when people try my food. When I cook, I cook from my heart. I don't just put this and that together. To be a chef and the owner of the restaurant, you really have to love to cook. It's hard work.
What's important for the success of a restaurant?
Teamwork. It's very important because, without it, you won't go anywhere. You have to work together well.
Rambo Saucedo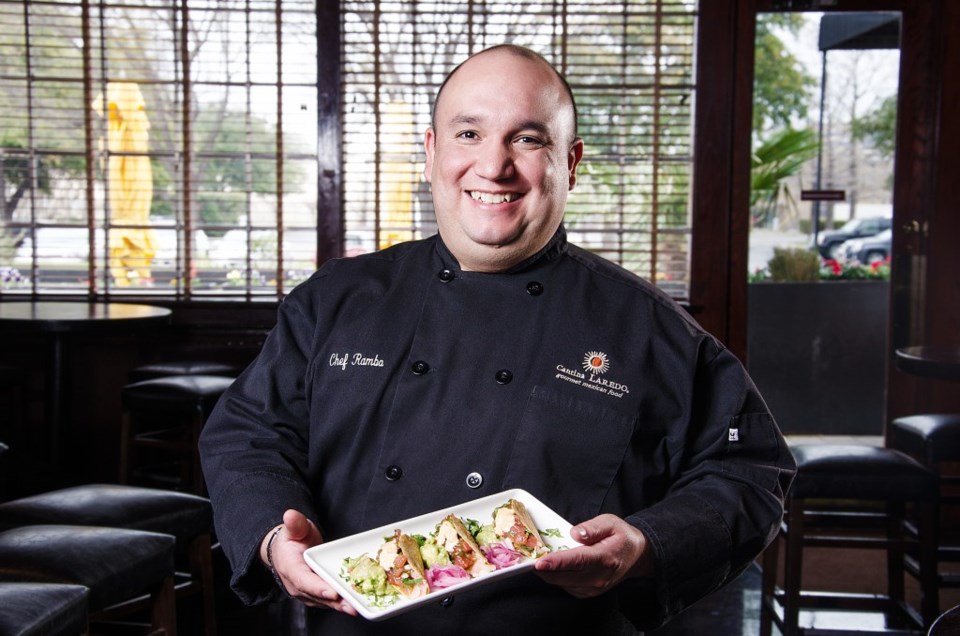 "I was somewhat a picky eater," says Rambo Saucedo, the general manager and chef at Cantina Laredo in Frisco. "Now I love all types of cuisine — I love being able to eat different foods." Saucedo grew up in Laredo, Texas, with Hispanic culture playing a role in the foods he ate and still loves. But to him, the best part of food is bringing people together.
How did you get into the restaurant industry?
I got into the restaurant industry while in high school. I was 16 years old at the time. I thought it would be the perfect opportunity to have a little cash in my pocket to take my friends out for lunch. I started out at a Chick-fil-A in Laredo, Texas. My main objective was to make lemonade and clean the back dock area.
What advice would you give to anyone entering the restaurant business?
My advice to anyone entering the restaurant industry: be very open-minded. What I mean by open-minded, be willing to learn from absolutely everyone. What might have worked out for you for years might not work anymore. Learn to adjust and accommodate with the restaurant industry. One of the most important things I wish I knew was that the restaurant industry requires a lot of planning and patience. If you can master that, it will make your time at work very enjoyable.
What is your favorite thing about the restaurant business?
My most favorite thing about the restaurant industry is being able to meet some amazing people as well as working with very talented individuals.
Yaser Khalaf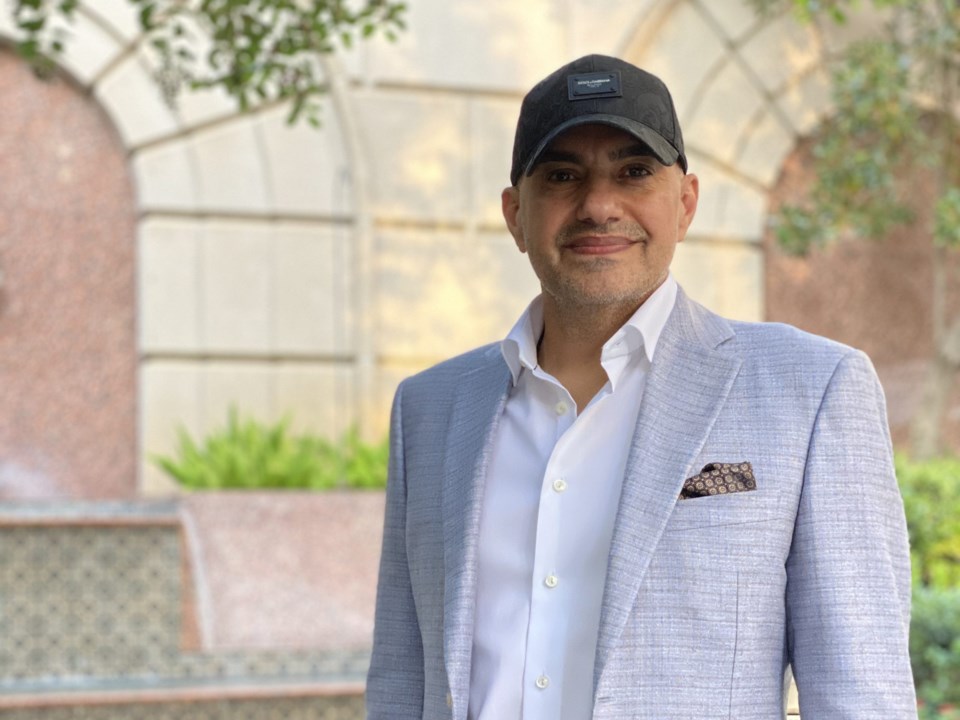 "It's truly satisfying to see our guests enjoy the same dishes I grew up with as a child," says Yaser Khalaf, the Dallas-based creative behind Darna Eatery in Legacy West and Shawarma Bar in Legacy Food Hall. His company, Yela Concepts, has ten restaurants from casual to fine dining, from burgers and pizza to Mediterranean restaurants and food halls all across the United States. Khalaf's first foray into the restaurant business was at a pizza place in Lexington, Kentucky.
What were your first memories of food?
I grew up in Kuwait but traveled frequently to various countries. I experienced tons of great food from countries within North Africa, Europe and the Middle East. I was very fortunate to learn new flavors and techniques that represented each of the countries I visited. Those experiences are translated into the themes of all my restaurants.
What advice would you give to anyone entering the restaurant business?
The restaurant business is not for everyone. It's long hours and very stressful.
And sometimes, it can feel very unrewarding. But if you truly have a passion for food and hospitality, you start to enjoy and master your passion. Eventually, you find your niche, and it can turn out to be quite promising.
What is something you wish you knew when you first entered the restaurant business?
How demanding it can be. The hours and hours needed to be spent, not just physically but mentally. It's like nurturing a baby. The restaurant business is always demanding more from you. And it requires extreme amounts of attention to detail. But luckily, I always knew that in order to succeed in the space I had to be different than all other restauranteurs.
Oren Salomon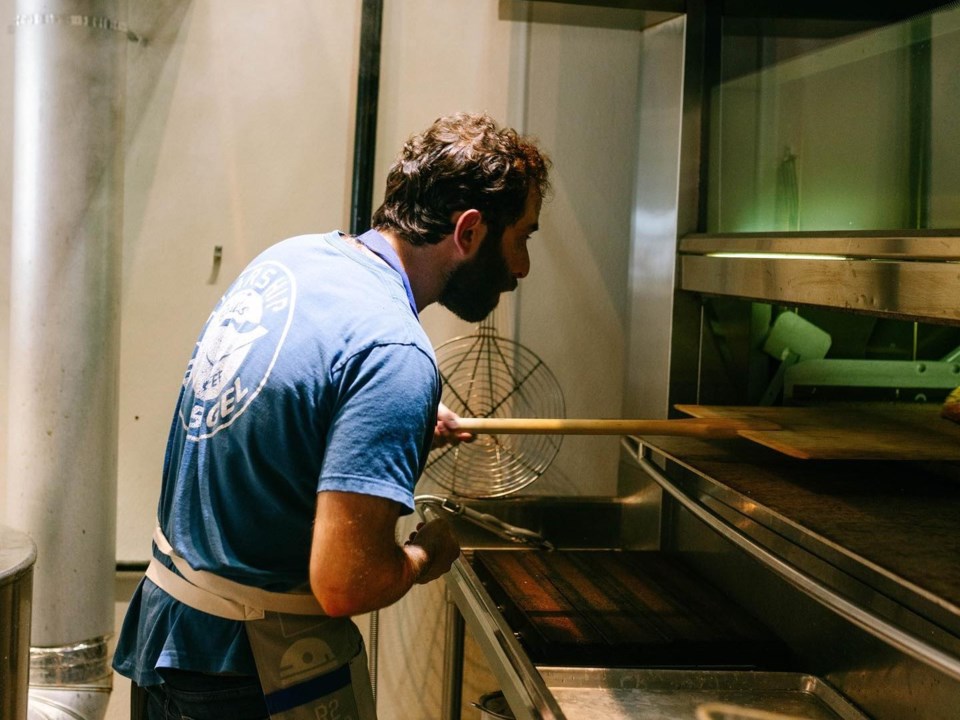 Bagels are a staple — but making good bagels is hard. Oren Salomon studied the fine art of bagel-making in San Francisco and brought those ideas to his native North Texas, where he attended Solomon Schechter Academy (now Ann & Nate Levine Academy) in Collin County. Since July 2021, Salomon's been serving game-changing bagels at his shop, Starship Bagel, in Lewisville, with a new location in downtown Dallas.
What do you think makes a good bagel?
The outside, you want to crunch; inside, you want like a chewy, dense bite — you want to have that strong crunch when you bite into it. You want that chew that kind of endures. And that's why it pairs really well with fish is because normally, when you're eating, like, sushi, for example, and they put it on rice, two bites and it's done. You don't get to savor the fish. But when you put, like, fish on the bagel, chewing it for like 20-30 seconds and you couldn't get more flavors inside your mouth. So that's why you want that long, deep chew so that you actually are enjoying what you're eating.
And you put seeds on both sides?
Typically, what most bagel shops will do is, like, very, very gingerly, like sprinkle seasonings on top. We fully dip on both sides, you get full coverage. And that's something that everyone has noted about our bagels is that there's so many seeds and so much flavor on the toppings. No other bagel shop in town does that.
Larrie Lavine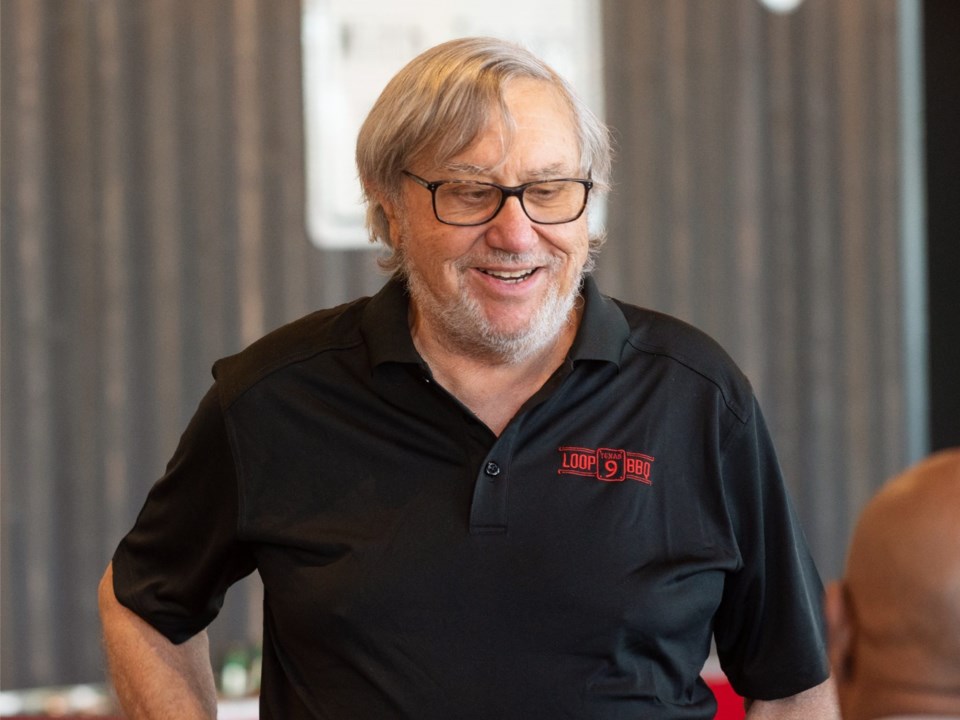 In 1975, Larry Lavine founded Chili's on Greenville Avenue in Dallas — and the rest is restaurant history. His latest is Loop 9, a barbecue place in Grand Prairie, following up his previous barbecue efforts (Ten50 in Richardson and Carlton Provisions in Plano's Legacy Hall). "In Texas, there's two things, in my opinion, that people are passionate about: barbecue and chili," he says. "They'll talk about — they won't talk about where they had their last meatball." Lavine is a North Texas restaurant legend.
How has the restaurant industry changed?
Staffing is harder than it ever was. The good thing about the restaurant business is that people like to eat. They don't know how to cook. They don't want to learn how to cook. And a big part of it is the social aspect.
You've had a long, storied career. what are your current goals?
My goals are two things: to get a five- or four-and-a-half-star review and to be the best place to work in Dallas. If you do both those things, then your customer likes it, and your employees like it. And I've made speeches in schools about culture. Every company says they got a great culture, but very few of them do. You have to spend a lot of time showing employees how much you appreciate them, how much you love them and how much you can help them grow — all those things.