Kenny's East Coast Pizza is a full service/full bar dining destination serving pizza inspired by the East Coast cooked in a classic Bakers Pride Deck oven. It opened Wednesday, August 24, for lunch and dinner in Plano. With red walls and wooden pizza boards decorating it, the atmosphere is relaxed, friendly and tasteful. Most importantly, the food is amazing.
We at Plano Profile have been eagerly waiting for Kenny's East Coast Pizza to open, so–naturally–we grabbed a table at Kenny's East Coast Pizza as soon as we possibly could. We were so glad we did!
Starter
Our starter was Bruschetta, since tomatoes are in season–though we plan to go back for Prosciutto Wrapped Fried Mozzarella. The Bruschetta was toasted bread topped with a mix of cherry tomatoes, balsamic vinegar and olives, with roasted garlic and a dusting of Parmesan cheese. They were generous with the tomatoes and every bite was just a little sweet and extremely fresh. A perfect start.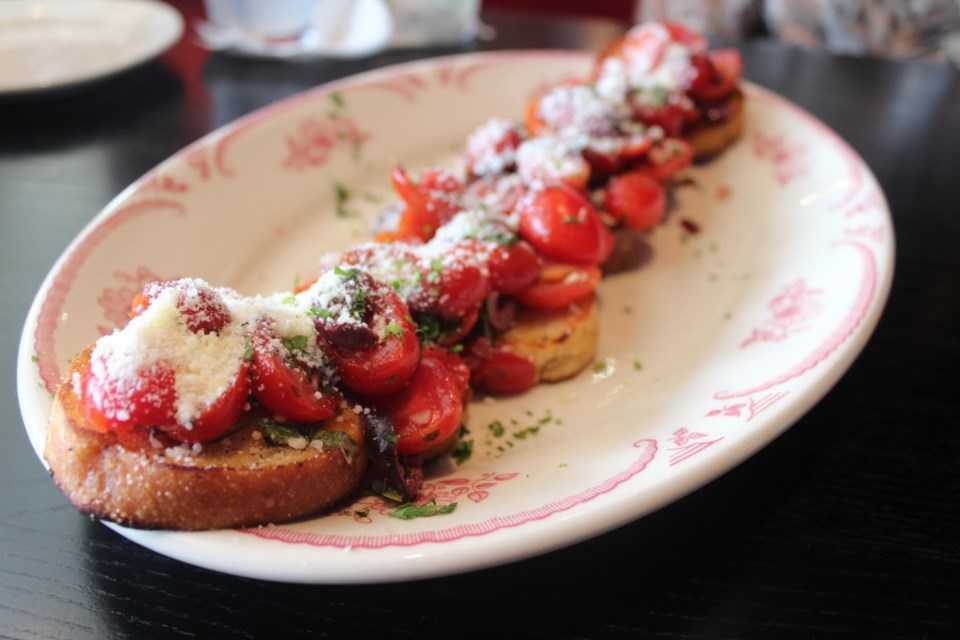 Salad
Though you can't miss out on the pizza, there are a variety of salads on the menu as well. We tried Spinach & Salmon and the Greek. The Spinach & Salmon came with roasted walnuts and bacon and a generous portion of salmon which was well done but very nicely seasoned with a tang of lemon and pepper. Overall, the salad felt very fresh. And the bacon was a hit, of course, because bacon makes everything better. It's definitely a great option for a guilt-free lunch.
The Greek is exactly what it sounds like, tomatoes and iceberg lettuce with Greek dressing, feta cheese and a few pepperoncinis to give it an extra kick. It was big enough for two of us to share.
Pizza
But finally, what we all were waiting for arrived–pizza. We're happy to say it lives up to the hype. We tried the Chicken Artichoke and the Adult Pepperoni–Mozzarella, mushroom, red onion, fresh basil and white truffle oil–and honestly, we couldn't pick a favorite between them. The Chicken Artichoke was great. The alfredo sauce was very creamy, but not overwhelming, the perfect complement to the chicken and artichokes. There was truffle oil dusted on it just for an extra hint of richness. Decadent and addictive.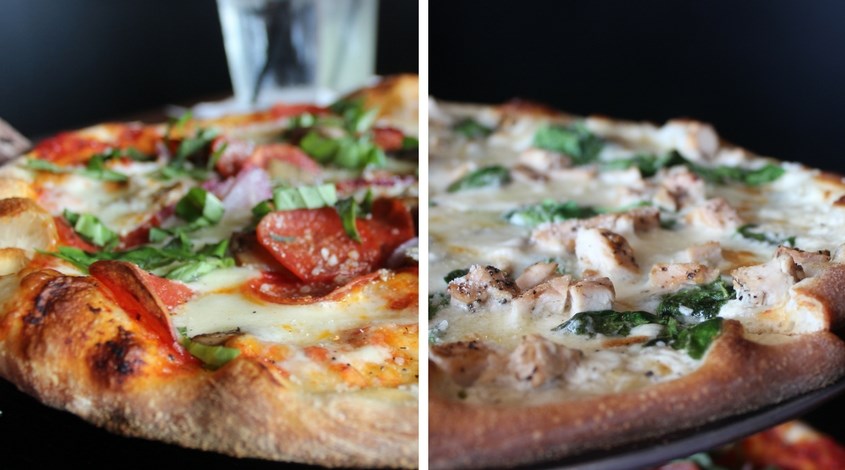 The Adult Pepperoni was a show stopper too with abundant toppings and a strong tomato sauce to balance out the generous toppings and fresh basil. It's the perfect comfort food. Skimping on cheese would have basically been a crime, and Kenny's didn't disappoint. When you lift out a slice of pizza, gooey melted cheese trails it all the way back to your plate. It's the stuff dreams are made of.
For Kenny Bowers, good pizza is all about the dough. According to the waitstaff, his recipe has been in the works for over two years. Making meticulous changes, Bowers tweaked it nonstop, determined to get it just right before opening Kenny's East Coast Pizza. He even took a tour around the East Coast, just to eat pizza and truly get a taste for it.
The end result is a crust you won't leave uneaten on your plate. Both of our pizzas were crunchy and thin without being soggy, even in the middle. Everything had a very classic taste, just like New York's. Nothing was too fancy, but everything was made with excellent quality. It was exactly right. Simple but brilliant, cooked to perfection in a New York brick oven.
Dessert
Then came dessert. There were three of us and three options on the menu, so we ordered one of each: Tiramisu, Cheesecake and Peanut Butter Pie.
We immediately noticed that the Tiramisu was a knock out. The piece they brought us was giant, perfect to split between three people. It was perfectly balanced and extremely light. When we mentioned it to the waiter, we found out exactly why it's so perfect. It's flown in from Italy daily. It's worth it.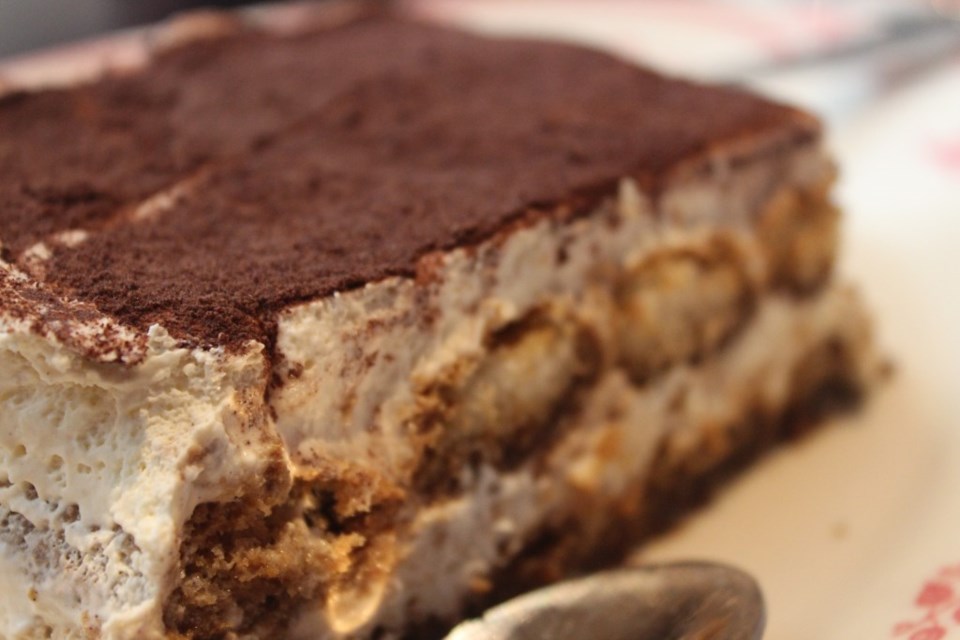 As for the other desserts, there was a thick slice of New York style Cheesecake with raspberry sauce. Dense and rich, it was my personal favorite, extremely refreshing and creamy.
Then came the Peanut Butter Pie. This is a Reese's lover's dream with a thin layer of chocolate under the filling. It's ridiculously gooey. Both the Peanut Butter Pie and the Cheesecake are courtesy of Downtown Dallas' Mad Hatter Café.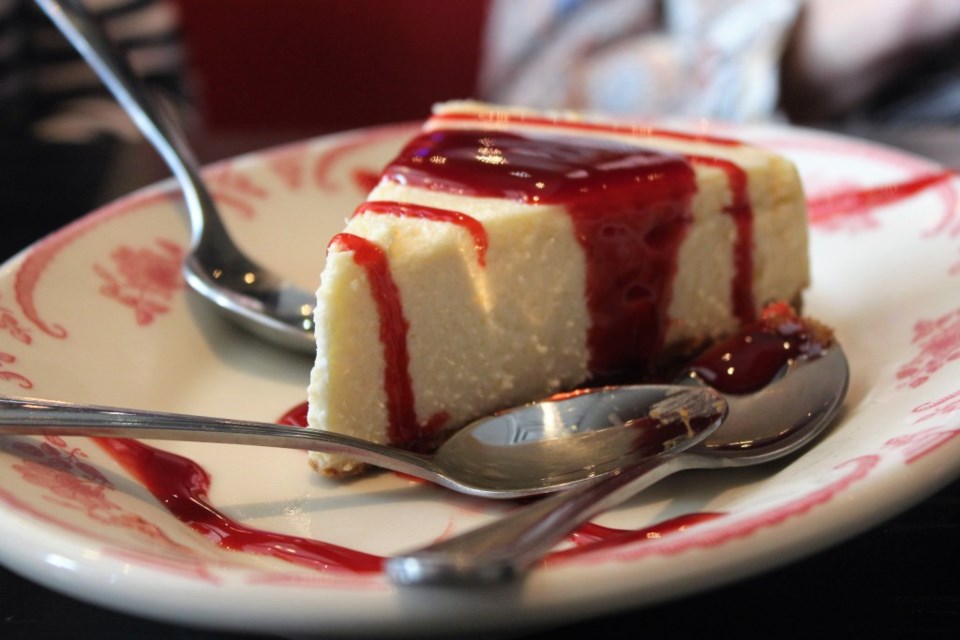 Overall? We carried home plenty of leftovers with the help of the welcoming and hospitable staff. Kenny's East Coast Pizza exceeded our expectations, bringing a unique taste to Plano, somehow retaining the classic vibe while being totally original. There are still leftovers in my fridge and already I'm already itching to go back.
Kenny's East Coast Pizza joins five other Kenny's restaurants, including Kenny's Wood Fired Grill and Kenny's Italian Kitchen in Addison, Kenny's Burger Joints in Plano and Frisco, and Kenny's Smoke House in Plano.
Kenny's East Coast Pizza
Hours:
Friday

–Saturday:

11 a.m.–11 p.m.
Sunday

–Thursday

11 a.m.–10 p.m.
Where: 4701 W Park Blvd. #101, Plano, TX 75093
More: 972.519.9669 | kennyseastcoastpizza.com