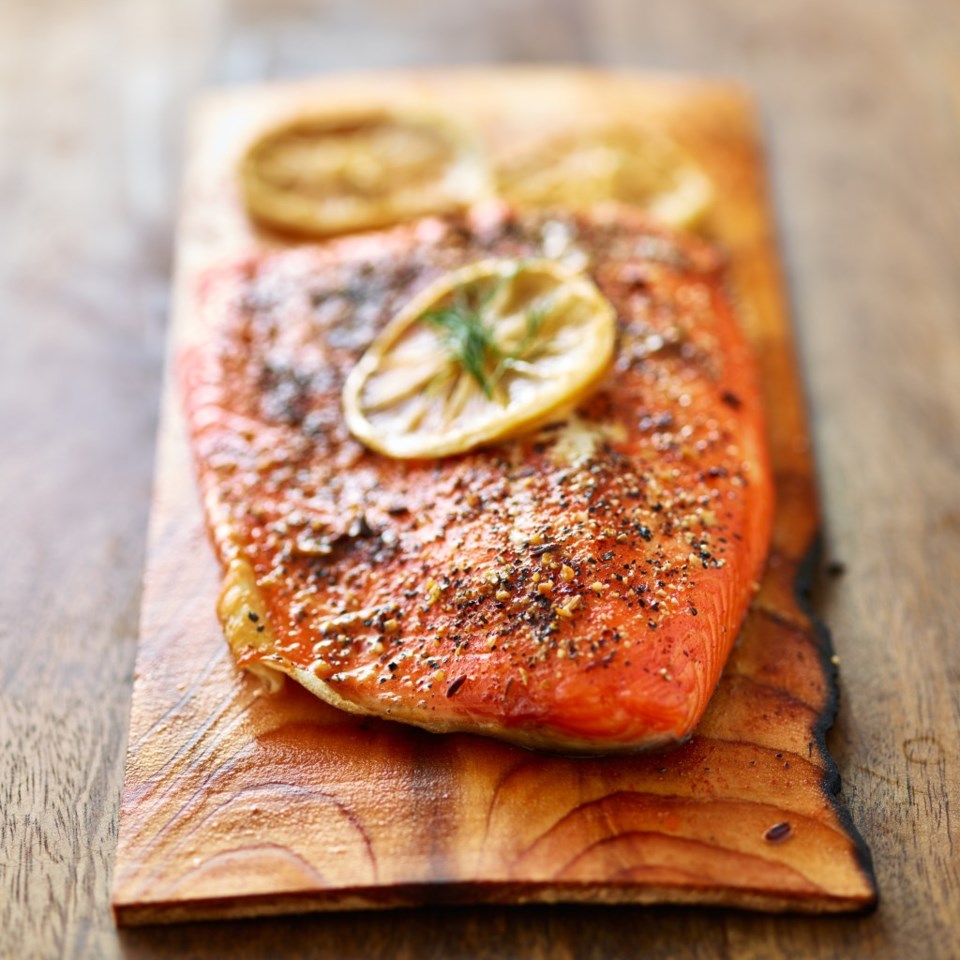 There are five varieties of wild Alaskan salmon: king (aka chinook), sockeye, coho, keta (chum) and pink. All provide the same nutrient benefits, being especially rich in Omega-3 fatty acids which contribute to a healthy heart. Always check salmon for bones before preparing it. Rub your hand over the flesh and remove any bones with tweezers or needle pliers.
Ingredients
1 (8-10 oz.) Alaskan salmon fillet, skinned
kosher salt, freshly ground pepper, to taste
¼ cup all-purpose flour
2 eggs
1 cup panko bread crumbs
4 tablespoons olive oil, divided
½ cup dry white wine
¼ cup fresh lemon juice
2 tablespoons sliced shallots
2 teaspoons Dijon mustard
2 teaspoons drained capers
4 tablespoons cold unsalted butter, cubed
8 thin lemon slices
2 tablespoons pine nuts, toasted
1 tablespoon minced fresh parsley or tarragon
Recipe
Place the salmon fillet in the freezer for 15 minutes to firm up the flesh. Then slice the fillet at a 45-degree angle into 8 broad, thin cutlet-sized slices of salmon. Season with salt and pepper. Place flour in a shallow dish. Whisk together eggs in another shallow dish. Place panko in a third shallow dish.

Dredge salmon slices in flour. Carefully dip into the eggs, then the panko. Place breaded cutlets on a rack set over a baking sheet. Cover cutlets and chill to set the crust, 10 minutes.

Heat 2 tablespoons oil in a large nonstick skillet over med.-high heat. Working in two batches (using additional oil as needed), saute cutlets until crisp and golden on both sides, 4 minutes total. (Do not overcrowd the pan.) Transfer to a plate lined with paper towel.

Deglaze skillet with wine and reduce by half, about 3 minutes. Whisk in lemon juice, shallots, Dijon and capers. Simmer sauce until reduced by half, 3 minutes. Reduce heat to low.

Whisk in butter until melted. Add lemon slices, pine nuts, and parsley. Season sauce with salt and pepper. Divide sauce evenly over each serving of salmon. Makes 4 servings.
Source: Cuisine at Home, June 2011