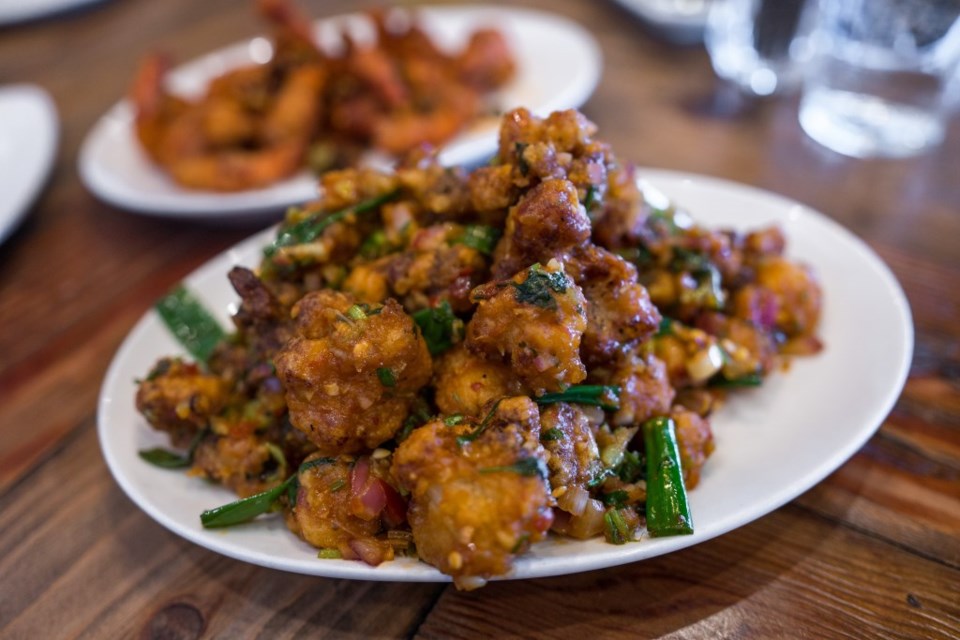 Today, we're talking about two of my favorite topics: Indian food and Chinese food.
The passion, vibrance and richness of Indian food has a special place in my heart since I only discovered it in college and have been making up for lost time ever since. Buffets, basmati rice, rivers of ghee and masala–my love for it borders on obsession. Alternatively, Chinese food was a first culinary infatuation of mine, whether it's hand-pulled noodles in steaming bone broth from a hole-in-the-wall with one waitress who speaks English, dim sum or some shamelessly Westernized fried chicken thing.
Indian and Chinese food are versatile. They're the knights of the styrofoam and plastic take-out genre, but easily and beautifully rendered in fine-dining concepts.
They're very possibly better together.
Welcome to Red Hot Chilli Pepper, your gateway into the world of Sino-Indian cultural fusion bliss.
Read more: Get reeled in by Hookline at The Boardwalk
Sino-Indian cultural fusion began in Kolkata (formerly Calcutta), when Chinese immigrants began settling in India. Eventually, as their communities thrived and they put down roots in Kolkata, they did what everyone does and started tweaking their traditional food to accommodate local palette. According to a CNN travel article, the first Indo Chinese restaurant Eau Chew opened in Kolkata in the 20th century. The resulting cuisine has a lot of names–Indian Chinese cuisine, Indo-Chinese, Hakka Chinese, Desi Chinese. Spices abound, whispering of this shared heritage. It's especially spicy and meant to be enjoyed family style.
(When I say spicy, I mean there is a ghost pepper dish on the menu that's so spicy you have to sign a waiver when you order it. They don't mess around.)
Red Hot Chilli Pepper, to our knowledge, is the only restaurant around here that specializes entirely in true Indo-Chinese food and it's a must-eat.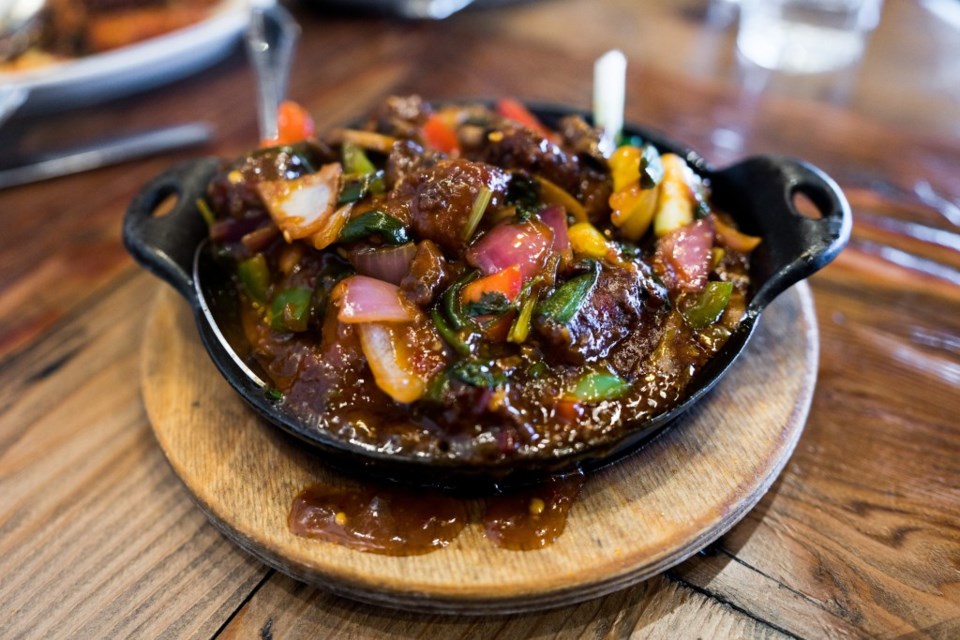 The menu is a little confusing on a first visit. Let's break it down. There are vegetarian and non-vegetarian big plates and small plates. Contrary to my expectation, big plates and small plates aren't entrees and appetizers respectively. Instead, it refers to how they're served. Big plates tend to be served in some kind of sauce, while small plates aren't. The one other thing visitors should note is that nothing comes with rice; that's a separate order. You can go simple with steamed or brown rice, or whole hog with something fragrant and unique like Ginger Bell Pepper rice, fried with wok-tossed ginger, bell peppers and onions. But you're going to want rice.
One other good thing to note: you can't go and not get Dry Manchurian Cauliflower. You really can't. It's just that good. Manchurian cauliflower–or Gobi Manchurian–is a quintessential Indo-Chinese dish. Manchurian sauce bursts with warm chili and soy flavor, giving the cauliflower a meaty heft. Hints of ginger and green onion hide underneath. The last bite of flavor is a sharp, perfect sting of chili heat and by that point, you're already reaching for another piece.
Crisp firecracker shrimp arrive drizzled with szechuan pepper and dried chilis. These still have their tails–be warned–and are even spicier. Each shrimp is fried to a perfect crunch, best when they're steaming fresh.
If your eyes are starting to water from all the spice, the bar has just the thing. A mocktail like mango lychee lemonade is a refreshing way to put out the fire. It's very sweet, predominantly mango with a bright lychee twist at the end. Surprisingly, there's also a hint of soda water which we weren't expecting.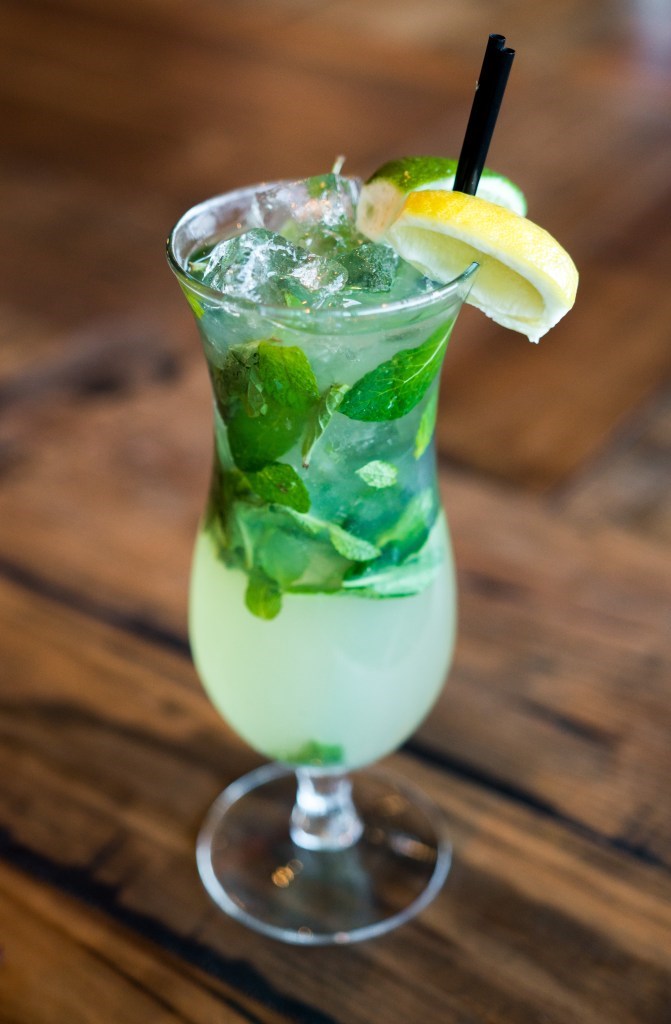 But, hey, it's five o'clock somewhere. Try an Asian Pear mojito. Red Hot Chilli Pepper's full service bar was a complete surprise and a totally welcome one at that. The Asian Pear mojito in particular stood out because as my coworker, Cori, pointed out, it's unlike anything we've tasted anywhere else. The mojito is refreshing, with all the summery-sweetness a mojito needs, with just pear playing mildly in the background.
Read more- Monthly Cocktail: Valentine's Day Edition
From the saucy big plates, we pick Calcutta Chicken, diced chicken, cilantro, green and red peppers and scallions, which arrives still bubbling in a skillet, oozing over the edges. It's heavily coated in sauce, chicken and vegetables layered in deep. This is one of those times you'll want rice on the side, to soak up all that heady flavor.
Hakka noodles, on the other hand, are thin and light, dotted with vegetables. We add egg. It's the right decision because adding egg is always the right decision. It pulls it together with a bit of fluffy protein, all lightly seasoned. These noodles aren't spicy, but buttery and clean.
For dessert, you can opt for molten chocolate cake. Which I always will. But surprisingly, Daarsan is unique enough and in the end, delicious enough to turn even me away from chocolate. Briefly. We compromise and get both. Molten chocolate cake, in all its gooey, floury goodness, is mouthwatering. But Daarsan manages to be paradoxically complex and super simple. Lightly fried wontons, drizzled in honey, sugar and sesame seeds, sit inside a ring of pecans. While the wontons are warm, the pecans are cold. They're served with vanilla ice cream on the side. At once, warm and cold balance with creamy and crunchy, and it's so light it settles in your stomach like nothing at all, like air.
So, in conclusion, Indian food rocks. Chinese food rocks. Indo-Chinese fusion served red and hot at Red Hot Chilli Pepper? Bliss.
Red Hot Chilli Pepper
Hours:
Mon | Closed

Tues – Thurs | 11:30 a.m. – 2:30 p.m., 5 – 10 p.m.

Fri | 11 a.m.– 2:30 p.m., 5 – 11 p.m.

Sat | 11:30 a.m. – 3 p.m., 5 – 11 p.m.

Sunday 12 – 10 p.m.
Where: 8549 Gaylord Parkway, Frisco
More: 469.362.6555 | rhcpdallas.com