This Saturday, October 24, Sweet Arleen's bakery will celebrate its one year anniversary at its West Plano location. Over the past year the three-peat winner of Food Network's hit show "Cupcake Wars" has been busy baking boutique-style cupcakes and sweet and savory bread puddings perfect for any occasion.
To celebrate the milestone, Sweet Arleen's is hosting a variety of events and offering specials for guests! Details are as follows:
FRIDAY, OCTOBER 23: In store drawing for free birthday cake and 15% off any pre-order of a birthday cake!
SATURDAY, OCTOBER 24: Anniversary Celebration!
Head over to Sweet Arleen's for a sugary sweet fun-filled day in celebration of their first anniversary. Celebrations include:
One lucky winner will find their cupcake filled with confetti and will win free cupcakes for a year (limit 12 per month)
$2 Balloon Pop – guests will pop balloons to win prizes ranging from a free cupcake to a $50 gift card. (Money collected from the balloon pop will go towards charity.)
In store drawing for kids birthday parties and office parties
Free mini cupcake decorating session from 2p.m. – 5p.m.
Sweet Arleen's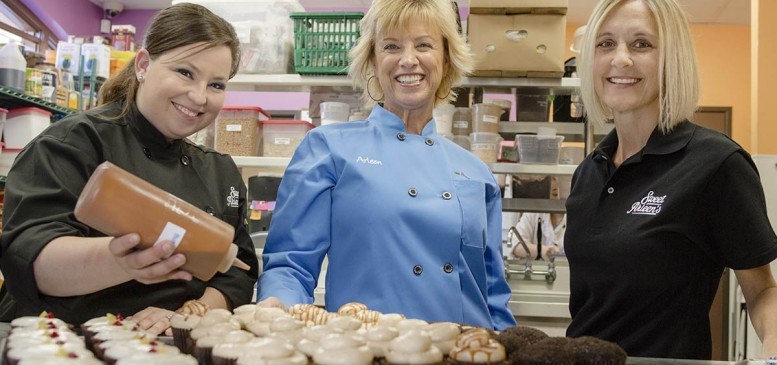 Now Open in West Plano, Sweet Arleen's, the award-winning bakery and 3-peat winner of Food Network's Cupcake Wars. Franchise owner, Tiffany Jordan, boasts the only Texas location of this nationally-acclaimed bakery. Knowing that she wanted to open her own business, Tiffany discovered Sweet Arleen's while watching "Unique Sweets" on the Cooking Channel and she was hooked. "I have always been fascinated by the baking industry and Sweet Arleen's presented the perfect opportunity. I love to bake and I am proud to be part of the Sweet Arleen's brand bringing the incredible tastes of her products to my community. I feel like I am selling more than cupcakes and treats, I am selling a little bit of happiness," said Tiffany.
1921 Preston Road Ste 2004
Plano, TX 75093
(469) 304-3500
sweetarleens.com/location/plano-tx