"The Texan of today considers barbecue native food. It is robust provender, as inherent to the history and traditions of this State as the Alamo. And it is man's own. Women, in truth, never bother with it. Its process of preparation is too arduous and primitive. But men cook barbecue by the ton, for thousands to feast on. It is folk food of feudal scope and magnificence." — The Dallas Morning News, March 26, 1937.
Although the proverbial marketing machine has succeeded at branding the Lone Star State as the cultural mecca of barbecue, Texas has little to do with its origins. We can, however, take full accountability for placing beef barbecue on the map. And, although some purists would argue only pork roasted over indirect heat is the "official" barbecue and, thus, the only one to stake a claim to the title, Texas is rooted in the fact that cattle has always been king. And sure, our other slow-roasted meats are just as worthy, but for me and many other Texas natives, we hold dear our own traditions.
As a child growing up in Sherman, Texas, a few miles to the north of Collin County, I have vivid recollections of my mother barbecuing at least once a week. Although it took all day to perfect, her methods were geared toward her rather progressive approach to modern-day "meal-prepping." She'd leave the meat over the tiny glowing embers and ashy mix of coals and wood and emerge from the backyard victorious with a platter of steaks, different cuts of pork and chicken. Together, my family and I would feast on this for days. Not unlike many other Texans, we are proud of the fact that our state is so vast that, depending on what region you hail from, your barbecue sauces and techniques could be as varied as the state is wide. In my tiny corner near the Red River, we had a hyper-niche brown gravy-like barbecue sauce and unique sides that emerged as a result of many different cultural blends.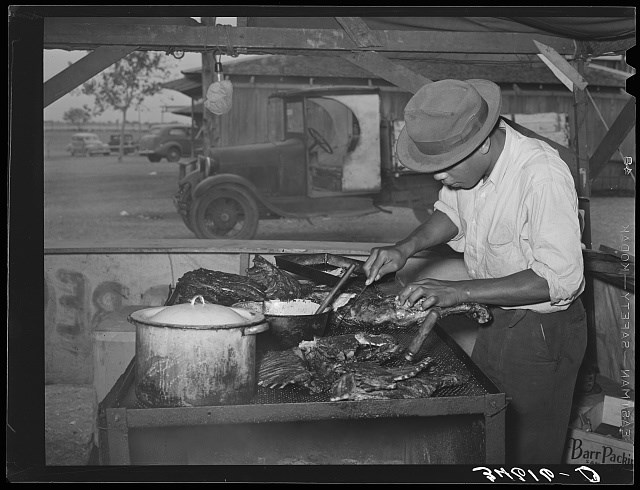 To trace the origins of American barbecue, Andrew Warnes, author of Savage Barbecue: Race, Culture, and the Invention of America's First Food, theorizes that through settler colonialism in the Caribbean, indigenous people's practice of crafting a framework of sticks to roast native fish and iguana was misunderstood to describe a "catchall" term that identified a very barbaric and savage culture. To further understand this misinterpretation, which likely began the way we identify "barbecue culture" today, would require that we travel back to 1492, when the largely self-educated Christopher Columbus, an Italian explorer, successfully lobbied for Spain's Queen Isabella and King Ferdinand to fund his dream of sailing to the East Indies to pilfer spices. Upon landing on the fertile soil of the Caribbean, the novice navigator misread his geographical settings and thought he'd made it to India. Sadly, he missed the mark and landed instead in this tropical paradise in October 1492. Columbus' crew had sustained themselves on tasteless biscuits and salt cod because it would endure the balmy tropical weather and provide the protein needed to make the journey. Once they arrived, they came upon the Hispaniolan and Cuban Indians, who Columbus broadly renamed "Taino" peoples. He rejected much of the food offered to him at first before relenting and finally tasting the slow-roasted meats. He was curious how the foods they prepared were roasted for long periods of time without drying out and observed the methods they used. It's theorized that Columbus and his seaman learned these methods and described what they interpreted as a rather rudimentary way of preparing foods outdoors over indirect fire. From this description, we can easily see the similarities that are still used to identify what many of us see as a true indicator of a "good" barbecue establishment today: served on butcher paper and eaten with your hands with no silverware required. It's a direct juxtaposition of dinner expectations when contrasted with a more Eurocentric view of what dinners were "supposed" to look like hundreds of years ago, with white linen tablecloth, candles and so on.
Almost 300 years later, after the Constitution was signed and states started to formally form what is now the United States of America, notably, barbecue was popularized in the Southern states. Most likely this was due to the fact that enslaved Black men, the laborers of these spectacular culinary showpieces, did not live north as free people. They were confined to the South through enslavement and, thus, kept these practices with them as a result. Virginia was a state that was settled earlier, so that state has written records of barbecues taking place as part of large political celebrations, but it's important to note that barbecues existed prior to this, although the United States was not yet founded. For example, in December 1540, near what is now present-day Tupelo, Mississippi, Spanish Explorer Hernando de Soto also described a barbecue between early colonizers who brought "hogs, cattle and chickens as food supply," with them on their expedition and allegedly introduced indigenous Americans — the Chickasaw — to these practices.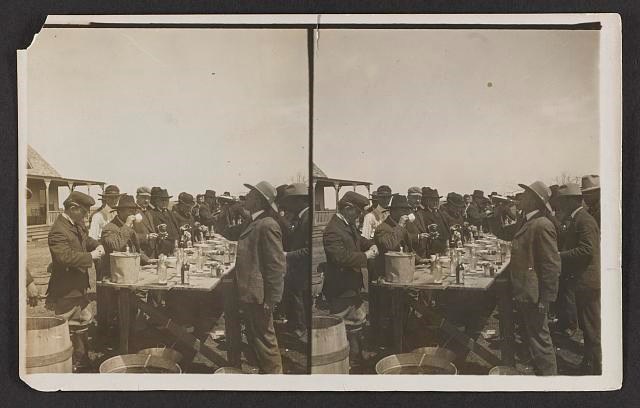 After Texas was formally ushered into the United States, the distinctly German tradition of smoking meats became a popular method incorporated by many early settlers and enslaved Black people who were brought with them to the then-Mexican-settled state. Texas barbecue is also often served with baked beans and sour pickles. These are most likely the contributions of Mexican foodways along with German influences, as well. The physical work that was required to dig dugouts into the earth, carry hogs and cattle weighing as much as an adult, and tend to the meat overnight was a workload that was expected of the enslaved Black laborers. Although manual labor was a large part of the skills required, it was also essential that they have the mental acumen required to gauge which wood produces a specific result, conduct the preparation involved for various cuts of meat, and regulate the temperature of the in-ground ovens successfully. These were all things for consideration when barbecuing outdoors under vastly different conditions than we see today in modern kitchens.
Over time, barbecue has evolved to include many different meats with various sauces ranging from mustard, vinegar and tomato-based sauces to the popular Alabama white sauce or the regional brown sauce that I grew up with. The "barbecue belt," as we know it, is now a term that wraps its wide arms around a distinct group of states, each with its very own traditions — the Carolinas, Memphis, Kansas City and, of course, Texas. Specific woods are also incorporated to impart that distinctly familiar piquant aroma that billows past us as we walk toward our favorite cherished restaurants.
Although barbecue can be a noun or a verb, few other words in the lexicon can stir up such passionate emotions as "Texas barbecue." It divides fans, playfully willing to go to war over dry vs. wet rub techniques. But it also unites us in our Lone Star traditions, serving equal parts pleasure, excitement and nostalgia at every family function, football tailgate and church social. One thing is certain: Texas barbecue is a ritual. That, and it's darn good.
A taste of Texas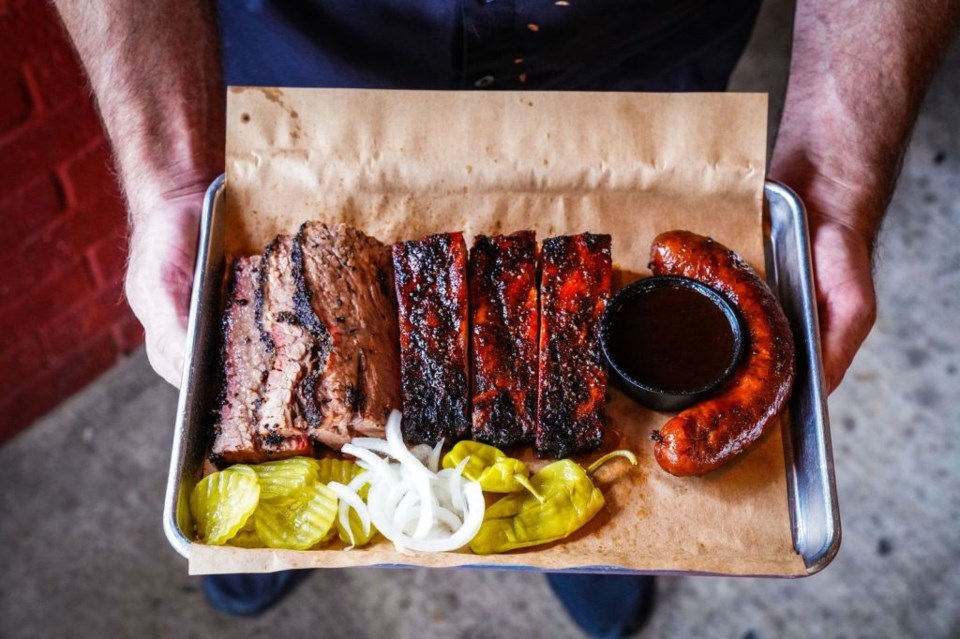 Big Ray's BBQ: Owners and barbecue experts "Big" Ray Cotton and his wife, Camilla Cotton, first opened their doors in 2011 after getting their start like many do… in their own backyard. The couple began over 30 years ago, entertaining family and friends in Ponca City, Oklahoma, before deciding to create "the ultimate barbecue experience," as their website proudly proclaims, for diners in Allen, Texas. This family-owned operation serves up many classics that include mammoth-sized turkey legs, tender smoked pork ribs and a plethora of other traditional sides and beloved soulful desserts.
Hutchins Barbecue: The co-owners of Hutchins BBQ are brothers Tim Hutchins and Tracy Hutchins. The pair have made a name for themselves as some of the best pitmasters in the state, and Hutchins easily earns its seal of approval from my notoriously picky family of novice barbecue critics as well. Tim got his start at the tender age of 14 before mastering the pit. Tracy joined Tim in 2014, and they have since added their own unique twist to otherwise "traditional" barbecue menus with Texas Twinkies, house-made seasonal sausages and award-winning prime brisket. The mission of both the McKinney and Frisco locations includes serving "highest-quality smoked meats and sides while providing excellent customer service."
Tu Bones BBQ: Michael Prince was just 9 years old when his grandfather, Tvester "Tusome" Prince, began cultivating his natural gifts by teaching him the fine art of "barbecuing" the old way… in an open-ground pit. By the age of 12, he had advanced and impressively cooked his first whole hog on a cinderblock-built pit. Today, Michael has honored his beloved late grandfather by christening his barbecue restaurant after his mentor. Fans of this favorite spot use words like "amazing, fall off the bone and finger-lickin' good" to describe their succulent meats and side dishes, and it has been successfully serving crowd-pleasing barbecue since 1988. Although the culinary school-trained Chef Michael offers catering options, they can only be found on weekends at the Frisco Farmers Market for now.