My home for the night is within a mile of downtown Fort Worth and a lasso toss away from the Stockyards. It's near everything I want to see and comes equipped with anything I could ever need. But if I didn't have the address plugged in, I'd have driven right past it. For one night, I'm bunking down in one of two shipping containers that have been stacked on top of each other and transformed into the cutest living spaces you'll ever see on Airbnb, converted by my wonderful hosts Allen and Elise. With 500 square feet to maneuver, it's actually roomy—for a tiny house—and perfect for getting a taste of the real estate trend that's taken Pinterest and HGTV by storm.
Tiny houses are something of a novelty. The size of a studio apartment or smaller, these cute little numbers offer the independence of owning your own place and an "in" to young adults navigating sky-high real estate prices. Enthusiasts love tiny houses for their customizable spaces. Critics claim they're foolhardy ventures that are more trouble than they're worth.
The shipping container has retained its original bright blue walls, but the floors are rugged wood now. A thumbnail version of a washer/dryer and a bathroom alternatively hide behind a single sliding door. Use the washer/dryer, then pull the door over it and voilà! A thumbnail-sized bathroom appears. The double bed is actually a Murphy bed in case you'd like a little more space to host an impromptu dance party—assuming you notify your landlord first. There's a little L-shaped couch with another bed tucked inside it, a TV, barstools at the counter and a little two-person breakfast table. The overall style combines minimalism with bright colors from the funky throw pillows, a painting of a pleasantly fat bird and other personal touches. Directly across from the main door, another opens onto a sun-soaked patio with a seating area, perfect for enjoying a cup of tea on a nice morning. The light streams in from huge windows, creating the illusion of expanded space, though there are day-blinds and night-blinds for privacy. It's city-slick. It's spunky. It immediately charms me.
I stuff my things on top of the washer, under the bed, in whatever nooks and crannies I can find, then visit the rooftop balcony. Because, yes, the red container comes with a rooftop balcony that overlooks all of Fort Worth. My hosts point out West 7th Street lined up outside, where basically everything you pass is going to be awesome: Mudsmith Coffee, Velvet Taco, Sweet Sammies, I could go on. Beyond, there's downtown, a short car ride over the iconic West Seventh Street Bridge. A restaurant across the street is being demolished to make way for something new.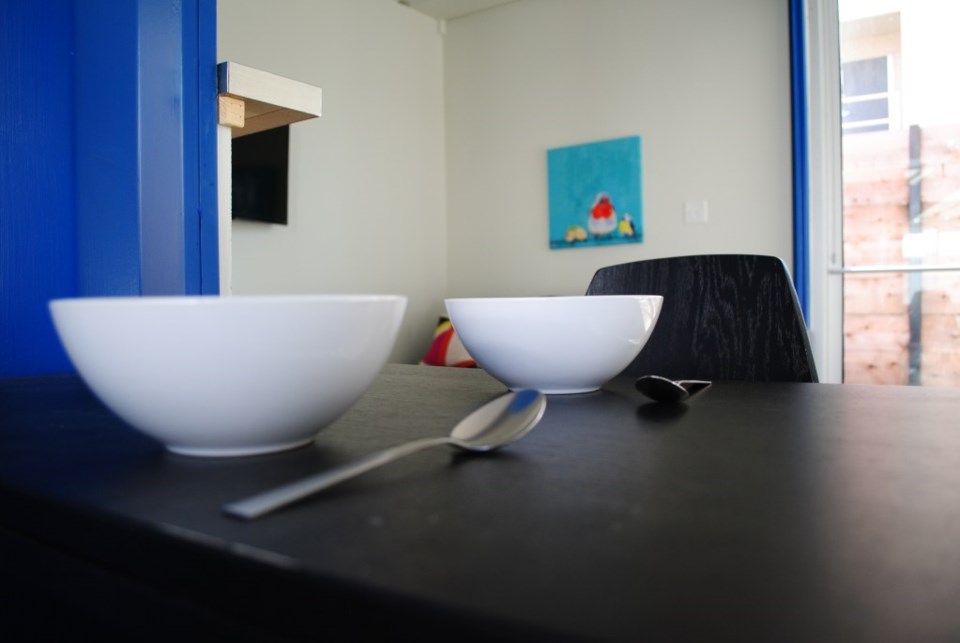 The Kimbell Art Museum, whose crowning glory is Caravaggio's The Cardsharps, is on my doorstep, along with the Modern Art Museum of Fort Worth, the Amon Carter and Fred's Texas Café (an old-school burgers-and-beer institution that has remained basically unchanged since its 1978 establishment). I don't have to use my car at all if I don't want to, and I don't.
That's the first major advantage to a tiny house: location. It may be a little noisy at night, but that's inevitable this near a city center. For some, that's part of the draw of city-living; they want to be near that energy, noise and all. But if that isn't your thing, tiny houses are fairly mobile—many are built on wheels to be carted away to a new location at will.
The whole house steams after a shower, and my guest and I were brushing elbows constantly. There's no privacy, but it's no secret that those who are serious about living in a tiny house have to think small. I discover a lot of little ways space has been rationed to reduce clutter and maximize comfort. Remotes sit in holders on the walls. A tiny rod for hang-drying clothes folds into the wall and disappears. Everything, from the portable fan to the air purifier, is half-sized. With hidden cabinets, sliding doors and a Murphy bed, furniture and appliances fold up like origami for an adaptable environment. Ikea is the tiny house lover's best friend.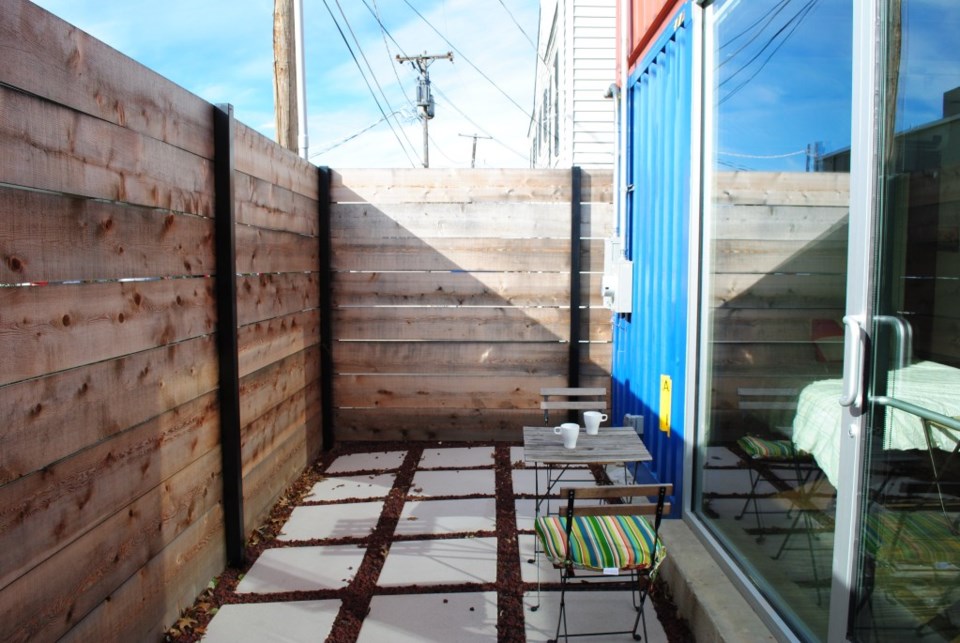 Sitting on the bed, I do some research, particularly into houses tinier than my temporary home, swamped with recurring buzzwords and phrases like "off the grid" and "solar paneled roofs" and land on another major benefit of tiny houses over equally economical studio apartments: freedom. Tiny houses offer the freedom that makes owning your own house attractive while encouraging creative use of space in a world where space is shrinking. There are communities dedicated to them, like DFW Tiny House Enthusiasts; even real estate firms who can help you through the building process such as Texas Tiny Homes. There are custom designers and a lot of people willing to trade ideas and help out. They're infinitely customizable and often they're built from recycled materials—like shipping containers—so the environmental benefits justify the sacrifice of a little comfort.
Environmentalists have made tiny houses popular because of their easy energy saving qualities and their potential for placement almost anywhere, from the wilds of Anna, Texas to the heart of Fort Worth. Tiny houses reduce your carbon footprint, both because fewer resources are required to actually build them and less energy is siphoned off for climate control. According to Andrew Morrison on tinyhousebuild.com, which empowers and informs tiny house enthusiasts, the average family house is 2,598 square feet while the average tiny house size is just 186 square feet. Heating and cooling an average full-sized house spends 28,000 pounds of CO2 a year while tiny houses roll in at just 2,000 pounds of CO2 a year. It's easy to understand why; the little air system in my shipping container is instantly effective, changing the ecosystem of the whole house in just moments.
Tiny houses are a dime a dozen in Austin. And yet, you'll be hard-pressed to find a tiny house closer to home in Collin County. They're scattered throughout Fort Worth and Dallas and pop up on the outskirts of Frisco, McKinney and Prosper. Local tiny house owners are building a community, slow and steady, but it's actually harder than you'd think to build one in Plano. You can buy a lot with relative ease, but there are restrictions on what size the house you plant on your land can be. Most tiny houses don't meet the minimum size requirement—800 square feet here in Plano. They're also considered mobile homes, which are prohibited in residential neighborhoods.
Change, however, could be on the horizon. Jennifer Rogers, a local tiny house enthusiast, reports that the current residential zoning laws and ICC Building Codes which make building tiny houses tricky are changing. In Kansas City on December 6, 2016, the ICC Residential Building Codes accepted an appendix recognizing tiny houses as houses. Cities and states can choose whether they'd like to adopt these updated building codes or disregard them, but it's a step that gives the tiny house movement hope.
Even if it's just one night, I enjoy the feeling of going back to the basics. Everything I need is at my fingertips and the money I saved staying here meant more money could be spent at Velvet Taco. Tiny houses are economical choices and lessons in responsible living, attractive particularly to young, unattached adults reveling in being young and unattached. They are neat little money-savers offering big savings and low commitment. One night won't make anyone an expert, but I left my tiny home away from home hopeful. I'll be on the lookout for more tiny houses popping up on the horizon.
—
These two shipping containers are up for rent. Look for Allen and Elise on Airbnb.
Originally published in Plano Profile's April 2017 issue.