North Texas is home to some of the best parks systems in the state and that's not just our (biased) opinion. As covered in Local Profile's latest issue, since it opened in 2012, Klyde Warren Park in Dallas became the gold standard for deck parks, earning numerous awards and recognition nationwide. Collin County's parks and recreation departments on their part have been able to remain attuned to our community's needs, providing residents with fresh and exciting playgrounds and parks.
But if we are talking about fresh playgrounds, Farmers Branch's upcoming project might be the most exciting so far.
Set to open in late August, Joya at Oran Good Park will be Texas' first open-space glow-in-the-dark playground. In addition to opening during daytime, at night the park will come to life with glowing step ways and seating, spin zones with LED lights and a glowing tot playground for children ages 2 to 5.
In addition to an amazing playground for the kids, Joya will feature activities for the whole family. Following the programmed park model exemplified by Klyde Warren Park, Joya will offer residents daytime and nighttime events all year round.
Local Profile spoke with Mike Mashburn, the visionary behind the project and VP deputy city manager for Farmers Branch to get more insights on the luminous park.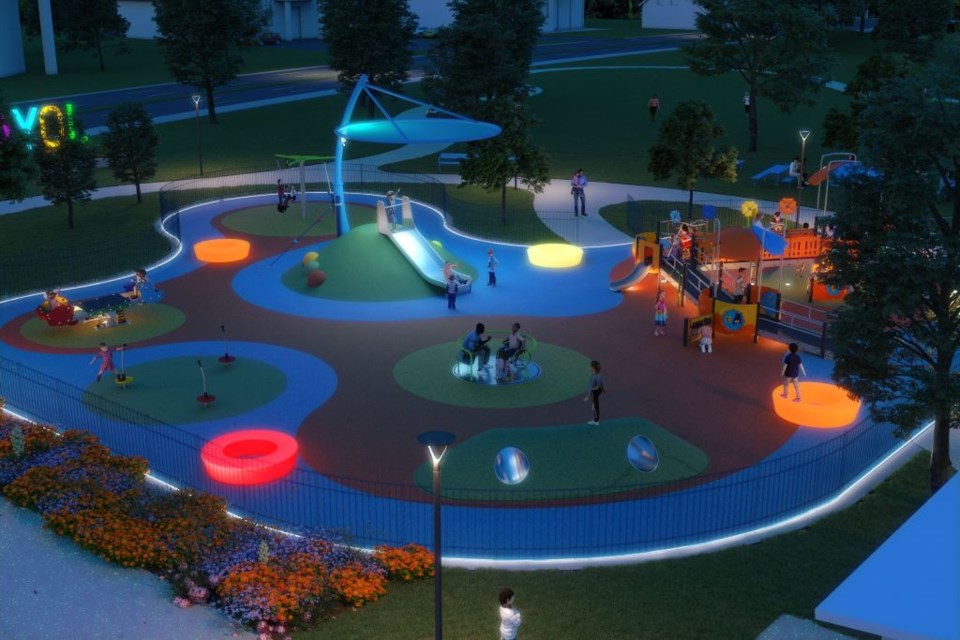 What was the vision behind the design of the playground?
One of the guiding initiatives in our city's strategic plan is to provide attractive unique, and connected spaces for community interaction and as such, [our] city council gave direction to create a signature park for our city. I immediately knew we had to create something one-of-a-kind that would light up kids' faces, figuratively and, turns out, also literally.
Through community surveys and focus groups with lots of kids, we developed this concept for a glow-in-the-dark park. We proceeded to work with Kompan, a leader in playground design, and developed something that has never before been done in the United States.
With the unforgiving Texas heat, playgrounds are rarely used once temperatures get above 90. Allowing families to access something of this magnitude in the early evening, especially on weekends, made a lot of sense.
In addition to expanding programming opportunities, what other benefits does a glowing park offer to the community? 
Joya will offer our community a completely different type of play space for families to enjoy. It will spark children's imaginations and provide the opportunity for evening play hours in our hot Texas climate.
Oran Good Park is a pristinely maintained sports complex that attracts tournaments yearround. Joya will certainly benefit from the activity at Oran Good, but it's the coordination with our special events team that will truly activate Joya as they make plans to host family-friendly events and entertainment opportunities at the site.
What were the biggest challenges when creating the design?
The biggest challenge was creating something that did not exist. We met with at least six different playground manufacturers in the early stages and only Kompan came anywhere close to seeing the vision.
The direction was to create a cross between a playground and an amusement park that glowed in the evening, much like Disneyland does. To take that direction and create something completely safe, while not adding too much light was a major hurdle. But after several iterations and countless prototypes, we finally got there.
At what stage is the development of the park? When is it estimated to open?
Since the design and construction of Joya will primarily be funded through state and federal grants, the project is currently awaiting approval from the National Parks Service to begin construction. Based on their project review timeline, we expect to break ground in April with a completion date in late August.
On a personal note, what do you love most about parks?
Access to quality parks and recreation should be available to anyone, regardless of economic factors. I love taking underutilized pieces of land and creating a truly unique experience that's suddenly overflowing with activity. We've seen this happen when we repurposed an old football field into the Barney Wood Bark Park and when we transformed an open green space into Montgomery Park, now complete with lighted sand volleyball courts.
Most recently, we revitalized an old outdoor asphalt hockey rink into a synthetic turf soccer field also located at Oran Good Park. All these spaces were once rarely used and are now highly utilized. We firmly believe Joya will be the biggest and best example yet!