I set out to try an Aerial Hammock class at Altitude Fitness. My instructor was Angela Smith, who's as comfortable upside down with a hammock wrapped around her pelvis as most people are walking. "It's an art form for us," she explained while some of the girls tried the Iron Cross high up in the hammocks. The flexibility, strength and agility that is gained from aerial yoga happens almost secretly, behind the scenes as participants really focus on mastering different mid-air poses.
The first move we learned was the back fly. When it was my turn, I set the hammock at my lower back and the hammock was pulled tight, a welcome support. Then, I was expected to hurl myself gently back and flip upside down, letting go of the silks, held secure at my hips. Easy, right? Maybe for a member of Cirque du Soleil, but not for me…or so I thought. Though it's intimidating at first, a minute later, I was doing it.
Altitude Fitness, Inc. offers one-of-a-kind, in-house-invented anti-gravity classes, such as Pole Dancing, Aerial Hoop, Aerial Silks and Aerial Hammock. The Frisco studio is owned by Tricia Laureman, a long-time yoga instructor who's passionate about the benefits of aerial yoga. "The hammock allows the student to transfer their weight into the hammock and use it to support traditional yoga postures," Tricia explained to me. "Furthermore, you can suspend in the fabric for ultimate relaxation and decompression, as well as use the fabric to increase flexibility." Plus, it's fun. "It makes you feel like a kid again!" she added.
There are two basic lessons that a beginner will learn their first time on a hammock.
Trust yourself. Until you try it, it's impossible to know your body's balance and exactly how to flip upside down without kicking someone in the face or face-planting. It means that if you hold too tight to the ropes, you'll actually end up using your lower body strength and weight to try and roll yourself over while your hands, clutched onto the silks for dear life, are actually anchoring you in place.
Trust your instructor. Angela and Tricia are excellent spotters, unafraid of getting kicked in the face. With them looking out, it feels safe and possible. I was able to twist upside down and hang secure, my spine stretching out, feeling like a very accomplished aerial artist. Deep breathing helped my body realize that yes, this strange upside-down swinging was on purpose and no, I didn't need to panic.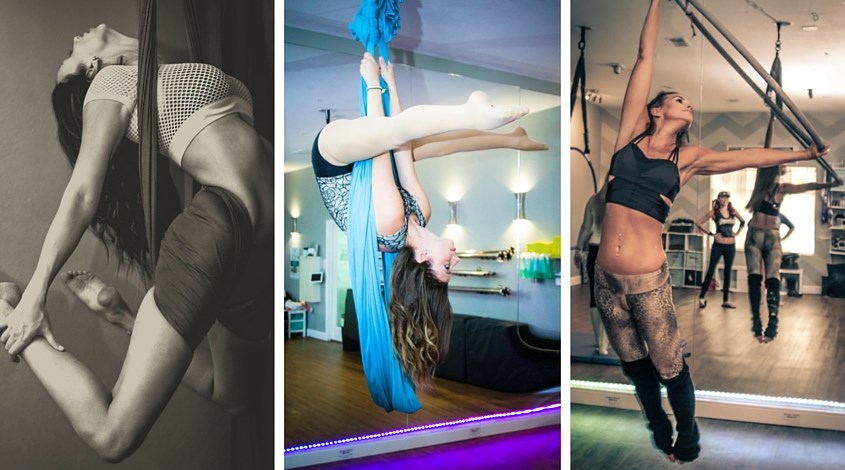 It grew easier as we added in more moves, such as crocheting a leg through the silks or practicing illusion splits. The girls that have been there longer have a greater ease and comfort, flipping through more complicated moves as the class went on.
"I've been doing this a year and a half," Angela told me. "I don't have a background in dance or gymnastics. But now I compete and I'm a professional athlete. Last year at competition, it was just me. This year, there are six of us going." Everyone is in the same boat, trying to master poses no matter what level they're at and having fun doing it. In just 30 minutes in the air, I came away with a new knowledge of what my body was capable of, and a new ability to trust myself and the hammock.
There's a wide range and variety of classes offered at Altitude Fitness and a planned expansion of their studio space and new classes including Kids' Aerial Yoga. The adrenaline and—I won't lie—the artsy Instagram posts that can come from Aerial Yoga set it apart. It's almost addictively fun. I was so focused on the head rush that I didn't even notice I was working out.
For more information or to try Aerial Yoga yourself, visit altitudefitnessfrisco.com.