I arrive with a guest to Strike + Reel on a Tuesday morning. Upon arrival, we are in awe of how much there is to do here.
First, we load up our game cards and hit the arcade and find several classic arcade games, like skee ball, crane pulling and Wheel of Fortune. There are also modern takes on classics, including Basketball Connect Four. Also in the arcade, we find some unexpected thrills, including a two-story laser tag arena, a bumper car lot, a 24-foot rock climbing wall and a ropes course. We start off with the latter. Now, mind you, from the bottom, it appears that the ropes course is fairly tame, but when you get to the top and realize how high up you are, it's pretty terrifying. There are simple obstacles on the ropes course, including a bridge and a rung path, and there are more challenging obstacles, like the rolling log and the "monkey bars," on which you grip onto long pieces of rope as you make your way across. While this may sound daunting, you are hanging securely from a harness.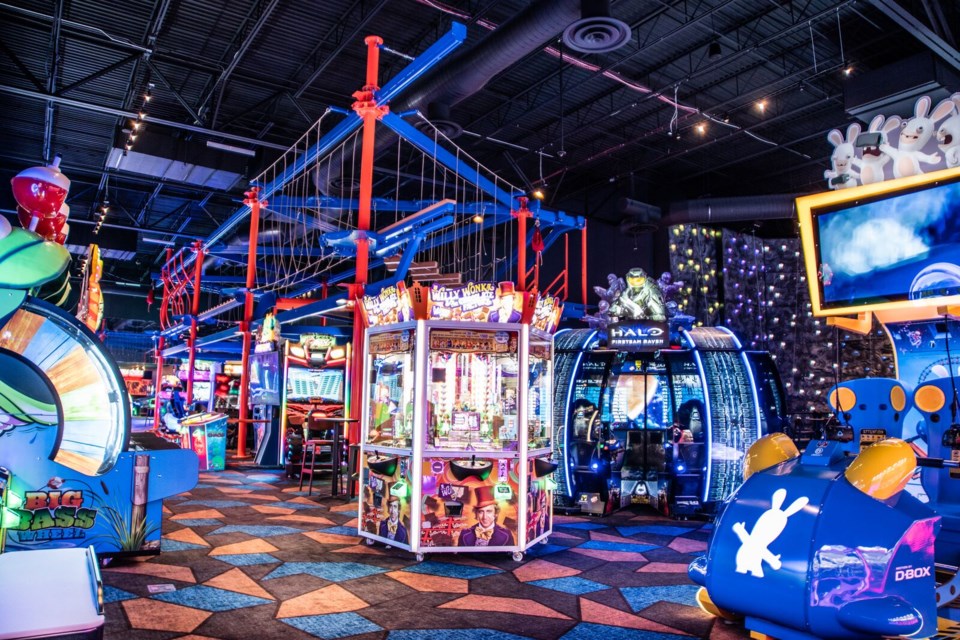 Other thrills include the virtual reality roller coaster, "Virtual Rabbids: The Big Ride." Riders of this coaster can experience all the shakes, thrills and motions of a roller coaster without actually having to leave the ground. In "Virtual Rabbids," passengers will course through mountains, hills and snow, with the task to survive till the end.
After playing in the arcade for nearly three hours, we worked up an appetite, so we decided to have lunch in the bar and dining area.
The dining area offers a chef-driven menu. As Texans, it was only natural that we started off with the chips and salsa. Now, keep in mind, this isn't traditional "movie theater" or "arcade" food. From beginning to end, Strike + Reel's food menu does not disappoint.
The chips come in red, white and blue and are served with a festive blend of peppers, onions and tomato, making for a spicy, hot salsa. As for mains, Strike + Reel offers hearty, heavy options, like burgers, wings and sandwiches, along with lighter options, like grilled chicken and salmon.
The Bird is a grilled chicken sandwich with cheese, bacon and avocado. With a juicy, succulent chicken breast and crisp bacon, each bite of the bird is packed with meaty flavor. Lighter options include the cedar plank atlantic salmon, which comes served with market veggies and seven-grain rice.
The menu in the dining area is one of three different menus, with other menus available for the bowling alley and in the movie theater.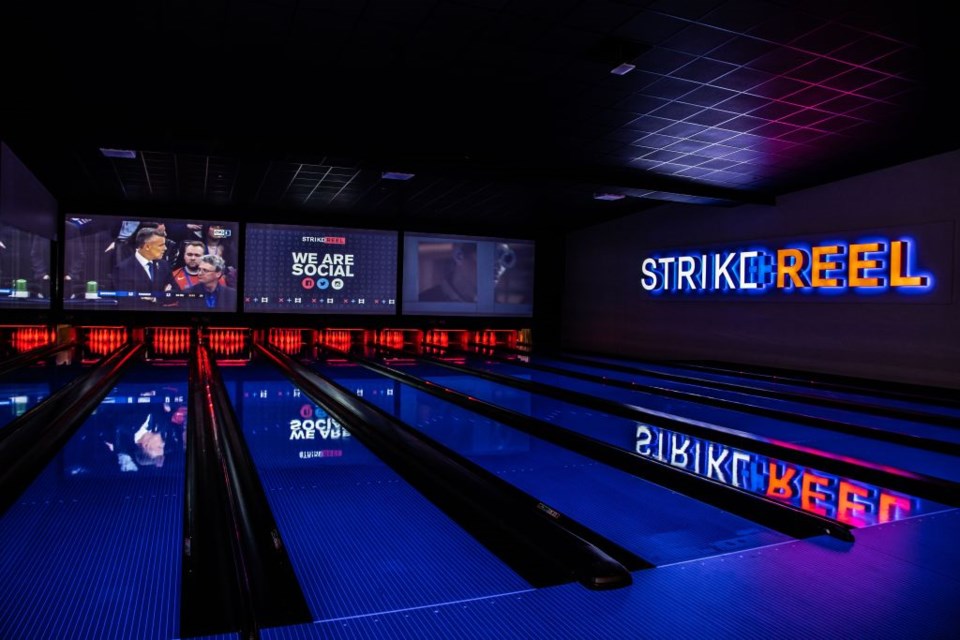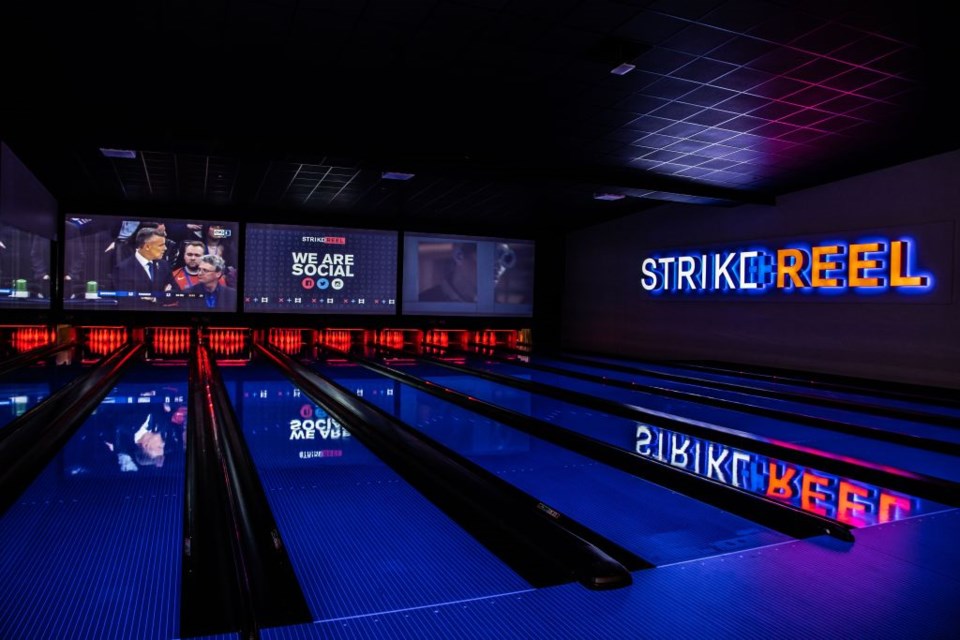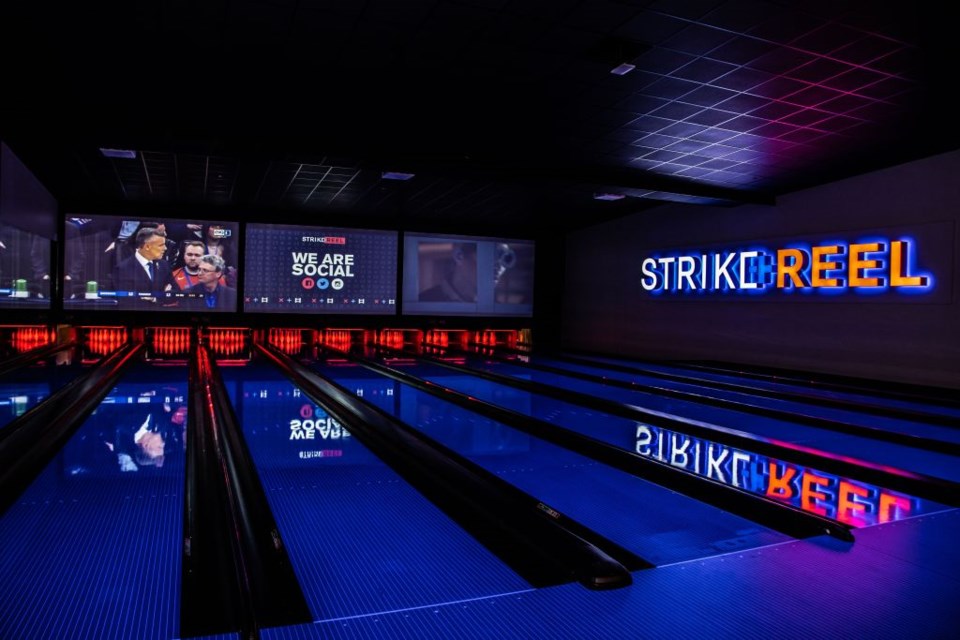 Following lunch, we played a round of bowling. Bowlers can choose different bowling games, including games inspired by Angry Birds. Music videos play on a large screen, allowing for a groovy bowling session.
We didn't have time to do everything we wanted to do, but we certainly will be back. Perhaps next time, we will watch a movie on one of Strike + Reel's eight screens. Certainly, the cushioned seats with armrests and seat warmers will make for a relaxing movie-watching experience. Heck, maybe I'll even have my next work party at Strike + Reel, and I can request a theater for me and other colleagues. Everyone needs to experience Strike + Reel. It's located central to Garland, Plano and Richardson, so you have no excuse not to check this place out.
Strike + Reel
5902 N President George Bush Hwy, Garland
469.395.0300
strikeandreel.com