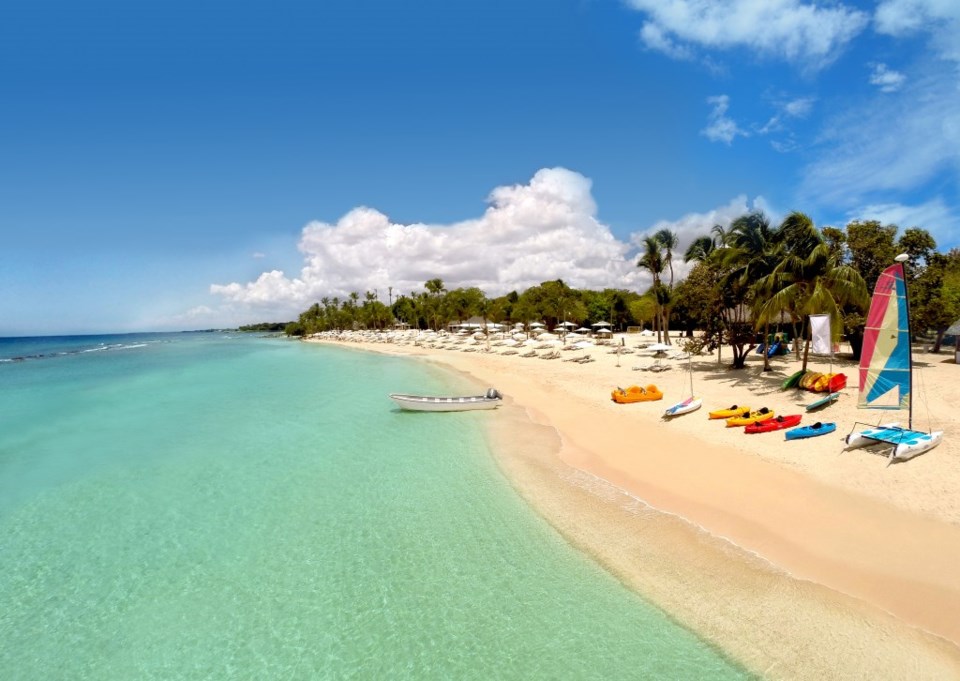 Located on the east coast of the Dominican Republic, Casa de Campo is touted as "the Caribbean's most complete resort" for good reason.
Before moving to Plano, Casa de Campo was my home; it's where my husband grew up, and where we met and fell in love. On the weekends, we'd spend lazy days at the beach or by the pool; on Friday nights we'd host friends for barbecue or go out for drinks and fried fish with tostones; on weekdays, we'd wake up at sunrise and take long walks on the golf course.
Nowadays, we don't return often enough but when we do it's heavenly.
Spread across 10,000 acres, this tropical paradise boasts a secluded beach, a marina, a hotel, private residences, world-class dining, shopping and also encompasses an international airport and a cruise ship port. There's even a replica of a 16th century Mediterranean village, Altos de Chavón which boasts a magnificent open air amphitheater. Since its inauguration by Frank Sinatra in 1982, the amphitheater has hosted international greats such as Jennifer Lopez, Elton John, Sting and Andrea Bocelli.
On the way to our villa, the car winds along Avenida Rey Juan Carlos I—inaugurated and named after the King of Spain—and I'm overcome by a sense of calm; the sky is blue and an endless parade of palm trees whip by my window. I dream of lazy days at the beach, reading a book by the pool and sipping mojitos in the shadow of the marina's lighthouse.
As we pass by the polo fields, I spot a polo game in full swing. For sports enthusiasts, the resort offers endless options: from golf to tennis, horseback riding and polo to deep sea fishing, water sports, cycling and shooting. As the ponies race up and down so does my mind and all at once I'm invigorated and ready for a vacation filled with excitement and adventure.
In the end I get both: relaxation and action. It's one reason why Casa de Campo tops my list of best places to visit in the world.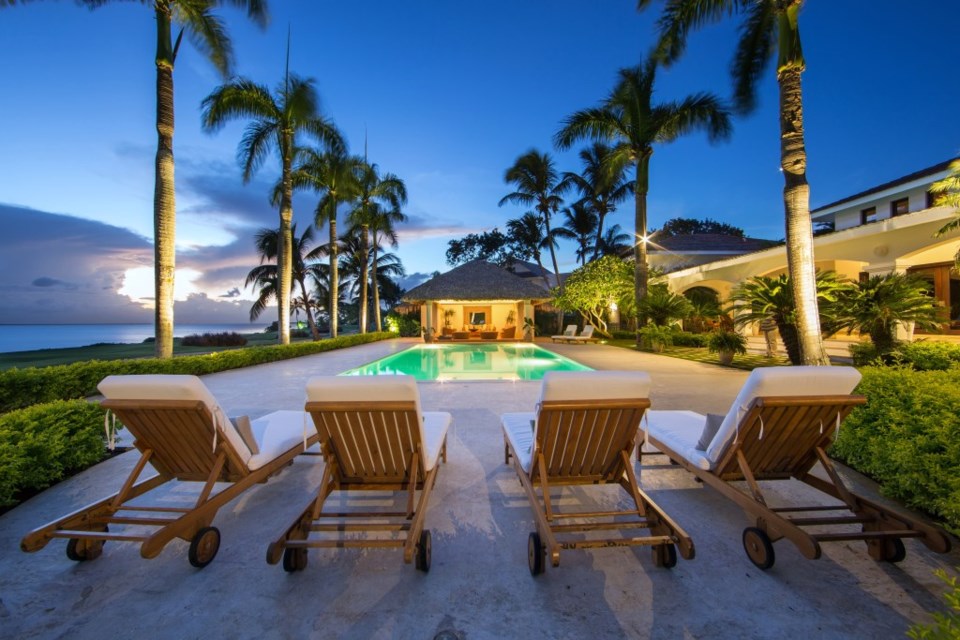 We begin our vacation barefoot and with glasses of champagne. We're staying at Palma del Mar, a four-bedroom villa with a panoramic seaview framed by palm trees and located on hole number eight of the Teeth of the Dog golf course.
Dinner that evening is at La Piazzetta in Altos de Chavón. A cobbled walkway leads me through a tropical garden, across a magnificent plaza, and to the edge of a ravine.
Below me, the Chavón river meanders slowly to meet the sea at the Marina Casa de Campo. To my back is the Chavón Plaza and the St. Stanislaus Church, a stone building with stained glass windows and a bell tower.
Day in Fort Worth: arts and culture where the West begins
Consecrated in 1979, this quaint chapel is named after the patron saint of Poland in tribute to Pope John Paul II who presented the church with the ashes of St. Stanislaus for its inauguration. A popular choice for destination weddings, it was here that famous actress Celinés Toribio wed in 2009 with fellow actress Michelle Rodriguez acting as one of her bridesmaids. According to rumors, Michael Jackson was also married here, but although he stayed at the resort with his first wife Lisa Marie Presley in 1994, they actually exchanged vows at the cathedral in the nearby town of Higuey.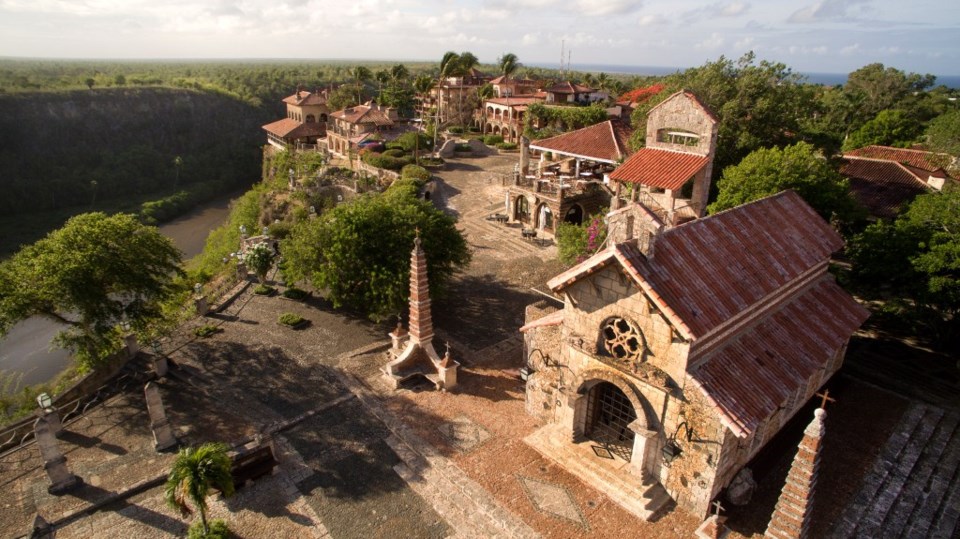 Being at Altos de Chavón always makes me feel like a moviestar, like I should be flanked by bodyguards and wearing oversized sunglasses. Altos de Chavón was created by Roberto Coppa, a filmographer and set designer for Paramount Pictures and has been featured in numerous movies and television shows. Its most famous appearance is in Apocalypse Now (1979) and Jurassic Park (1993). More recently, Altos de Chavón was featured in Keeping up with the Kardashians and The Bachelor.
The following morning we have breakfast at Lago Restaurant. A traditional Dominican bohio structure with a roof fashioned entirely out of dry palm tree leaves, Lago Restaurant overlooks hole nine of the Teeth of the Dog golf course. Designed by World Golf Hall of Famer Pete Dye, these 18 holes are consistently ranked by Golf Magazine as the Caribbean's number one course and within the top 50 in the world. With seven holes skirting the Caribbean Sea, the Teeth of the Dog has garnered international attention since its opening and even served as a backdrop for a Sports Illustrated Swimsuit Edition.
As I sip my coffee, a fellow visitor strikes up a conversation. She's a first-time Casa-de-Camper and I offer my tips on where to go and what to do, as well as of little of the resort's history.
My new friend is amused to discover that the Teeth of the Dog golf course, opened in 1971, was created by hand; a crew of 300 used hand tools and sheer force of will to carve the course out of the rugged Dominican coral rock. "Without the properly heavy machinery to crack the coral, we used sledgehammers, pickaxes and chisels," Pete Dye once told me.
In addition to Casa de Campo's five golf courses, Pete Dye has designed over 100 courses worldwide, among them The Stonebridge Ranch Country Club in McKinney and the Austin Country Club.
As I'm finishing my mangú—a traditional Dominican breakfast dish made of puréed plantains—I'm thrilled to spot a flock of Hispaniolan Parakeets, Pericos in Spanish, perched in a nearby tree. Endemic to the island of Hispaniola, which the Dominican Republic shares with Haiti to the west, these small birds are emerald green with red wing tips.
We tour the resort in a golf cart, whistling past blooming bougainvillea and fiery flamboyant trees. We sip chilled beers as we go. With no windows and the freedom to go off-road, a golf cart is absolutely the best way to explore.
Read more: On the Cinnamon Shore
That afternoon, we treat ourselves to a deep-sea fishing excursion. While it's a long ride from the villa to the marina, it's a pleasant one. The winding road takes us alongside The Lakes golf course, another one of the resort's five courses, adjacent to Minitas Beach and past villas that look like they belong in Hollywood.
Two hours later, we reel in a mahi mahi. During peak fishing season, February to June, the most commonly caught fish are blue marlin, mahi mahi, yellowfin tuna, wahoo and sailfish. In fact, the Dominican Republic offers some of the top fishing in the world; Casa de Campo is consistently ranked as one of the top 10 Billfisheries of the Year by The Billfish Report.
Before heading back, our captain suggests a quick detour to Saona Island. On our way, a dolphin swims alongside the boat but disappears before we drop anchor. The island is part of the National Park of the East, and is one of the Dominican Republic's most popular tourist attractions, famous for its crystal blue waters. While some beaches tend to be packed with tourists on catamaran cruises, we stop at an almost deserted stretch of white sand. I do a little snorkeling and dry off in the sun.
Back at the marina, we watch the sunset from SBG Café. Located at the end of the exotically named Paseo del Mar, this restaurant-bar not only features a small lighthouse but also an infinity pool, making it a top spot for afternoon cocktails.
For dinner I choose La Casita, also on the Paseo del Mar; I just love their Serrano Ham Croquettes and their Galician Style Octopus.
The following day, we visit the Casa de Campo Shooting Center for a round of Sporting Clays. At each station the clay targets are catapulted into the air at different heights, speeds and angles, each one designed to represent the movement of different animals such as pheasants and rabbits. The circuit is centered around a formidable red and white tower which we circle as we bump through the Dominican countryside from station to station. This 110-foot tower—one of the world's tallest—shoots clays up to 135 feet in the air. It is the last station and the most challenging; we have to fire directly above our heads to make the shot. We miss, all ten times.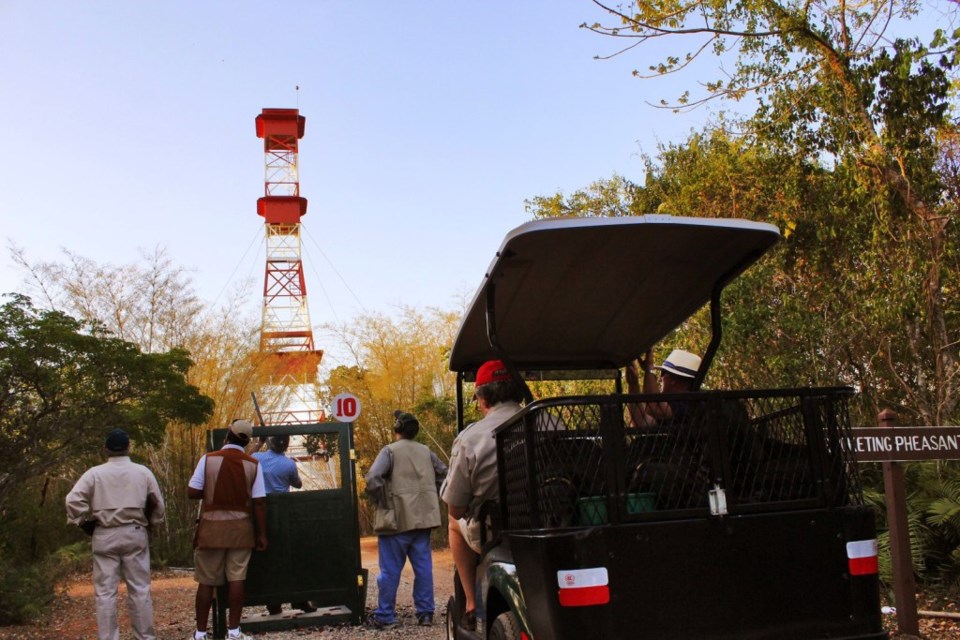 This shooting facility is one of the best in the world. In addition to the Sporting Clays circuit of more than 200 stations, there are two pigeon rings with Barnaby traps, one Colombaire-style pigeon ring (where birds are released by hand) and a skeet and trap facility. Rancho Peligro, a private wilderness reserve, is just a short 30-minute drive inland, 10 by chopper. With six different drive locations, this is where European-style driven bird shooting takes place.
On our last day, I finally get the chance to relax at the beach. I choose a lounger close to the water's edge, in the shade of a palm tree, and read a book. As the day comes to a close I take a stand-up paddleboard and head out of the enclosed bay to explore the coastline. It's a circuit I've done a dozen times before but the multi-million dollar oceanside villas still blow me away.
Back at the beach, a waiter brings me a piña colada, served in a hollowed out pineapple—fresh pineapple chunks served on the side—and we toast to returning again very soon.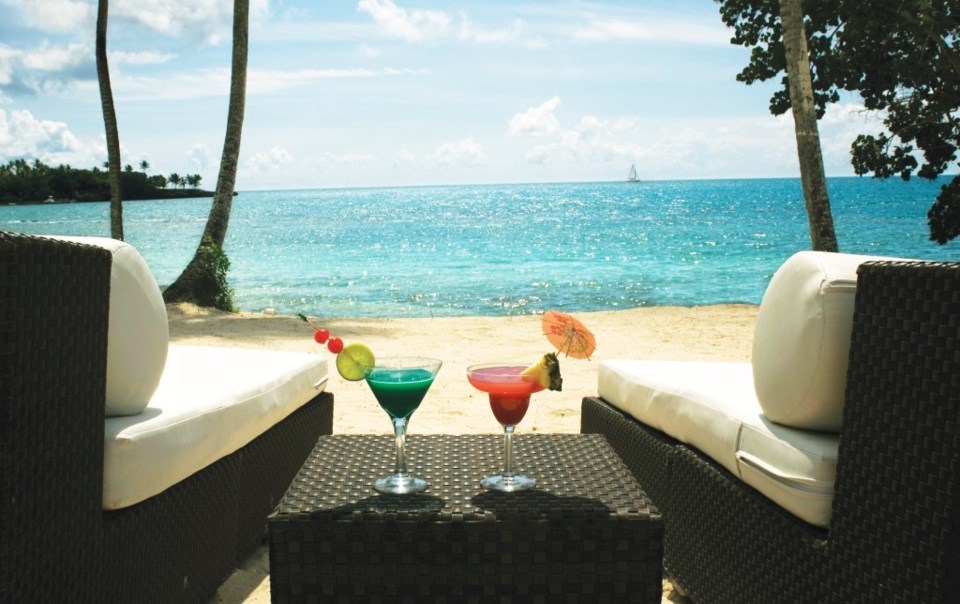 Originally published in Plano Profile's May 2018 issue under the title "Island Paradise".