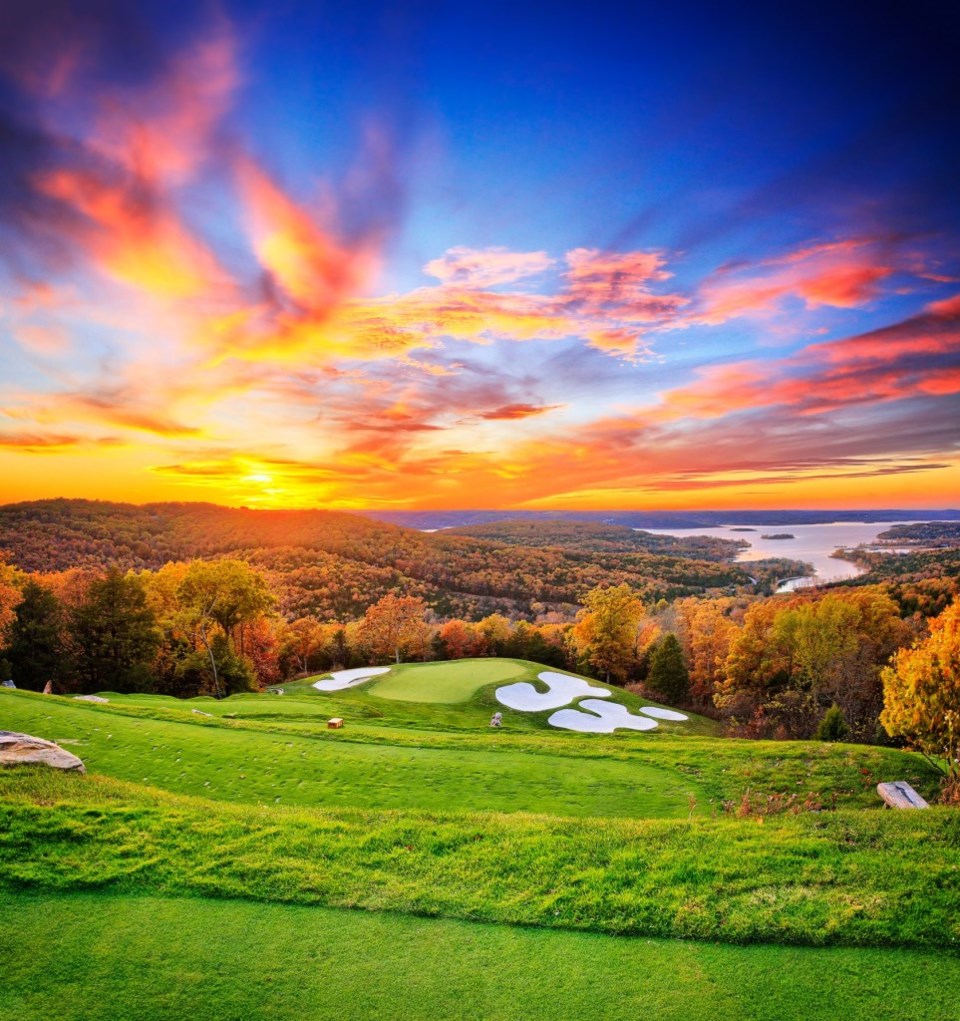 There's a lot to do at Johnny Morris' Big Cedar Lodge near Branson, Missouri. Within 24 hours of our arrival we've: toured through the wilderness—and a cave—in a golf cart; discovered the history of the Ozark Mountains and the Osage Indians at the Ancient Ozarks Natural History Museum; dined on top of a mountain; gone fishing and skeet shooting; run around like children playing Laser Tag, "whack a bat" on the interactive climbing wall and riding bumper cars at Fun Mountain. It's exhausting. It's invigorating.
Over the threshold and through a wooden archway bearing the words "Big Cedar Lodge America's Premier Wilderness Resort", the Ozark Mountains immediately engulf you like darkness on a starless night. A road snakes through the hillside, surrounded by forest so dense it's easy to imagine a terror bird or a giant ground sloth—one of the many prehistoric creatures that once called this land home—lurking in the shadows. Suddenly, the trees part into a clearing and Philip, my husband, and I are greeted by the most magnificent view. A rustic wooden sign reads "Welcome to paradise!", and in that moment, I believe it. Below us, Table Rock Lake stretches into the horizon and I catch my first glimpse of Big Cedar Lodge nestled on the shore.
But nothing could prepare me for the unparalleled beauty of this 4,600-acre wilderness resort; a magical place where time seems to have stood still. Natural springs trickle down the hillside and over the road, flowers abound and deer peek out from behind the trees. Log cabins and Tudor-style retreats of stucco and stone are at one with their surroundings. A white wooden church sits on a grassy hill and a solid wood bridge crosses a ravine created by a waterfall. Here, Bass Pro Shop Founder and CEO Johnny Morris' belief—that wonderful things happen when you go outside—is a blissful truth.
There's no time to kick-back with a glass of wine in front of the majestic stone fireplace. Instead, we set down our luggage, take a moment to breathe in our surroundings—from a pair of ducks standing atop the cabinetry and the fridge handles fashioned from antlers in the kitchen, to the open mouthed bass gaping above the mirror in the bathroom—and head back out and up to Top of the Rock.
Johnny Morris' Top of the Rock Ozarks Heritage Preserve is home to restaurants, golf courses, nature trails and a museum. It's an impressive addition to an already outstanding resort.
Our first stop is the Bat Bar. We're inside a cave and riding in a golf cart. The Lost Canyon Cave and Nature Trail is a two-and-a-half-mile golf cart ride through stunning rock formations, past waterfalls, over two Amish bridges and through Lost Canyon Cave—a four-story cave with a cascade that tumbles into a subterranean lake. With a Cannonball cocktail in hand I settle my head on Philip's shoulder and breathe in Mother Nature.
Along the trail, we pass a sign that reads, "The ocean was here 500 million years ago," as well as the skeletons of a short-faced bear and a saber-toothed cat, part of the rich history celebrated inside the Ancient Ozarks Natural History Museum, our next stop.
When Johnny Morris was 10 years old he found an arrowhead on a fishing trip. It's a moment that inspired a lifelong passion for the Ozarks and the people and animals who came before us. The Ancient Ozarks Natural History Museum is that passion brought to life: 35,000 square feet of history from 12,000 years ago through to the Civil War.
Read more: On the Banks of Bluff City: Inside the Memphis Pyramid
Whether it's the sheer quantity and quality of the American Indian artifacts, art, ornate clothing and the Civil War relics—including a lock of President Lincoln's hair sold by his wife after his death in a desperate attempt to support herself—or the carbon-dated skeletal remains of a wooly mammoth, I can't help but be impressed.
Still buzzing from my face-to-face encounter with a terrifyingly lifelike diorama of a Hell Pig—a 19,000 pound beast that dominated North America's prehistoric landscape for 20 million years—we sit down for dinner at the Buffalo Bar.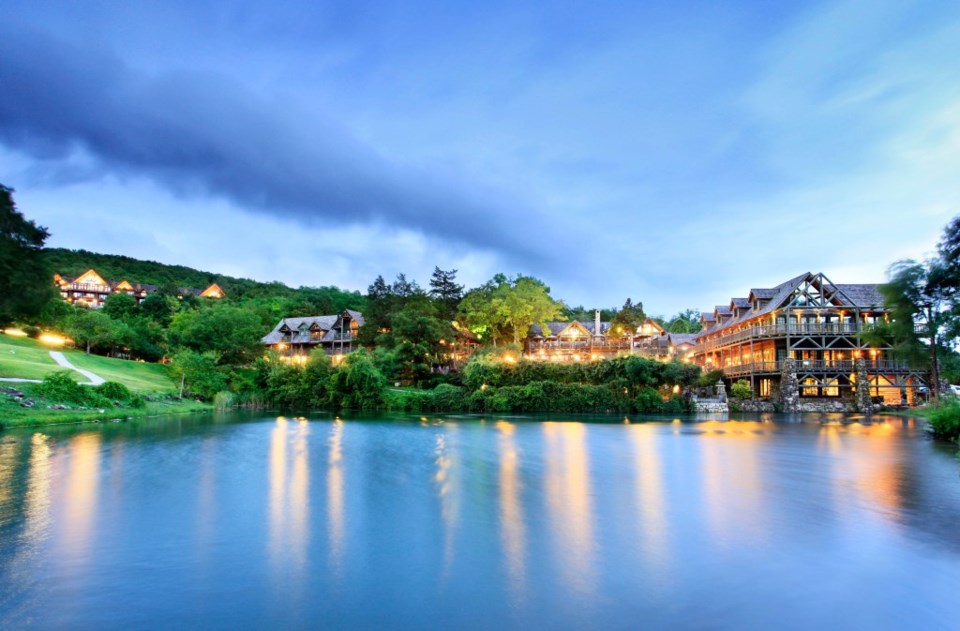 The view over the Ozarks and Table Rock Lake is punctuated by a metallic sculpture of a buffalo and becomes increasingly breathtaking as the sun begins to set. This moment is honored every evening with the Sunset Celebration—a combination of bagpipe music followed by the firing of an authentic Civil War cannon. For me it's also accompanied by a perfectly cooked ribeye steak and the most delicious cheese biscuits I've ever tasted.
The following morning we go fishing on Table Rock Lake. Our captain, Buster, is impatient to get out on the water, afraid we've missed the best bite by the time we set out at 9 a.m. Nevertheless, I catch a nice 15-inch, 2.5-pound spotted bass. I catch and release another three before Philip gets his turn and we head back to dry land feeling accomplished. By this time, the lake is buzzing with hundreds of boats, water-skiers and kayakers.
Read more: Road to Marfa, Texas
Next up is Bass Pro Shops Shooting Academy. Sitting at the crest of a hill, the center is housed in a magnificent wooden lodge adorned with the skulls of five impressive stags. Inside, there's a pool table, a large collection of taxidermy and an enormous stone fireplace.
Having lost at fishing, Philip is determined to win at shooting. Sadly, we don't even need a scorecard to determine his success. As we make our way through the Shooting Clays Circuit I hit about one in every six shots: just enough to feel exhilarated, not enough to survive a Zombie Apocalypse.
Rebecca: one, Philip: one.
The Shooting Academy is home to an impressive outdoor amphitheatre. Large enough to accommodate 8,000 people, the venue recently hosted Hank Williams Jr. in concert and a Professional Bull Riders event.
Ready for lunch, we head back to Big Cedar Lodge and directly to Fun Mountain, a 50,000-square-foot adventure complex—home to Uncle Buck's Fish Bowl & Grill and under-the-sea bowling.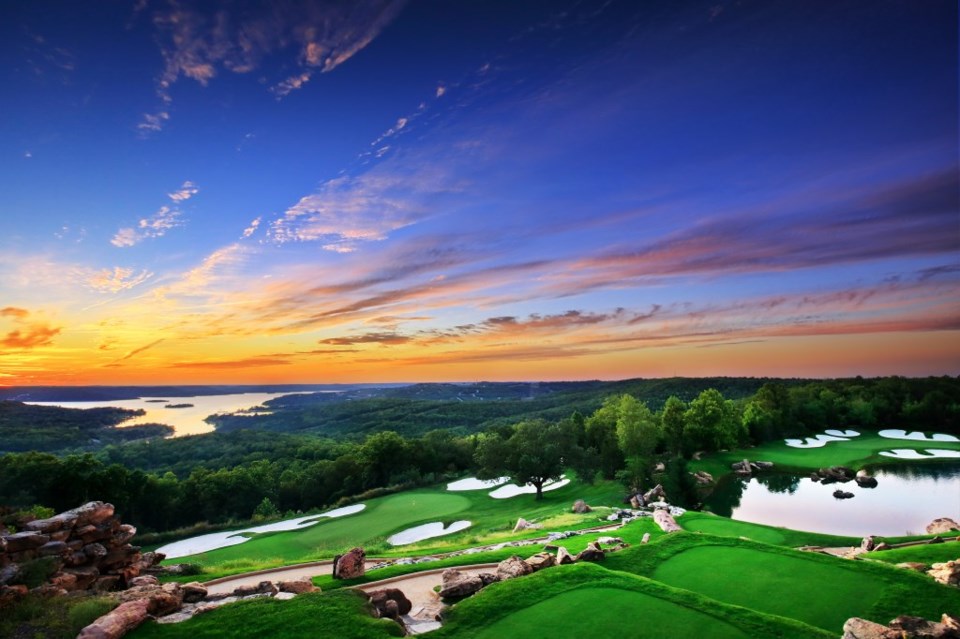 We indulge in pizza and Long Island Iced Teas between bowls. Not allowing myself to be distracted by the swordfish suspended directly above our lane or the menacing killer whale lurking near our pins, I win two consecutive games.
Next, Laser Tag. As a team Philip and I lose, but as individuals I win.
We skip the arcade games and hurry past the children's ropes course on our way to the bumper cars. The Flip Zone and Spin Zone bumper cars are the latest and greatest in fairground technology. When two cars bump, they flip all the way upside down or spin out of control.
Finally, we can't resist the interactive climbing wall. A jolly purple bat bobs at the center of the wall. The objective is to whack as many bats before the time is through. Philip not only beats me but also makes the winner board with the highest score for the week.
Rebecca: three, Philip: two.
And that was our first 24 hours at Big Cedar Lodge.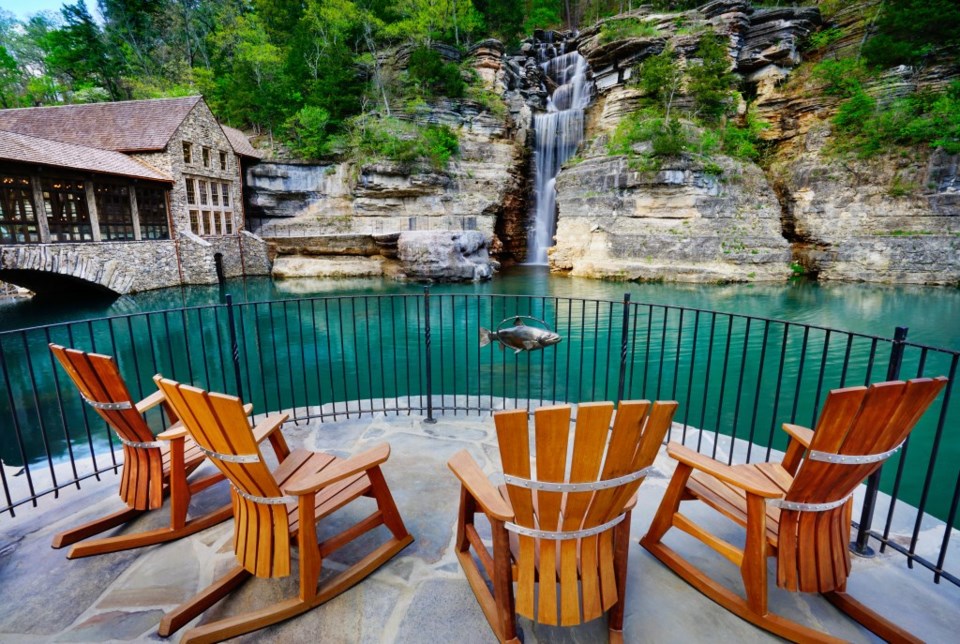 By this time we've earned a break, so we relax in the Lazy River where we float around in a daze, listening to the soft chirp of birdsong and the occasional splash and scream of children.
For dinner we find ourselves back at Top of the Rock enjoying chips, queso, guacamole, tacos and margaritas at Arnie's Barn. Named after Arnold Palmer, the restaurant is housed in a 150-year-old wooden barn that was brought from Latrobe, Pennsylvania and rebuilt by hand by a local Amish family.
Our patio table overlooks the Top of the Rock Practice Facility. The Civil War cabin and a stone chapel sit on a ridge and a water feature trickles down the center: four ponds connected by three waterfalls which wind their way down the hill. Top of the Rock's famous sinkhole is off to one side.
After the sinkhole opened up in May 2015, Johnny Morris started excavations in search of a cave system he believes could be hiding beneath the surface. As of today, this treasure hunt is yet to reveal the cave Morris is hoping for, but from my perch at Arnie's Barn I can see that the hunt has already yielded fruit in the form of spectacular rock columns sprouting out of the hole like the fossils of ancient trees.
Sunday is our last full day at Big Cedar and we decide to enjoy a leisurely brunch at Devil's Pool Restaurant. The name comes from an ancient belief that the pool, fed by an underground spring, is bottomless and extends all the way to the Devil himself. The reality is more Heaven than Hell; a casual eatery serving homestyle fare in an Adirondack-style lodge built in the 1920s.
Pleasantly full, we drive one hour north to Springfield, home of the first—and largest—Bass Pro Shops. Here, what started as a eight-foot-square store in the back of Morris' father's liquor store has grown into a 500,000-square-foot beast; Disney World for the outdoorsman.
We shop—a "Kiss my Bass" t-shirt for me and a Bass Pro Shops cap for Baby Theo. We tour the NRA museum and the National Archery Hall of Fame. We marvel at all the guns, gadgets and paraphernalia, as well as the live alligators, fish and turtles. We finish our visit at Hemingway's Blue Water Cafe where African game trophies—including a rhino—peer down from every wall and tropical fish dance behind the bar in a 30,000-gallon saltwater aquarium. Inspired, we eat Bacon-wrapped Duck Poppers and fried alligator tail.
Back at the lodge, we play mini-golf. Cut into the hillside, overlooking the lake, blooming with bright yellow flowers and featuring a giant metallic bass called "Big Lunker", it would have been rude not to. It ends in victory.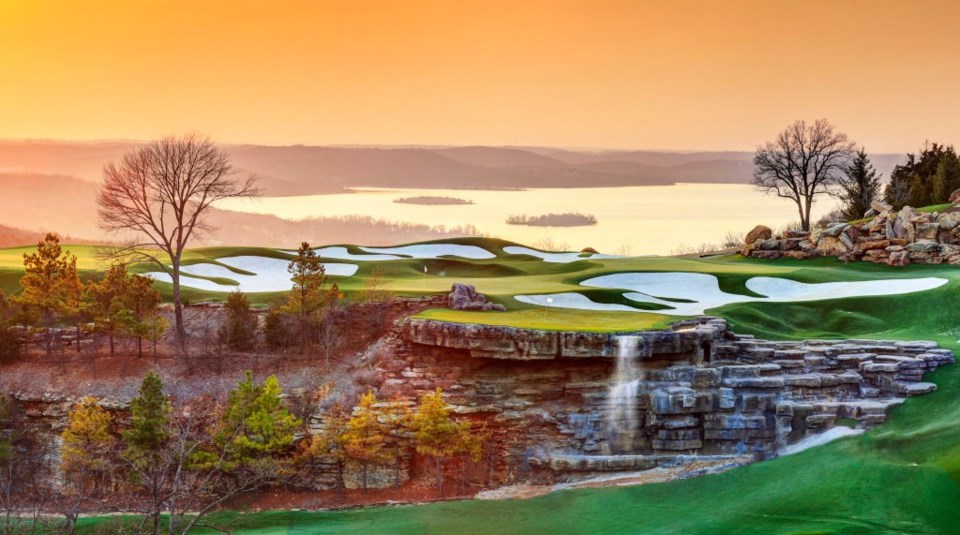 Rebecca: four, Philip: two.
The best is yet to come: Top of the Rock golf course. A Jack Nicklaus Signature Design Par 3, this nine-hole course circles Top of the Rock, has views that will leave you breathless—and quaint stone bridges lit with stained glass lanterns.
Despite a five-year hiatus from the sport I'm pleasantly surprised to find I don't suck. Nevertheless, Philip is better.
Rebecca: four, Philip: three.
As the sun disappears into Table Rock Lake and we enjoy yet another spectacular sunset, I realize this weekend wasn't about winning or losing. It was about enjoying the game, embracing the great outdoors and making memories that will last a lifetime.
Big Cedar Lodge
190 Top of the Rock Road, Ridgedale, Missouri 65739