Venture up north and explore the spectacles of our neighboring state. We've set up a full itinerary beginning at the Texoma border with must-see spots in Oklahoma City where you can stop on your way to and from Tulsa.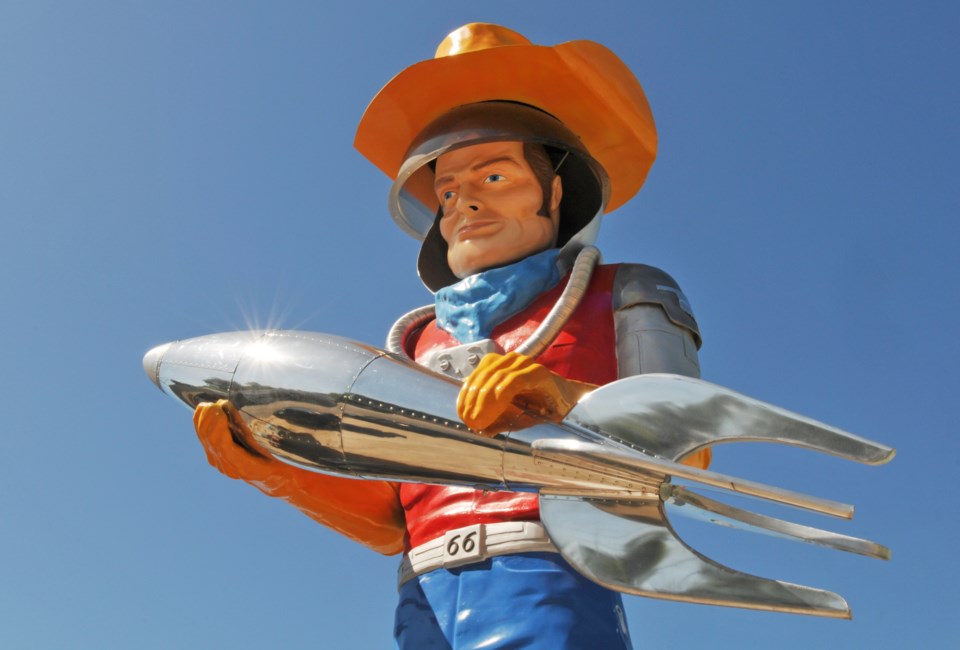 ON THE WAY THERE
McGehee's Catfish Restaurant
We begin our trip at the edge of the border for what many argue is "the best catfish in Oklahoma!" McGehee's has got a great all-you-can-eat deal on the catfish dinner, which includes fries, hush puppies, coleslaw and tomato relish. Top it all off with homemade fried pies, offered in a variety of flavors. McGehee's has been in business since 1972 and has always used the same secret recipes.
13487 McGehee Road, Marietta | 580.276.2751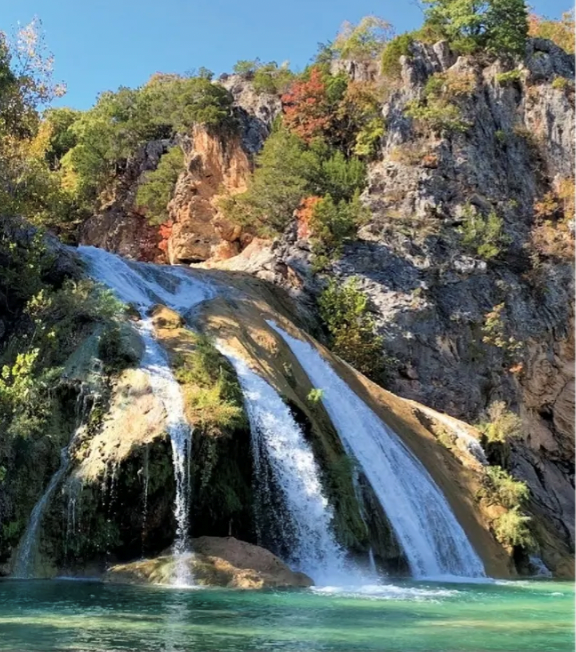 Turner Falls
It turns out that you can go chasing waterfalls in Oklahoma. This is the state's tallest waterfall, and it's the perfect place to visit as you drive up toward OKC. The 77-foot waterfall plunges straight into a natural swimming pool and makes for an excellent campsite. The water is clear, and the air is fresh.
Interstate 35 & U.S. Highway 77, Davis | 580.369.2988
The Toy & Action Figure Museum
You've heard of floor-to-ceiling windows, but what about floor-to-ceiling action figures? Witness an eclectic display of action figures from every decade, including rare toys that you wish you'd had as a kid. This museum first opened in 2005, and since then, it has accrued visitors from every state and over 40 countries — as well as lots and lots of toys.
111 S. Chickasaw St., Pauls Valley | 405.238.6300
Living Kitchen Farm & Dairy
Be sure to consider this evening experience when you're making your way toward Tulsa — but book in advance. This farm-to-table dinner begins on the 400-acre farm where they grow organic vegetables and raise livestock such as goats and chickens. They then craft multi-course tasting menus, which you'll enjoy on the porch of a log cabin. You'll get to eat at a community dining table and share your fare with new friends. We love the idea of knowing exactly where our food comes from.
25198 S. 481st W. Ave., Depew | 918.284.8169
YOU'VE ARRIVED IN TULSA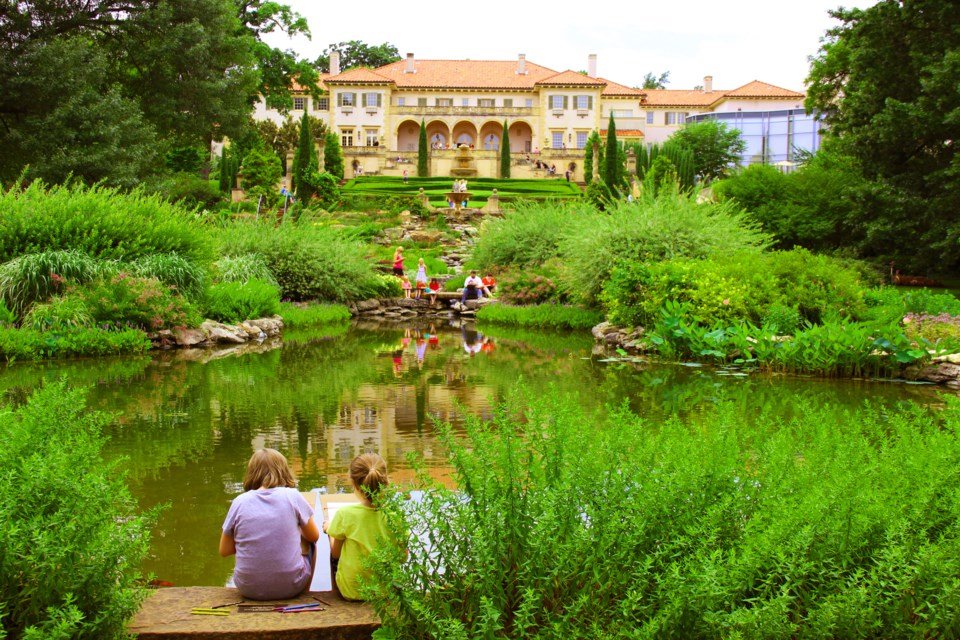 Philbrook Museum of Art
If your tastes reflect the finer things, head to the Philbrook Museum of Art, where mother nature's creations merge with man-made masterpieces. The museum itself is an expanded 1920s villa crafted in the style of the Italian Renaissance, which sits on 25 acres of lush gardens. The villa's expansion in the '90s spared no expense as it added a whopping — and regal — 70,000 square feet of space. The museum showcases everything from original Native American artwork to a range of exhibits that change with the seasons (right now, you can catch Rembrandt's work). They host movie nights and events on the lawn (don't miss the Internet Cat Video Festival in September) and have family-friendly activities that include food trucks and live music.
2727 S. Rockford Road, Tulsa | 918.748.5300
The Cave House
This unique destination looks exactly as you'd envision it — but it's not what you'd expect from a 1920s Prohibition-era home. Originally built as a restaurant (which turned into a speakeasy in the evenings via a secret tunnel), this house is straight out of a Flintstones episode; it features a white rock facade and brown exterior trim and currently acts as a museum of sorts for Tulsa history. You'll have to call ahead to inquire about tours, but guests have reportedly seen the ghost of the previous owner wandering the grounds. Visitors also frequently lose their keys, which typically end up on a random hill that isn't part of the tour. We'll let you decide if this home is straight out of a fairytale or a spooky story to tell in the dark.
1623 W. Charles Page Blvd., Tulsa | 918.378.1952
Blue Dome District
Searching for top-tier Oklahoman nightlife? The Blue Dome District gets its name from a building constructed in 1924 that features none other than a blue dome. Several of the most popular festivals in town are held here, including the Mardi Gras parade, the cycling festival "Tulsa Tough" and the town's St. Patrick's Day celebrations. Check out Albert G's for locally-owned barbecue and cask-aged drinks or McNellie's Pub, which offers an array of outdoor seating with lovely views of the city. After you've eaten your fill and checked out some shops, one of the best ways to end the night is at The Max, a retro barcade that features classic pinball games, Skee-Ball, trivia nights and more.
409 E. First St., Tulsa
Gathering Place
A perfectly named riverfront park that is equipped for all of your outdoorsy interests. Check out their adventure playground and sensory garden. This park is idyllic from every angle, with beautiful canopies of trees surrounded by a winding body of water. You can choose to hang out casually and picnic or dine at one of the restaurants. If you want to incorporate some of the best views into dinner, check out Vista at the Boathouse.
2650 S. John Williams Way E., Tulsa | 918.779.1000
Antoinette Baking Co.
"Let them eat cake" is the solution to most situations in life, so why not stop into one of Tulsa's finest bakeries and grab a slice of everything? Macarons, cream pies, croissants, lattes and even eggs Benedict are a few of the delightful options. This cafe is conveniently situated within the Tulsa Arts District and is across the street from the next must-see spot on our list.
207 N. Main St., Tulsa | 539.777.1674
Guthrie Green
This urban park hosts its share of markets, festivals, concerts and even free outdoor fitness classes. It features plenty of ways to keep cool, including splash zones and covered picnic tables, or you can grab an icy drink from a food truck during food-truck Wednesdays. Examples of events at Guthrie include sound bath meditation, art exhibitions, comedy nights, holiday light shows and Zumba. Seems like just the spot to gather with locals and enjoy the fresh air!
111 E. Mathew Brady St., Tulsa | 918.574.2421
Sisserou's Caribbean Restaurant
An opportunity to eat Caribbean dishes is an opportunity you must take. Every menu item looks decadent, and the options range from lobster thermidor and jerk chicken wings for appetizers to a Caribbean dip sandwich with rib-eye or mahi tacos for lunch and, of course, stewed oxtail or escovitch red snapper for dinner. It's almost impossible to decide.
107 N. Boulder Ave. C, Tulsa | 918.576.6800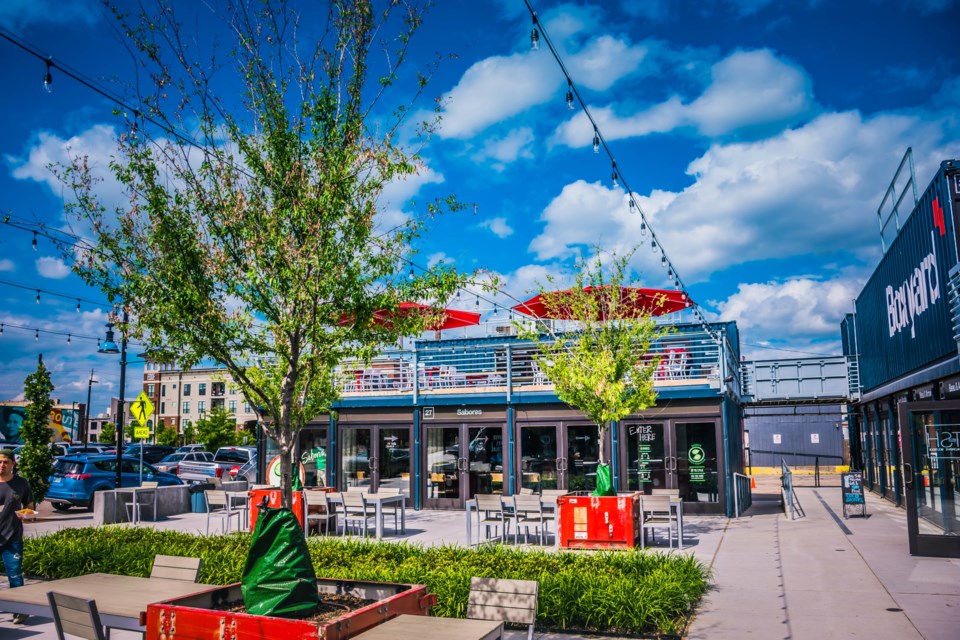 The Boxyard
They'll make anything out of shipping containers nowadays — including an entire urban marketplace with locally owned shops and restaurants. Each repurposed shipping container spent 8-12 years traveling the world, and they've now found their forever home with some new precious cargo. The various shops sell everything from artisanal cheese and popcorn to skateboards, hair extensions and pet supplies. There's even a rooftop bar with excellent views of murals and the city skyline. We highly recommend checking out the scenery at night for a blissful view of a magically lit-up Tulsa.
502 E. Third St., Tulsa | 918.895.5016
Tulsa Raceway Park
We all know that Texans have a need for speed — just look at our freeways. Put that energy toward a place that truly requires it and visit the Tulsa Raceway Park. The venue has 10,000 seats and hosts a variety of unique events, including one that is set for this month called "Race A Cop," which is open for anyone to participate in. Local law enforcement will be bringing their vehicles to race down the track and emphasize the importance of safe racing (as opposed to the practices we've seen on social media). They even host midnight drag-racing events for any night owls out there.
3101 N. Garnett Road, Tulsa | 918.437.7223
Center of the Universe
What's the mystery behind this strange spot? Stand in the center of this concrete circle and speak. You'll hear your voice echo back much louder, but apparently, anyone outside the circle cannot hear it. Try recording yourself, and it gets weirder: you will never be able to capture the same sound.
1 S. Boston Ave., Tulsa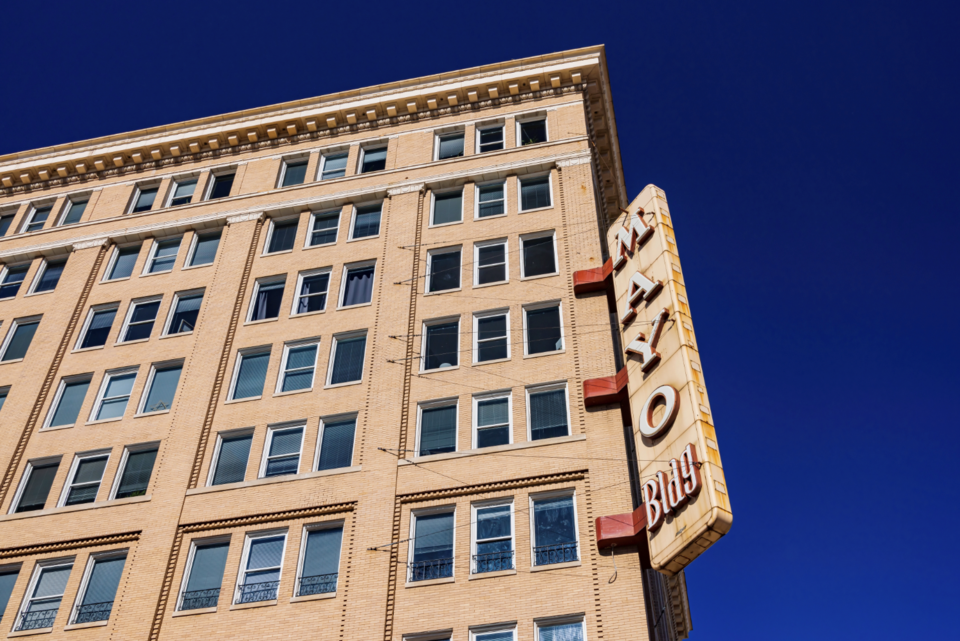 The Mayo Hotel
Located right in downtown Tulsa, the Mayo is a historic hotel that has been restored to its original grandeur and offers a selection of luxurious rooms, suites and even apartments. Notable past guests of the Mayo include President John F. Kennedy, Babe Ruth, Elvis Presley and Lucille Ball. When the hotel opened in 1925, it was instantly notorious for its champagne brunches and crystal ballroom, and the appeal and offerings are still there. Be sure to check out the Penthouse Rooftop Bar during your stay for sweeping cityscape views, live music and signature cocktails crafted by "famed mixologists."
115 W. Fifth St., Tulsa | 918.582.6296
Buck Atom's Cosmic Curios
Whether you're an extrovert or an extraterrestrial, Buck Atom's Cosmic Curios has exactly the trinket for you. This quirky gift shop is located on Route 66 and is home to a 21-foot-tall rocketship-wielding statue that wears a spacesuit and a cowboy hat. Buck Atom's is packed full of retro windup toys from the '60s, funky souvenirs, such as a blender that was converted into a lamp, vintage clothing and more. It even holds hosted events, such as Bigfoot Fest, and there are a barbecue truck and ice cream stand open at the location on certain days of the week.
1347 E. 11th St., Tulsa | www.buckatomson66.com
ON THE WAY BACK
Cheever's Cafe
This elegant bistro knows just how to throw down when it comes to setting an innovative menu. Try the brunch plates, including snickerdoodle French toast and masa vallo con huevos (shrimp risotto, masa cakes, poached eggs and more), or hit them up for dinner and try a molasses roast chicken breast or cauliflower bread pudding with beluga lentils, mushroom pesto and red pepper jus.
2409 N. Hudson Ave., Oklahoma City | 405.525.7007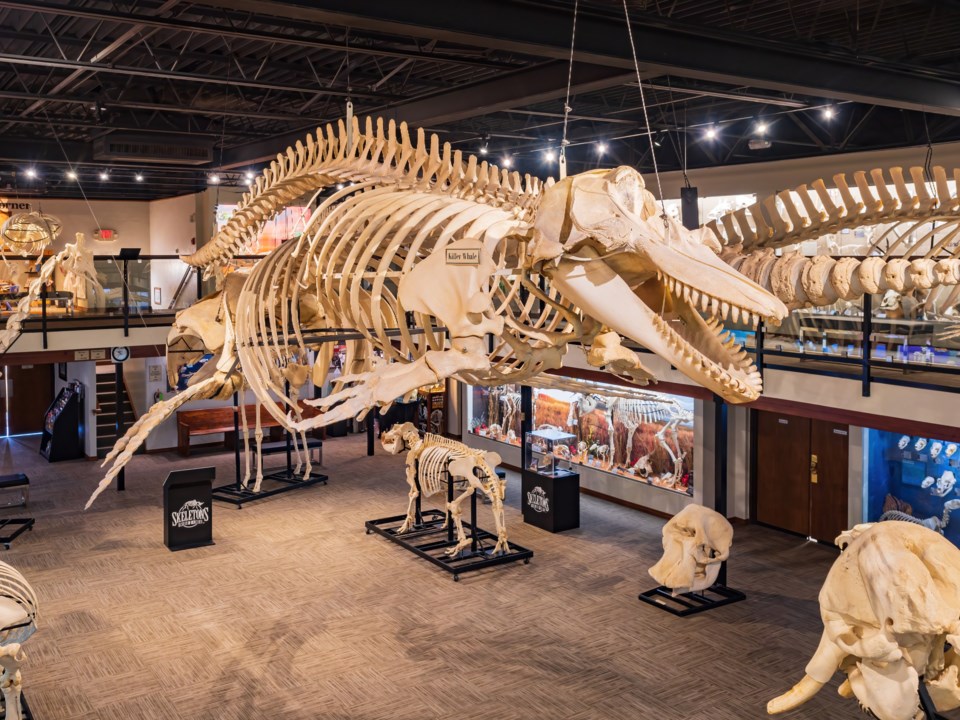 The Museum of Osteology
Skeletons aren't just for Halloween! This museum's mission is to explore the form and function of the skeletal system. It's got over 300 skeletons on display from different species of the animal kingdom. View the bones of the earliest humans and a lengthy array of birds, primates and sea creatures.
10301 S. Sunnylane Road, Oklahoma City | 405.814.0006
Prairie Artisan Ales
Don't be fooled by the hilarious modern branding that includes silly cartoon pigs on mopeds and Sour Patch Kids giving one another wedgies — this industrial-style taproom states that its first beers date back to a time before Oklahoma was even a state! They got their start by brewing beers in bathtubs, and don't forget: it was illegal to possess beer in Oklahoma back then. The "beer library" includes fun titles such as "Spicy Pickle Monster," "Happy Caturday" and "Elvis Knows Karate." The colorful designs and humor will ensure that you end your trip on a high note.
3 NE Eighth St., Oklahoma City | 405.602.0894