Lulu on being her own boss: "Hold yourself accountable. No one's holding you accountable except you."
For Lulu Amin, there's no such thing as a normal day. Sometimes she spends hours in her office responding to hundreds of emails from longtime clients or future partners. Perhaps she snags a lunchtime phone call with the creator of a new organic exfoliator. Or, she might also be out visiting a variety of salons, attending expos and throwing a few of her own.
A go-getter who started working at 13, Lulu is a vibrant, swift conversationalist. She knows how to articulate a lot in a little time. A self-named "mompreneur," she's a clever businesswoman, a single mother and the embodiment of clean living. When you think of beauty in DFW, you should think of Lulu.
Lulu had already built a strong reputation for marketing beauty and healthcare brands through her thriving business, Amin & Co., when she discovered a problem.
"I was working with brands in healthcare and beauty and looking for ways to market them," she explains. "But there wasn't really any kind of publication or website that strictly focused on beauty or wellness. Most of them focused on fashion or design or nightlife. I saw potential there."
Lulu made her move. "Readers wanted a resource for the best nail artists, facials, balayage and med spas. So I bought up all the domain names relating to DFW Beauty and launched one myself."
It may have started as a simple beauty blog, but three years later DFW Beauty Guide is the number one beauty publication in North Texas. She primarily focuses on local grassroot operations.
"Brands that are breaking into the business of beauty and wellness," she says. "Ones that are launched here or want to make a name here."
Lulu on launching her own business: "Any idea you have is gold. You've got to bring it to the table. It does you no good if you keep it to yourself."
Lulu notes that a lot of people had probably thought about doing a beauty guide in DFW. But no one had done it. She conducted her own market research and interviewed other movers and shakers in the beauty, wellness or fashion worlds. She would post about them on her website and in return, they often posted about her.
"I utilized my network like crazy. Your network is your networth, right?" she laughs.
DFW Beauty Guide is more than a resource for Dallasites who are hungry for juice bars. It serves as a point of contact for consumers and local brands that are producing quality products made from natural ingredients—an authoritative publication that people can turn to for tips on healthy living. The guide has everything: quirky luxury treatments like exfoliators made with diamonds, interviews with innovators in spa treatments, tutorials on home skin-care and proper contouring technique, and a directory of the best products in town.
And then, of course, there's the annual expo in October.
Last year, Lulu had 50 vendors and 400 attendees at the DFW Beauty Expo and this year it was even bigger. For one day in October, anyone and everyone came out to the Magnolia Hotel to try new treatments, experiment with facials and learn about cryotherapy. For the first time guests got to do yoga and Afropop workouts—think Zumba but better. They also heard from panel experts on everything from self-care to diversity in beauty.
"It's like a giant girl's day out," Lulu describes. "You can come out, have a bite to eat, have some drinks and try out treatments that are good for you. If you're willing to spend 100 bucks on a moisturizer full of chemicals, why not spend a lot less on something that's good for you? Tons of beauty products use gentle ingredients like lemon or berries, and they have the same effect as a product with chemicals in it."
Lulu is particularly passionate about the quality of the brands she features. Not only do they need to be local, they need to be clean.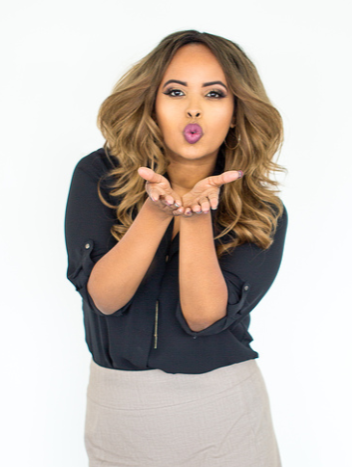 Lulu on clean living: "If you can't spell it, you probably shouldn't eat it. Or put it on your face."
Lulu asserts that clean living changed her life. "When I had my son I was overweight, almost 220 pounds, and my skin was always breaking out. It was due to a lack of knowledge about what I should and shouldn't be eating. I've cut out milk and a lot of dairy, as well as red meat and my life has changed completely for the better." She has sworn off soda and most juices and wishes she could transition into veganism. But she can't bring herself to give up cheese. "Still, I'm healthier than ever. Beauty comes from the inside out."
Jumping off the momentum from the beauty guide, Lulu has a new dream that will make a permanent mark on the Dallas beauty business: the Clean Beauty store and lounge. Clean Beauty will be Lulu Amin's original store celebrating only the best in beauty.
"You'll be able to come in and get make-up, blowouts and browse all the best products," she says. "People in Dallas don't necessarily know what they're putting on their face and this will be a place to learn."
It's an exciting time to be in beauty, particularly for women of color who have always been kept on the fringes of the industry. Lulu recalls going to the mall as a teenager and struggling to find a foundation that matched her skin.
Today, however, she has observed a genuine shift in the industry's diversity. Brands are beginning to dedicate larger portions of their business to a greater range of colors and services for women of color.
"Rihanna's line, Fenty Beauty, was a major, groundbreaking shift. Her line has almost 40 different colors in every shade you can think of. From the fairest shade to the darkest of colors."
As Lulu points out, "Ten years ago the beauty industry didn't have any brands that focused on diversity. But Rihanna's sold out in a week."
Lulu on achieving your goals: "Anything you want to do, you can do."