Earlier this week, a fun and festive Plano Chamber of Commerce Business After Hours was held at Texas Health Presbyterian Hospital Plano. Attendees enjoyed networking, delicious food (including the legendary lobster tacos) from Chef Gary Ucella and a successful toy drive. Six large bags and two boxes filled with toys were collected to donate to Plano Santas and Assistance Center of Collin County.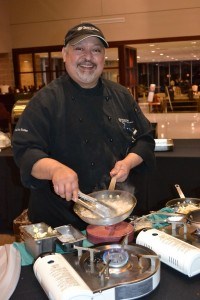 President of Texas Health, Josh Floren, spoke at the event on health, the famous lobster tacos, and Texas Health Plano's plans for growth. He mentioned an expansion that is in the works for the hospital and how it will be of benefit to not only the staff and patients, but to Plano and surrounding areas, as well. (More details to come on the expansion.) He also raved about the credibility Texas Health Plano has gained from its Food and Services Department, starting with the honor of winning the 2015 Ivy Award for culinary excellence. Chef Gary and Chef Tony Robles' creative and delectable cuisines are a huge reason this award was given. Floren went on to say that Texas Health serves great food because, "we are here for more than just healthcare. We are here to take care of the whole person."
Thank you to Texas Health Presbyterian Hospital Plano for opening your doors to Plano Chamber of Commerce's holiday soiree, and of course to everyone who joined in on the festivities and toy drive.
The following collection of images were taken at the Business After Hours hosted at Texas Health Presbyterian Hospital Plano by the Plano Chamber of Commerce: [print_gllr id=2896]