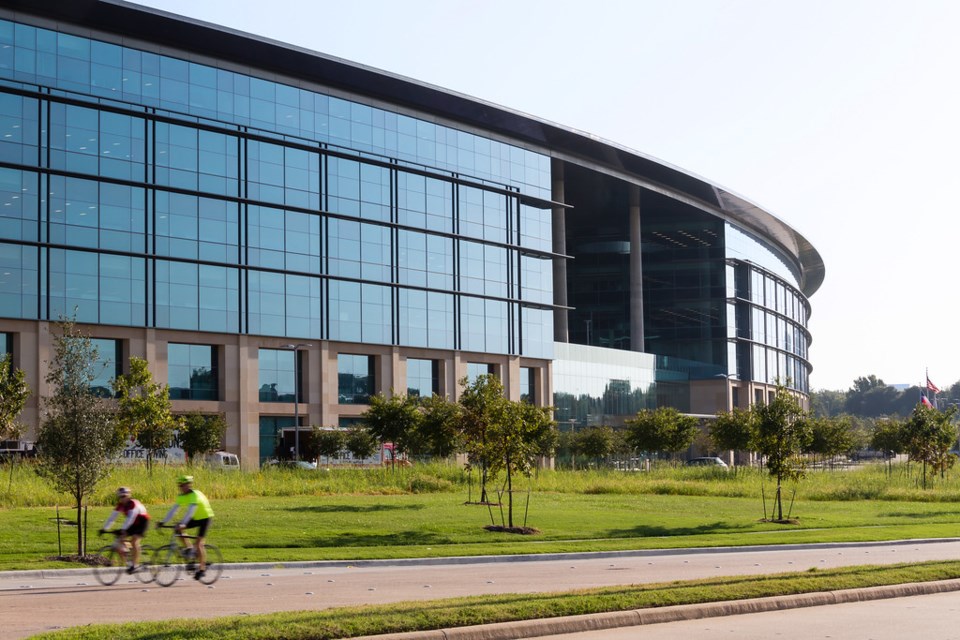 When Toyota North America decided to build their new corporate headquarters in Plano, the aim wasn't a new campus—it was a new company culture
Twelve acres of glass, 142,500 yards of concrete and 1,200 tons of Texas limestone were used to build Toyota North America's new headquarters. The principal facade stretches like an enormous mirage along Headquarters Drive. Within the lobby, lit from above by a giant oculus, a Toyota 2000GT—like the one James Bond drove in You Only Live Twice—is on display alongside Toyota's latest concept cars. Inside the Lexus lobby there's a rocket ship: the Skyjet featured in Valerian and the City of a Thousand Planets.
Meanwhile, at the Legacy Drive entrance stands a 100-year-old oak tree. It's one of Jim Lentz's favorite things about Toyota's new home. "Its roots run deep in Texas soil. This oak stands out front as a symbol for Toyota's opportunity for growth. It will nurture our company's roots, and together we'll grow and thrive in Texas and throughout North America," the CEO of Toyota's North America Region said at the campus' grand opening in July.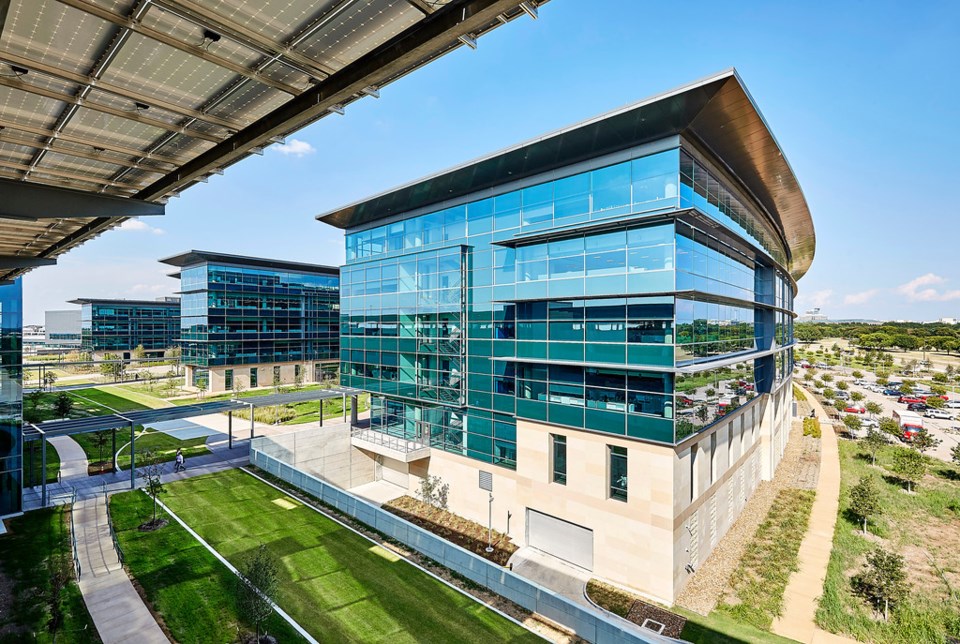 "Bringing our team members together at this striking and inspiring new campus will help Toyota become a more cohesive, collaborative and innovative company," he added.
In 2013, shortly after he was appointed Toyota's first chief executive officer for the North America Region, Jim Lentz met with global president, Akio Toyoda. "He asked me: What is the one thing you need to change in order to sustain your business into the future?"
"I told him in order to be prepared for the future and better serve our customers, we needed to unify the teams from across affiliates."
The result is Toyota North America's new headquarters in Plano. Here, Toyota's three North American headquarters—Torrance, California; Erlanger, Kentucky; and New York, New York—as well as Toyota Financial Services (TFS), have come together under one, very large roof.
But that's not the full story. One Toyota is not just a building. Nor is it a vast 100 acre campus, or a $1 billion investment. One Toyota is a mindset; Toyota considers it a way of working more collaboratively to enhance the experience of customers, communities and team members.
The shiny glass-fronted building is a physical representation of this new company culture. It is where multiple business units, and over 5,000 people, from across the country have become one.
"One Toyota is not just at this site, but throughout the organization," Lindsay Wilson tells me on a tour of the campus. Lindsay is the executive managing principal at Corgan, the company in charge of the architecture and interior design of Toyota's new home. "It was our job as architects and designers to understand the cultural priorities and then understand how a place could enable them to flourish."
Known as the North American Cultural Priorities, Lindsay can recite them by heart. "Challenge the status quo, think innovatively, make timely decisions, grow our people's capabilities and collaborate across boundaries."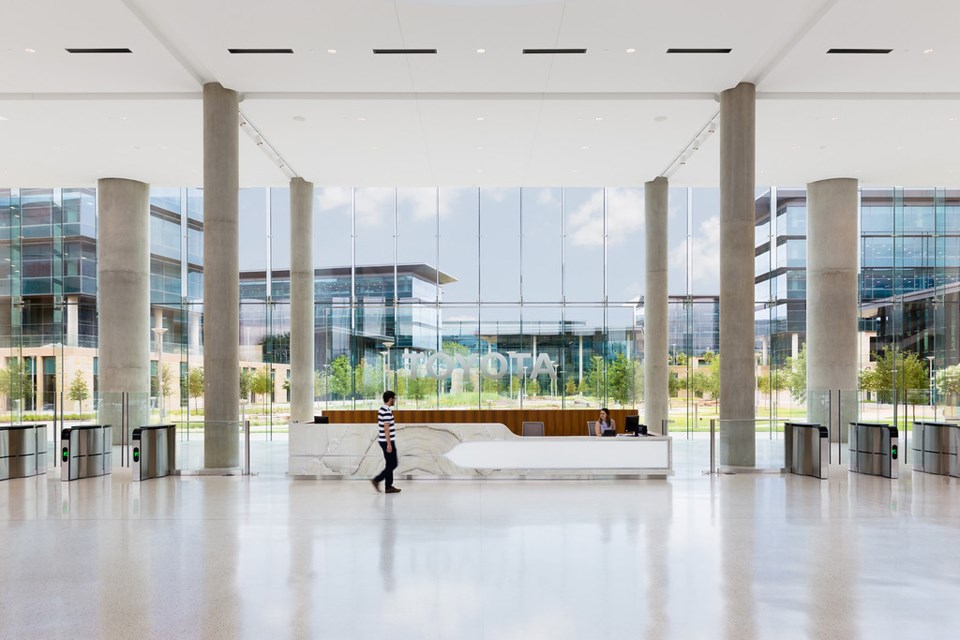 Standing in the vast lobby, we can see the entire campus: the seven office buildings; the Sequoia Pavilion; the Dining Center; the Fitness Center; and in the center, the courtyard—a green oasis with a creek and indigenous Texas plants.
"Visibility is key to the connectedness," Lindsay explains. "With people moving from three different parts of the country, the last thing anybody wanted was for everybody to get here and go into their own building and never leave. It's human nature; if you can't see things, you don't tend to venture out."
From there, we head into the Knowledge Center. A sculpture made from parts of an actual Toyota is suspended from the ceiling. On the ground, a light projection spells out "DRIVE". The focus of this area is training. There are meeting rooms of all sizes, break-out spaces and the Sequoia Pavilion, a purpose-built room used for press conferences and other large events. The architects consider it a "destination."
There are similar destinations all across the campus. "The strategy of arranging buildings with common functions is to facilitate casual encounters with people from other departments," Chuck Armstrong, design director at Corgan and the lead designer for the Toyota campus, explains.
Vince Bray, head of corporate communications for TFS and a Toyota team member since 1998, is one of several hundred people who relocated from California. "This morning I saw someone I hadn't seen in 15 years. We were working together in Torrance but in different buildings; there weren't overlapping opportunities," Vince says.
The main driver for these serendipitous encounters is food. In addition to 125 coffee pots and over 250 microwave ovens, there are 12 separate dining areas. Vince, like most of his colleagues, is enthusiastic about the options.
"There's one place that makes the best breakfast sandwiches. Then, for lunch there's a place with amazing noodle bowls," he says.
There are also a number of convenience stores dotted around. One of Vince's favorites is the Mitsuwa Market where they have great sushi and Pocky. It's located in the Lexus building, on the opposite end of campus from his office and is another reason Vince finds himself bumping into different team members.
The next stop of our tour is the Dining Center: a two-story building at the heart of the campus with a beautiful view of the main courtyard. There's indoor and outdoor seating. Tucked away in one corner is a vertical garden.
"That corner would have been the darkest place in the whole campus but, instead, we added a skylight and created that green wall," Chuck explains.
The abundance of natural light—Vince even mentions a storage room that has its own window—as well as the green spaces, thousands of solar panels and a massive rain water capture system are all part of Toyota's commitment to sustainability and the environment.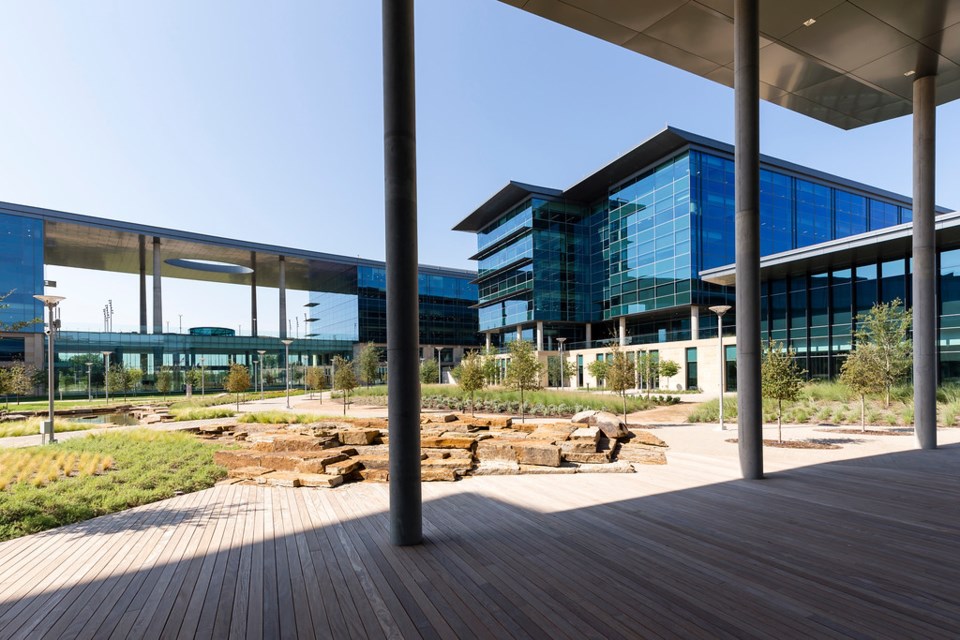 The campus is not only the largest commercial LEED Platinum project in Texas, but also one of the largest in the U.S. Awarded by the U.S. Green Building Council LEED, Leadership in Energy and Environmental Design, is the most widely used green building rating system in the world.
Heading out of the Dining Center we find ourselves in a secondary terrace with a water feature and a large lawn. Here, cafeteria-style tables are filled with groups huddled around laptops.
"We were really thoughtful about placemaking. All these places belong to the team members; people can choose to work wherever they want," Lindsay says.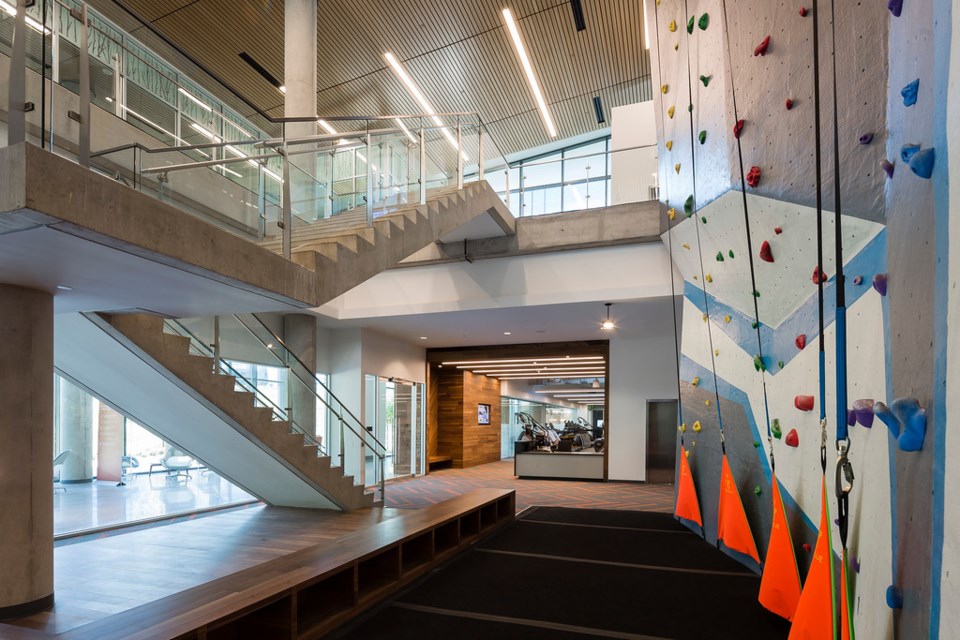 These kind of unstructured work areas are everywhere. Right outside the fitness area—opposite the two-story climbing wall—chairs and coffee tables overlook the courtyard; the main concourses are lined with reading nooks, benches, bars and stools; mini-workstations are nestled around the stairwells; and there are even individual work pods that look like the first class cabin of an airplane.
"The idea is to have work spaces that support the different types and ways people need to work and allow team members to be able to choose the space they need for the work they need to do," Julia Wada, group vice president at TFS, says.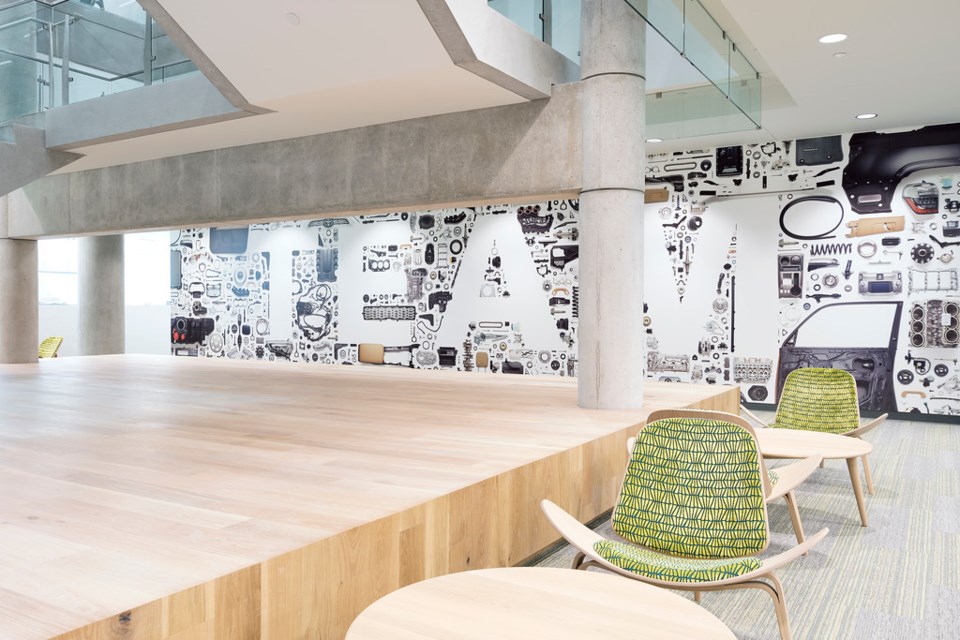 "There's no question that since the teams have arrived, they are working more cohesively and communication is undoubtedly easier," Vince says. "The addition of many meeting rooms and a variety of environments means that you can interact with fellow team members in the manner most suited to the topic. If I've got a formal meeting, I book a meeting room. If I want to meet with someone one-on-one, we've got a campus full of tables and lounge chairs in bright locations to accommodate our chat."
We finish our tour with a stroll through the TFS office building. Heads pop up at different levels from rows upon rows of cubicles; each individual workspace has an electric sit-to-stand desk. It's clear these areas are intended for formal "heads down" work.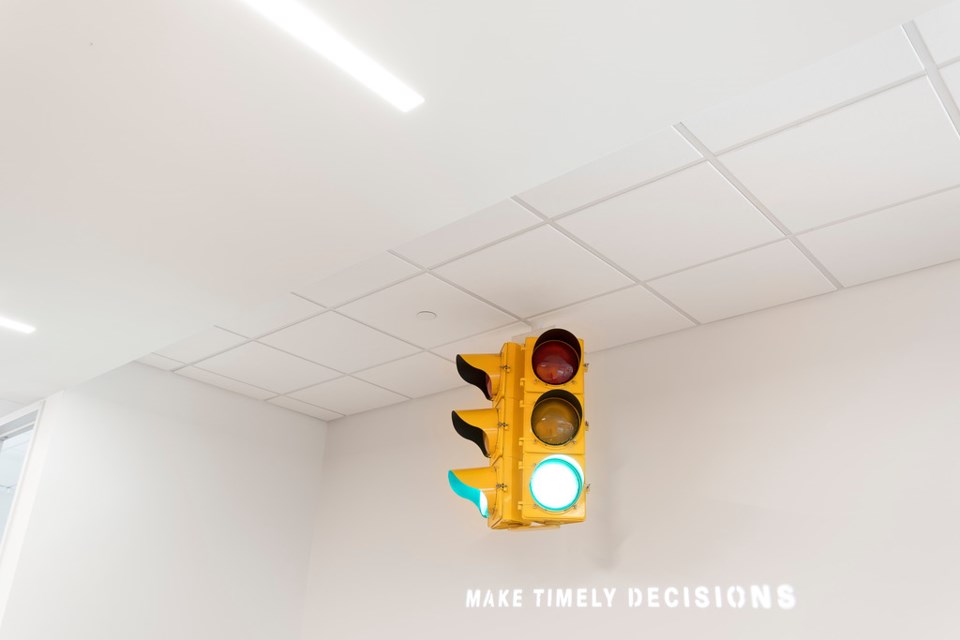 One nook catches my eye. A single traffic light, permanently on green, hangs down from the ceiling. The words "Make timely decisions" are projected on the wall behind it. Similar art installations are found in each of the seven office buildings; each one a subtle reminder of the principals One Toyota is founded on.