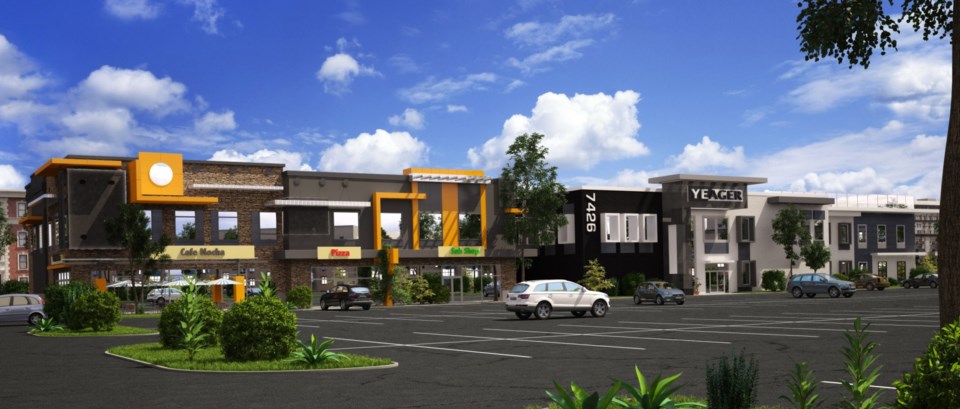 Ground has recently broken on a 48,300 square foot mixed-use development in west Plano. Yeager at Rasor Point will be home to retail, restaurants and Yeager Office Suites on the property's 3.8 acres at the northeast corner of Rasor Boulevard and Ohio Drive.
Yeager Properties, an Indiana-based developer, has two completed office suites projects in Frisco and McKinney, but this will be the first mixed-use development by Yeager in the DFW Metroplex. However, company founder Scott Yeager mentioned their plan to build nine more office suite complexes in DFW within the next five years. "We see the Dallas/Fort Worth area as a huge market for us, with abundant opportunities to share our unique office suite concept," Scott Yeager said. "We feel the future is bright for the Metroplex, and that's why we're making a major financial commitment to this region."
Yeager at Rasor Point totals 39,750 square feet of office suites and 8,550 square feet of retail and restaurant space, and will be complete by early August 2016. "The design for Plano will remain consistent with all previous buildings. We strive to achieve an eclectic modern look while permitting a community-focused atmosphere," informed Eric Yeager, Director of Marketing. Yeager Office Suites buildings are renowned for their award-winning designs of diverse postmodern architecture, featuring non-traditional angles, unusual surfaces and distinct ornamentation. The unique office suite spaces and amenities are perfect for a tenant mix including professional offices, corporate satellites, start-ups, co-working spaces and also create a built-in customer base for retail and restaurant tenants.
Available for free at the Plano location:
Building manager presence in our lobby reception
Spacious lobby
High-speed fiber internet
Conference room access at all of locations, at no cost, via an easy online reservation system
Impromptu meeting areas
24-hour access at all Yeager locations
Café including double refrigerators, microwave, sink, vending and coffee machine
Utilities
Elevator
Common area maintenance
Mailbox and address
The tenants for this location are still in the finalization process. Names will be released in due time.
Yeager's history shows the landmark structures maintain an extraordinarily high occupancy rate and tenant loyalty. The Yeager Office Suites in Frisco and McKinney currently boast 100% occupancy, with a growing waiting list.
For retail inquiries, contact Mike Barr at 972.544.4840. For office suites leasing, contact Eric Yeager at 972.635.4577.
Yeager at Rasor Point
8105 Rasor Blvd., Plano, Texas 75024
Yeager Properties
Founded in 1998 by Scott J. Yeager, Y.C. Co. ("Yeager") which evolved from a residential remodeling firm, soon expanded to include development, construction, management and ownership of office suites in Indiana, and later Texas. Yeager currently owns and operates seven office suite buildings in the Indianapolis area and two in the DFW area. It remains a family-run business and is currently in the process of moving its Corporate Offices to Texas.