The Shelby name has a huge following among car enthusiasts, especially Dallasites who know that Carroll Shelby set 16 U.S. and international speed records and landed in Sports Illustrated as Driver of the Year in 1956 and 1957. After graduating from Woodrow Wilson High School in 1940 and serving in the U.S. Army Air Corps as a flight instructor and test pilot, Shelby became an accomplished racecar driver, muscle car designer and entrepreneur. He is best known for his involvement with the iconic AC Cobra and later, the Shelby Mustang. While we could write a book on the life of this Texas legend, we turn the spotlight on Aaron Shelby, the oldest of Carroll's six grandchildren.
For the last couple of years, Aaron has represented the face of the Shelby brand at media events with the Ford Motor Company. He recently joined the board of Carroll Shelby International, Inc. (CSI) and will work with Ford to expand CSI globally. "Going forward, I will have more input on our strategic direction and product development and expanding relationships internationally," he told Plano Profile.
Shelby has a lot of exciting projects for 2016. "We recently rolled out the Hertz Shelby GT-H rental car, which will be available through select Hertz locations beginning Memorial Day," revealed Aaron. "We also continue to see great interest in the expansion of the Cobra continuation cars and Shelby modification packages produced in Las Vegas."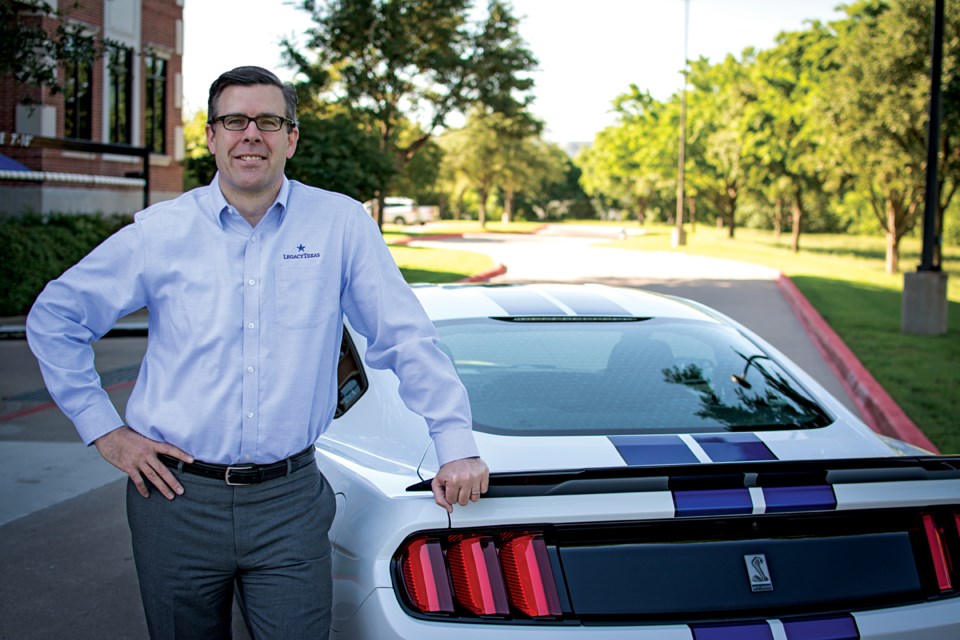 A drive down memory lane
Aaron recalls fond memories with his grandpa, from spending time down on the farm in Pittsburg, Texas, to exploring the West Coast together. Carroll traveled extensively but primarily lived in Los Angeles when Aaron was attending college in California. His fondest memory, though, is when Carroll taught him how to drive—and Aaron was only 11 years old. The family lived in L.A. because Aaron's father, Pat, and Carroll owned a manufacturing business called Carroll Shelby Wheels. Carroll was working with Dodge and assembling cars in Whittier, California. "He picked me up one day to take me to the plant and show me around. We got in a Shelby GLH and he ran it around the skid pad a few times and then said it was my turn. Fortunately, I was tall for my age, so I could see over the steering wheel…what fun!"
What was Aaron's first car? A 1986 Acura Integra. "I wanted one of Carroll's Dodge Shelby cars (he worked for Dodge through the 1980s), but he said those were not meant for 16 year olds."
After graduating from Highland Park High School in 1990 and earning a Bachelor of Science in Commerce–Finance from Santa Clara University in 1994, Aaron started a banking career as a credit analyst at Inwood National Bank in Dallas. He then moved on to operate his own business, Mr. Bracket, an automotive accessory company that distributed products through aftermarket retailers.
Today, Aaron works at LegacyTexas in Plano where he is Executive Vice President over Commercial Lending and operating as the Subsidiary Manager overseeing LegacyTexas Insurance, LegacyTexas Title, LegacyTexas Investments and LegacyTexas Mortgage. In addition to banking, Aaron operates the Shelby family's timber business in East Texas and sits on the Board of Directors for the Dallas Children's Theater, Shelby Automotive Museum and Carroll Shelby Foundation.
Carroll Shelby Foundation
The Carroll Shelby Foundation began in the early '90s after Carroll Shelby had a heart transplant. His goal was to build a foundation that would help children going through transplants. The original idea was to financially back the transplants themselves, but as costly as they are, it would limit the foundation's reach. The focus shifted to help children with post-transplant needs and general medical care. "This way we can support a greater base of recipients," said Aaron. "One of the ways we do this is by donating funds to the Children's Organ Transplant Association. COTA has the infrastructure and is instrumental in assisting families through the transplant process both before and after the procedure."
The Foundation's other beneficiary is the Carroll Shelby Automotive Technology Program, which provides scholarships and equipment to aspiring automotive students. The program is located at the Northeast Texas Community College in Mt. Pleasant, Texas (near Carroll's farm in Pittsburg).
"To me, the Foundation represents Carroll's true legacy. Supporting children's medical care and automotive education were core to Carroll's beliefs," said Aaron. "I know one of Carroll's wishes was to make sure the companies and the foundation he created were going to be able to continue on. The company has very capable managers in place, but I think carrying the Shelby name provides a certain amount of stabilization going forward. I hope I would make him proud."
Aaron has been married to Brooke for 18 years, and they have two boys, Pierce (12) and Larsen (10), who love Shelby cars and going to car shows.
Ready about the 7th Annual Shelby Car Show, here!
Photography by Brandon Hurd.