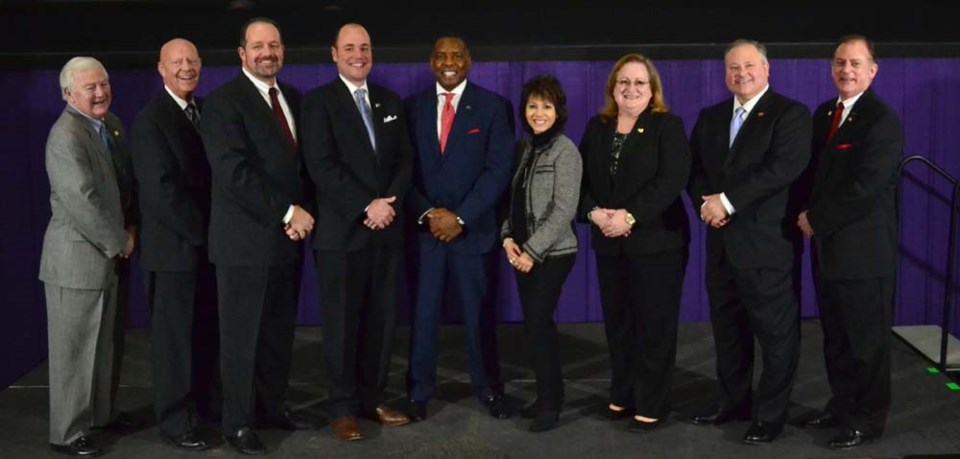 Popcorn in one hand and a coke in another, Plano citizens joined Mayor Harry LaRosiliere and other City of Plano dignitaries at Cinemark on Tuesday, February 9 for the annual State of the City address. What a unique way to learn about the City's strategic vision of continued growth and success as the most desirable community to live, work and play!
Plano Profile was there for the previews. The City did a spectacular job showcasing Plano's libraries, parks, police, fire rescue and public safety communications teams and their vital roles in the unfolding of Plano 3.0.…coming soon at a location near you.
And then…Cue music.
The famous Star Wars opening crawl was parodied: "Not so long ago, in a city very near by…accolades poured in from around the galaxy." A long list of merits and awards earned by the City of Plano floated across the screen.
After the Presentation of Colors and the Pledge of Allegiance, Plano City Council members shared the big screen to tout all the reasons Plano is such a desirable place to live:
Mayor Pro Tem Lissa Smith focused on infrastructure and revealed that in 2015, City Council approved $65 million dollars for street improvements.
Councilman Ben Harris was seen at Legacy Trail with his family representing the award-wining Parks and Recreation department, which boasts over 70 miles of trails.
Councilwoman Angela Minor was at the Interurban Museum stating that the City needs residents and businesses willing to step up and volunteer.
Councilman Rick Grady touched on diversity and inclusion, pointing out all the many languages you'll hear in our city. He also mentioned the ceremonial swearing in of dozens of new U.S. citizens that takes place every summer at Haggard Park.
Councilman Ron Kelly called our nonprofit organizations the "the heart of Plano" and acknowledged that they are doing a great service by meeting people at their point of need. "Those who have been given much, much is required of," he said.
Councilman Tom Harrison, along with Karen Williams, supervisor of Plano Senior Recreation Center, revealed that 20 percent of our residents are senior citizens. "[They] not only benefit from but are encouraged to contribute to the excellent quality of life that all of our Plano citizens enjoy," he said.
Finally, councilman David Downs emphasized the importance of the arts in our community. This is why Plano partnered with KHYI 95.3 to host the Texas Music Revolution at Oak Point Park in 2016. Also, the $1.5 million renovation of McCall Plaza is in full swing, which will include an 800-square-foot covered stage for live performances. Downs also noted the Saigling House, which is undergoing a $3 million renovation to become the ArtCentre of Plano.
And now, for your featured presentation…
Our leading character for the evening, of course, was Mayor Harry LaRosiliere. A friend and colleague for many years, Mayor Pro Tem Lissa Smith gave a him a warm welcome and he took the stage. "Today, I'm here to report to you that the state of our City is strong and will continue to get stronger," he said. "In 2015, the City of Plano made significant investments in our most valuable resources, our people and our infrastructure."
$4 million was invested in home improvements to some of Plano's more mature neighborhoods.
$65 million was allocated for road construction (streets, intersections, medians and thoroughfares). Also, by 2017, we can expect some major intersection improvements along both Preston Road and Independence Parkway.
The "Center of the Universe"
Businesses is booming in Plano and it's not slowing down. Mayor LaRosiliere said that we've solidified our position as "the nexus" for economic development in North Texas. In fact, he jokes, "this has led to the Legacy West and Granite Park area being renamed the 'Center of the Universe.' For purposes of full disclosure, it was renamed by me," he adds and the audience laughs.
Corporate giants like Toyota, Liberty Mutual and JPMorgan Chase have secured offices here, and together with FedEx Office, Frito-Lay and JCPenney, they will bring over 18,000 jobs to Plano. "[This is] symbolic of the growth and renaissance that's occurring throughout the entire city." The mayor added, "Equally exciting, we're seeing some of our existing long-term partners, such as Capital One; Pizza Hut; and Alcatel-Lucent, recently acquired by Nokia, expand their footprint in Plano."
Plano's employment number of 160,000 includes:
39 companies with over 500 employees
19 companies with over 1,000 employees
7 companies with over 3,000 employees
Looking back
Plano 1.0 goes back to the 1980s when we were a farming community-turned-bedroom suburb with a population of 80,000 people, and most residents commuted to Dallas for work. Plano 2.0 was the Plano of the '90s when we matured into a larger suburb with a population of over 250,000. We were also one of the fastest growing cities in America.
Today, we are Plano 3.0. "We have boldly embraced our identity as the premiere, diverse and inclusive world-class city that comfortably competes on a global stage for a business, individual or family looking for a place to call home," declared LaRosiliere with a little jive. (It's true, the mayor's got some moves!)
"It's a new day in the city…and if you're wondering, the secret is out: There's no better place to live than Plano," he says setting us up for some more statistics:
We have a population of over 270,000 people making us the:
70th largest city in the country
9th largest city in Texas
4th largest city in Metroplex
The largest city in Collin County
Did you know, wherever you live in Plano, you're about a 10–15-minute walk to a park? You can walk or ride your bicycle on 73 paved paths throughout the city.
Plano is also home to:
5 libraries
84 neighborhood parks
8 swimming pools
5 world-class recreation centers
100 soccer fields
69 baseball fields
81 tennis courts
2 18-hole public golf courses
Join the conversation
One of the highlights of the evening, was a sneak peek into an app called FIX It. Rather than hire City staff to identify issues and report back to the office, Plano citizens can report issues via their smartphones. This creates a more efficient workflow. Just download the app. Select "Public works." Select "Potholes." Enter the address with the potholes, and receive a notification when the problem is fixed.
"Plano Police Chief Rushin told me to tell y'all, 'Don't do this while you drive,'" LaRosiliere quipped.
The idea behind the app is crowdsourcing, or putting the power of change in the citizens' hands. It's also about giving Plano citizens flexibility to attend meetings; virtual town hall meetings will be available via the app.
A city of opportunity
If you're not familiar with Mayor LaRosiliere's background, his parents immigrated here from the West Indies in 1966. His father worked in a factory repairing airplane parts, and on the weekends drove a taxi for extra income. His mother cleaned offices for 25 years. His parents worked hard so that their kids could get an education and become the first college graduates in the family.
This story is important for two reasons: It highlights opportunity and diversity, the foundation of Plano 3.0. Says LaRosiliere, "Back then, when we came to the United States, America was known as the land of opportunity. Today, because of our economic development, Plano and North Texas thrives as that place for opportunity, a place where we can live safely and know our children will receive the best education."
"Nearly one quarter of all of Plano's citizens were born in a foreign country and there are over 80 languages spoken in their homes," he continued. "But the reality is all of our citizens, whether you were born here or not, have the same aspirations, to move their families, their children and themselves upward and forward. Through job creation and an environment that fosters business growth, prosperity becomes a reality. That's a fact. It happened to me."
What does this vibrant growth mean for you?
It's simple: Excellent service at the lowest cost. Plano enjoys the lowest city tax rate in all of North Texas—2.23 percent. (So, if you own a $300,000 home in Plano, you'll pay $1,175 in city property tax—that's $3.22 a day.) LaRosiliere pointed out, "For $3.22 a day, you get 2,000 of the most dedicated and committed public servants that deliver public service to you day in and day out!"
He concluded saying that the "City of Excellence" is not a marketing tagline, rather our attitude and culture. "It's a promise that we're 100% committed to keep. I call it the Plano Promise: This City will protect you; our schools will educate you; and our community will nurture you."
"The next chapter of 3.0 is being written and you're all invited to be authors and contributors. What will you add to the story? …How will you help us lead? This is your time…Our future awaits you with open arms and together we will remain the City of Excellence."