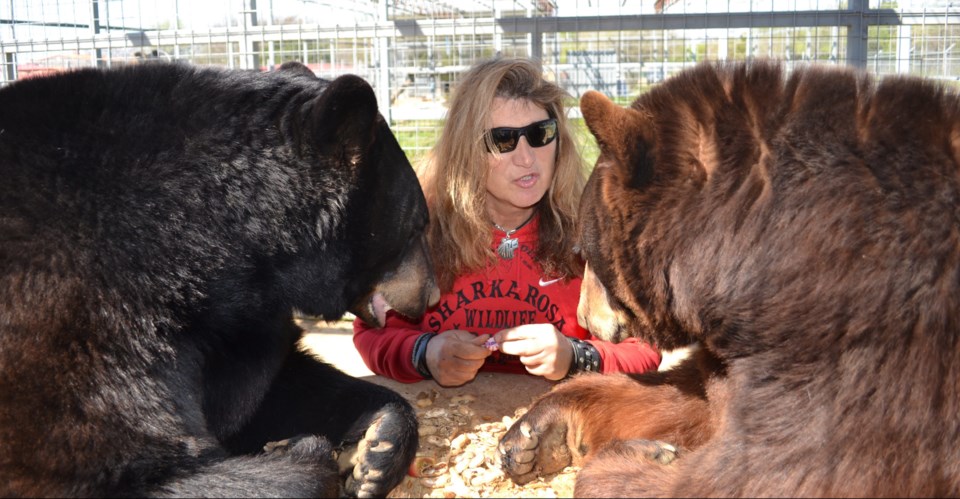 "We're not a zoo, we're an interactive park," says Scott Edwards, owner at Sharkarosa Wildlife Ranch in Pilot Point, Texas.
Welcome to Sharkarosa Wildlife Ranch
After hearing about a sprawling, 126-acre wildlife ranch owned by a Plano Senior High School alumnus, the adventure seeker in me was itching to find out more. Our hour-long drive northwest led us to the pearly white gates of an animal sanctuary called Sharkarosa Wildlife Ranch. Its unique name is a combination of the land's original title Sharkey's and The Ponderosa Ranch from the 1960s television western Bonanza.
Camels, kangaroos and bears—oh my!
Our first steps onto the grounds and we could already hear squawks of birds and high-pitched bleats of camels, among a series of other anonymous sounds. Founder and owner Scott Edwards introduced us to every animal by name, a testament to his love for the over 150 exotic, rare and endangered species.
Two 400-pound North American black bears climbed up onto a picnic table and politely waited for their owner to hand them a series of red and white breath mints as snacks. "Bear with me…," Scott Edwards cracked punny jokes, while Barnaby and Bailey munched on peppermints.
Barnaby and Bailey came to the Sharkarosa Wildlife Ranch when they were 12 weeks old. They were sick, weak, and needed a lot of care, but Sharkarosa rehabilitated the bears and gave them a forever home. A popular onsite restaurant called Bears Den (bearsdentexas.com) lets visitors dine on gourmet pizza just five feet from the bears. The restaurant serves only homemade, organic and all-natural food items, and part of the proceeds from the restaurant goes back into helping rescue animals.
Read more: Inside Crayola Experience Plano
Sharkarosa Wildlife Ranch has been rescuing exotic and domestic animals and finding them better homes since 2003—furry friends and snakes, alike. Coby, a four-foot-long albino monocled cobra, stared me down with piercing eyes and a hiss that I can't shake from my memory. "This guy can take down an elephant with one bite," said Scott, who then asked if I wanted to hold a boa constrictor. Naturally, I hesitated, but the next thing I knew, one was hugging me tightly. It. Was. Thrilling.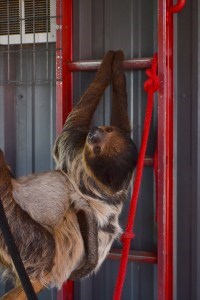 Next, we headed to a less intimidating area, the ranch's marsupial habitat, home to kangaroos, including a rare albino; the sweetest wallabies; and the world's smallest deer, standing no more than 20 inches above the ground.
Then, inside a heated room, the size of a walk-in closet, were two adult sloths that lazily hung about their habitat. A baby snuggled on its mama's stomach.
We passed the "Lemur Crossing" sign to find ring-tailed lemurs native to Madagascar (yes, like in the movie) that swung from a humongous jungle gym. The black-and-white ruffed lemur was named Zero, and the red ruffed lemur was Bugatti.
Read more:Into the wild: A heavenly wilderness awaits at Big Cedar Lodge, Missouri
And finally, we hopped onto a Safari Tram to explore the three pastures in back. A zorse (half zebra, half horse), a zedonk (half zebra, half donkey), a pot-bellied pig, endangered deer, and emu—all shared the same area. Tall, dromedary camels approached with eagerness. We stayed in our tramcar but were within arms' reach to pet the curious creatures, and waved goodbye, as we made our way back to the entrance.
Our animal adventure came to a close, and I recalled something Scott said while rolling around with Barnaby the bear, as if he were a pet dog. "Wild animals attack out of fear. [These animals] don't attack, because they aren't afraid of me, not because they love me. These are trained, not tamed, animals. You can't tame an animal."
Read more: How Ranch Hand Rescue saves lives
What inspired Scott to open this animal sanctuary?
He simply wanted to give back. He also grew up knowing Jim Dunlap, the famous animal educator who taught generations of kids in PISD schools. Today, his learned passion has turned into a business that rescues over 100 animals a year. The animals are either cared for until a permanent home is found or Sharkarosa becomes their forever home.
Scott not only gives back to animals, he also gives back to the community. He offers 3-, 6- and 12-month internship programs; a grade K-12 school that already has 20 children enrolled since its start in August 2015; and he offers his land for events, such as a 70-acre mud run.
Interested in learning more? Sharkarosa Wildlife Ranch offers private animal encounters and school field trips. They also offer pony rides and animal photo ops. Sharkarosa Wildlife Ranch is primarily run on donations. To learn how you can donate, or to learn more about the ranch, visit sharkarosa.com.
Sharkarosa Wildlife Ranch
11670 Massey Rd., Pilot Point, Texas 76258
940.686.4600 | sharkarosa.com
Hours: Open to the public on weekends only | Saturdays and Sundays: 10 a.m.–5 p.m.
Entry: $12 – 13 years and older; $10 – under 13 years; Free – 2 and under