North Texas's Interstate 35E in Hillsboro can now "talk" with engineers, letting them know about cracks, damage and the need for maintenance. The road hasn't gained consciousness, instead, a new technology developed by a researcher at Purdue was installed into the road's concrete.
According to the university, the sensor could decrease construction time and repair frequency while cutting its carbon footprint at the same time.
Luna Lu, Reilly Professor and acting head of Purdue's Lyles School of Civil Engineering, said that infrastructure repairs occur due to a lack of understanding of concrete's strength levels. "For instance, we don't know when concrete will reach the right strength needed to accommodate traffic loads just after construction," said Lu. "The concrete may go through premature failure, leading to frequent repairing."
And infrastructure repairs are also costly to the environment. The researcher said traffic jams waste 4 billion hours and 3 billion gallons of gas yearly. Additionally, concrete pavement is the most challenging road material to repair, extending repair times. According to data from the Federal Highway Administration, while less than 2% of U.S. roads use concrete pavement, the material roughly makes up 20% of the U.S. interstate system.
Lu started developing the new technology in 2017 after the Indiana Department of Transportation requested help to better determine when the pavement is ready to be opened to traffic.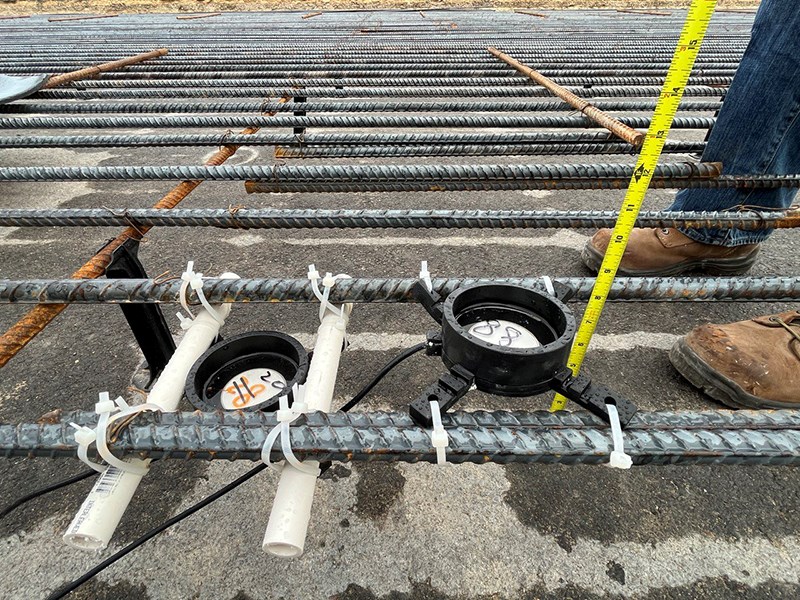 Instead of relying on century-old technology that requires large samples of concrete to be tested in a lab, the sensor lets engineers know exactly when the pavement reaches the strength level needed to be used by vehicles by communicating with them via a smartphone app. 
In addition to reducing carbon dioxide emissions that are released to the environment while waiting in traffic jams, Lu launched WaveLogix, a startup that aims to reduce carbon emissions by cutting the amount of cement needed in concrete mixes. The manufacturing of cement alone is responsible for 8% of the total carbon footprint worldwide.
"The biggest problem with concrete mixes is that we use more cement to increase the concrete's strength. That won't help open the road to traffic any sooner," Lu said.
Indiana and Texas are the first two states to implement the new technology in highway paving projects but more than half U.S. states have signed up to participate in a Federal Highway Administration pooled fund study to try the sensors out. The participating states are Missouri, North Dakota, Kansas, California, Tennessee, Colorado and Utah, and more states are expected to join in the coming months.