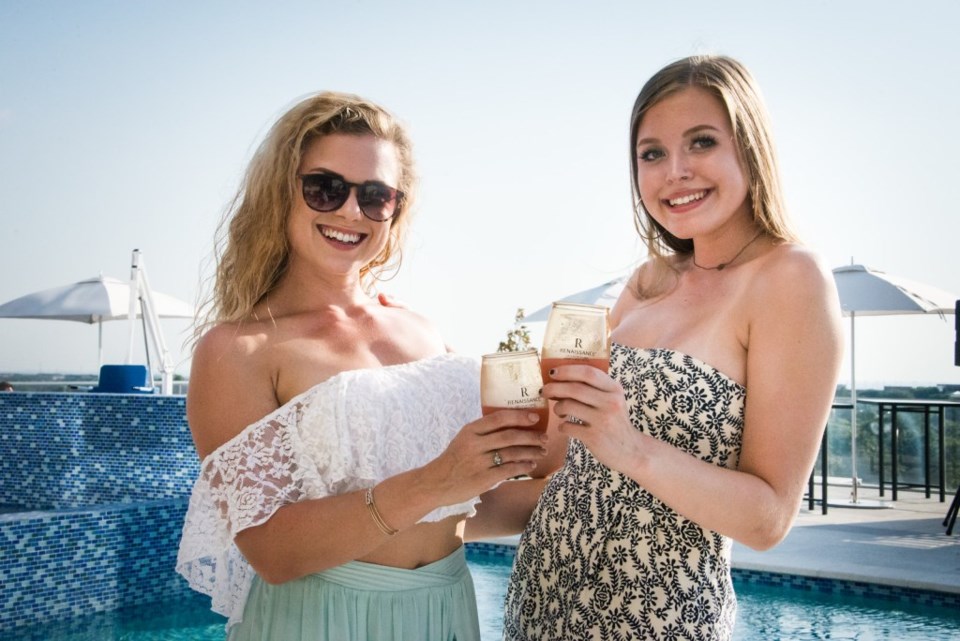 What do you get when you combine a golden cowboy with liquor-laced popsicles and a boozy bush at Plano's most beautiful roof-top pool? Plano Profile's June Cover Party, of course!
Hosted at the pool deck of the swanky Renaissance Dallas at Plano Legacy West Hotel, our June Cover Party celebrated the release of our Art Issue and the start of summer.
Guests were greeted by the golden cowboy (a nod to the hotel's "West Meets Zen" theme), and a boozy bush where hands gloved in silk and wearing the latest designs by Kendra Scott and watches from Timeless Luxury Watches (opening soon at Legacy West) handed out Summer Moon cocktails.
Read more: Japanese buns and whiskey cocktails at Whiskey Moon, Renaissance Dallas at Plano Legacy West Hotel
Meanwhile, at the pool bar, guests were treated to two frozen cocktails: The Renaissance Royal and a Frosé. The pool shone in the early evening sun, while the pool-side cabanas provided the perfect retreat from the heat. Beyond, the pool deck's patio space was transformed into an elegant picnic area with a menagerie of different light bites and sweet treats to try.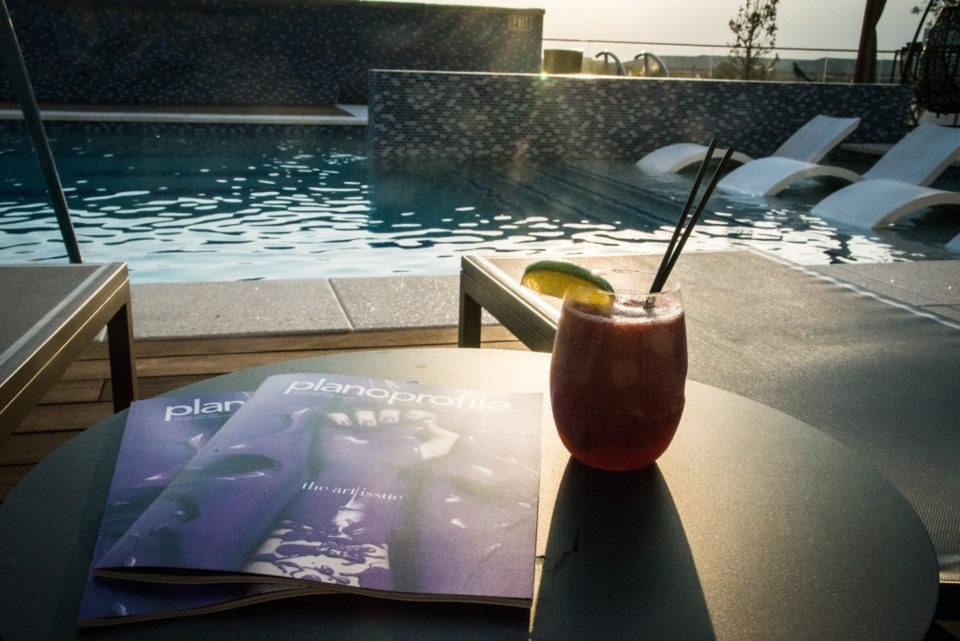 On the menu were tempura avocado tacos, hand-rolled lobster crab sushi, tuna poke bowls, shrimp mango skewers, Wagu beef skewers, roasted pork belly sliders, smoked beef tenderloin sliders and fried green tomato sliders.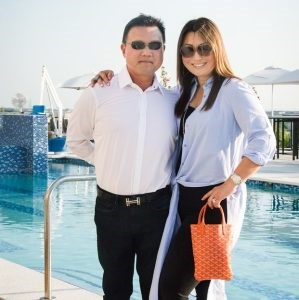 A special treat was the Crispy Bison with brandy-glazed Texas peach served by Master of the Craft Culinary Winner, Ajay Mehta as well as the Campfire, a specialty whiskey cocktail rimmed with crusted pecans and chocolate, served by Master of the Craft Mixology Winner, Henry Hong. There was even specialty chilled beers from Unlawful Assembly Brewing Co., brewed right here at Legacy Hall in Legacy West.
Additional fun surprises included an impromptu fashion show featuring Tommy Bahama designs, as well as the participation of Kendra Scott jewelry, Timeless Luxury Watches and Lululemon who modeled their clothing line while showing off their best yoga moves.
The Renaissance Dallas at Plano Legacy West Hotel will be recreating the fun every Thursday evening throughout the summer (ends September) with Soiree at Sunset. This weekly party will run from 6:30 – 9 p.m. every Thursday and includes live music as well as featured cocktails and small bites in addition to the hotel's regular summer pool menu. Entry is free to hotel guests, for outside guests there is a $10 cover charge.
Read more: How Sam Moon became a real estate empire
[print_gllr id=18395]
Stay-cation Special!
A night at the Renaissance Dallas at Plano Legacy West Hotel makes for a great stay-cation!
From just $189, you get a night at the hotel (and access to their amazing rooftop pool deck), two Matcha Collins cocktails at Whiskey Moon (the hotel bar) as well as a mini-makeover at Sephora. Book at Marriott.com/dalbp [Choose your dates (code only valid for weekends), click 'Special Rates', select 'Corporate/Promo', type in 'ARN', choose desired room type (deluxe king or double queen).]
Read more: Happy Hour at Renaissance Dallas at Plano Legacy West Hotel
Renaissance Dallas at Plano Legacy West Hotel
6007 Legacy Dr., Plano
TX 75024
469-925-1800