Which side of I-635 has a better culinary scene? Chef Tre Wilcox invites you to find out with a face-off between Chef TJ Lednick of Dee Lincoln Prime and Chef John Tesar of Knife Dallas (and Plano), Season 14 TOP CHEF Contestant and the Smackdown's current champion.
This third edition of the North vs South Celebrity Chef Smackdown comes to Tre Wilcox Cooking Concepts on Sunday December 16 and you are invited to watch. Both chefs will compete to see who can make the most appetizing dish out of a mystery basket of seasonal ingredients, both basics and wild cards. And they only have 45 minutes.
The judges will be Kent Rathbun of imoto Dallas and Rebecca Silvestri, executive editor of Plano Profile magazine. Scoring will be based on taste, creativity, presentation and use of the mystery basket ingredients.
Read more: Chef John Tesar on fame, meats, and new Knife concepts
During the event, attendees will enjoy the chef challenge, tastings from local restaurants, live music, as well as wine, beer and cocktail samplings.
We hope to see you there! Tickets are on sale now at trewilcox.com/smackdown.
"NORTH VS SOUTH" CHEF'S SMACKDOWN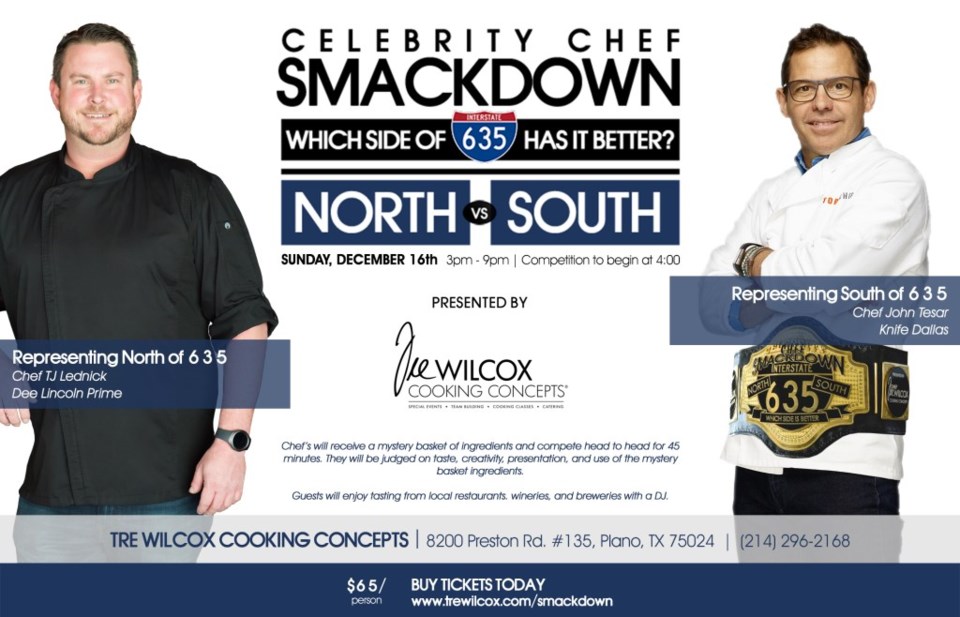 When: Sunday December 19 | 4 p.m.
Where: Tre Wilcox Cooking Concepts | 8200 Preston Rd. #135 Plano, TX 75024
Tickets: $65 each
Tre Wilcox Cooking Concepts Corporate Team Building Events
Gather six to 50 of your colleagues to battle it out in the kitchen at Tre Wilcox Cooking Concepts and let the games begin. Cooking brings people together, and a little friendly competition brings out the best (or worse) in everyone.
Chef Tre and his team of chefs will guide each group along as they prepare a meal together. Upon booking your cooking competition, you are assigned your personal front of the house manager/porter and a dishwasher.
Teams need a little inspiration or guidance? Chef Tre offers his personal advice from his appearance on Top Chef and Iron Chef America. Chef Tre is your emcee for the competition, going from kitchen to kitchen asking contestants about their choices and strategies. And if the teams are at a loss, leave it to the expert to do an impromptu demonstration for inspiration.
Team Building events can be held in the afternoons and evenings.
For more information about Tre Cooking Concepts, visit trewilcox.com.