Trampolines used to be fairly basic with a crown of hard springs, steel frames and loose nets. Springfree has already had huge success with their patented springless trampolines and high nets that zip for full enclosure, eliminating all the worst dangers of trampolines. They're now "jumping" ahead of the competition by embracing the best of digital technology and bringing it out into the backyard.
Puns aside, every parent who has tried to limit their children's "digital time" and has 6-year-olds asking for the iPhone 6, owes it to themselves to check out Springfree Trampoline and their latest product: tgoma.
tgoma is a digital gaming system that runs on AA batteries and connects via Bluetooth to your iPad, which is then easily hooked into a display case on the net, and easy to remove when playtime is done. Using sensors located around the edge of the trampoline, tgoma literally tracks where, when and how high your child jumps. This links them up with signature games created by the geniuses of Springfree and easily accessible through iTunes and the Google Play Store.
Currently, there are eight games, including tgomaFit, a fun workout for all; Math Hopper, where players advance by solving math problems; and—my personal favorite—Fruitants, where I had fun jumping around defeating little angry strawberries until a giant watermelon exploded out of the ground to shoot fireballs at me. Kids move around and jump on different spots to advance in the games, requiring quick thinking, agility and math skills. It's an amazing way to get kids excited about learning and about leaving the couch…and it works.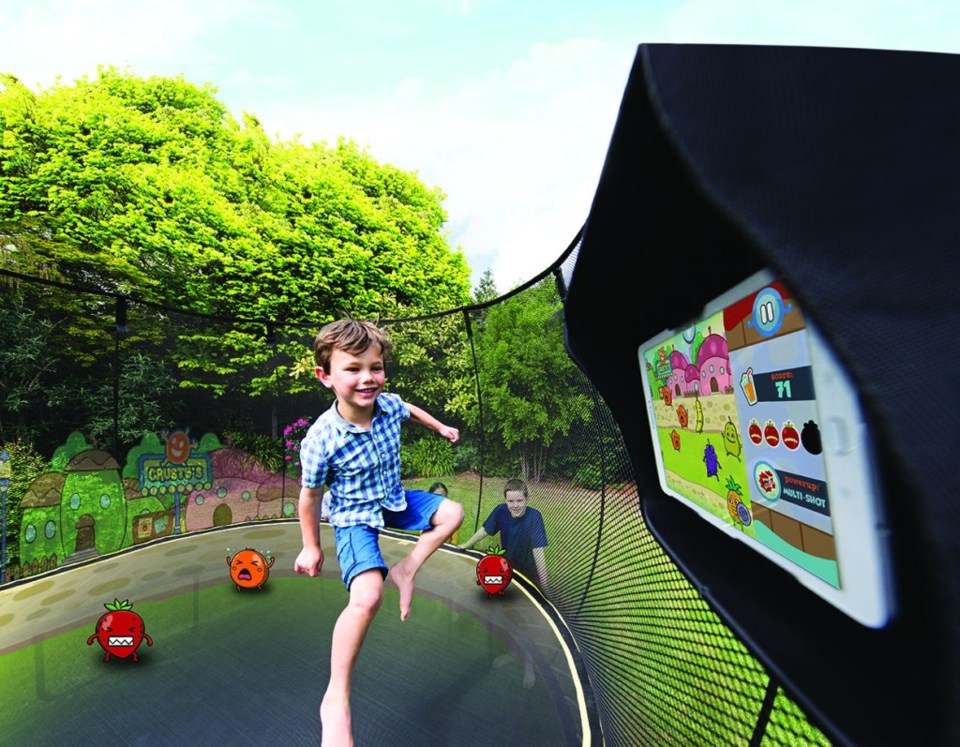 tgoma takes gaming outside and makes it active. It's a safe way for kids to get some time in the sun and create a habit of exercise without even trying, and without having a war over TV privileges. With kids being more and more tech-savvy, this is a perfect way to engage their minds and bodies at once, encouraging healthy, active lifestyles.
"There's nothing else like it in the world," said Amelia Malloy, the regional retail marketing manager. Springfree's safety features are exclusive to Springfree trampolines, the tgoma software is in the process of becoming patented as well, and the positive response to tgoma from kids and parents alike has been overwhelming. The employees at Springfree are always happy to have visitors drop in and try out the trampolines, which come in a variety of sizes to fit any backyard. They're constantly developing new games and apps based on feedback from kids who tried and loved tgoma, keeping it up to date so that there's always an exciting new challenge. To try games like tgomaFit or Fruitants, stop by their stores in Plano, Dallas or Frisco.
Springfree's "Day of Play" hosted by Autumn Rose of MamaChallenge
What: A chance to test out tgoma for free and be entered in a drawing to win a free tgoma trampoline
When: Saturday May 14, 2016
Where: 3933 N Central Expy. #400, Plano, TX 75023
More information: 469.619.2845 | springfreetrampoline.com