Cane Rosso opens next week at The Star in Frisco! Now that Neighborhood Services and the Omni Frisco Hotel are already open, this new mixed-used development and home of the Dallas Cowboys is set to become one of Collin County's top destinations!
Cane Rosso, the award-winning restaurants known for their authentic wood-fired Neapolitan pies, announced that its long-awaited location at The Star in Frisco will open to the public on July 31st, just in time for the James Taylor concert at The Ford Center.
The restaurant will be among the first to open at The Star, along with its ice cream counterpart, Cow Tipping Creamery.
Guests at the newest Cane Rosso will find its now-iconic pizzas, pastas, sandwiches and salads on the menu, as well as a selection of Star-specific items such as a stellar-shaped pizza topped with ricotta, pepperoni, arugula and local tomatoes, and Cane Rosso's take on the classic chicken wing. Offerings like the new Fried Calzone are great grab-and-go options for the lunch crowd, and the full menu is complemented with a variety of cocktails, wine and a large selection of local beers.
For dessert, guests can choose from Cane Rosso's much-lauded dessert pizza selection, or head next door to Cow Tipping Creamery, the artisan ice cream company that partnered with Cane Rosso in 2015.
Cow Tipping Creamery specializes in soft serve ice cream made with unique, scratch-made twists on traditional toppings layered throughout "stacker" sundaes. Also on the menu are creative weekly special flavors, shakes and Hong Kong-style bubble waffle cones.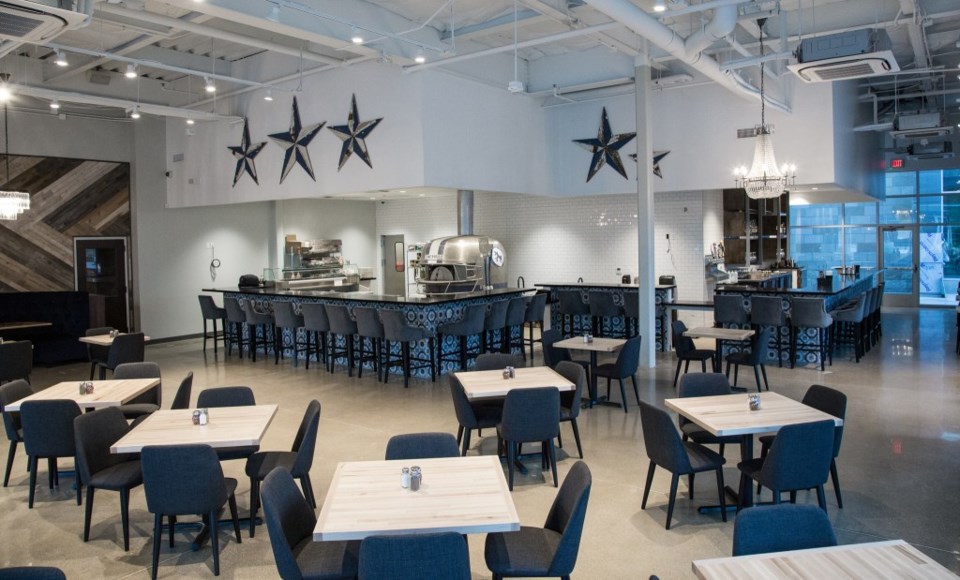 Taking a cue from other Cane Rosso locations, the heart of the 5,000 square foot space is the open pizza kitchen. Designed as an homage to America's team, its traditional Neapolitan-style oven is shaped like a classic blue and silver Dallas Cowboys football helmet. Plush navy blue seating is accented with reclaimed wood walls, crystal chandeliers and pop culture-inspired paintings by Dallas artist, Clay Stinnett. "
Cane Rosso at The Star is going to be a lot of fun, and we feel it really embraces the unique development the Cowboys have created — from our coolest oven ever, to creative artwork, to our Frisco-only menu items,͟" says Cane Rosso owner, Jay Jerrier."You'll be able to dine in a spot that is half fun house/half restaurant or take some of our new portable menu items as you explore the interactive kiosks around The Star."
In addition to being home of the Dallas Cowboys World Headquarters, The Star is home to an indoor football stadium, the Omni Frisco Hotel, a medical center, and an entertainment district with world-class restaurants, retail and events.