On a tame Thursday afternoon, a group of women visit FarmByrd Rotisserie and Fry for the first time. I sit near the ordering line, cycling between chicken tenders with Byrd sauce, a tender rotisserie thigh with Byrd vin, pecan and blue cheese slaw, loaded mac'n'cheese, artichoke hearts and goat cheese, and Brussels sprouts with bacon: conspicuously too much food for one person.
The women cluster near the huge hand-painted menu listing entrees, sides and meal deals.
"How does this work?" one of the women asks after a moment. Maybe she's been stopped short by the two charming misspelled words (Caesar and piece) on the menu, which a local teacher has corrected with some chalk. Or maybe it's the offer of a country fried ribeye slathered in poblano gravy.
"So this isn't just chicken," another says after a moment. "Huh, cool."
That was my reaction too.
The Heritage Table in Frisco has the best fried pies in Texas. Probably.
FarmByrd Rotisserie and Fry is the collaboration of local chef Ryan Carberry and Tim McLaughlin, a Pitmaster at Lockhart Smokehouse, for which there is no substitute. While most of the exciting restaurants popping up in Plano right now are doing so in the glitzy environs of Legacy West, FarmByrd has set up shop in an uncelebrated corner of Parker and Preston roads, next door to my favorite Campisi's outpost, behind the Jason's Deli, to the right of the Wal-mart.
In my defense, there was a whole lot going on when they opened last year, which is my paltry (poultry?) excuse for how long it took me to check it out. If you're looking for a hidden gem with a chef-driven menu but a casual, down-home atmosphere, a fully stocked bar with local drafts on tap, and a kids eat free on Mondays policy … you've been looking for FarmByrd.
FarmByrd is a pretty laid back place with farm-fresh ingredients, serving deceptively simple fried chicken with a chef-driven bent. There are no green beans from a can or soggy mashed potatoes here. Sometimes it's as classic as corn bread beside a fried drumstick. Sometimes they try something more unique: rotisserie chicken, for example, comes with corn tortillas, a lighter, for a gluten-free option. (Pair with Hulk sauce and slaw, and you've got some killer tacos).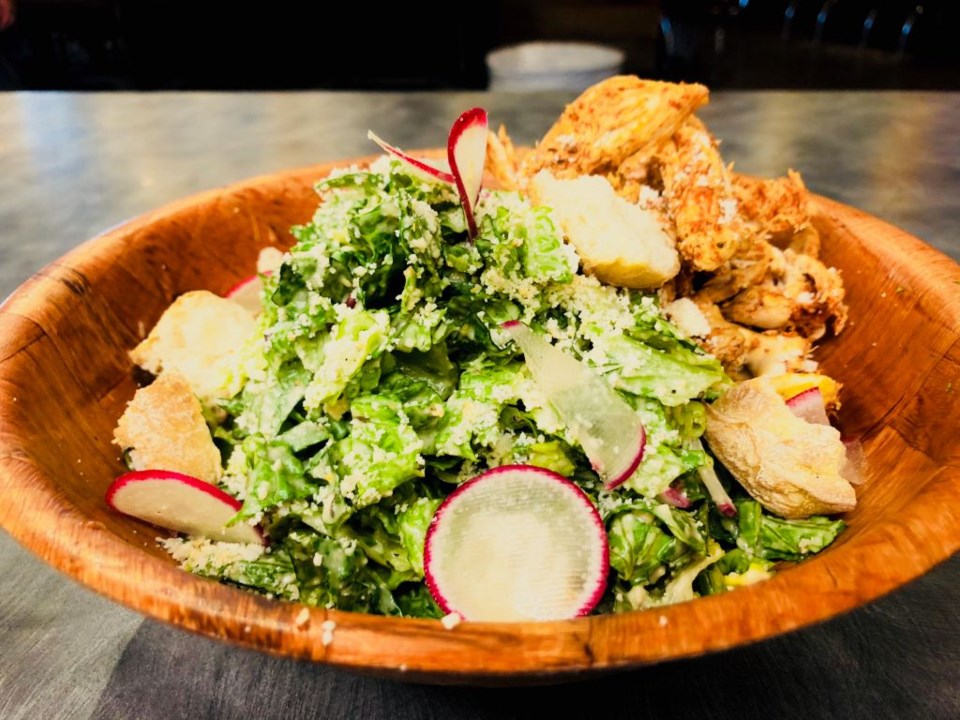 The chicken tenders are huge, dusted with warm chipotle seasoning and fried until they crisp up golden. They're served with Byrd sauce, the lovechild of Cane's sauce and Chick-Fil-A sauce. The country fried ribeye is proof that you don't have to be fancy fine-dining to be creative. Rotisserie chicken is flavorful and tear-off-the-bone tender. As for the house-made sauces—ranch, spicy red, sweet & sassy molassy, mad dog, and The Hulk—prove that just because you're casual, doesn't mean you're kidding around with the food.
The sides offer so much more than you'd expect. Even the best restaurants can sometimes sleep on the sides and accompaniments. If anything, Farmbyrd ups their game and provides gifts like pecan and blue cheese slaw, cauliflower gratin, and flash-fried artichoke hearts with crumbly goat cheese. Always ask about Clarence's Mac-n-stuff, a fancy mac'n'cheese that's different every time. For example, it's been known to have bacon chunks, chicken and chipotle sauce.
We the Birds founders Natalie and Sarah Knowlton discuss fashion, freedom, and French macarons
The wedge salad also has bacon chunks—not bits, but thick-cut chunks—and generous bleu cheese. But do you want something as fresh as a lemon, with hefty kale and shavings of brie instead? Try the Super Greens. ant a classic Caesar? They've got that. Braised greens with red chili vinegar, apple cider and smoked bacon? There's that too; and more.
Ryan told me about working at a fine-dining restaurant with the daring conceit of Japanese and French fusion. (I'm picturing togarashi frog legs.) Of the two Japanese chefs, neither spoke a word of French. The French chef didn't speak Japanese. None of them spoke English. He'd watch them shout at each other in their two different languages, with their starkly opposite styles and yet, on the plate, all conflicts were resolved into beautiful harmony. It's where he learned his appreciation for pushing the limits, fusion and adventurous, unexpected cooking.
That doesn't necessarily have to do with fried chicken, but it's a good story, right?
Order it rotisserie or fried at the counter, a quarter, half or whole, dark or light: your prerogative. This is a family place, an everyday kind of a place and a special occasion place. It's a total hidden gem.

Farmbyrd Rotisserie & Fry
Hours:
Fri-Sat | 11 a.m. – 10 p.m.

Sun-Thurs | 11 a.m. – 9 p.m.
Where: 3308 Preston Rd. #380, Plano
More: farmbyrd.com