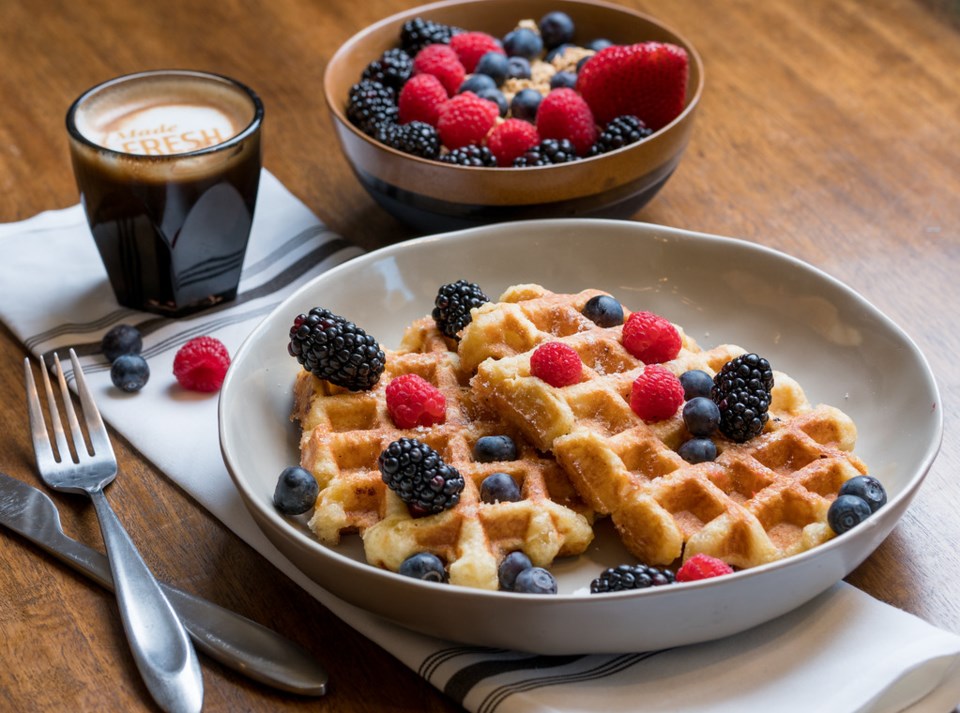 Layered, located primely on the square in Downtown McKinney is very cool. Every single wall of this historical building is different; from chic modern white to a gemstone green, to exposed brick–to the nostalgic stained glass over the front door. Proudly visible through a glass wall at the back, a display of pristine wedding cakes sit like trophies on a mantle. Take a closer look at some of the light fixtures and you'll see that they are graceful origami birds. Wine bottles, nonchalantly encased in the wall, hide until you're ready to see them. Layered's bright interior shows off its–well–layers.
Owner Nir Sela chose downtown McKinney because it's one of the few places in North Texas where he saw people actually parking their cars and walking around. Its cozy, small town feel drew him in.
There's one other thing that makes Layered special: it's an attempt to literally do it all. Layered roasts their own fresh, organic fair trade Ethiopian beans. They have a full-service kitchen. The bakery churns out coffee cake cupcakes, mini lemon meringue pies and I already mentioned those lovely wedding cakes. Nir's goal is to do all three the best they can be done.
The coffee pleases, not the least because of the Ripples machine. Nir snaps a quick picture of me, hooks it up to the machine and five seconds later, I've got a cappuccino with my face on it. However, as fun as the gimmick is, it would be meaningless if the coffee didn't taste good. Thankfully, this does. The espresso is rich, vaguely is one is nice. The foam is appropriately frothy and warm, as opposed to a thick block of styrofoam, which means Layered has someone behind the bar who knows how to make an espresso machine purr.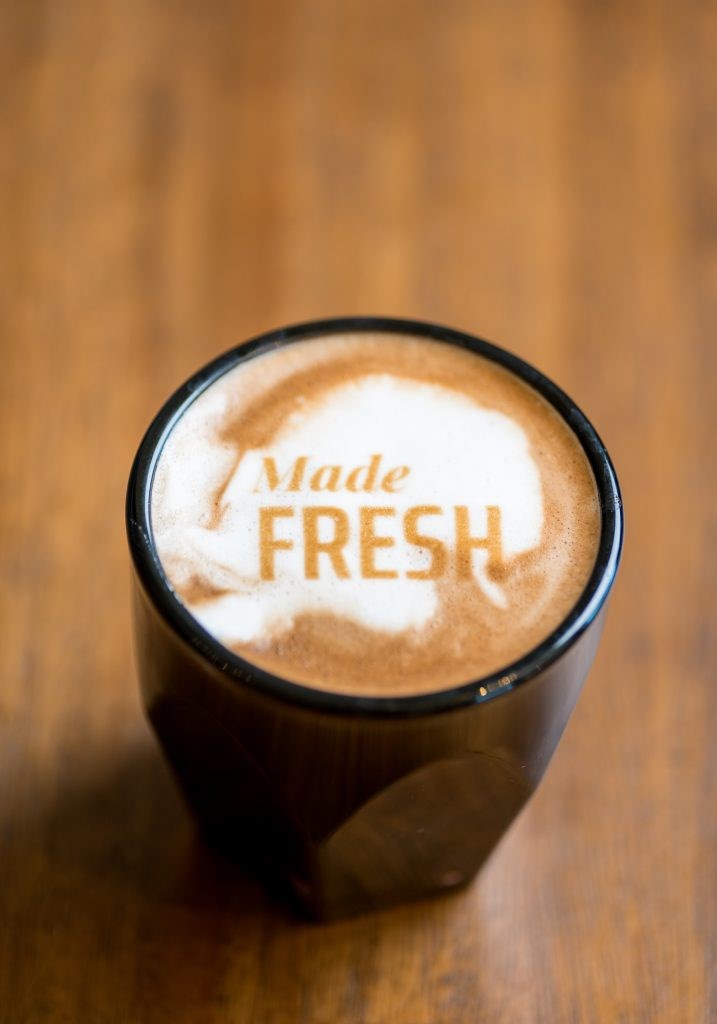 The fruit and granola bowl on the breakfast menu is fruit and granola, as advertised. I expected a dollop of yogurt at the bottom of the bowl, or a helping of cream, but I was wrong on both counts. Instead, I'd go for the dense, pillowy Belgian waffle. With the help of a Belgian waffle maker and imported sugar, Layered turns out delicious waffles, each huge and soft with the warm sugar-turned caramel inside the batter so that syrup is rendered unnecessary. Instead, a shower of fresh berries. See? That's kind of healthy.
Or, for dinner, try the simple chicken and potatoes that, in the end, is not so simple, but a lovely rendering of two basic foods. The half of chicken I'm served has been brined for 12 hours, then smoked and then roasted until it's tender. Both chicken and potatoes rest in a buttery sauce, finished with heavy drizzles of balsamic. The natural chicken jus, melting into the sauce create a stunning alchemy I'd expect to find at a full-service restaurant.
Then, since a whole wedding cake doesn't count as dessert, the mini lemon meringue pie, with its cheery zaps of citrus, will have to substitute. Or, the coffee cake cupcake. This one is very sweet and rides the fine line between indulgence and stomach-ache with aplomb.
Layered is still new on the scene and eateries have a hard time finding their feet when they have one specialty, much less three. Is the three-pronged approach sustainable long term? I don't know. But I've got high hopes for Layered. And a sneaking suspicion that their chicken and waffles is heavenly.
Layered
Hours:
Mon – Thurs | 7 a.m. – 6 p.m.
Fri | 7 a.m. – 10 p.m.
Sat | 8 a.m. – 10 p.m.
Sun | 9 a.m. – 3 p.m.
Where: 4419, 111 E Virginia St, McKinney
More: layeredtx.com