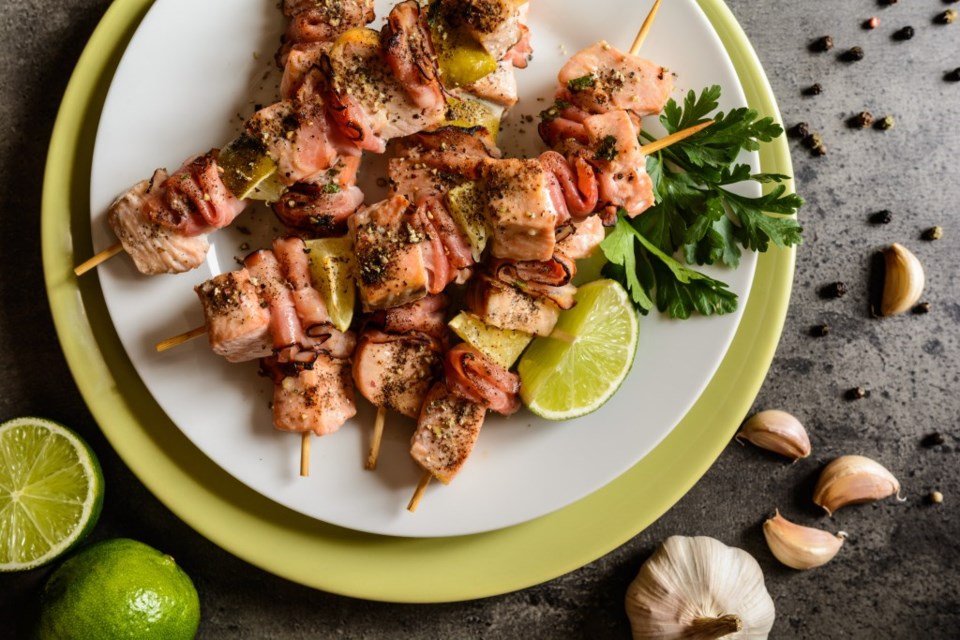 This super easy recipe is great for a weeknight dinner or a weekend dinner party. Wrapping the salmon in pancetta gives it a mild smoky flavor. You could also serve it as party finger food by making the skewers smaller and serving the vinaigrette as a dipping sauce.
Ingredients
5 tablespoons good-quality extra-virgin olive oil, divided

2 tablespoons good-quality red wine vinegar

1 small garlic clove, minced

½ teaspoon kosher salt

½ teaspoon coarsely ground pepper, divided

1½ lbs. skinned king or coho salmon fillets (1-inch thick)

4 oz. thinly sliced pancetta

3 tablespoons coarsely chopped flat-leaf parsley
Recipe
Soak 8 (10-inch) wooden skewers in water for 4 hours to prevent burning.

Combine ¼ cup olive oil, the vinegar, garlic, salt, and ¼ teaspoon pepper in a bowl. Set aside.

Heat grill to high (450-500 degrees). In a large bowl, combine remaining oil with remaining pepper. Cut salmon into 1½-inch chunks and turn in oil to coat.

Set out rows of 3 salmon chunks on a work surface. Unroll pancetta slices into strips and wrap strips once or twice around salmon, weaving long pieces between chunks. Skewer each row of salmon with chunks slightly separated.

Oil cooking grate, using tongs and a wad of oiled paper towels. Set kebabs on grate, then grill, covered, turning once, until fish is barely cooked through, about 4 minutes.

Arrange kebabs on plates. Stir parsley into dressing; spoon on top of kebabs. Serve with warm, crusty bread for dunking. Makes 4 servings.
Source: Sunset, from Chef Christine Keff of The Flying Fish in Seattle